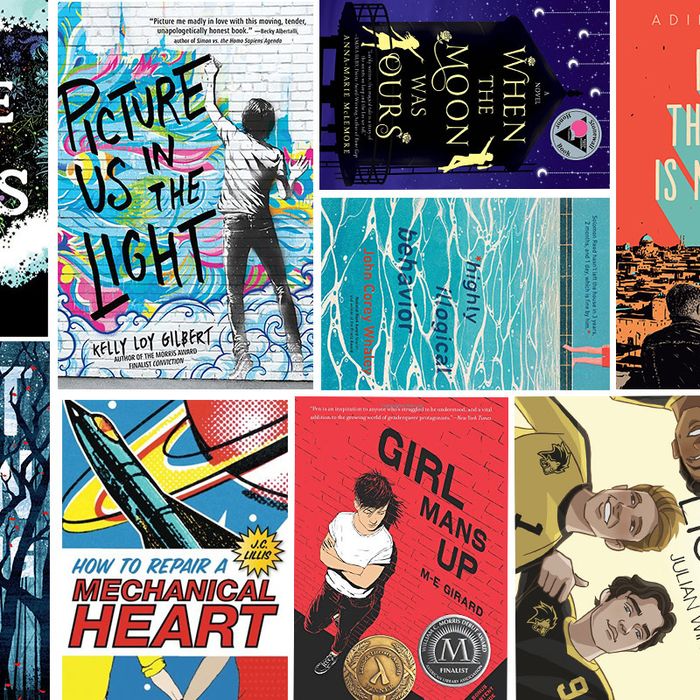 This year, YA author Becky Albertalli's 2016 book Simon vs. the Homo Sapiens Agenda was adapted into the feature film Love, Simon, and the film's success got us thinking about the many LGBTQ-themed YA books that deserve a wider readership. We asked Albertalli to recommend her favorite LGBTQ-themed YA books at the moment — if you enjoyed Simon vs. the Homo Sapiens Agenda (or Love, Simon), it's a good place to start.
Stonewall Book Award winner Little & Lion follows a black, Jewish, bisexual girl named Suzette, who's back from boarding school and finding her way back into the life she left behind. As a Jewish reader from a blended family, I can't explain how much it meant to me to see a beautiful, complex, nontraditional family portrayed with so much care and depth. Suzette's prospective romantic relationships and friendships are treated with the same kind of tenderness and honesty.
Highly Illogical Behavior follows a white, gay, agoraphobic boy named Solomon, a wannabe psychologist named Lisa, and Lisa's utter cinnamon roll of a boyfriend, Clark. Whaley manages to strike that perfect balance between hilarious and gut-wrenching, with characters so messy and distinct, they feel like real people. This book is such a gem.
HTRAMH is hilariously narrated from the perspective of Brandon, a gay, white, Catholic teen who co-runs a popular fandom vlog for a show called Castaway Planet. This book is so geeky, funny, romantic, and charming, and should immediately be followed up with its companion book, A&B.
This Lambda Literary Award winner and Morris Award finalist follows Pen, a Portuguese-American lesbian gamer who wears her brother's clothes. Pen grapples with cultural expectations around gender expression, masculinity, and femininity in a way that's so quietly groundbreaking. Girard leans into the complexity of Pen's family relationships and friendships — and the sweetness of Pen's developing romance with her girlfriend.
This Stonewall Book Award and Lambda Literary Award winner is the only middle-grade book on my list, but it's a must-read for any age. George follows a white trans girl in elementary school named Melissa who desperately wants to play Charlotte in her class's production of Charlotte's Web — but her teacher sees her as a boy. I loved this charming, heartfelt story and its beautifully hopeful resolution.
Like most of Silvera's work, this one's a heartbreaker. We meet Griffin — a white boy with OCD — on the day of his ex-boyfriend Theo's funeral. The narrative alternates between two time periods — before and after Theo's death — and it's such a breathtakingly honest portrait of first love, messy grief, and hard-earned hope.
A speculative-fiction masterpiece: Henry is a white gay boy who gets abducted by aliens fairly regularly. He's given the option of pressing a button to save the world from ending — but he's not sure the world is worth saving. This book is unflinchingly, gut-wrenchingly honest, and it asks big questions in a way that cuts deep.
A National Book Award long-list title and a Stonewall Honor Book, McLemore's sophomore book is an evocative, exquisitely lyrical work of magical realism. It alternates between the perspectives of Miel, a Latina girl who grows roses from her wrists, and Sam, a Pakistani trans boy who hangs moons all over their town. Their love story took my breath away.
Last Seen Leaving follows Flynn, whose girlfriend has suddenly and mysteriously disappeared — and he's left looking for answers. I was totally riveted by this perfectly executed mystery — lots of twists and surprises made this unputdownable. Equally compelling: Flynn's beautifully realized journey toward accepting that he's gay, and an achingly sweet love story to go with it.
Monty — white, bi, wealthy, and roguish — is the ridiculously charming narrator for this historical romp. He's sent on a Grand Tour of Europe with his sister Felicity and best friend Percy, and their voices are so compellingly real that it's hard to believe they're fictional. This book is so funny, sad, romantic, and heartfelt — no wonder it won a Stonewall Honor.
These books have not yet come out (some are publishing in the next few days, while others will be forthcoming later this year), but I've read and enjoyed them all — and they're all available for preorder.
I loved living in the head of Abby, a fat, white, pink-haired lesbian who dreams of working in the fashion industry. This book is funny, empowering, and romantic, without downplaying the role of platonic friendships. And to the fat girls who are sidelined in almost every romantic comedy? It's a love letter. Out April 3, 2018.