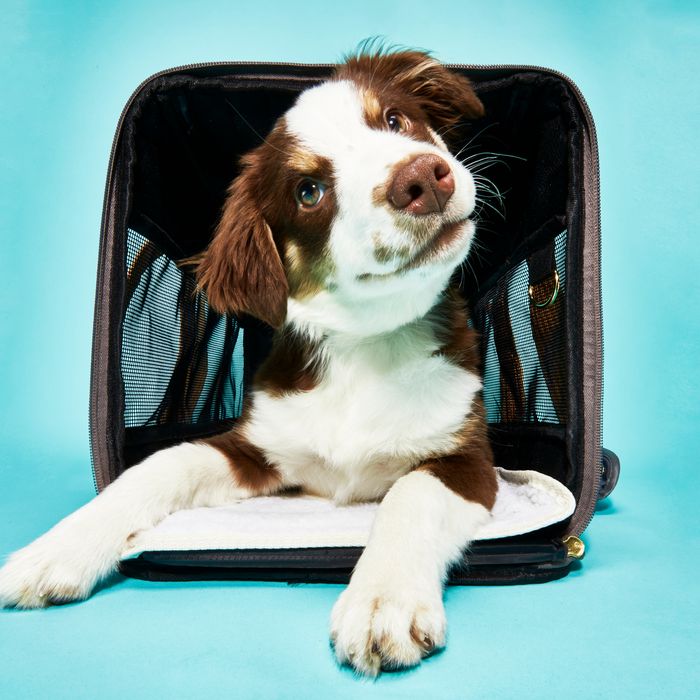 The logistics of leaving your pet at home while you're on a trip are tricky, but taking a cat or dog aboard an airplane can be even trickier. For one thing, you'll need to find a carrier that's comfortable enough for an hours-long flight and meets your airline's individual size requirements for bringing a pet in the cabin. Or, if an animal is too large for in-cabin travel, you'll need an option suitable for the climate-controlled cargo hold. The TSA does not have general guidelines for pet carriers, but carriers typically go through an X-ray machine (while pets must go through a metal detector, just like their owners), so it's a good idea to bring a leash or harness, so your pet doesn't break loose at security.
This is assuming that your pet is allowed on a plane in the first place. The Strategist spoke to 19 vets and other animal experts about what to know when flying with pets, and Jamie Freyer, a veterinarian and guest contributor at Honest Paws, told us that airlines have more restrictions than ever on pet travel since the pandemic. Many have size restrictions on which pets can travel in the cabin, says Keston Smith, medical director at Bond Vet. Depending on your airline and destination, your pet may need proof that they're healthy enough to fly and up-to-date on vaccinations.
Because there are so many variables, you should book your flight first. Some airlines limit the total number of pets allowed on each flight, so it's important to buy a ticket as early as possible. Then you can choose a carrier and prep your pet for travel. "Pets are often less stressed when there is some familiarity with their surroundings," says Annette Louviere, a veterinary consultant at Whistle. "Of course, once you get to the airport, you lose most of that control, but acclimating your pet to the carrier prior to travel can help greatly." To help your dog or cat form a positive association with their temporary home, Gayle Martz, creator of the Sherpa bag, suggests using the carrier to transport your pet to a familiar place like a park or coffee shop.
Read on for what to look for when choosing an airplane-friendly carrier for your furry friend, or use the handy links below to jump directly to our picks.
When selecting a carrier, the two most important sizing factors to consider are that 1) your animal will fit safely and comfortably inside, and 2) the carrier meets the size requirements for in-cabin or cargo-hold travel. All our experts recommend soft-sided carriers if you're bringing your pet onboard because they can fit under a seat better than hard-sided styles. Most carriers have a weight limit, and limits on the size of your carrier and the combined weight of the carrier and your pet vary from airline to airline. On JetBlue, the combined weight of the carrier and your pet must be under 20 pounds, and the carrier size limit is 17 inches long by 12.5 inches wide by 8.5 inches high. American Airlines has the same 20-pound weight limit, but carrier-size limits vary based on the aircraft. Size requirements on Delta vary based on the aircraft; however, the airline recommends soft-sided carriers that are 18 inches long by 11 inches wide by 11 inches high. On United, the maximum dimensions for a soft-sided carrier are 18 inches long by 11 inches wide by 11 inches high. (For each carrier, we've listed measurements in the order of length, width, height.)
Some airlines allow pets to fly in the climate-controlled cargo hold, but restrictions vary depending on the age, size, and breed of your animal. Hard-sided carriers or crates with a metal grated door are typically required for cargo-hold travel. As a rule of thumb, American Airlines advises that the carrier be longer or taller than your pet when they are standing outside of it, which ensures your pet will have enough space to stand, sit, and lie in a natural position. Meanwhile, Delta has placed a temporary embargo on pet cargo shipments globally.
We all know pets are messy, and accidents can happen in stressful situations — like flying. Some carriers are waterproof or water-resistant to keep any wetness from seeping through, and others have removable liners or bedding that you can toss in the washing machine once you get home.
From expandable panels that let pets stretch out in flight to built-in pockets for holding travel documents, some carriers are equipped with lots of special features designed to meet specific needs. There's nothing wrong with a bare-bones carrier as long as it works well for you and your pet, but extras like padded shoulder straps for comfort or locking zippers for security can make a big difference.
Best overall pet carrier
Size: Small: 15" x 10" x 8", max weight 8 lbs; Medium: 17" x 11" x 10.5", max weight 16 lbs; Large: 19" x 11.75" x 11.5", max weight 22 lbs | Washability: Machine washable liner | Extra features: Seatbelt strap, locking zippers, shoulder strap, storage pocket, certified by Guaranteed on Board
Sherpa was the most mentioned brand among our experts — and the most affordable option on this list at under $35. (According to three experts, less expensive pet carriers can compromise the safety of your animal.) The company partners with several major airlines (including Southwest, United, and Delta) through a program called Guaranteed on Board, which liaises between pet owners and airlines by allowing owners to submit a form to their airline with their flight details, pet's information, and the type of carrier they'll be using. If you're denied boarding because of an issue related to your carrier, Guaranteed on Board will reimburse you for the cost of your flight and any associated pet fees. (Only Sherpa carriers are eligible for the program, which is overseen by its parent company.)
"The small and medium sizes of the Sherpa Original Deluxe pet carrier are included in Guaranteed on Board, so you can rest assured that your pet travels will go by without a hitch," says Samantha Schwab, the former resident pet expert at online pet retailer Chewy. Alison Waszmer, the director of Dogtown, a sanctuary for homeless dogs and those recovering from abuse and neglect at the rescue organization Best Friends Animal Society's Utah headquarters, is another Sherpa convert. She describes the carrier as well constructed and comfortable. Kristi Littrell, adoption manager at Best Friends Animal Society, likes Sherpa's soft-sided carriers "because they can fit under the seat in front of you, whereas the harder-sided ones can't adjust to various spaces." Strategist deals editor Sam Daly owns two Sherpas for her cats and likes that the interior lining is attached using Velcro strips, making it easy to pull out and toss in the wash. Daly even says her cats enjoy being inside the carriers so much that she often leaves them out at home. Veterinarian John Iovino, who contributes to the Wildest, used a Sherpa carrier when traveling internationally years ago. He appreciates all the access, with two openings to reach in. From his experience, mesh-paneled carriers provide good ventilation, make positioning under a seat easier, and offer "a chance for you to see your pet to make sure everything is okay."
Best carrier for small pets
Size: 16" x 10" x 8.5", no maximum weight listed | Washability: Machine washable liner pad | Extra features: Adjustable shoulder strap, five pockets
If you're a frequent flier on a specific airline, it might be worth buying its official pet carrier so you won't have any doubts about it fitting under the seat. This one from JetBlue is on the smaller side and best for petite dogs and cats, and it's guaranteed to fit on all JetBlue flights. Other airlines have their own branded carriers (like this American Airlines x Sherpa model), but because the JetBlue one is among the smallest and will likely meet multiple airlines' size requirements, we recommend it for any pets that will fit.
Best convertible pet carrier
Size: Small: 17" x 11" x 10.5", max weight 15 lbs, Large: 19" x 11.75" x 11.5", max weight 25 lbs | Washability: Washable fleece lining, waterproof bottom | Extra features: Built-in leash, safety collar clip, reflective detailing, shoulder strap car capability, one-year product warranty
With a distinct design, this soft-sided option from Roverlund can be converted from an everyday pet carrier to a dog or cat backpack. It gets nods from four experts, including Alissa Abba, the owner of Brixxy & Co., who uses it for her 12-pound mini-poodle, who's also a service dog. Abba likes that it has wide mesh paneling on three sides for extra visibility and two zippered openings that allow her to easily move her pup from the carrier to her lap. It's also flexible but sturdy enough to fit under a seat without collapsing, and Abba says it can be positioned on top of a rolling suitcase.
Michael Kim, founder of the dog skin-care brand Floof, uses this carrier to travel with his French bulldog, Leo, and says it makes the process a breeze thanks to a rear pocket (which holds their travel essentials in one handy place) and two heavy-duty straps (that comfortably support the load without collapsing the carrier). The handles are made of double-sewn mountain-climbing rope, which Royah Nuñez, dog trainer and founder of Quing Canine, also describes as "really strong and sturdy, especially if you're moving through the airport and holding the bag on your shoulder. It's a lot more comfortable than the Sherpa bag." In addition to a built-in collar clip, the Out-Of-Office carrier comes with a leash for when you've arrived at your destination.
The bright colors can also prevent a pet carrier from being mistaken for luggage, says Tazz Latifi, a certified pet nutritionist and retail consultant. Plus, reflective detailing provides added nighttime visibility.
Best pet carrier with a privacy screen
Size: 18.5" x 11" x 9.5", max weight 20 lbs | Washability: Removable memory foam bedding, water-resistant lining | Extra Features: Expandable, removable crossbody and backpack straps, seatbelt latch, rubber waste-bag dispenser, foldable for storage
All our experts recommend carriers with mesh openings so pets can see their surroundings; however, roll-down screens that provide some privacy may be useful if your pet is overstimulated by all the action at the airport. Wendy Wen, founder of the pet-wellness platform Antelope, owns this carrier for her Chihuahua mix Poke, whom she describes as an "anxious pup." Wen says the two retractable curtains, which attach via velcro and allow for airflow from the sides, help keep Poke relaxed during their long (and frequent) travel days. "When moving throughout the airport, I opt to close one of the retractable privacy screens," Wen says, but once on their flight, she leaves both open "so Poke can get his bearings and become more familiar with his new environment."
An expandable window also gives Poke room to move around, and mesh paneling on three sides provides extra ventilation, she says. The bag has convertible straps so it can be carried three ways — handheld, over the shoulder, or as a backpack — and despite constant use, the nylon fabric is still in perfect condition, she says. The sleek, monochrome design also receives high style points, says Wen, who previously worked in the luxury-handbag space as the co-founder of Senreve. Along with the camel shade shown, it's also available in gray.
Best (less expensive) pet carrier with a privacy screen
Size: 18" x 10.5" x 11", max weight 15 lbs | Washability: Removable faux-fleece lining, leakproof material | Extra Features: Padded shoulder strap, luggage strap, seatbelt attachment, ID-tag holder
At less than half the cost of the Maxbone above, this heathered fabric carrier has one retractable cover and comes recommended by Schwab. It has mesh windows on all sides, along with three openings (at both ends and the top), and "it's lined with a soft fabric so your pet can snuggle up during a long trip," Schwab says. Locking zippers provide added security, and two outside pockets are ideal for storing treats, toys, or a leash. Littrell, who also likes this model, says the roll-down flap "keeps the airline draft out when you are flying."
Best luggage-compatible pet carrier
Size: 18.7" x 10.8" x 10.75", max weight 18 lbs | Washability: Washable and water-resistant sherpa lining, water-resistant nylon exterior | Extra features: Luggage strap compatible with Away suitcases, safety collar clip, seatbelt latch, two side pockets, one with drainage holes
If you already own any of Away's popular luggage, you'll appreciate how this carrier will seamlessly attach to any of the brand's suitcases. Strategist senior writer Liza Corsillo calls the sleeve that slips over the handle "sturdy," which allows her to roll her luggage with the carrier on top and her dog inside "without worrying that she might fall or the bag will collapse in on itself." It's certified by the nonprofit Center for Pet Safety, says Jamie Richardson, medical chief of staff at Small Door Veterinary, who often recommends Away's carrier to pet owners. The bedding isn't just soft for your pet to lay in, she says. It's both removable and washable for easy cleanup. Plus the carrier features a water-resistant lining to help contain any accidents.
Richardson further highlights the pocket for holding important documents and another (with drainage holes) for storing a collapsible water bowl. A zip top, side openings, and mesh panels on three sides ensure your pet can breathe easily, while the interior collar clip adds extra security and seat-belt latches keep the carrier in place on car rides to the airport.
Best collapsible pet carrier
Size: 22" x 10.5" x 10", max weight 17.5 lbs | Washability: Machine washable and water-repellent lining, tear- and stainproof materials | Extra features: Folds flat for storage, compressible for tight spaces, seatbelt strap 
Richardson is a fan of Sleepypod, which makes mobile pet beds that double as car sets and carriers. The Air carrier has all the features she says pet owners should look for, including enough space for a pet to stretch out their claws and paws. It's not the first time we heard about this brand of carrier, which made appearances in our guide to the best car seats for dogs and everything you need to fly with a cat, where it was among the best cat carriers. Mikel Delgado, a cat behavior expert with Rover, likes that it's specifically made to fit underneath airline seats. Richardson and Delgado both recommend putting your pet's favorite blanket inside, as the familiar smell will make them feel more at ease. Louviere, meanwhile, has heard raves from cat owners about the Sleepypod: "Their kitties appear quite cozy when visiting the clinic." A flexible structure allows the carrier to compress to fit smaller spaces, and it collapses down flat for easy storage.
Best tote-bag-style pet carrier
Size: Small: 18" x 10" x 10", max weight 25 lbs; Medium: 15" x 12" x 12", max weight 25 lbs; Large: 18" x 12" x 12", max weight 30 lbs | Washability: Fully machine washable | Extra features: Luggage strap, adjustable and padded shoulder strap, vegan-leather handle
In their travels with a dog and cat in tow, Dandy Dogwalker founder Hadley Raysor uses the SturdiBag Pro, designed with a rounded top to easily sling over your shoulder like a tote bag. The bag comes in three sizes, and while the brand says the large fits on most airlines, it recently introduced the medium after receiving customer feedback that the bigger size was sometimes rejected. Raysor initially liked how the carrier's features — like a luggage handle loop, locking zippers, and security clips — made traveling easy on them. But it turned out their pets actually didn't mind cross-country flights in the carrier. "My cat particularly liked being able to see out of the mesh top of the bag," Raysor says. It's fully machine washable, too.
Best expandable pet carrier
Size: Small: 16" x 10"x 9", max weight 7 lbs; Medium: 18" x 11" x 11", max weight 13 lbs; Large: 19" x 12" x 12" | Washability: Removable, washable liner | Extra features: Expandable, collar clip, luggage strap, collapsible for storage
Conrad Russo, blogger and owner of Pet Gear Lab, recommends this fleece-lined case for skittish pets. "I love that it's expandable on the side," he says. "Dogs traveling and taken on a plane can really have anxiety, so giving them a little more space makes all the difference." Zip up the expandable panels before boarding to make sure the case fits your airline's regulations, then open them up on the plane to let your cat or dog stretch out. This carrier comes in three sizes, with the small and medium likely to fit on most planes (double check your airline's individual requirements for the large carrier, as its measurements are right on the border of the maximum size).
Robert Haussmann, co-founder of Dogboy NYC, uses the Petsfit when flying to the Midwest with his dog, Josie. He praises the carrier's ventilation and expandability. With enough preflight practice, he says, Josie usually curls up and chews her special toys without a problem on the journey. One month ahead of a flight, he starts training her to go into the carrier on cue, and she earns treats whenever she hangs out in the carrier while Haussmann and the rest of the family are eating dinner or watching a movie. "The goal is to ensure that Josie feels comfortable and has a positive association with her carrier," he says. "When she can stay in there comfortably for an entire Harry Potter film, we feel she is ready for her trip."
Best backpack-style pet carrier
Size: 16.5" x 12.5" x 10", max weight 18 lbs | Washability: Hand-wash, no removable lining | Extra features: Padded shoulder straps, waist and chest buckle for extra support, includes collapsible bowl
Waszmer suggests trying out different styles of carriers to see what your pet feels the most comfortable in. She tends to go with either the Sherpa, above, or this carrier from PetAmi. "I like the way the PetAmi fits under the seat," Waszmer says. "When laid flat, it allows most small dogs to lay either straight or curled up." The backpack features four-way access on the sides, front, and top, where there's a mesh opening for a pet to poke out its head. The chest and waist straps will come in handy if you're toting carry-ons and checked baggage.
Best pet carrier for large pets
Size: From 24.5" x 18.6" x 19", no maximum weight listed | Washability: Hand-wash, no removable lining | Extra features: Non-slip feet, built-in tie-down pins, two carry handles, drainage base, stainless-steel hardware
For pets that are too large to fly in the cabin of an aircraft, Latifi recommends these hard-sided pet carriers from Gunner, which are certified by the Center for Pet Safety and have a lifetime warranty. "It's super heavy-duty, so it's tough for it to be thrown around because of the weight of the actual carrier itself," Latifi says, adding that, while they aren't the lightest to lift, the G1 Kennels are still preferable to other large crates like Petmate's Vari Kennels, which are clunky in comparison.
According to the brand, this kennel is the only double-walled crate on the market constructed with rotational molding, meaning an exterior layer works to absorb the majority of an initial impact and an interior wall provides another layer of protection and insulation. The main door's hinges can be installed on the right or left side, and the paddle latch includes a lock and key. Backup safety locks are located at the top and bottom of the door for secure reinforcement, while recessed floors will keep your pet dry throughout the journey.
• Alissa Abba, owner of Brixxy & Co.
• Liza Corsillo, Strategist senior writer
• Sam Daly, Strategist deals editor
• Mikel Delgado, cat behavior expert with Rover
• Jamie Freyer, veterinarian and guest contributor at Honest Paws
• Robert Haussmann, co-founder of Dogboy NYC
• John Iovino, veterinarian and contributor to the Wildest
• Michael Kim, founder of Floof
• Tazz Latifi, pet nutritionist and founder of Petropolis Natural Pet Supply & Grooming Facility
• Kristi Littrell, adoption manager at Best Friends Animal Society
• Annette Louviere, veterinarian and veterinary consultant at Whistle
• Gayle Martz, creator of the Sherpa bag
• Royah Nuñez, dog trainer and founder of Quing Canine
• Hadley Raysor, founder of Dandy Dogwalker
• Jamie Richardson, veterinarian and medical chief of staff at Small Door Veterinary
• Conrad Russo, blogger and owner of Pet Gear Lab
• Samantha Schwab, former resident pet expert at Chewy
• Keston Smith, veterinarian and medical director at Bond Vet
• Alison Waszmer, Dogtown director at Best Friends Animal Society
• Wendy Wen, founder of Antelope
The Strategist is designed to surface the most useful, expert recommendations for things to buy across the vast e-commerce landscape. Some of our latest conquests include the best acne treatments, rolling luggage, pillows for side sleepers, natural anxiety remedies, and bath towels. We update links when possible, but note that deals can expire and all prices are subject to change.
Every editorial product is independently selected. If you buy something through our links, New York may earn an affiliate commission.