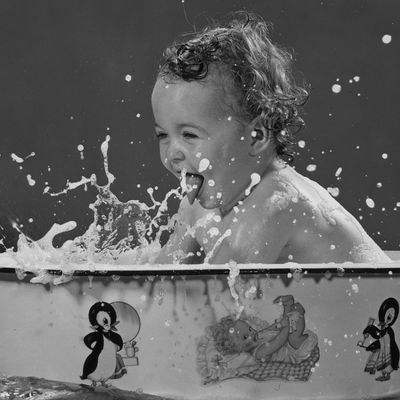 Here at the Strategist, we like to think of ourselves as crazy (in the good way) about the stuff we buy, but as much as we'd like to, we can't try everything. Which is why we have People's Choice, in which we find the best-reviewed products and single out the most convincing ones. (You can learn more about our rating system and how we pick each item here.)
And while we've written about lots of baby products— including the best car seats and the best baby walkers— here we've rounded up the best baby bathtubs, as praised by the most enthusiastic reviewers on Amazon.
Best-rated baby bathtub
With over 2,500 five-star reviews, this baby bathtub gets top marks for being easy to clean and durable throughout childhood. Parents of newborns appreciate this baby bathtub's extra sling, which "holds the baby securely and safely during bath time." Another says, "it's secure enough for his wobbly little newborn head." Reviewers say they still get use out of this baby tub beyond the first few months, too. "The sling worked well when our daughter was newborn, and then we transitioned to the 'infant' layback position in the tub itself, and now the more upright 'toddler' position in the tub itself," one review explains. "I was a little skeptical about this one, however I really dig it now and even more so my 7-month-old," admits another reviewer, who adds, "He climbs it back and forth and uses different parts of it to hold on to or lay onto as we pour some warm water over him. Do they sell these in adult sizes?"
Best-rated (less expensive) baby bathtub
Dozens of reviews say this tub was excellent for babies just learning to sit up on their own. "While our daughter was in the transition to be able to sit up on her own this was perfect," one reviewer notes, adding, "She was too big and looked uncomfortable for the 'baby bathers' but not quite ready to be sitting in the regular tub on her own, and this was WONDERFUL." Many also note that their kids continued to use this tub even after they mastered sitting, because the saddle horn can be "deflated when they are older and they can [move] confidently while keeping their upper bodies above water," according to one reviewer. Plus, reviewers tend to agree that the ease with which they can deflate and inflate it makes it great for travel. One user notes, "Not only is it extremely packable and easy to assemble/deflate, it works in places that don't have a bath."
And now for some micro-picks for every type of baby bathtub you might be looking for.
Best duck-shaped inflatable baby bathtub
One reviewer thinks this tub is so "amazing" that they "want an adult-sized one for myself." The tub's heat indicator, suction cups, and drain come up as favorite features in many of the reviews. "It's really easy to fill up and has a little drain at the bottom, as well as a heat sensor to tell you if the water is too hot," one user writes, adding, "There is also a suction cup on the bottom to prevent the ducky tub from sliding around in the regular tub." Others note that they use the suction cups to "attach it to the side of the tub when not in use and stay out of the way."
Beyond bath time, many reviewers say they have taken this on vacation and used it help their child float in a pool. Its unique shape has even inspired bath time rituals for some. "This tub is much more comfortable, and the baby enjoys it because they love the duck (not to mention mom's quacking noises; quacking not included.)" Though one ambitious reviewer had a decidedly non-baby-friendly use for this duck-shaped bathtub: "I have also taken it tubing with me to hold a cooler full of beer, and everyone thought it was hilarious. A 28-gallon Coleman cooler fits perfectly."
Most durable inflatable baby bathtub
As far as inflatable baby bathtubs go, dozens of reviewers say this one is easy to inflate, and more importantly, it stays inflated. "I blew in the air about two months ago and as of today, two months later, no air has lost," one pleased reviewer writes. Another says it "doesn't rip under pressure" and adds that it is durable enough for her son "to thrash about without splitting seams or popping." It is even strong enough to withstand a fur baby, according to one dog mom: "I didn't think it was going to stay inflated with his nails but it definitely is tough." One common complaint is that there is no drain hole, but as one reviewer puts it, "Just dump it over, duh."
Best plush baby bathtub
Hundreds of parents report that this tub made bath time so much more comfortable for babies that one "actually fell asleep." Many note that not only does this flower-shaped tub provide a cushion for their little one, but it keeps them from sliding around. "She doesn't slide around the sink basin and the flower holds water well enough to keep her warm even with very low water levels," one reviewer writes. Another says that their daughter hated bath time until the lotus, which she was "so comfy" in and allowed the parent to "wash her instead of figure out how to securely hold her." While many report using this by itself in the sink, others use it as a cushion for another baby tub. "I have used it in the kitchen sink, and then on the bathtub base as a cushion. It is soft and thick enough to provide some support for the baby, and because it is made out of a towel-like material, baby doesn't slide around during bath time."
Best newborn baby bathtub
Dozens of reviews mention how well this bath pad worked for their newborn babies. "Very cushiony so my newborn is comfortable, keeps baby raised out of water enough so umbilical cord stump doesn't get soaked but also has a dip in the middle of the cushion where water pools under baby's back just a little which keeps them warm and comfy during bath," one says. Plenty of parents also report that their newborns seem to enjoy the experience, too. "She can splash her feet in the water and since it soaks up the water it keeps her warmer," explains one reviewer. Another writes, "The bath pad is great because baby is secure and comfortable. We don't have to hold him up or continually adjust him." Reviewers are also fans of the cleanup, which just consists of wringing out the pad and using the built-in hanger to dry. "It comes with a convenient, attached hanger on top and is dry in no time flat."
Best transitional baby bathtub
This baby bathtub is "by far the best one we've found," according to one reviewer who loves that this is "perfect for newborns and as they get older." "This tub has the sling for my 7-month-old, and that's very helpful," another reviewer writes, adding it is also "angled perfectly for my 1.5-year-old to lay down in it, and not get any soap in her eyes while I wash her hair." One says it has even carried them from the newborn days: "I have used it since I brought my tiny boy home — used it first with the hammock insert for a while and then as he got bigger laid him back on the one side and then as he started sitting put him in the green seat and now at 17 months old he is sitting in it with no seat insert."
This tub also comes with accessories that dozens of reviewers have found helpful. "The spray bottle is perfect for washing her hair and body, and the little toys it comes with keep her occupied," one writes. Another adds, "My babies giggle every time I make it 'rain' on them."'
Best baby bathtub for newborns to toddlers
Over 75 percent of reviewers give this bathtub a five-star rating, and many note how well it works for kids of all ages. "As a foster parent, I need products that span the largest number of ages possible," one user writes, saying they "chose this bath of all the ones available for infants/toddlers because it truly spans the largest age range possible." Another says, "I used it for my daughter when she was still a newborn and very small (7 pounds) and am still using it now that she's 10 months and 22 pounds." One downside that many reviews mention is that this is a very large tub, and some have trouble storing it, but for many the size means it keeps their kids warm "because the tub is deep enough to fill with quite a bit of water," and perfect "if you want something that will grow with your kiddo."
Best non-slip baby bathtub
Hundreds of reviewers love that this bath's soft mesh keeps their babies from slipping and sliding in the tub. "He stays in it without slipping down like we found in other bath seats," one reviewer writes. Another says they "started using this with my 2-week-old and we did not even need to hold his head." One experienced parent, who says "This is the fourth baby bath I have used over the course of ten years and five babies," notes this one is "by far my favorite" because it "supports the baby's head and neck," and "the soft plastic back makes it comfortable while allowing the bath to air out and prevent mold." Other reviewers agree that in addition to being easy to clean this tub doesn't take up too much space. One says it "fits the bathroom tub with enough space left for an Ikea stool and bucket of water."
Best compact baby bathtub
"So I was looking for something that was deeper, would fit in a sink, and would support my son who can't sit on his own yet but would also last until he's ready for a bath seat when he's closer to a year old," one reviewer writes, adding "This fit the bill all the way around." Reviewers love that this is smaller than some of the other plastic tubs on the market, with one saying it "fits in our two-compartment sink just perfectly." Dozens also love that this keeps their babies warm since you can fill it with more water. "All the tubs I see on the market expose their bellies and other parts that they look like they're freezing, and this tub immerses them into the nice warm water in a way that makes them feel safe and cozy." The middle stump is also a selling point as it keeps babies from slipping down. "This stump is so big and ergonomic that my almost-but-not-quite-sitting-up-on-his-own 5-month-old baby can sit all the way forward — and it totally prevents him from face-planting into the water."
Best baby bathtub for multiples
One parent who was "tired of doing two separate baths" loves that this seat is compact enough so that their "7-month-old (still very wobbly when sitting upright unsupported) could take a bath at the same time as my 2-year-old." Another calls this the "best buy for my twins," since two of these seats can fit in one tub. Others love that this really keeps their kids in place. One saying "This holds our little guy in one spot, so he doesn't try to stand up or crawl around in the tub." More than keeping them from falling, one reviewer says this is great for getting them used to a regular tub. They "did not have to worry about my child slipping and falling in the tub and helped him learn to sit in the tub."
The Strategist is designed to surface the most useful, expert recommendations for things to buy across the vast e-commerce landscape. Some of our latest conquests include the best women's jeans, rolling luggage, pillows for side sleepers, ultraflattering pants, and bath towels. We update links when possible, but note that deals can expire and all prices are subject to change.
Every editorial product is independently selected. If you buy something through our links, New York may earn an affiliate commission.