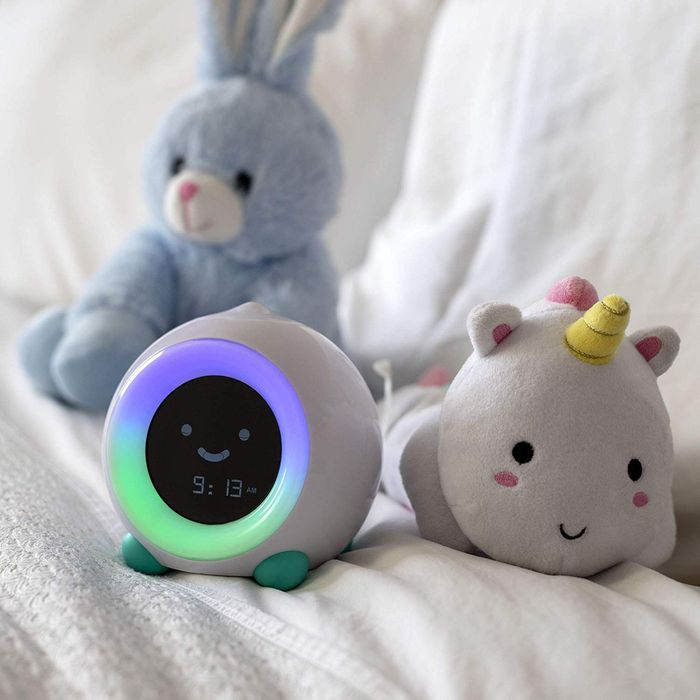 Here at the Strategist, we like to think of ourselves as crazy (in the good way) about the stuff we buy, but as much as we'd like to, we can't try everything. Which is why we have People's Choice, in which we find the best-reviewed products and single out the most convincing ones. (You can learn more about our rating system and how we pick each item here.)
And while we've written about lots of baby gear — including the best soaps, cribs and play mats — here, we've rounded up the best baby soothers, as praised by the most enthusiastic reviewers on Amazon.
Best-rated baby sound machine
"Are you an anal retentive mother like me? Then boy, do I have the product for you," starts one review of this Hatch Baby sound machine, which doubles as a nightlight — and made our list of the best sound machines on Amazon, too. That mom continues, "It worked great for nighttime feedings as you can adjust the light brightness from your phone. Have a big blowout that occurred at 2 A.M.? Fear not. This light will get you through that changing without having to wake the baby with bright overhead lights." Another parent raves, "The colors and sounds are sooooo soothing." And that calming noise seems to help lots of kids fall, and stay, asleep. One parent writes, "I don't know what wizard made this thing, but I went from swaddling a six-month-old baby to being able to put her down in a sleep sack and she'll sleep for an hour/hour and a half, no problem. She also went from waking every two hours to sleeping at least 4 to 5 without a night feed." Their review concludes, "It's saved my sanity and allowed me to finally get some sleep. 100 percent recommend."
Best-rated (less expensive) baby sound machine


"My daughter adores this toy and it's her 'baby' which she takes everywhere," one reviewer writes of this stuffed animal–slash–baby soother. It's so easy to operate, in fact, that babies can do it themselves from early on. "The music plays for a few minutes and then shut itself off," a reviewer explains, noting, "Child learned very easily how to turn it on themselves at a very young age and help soothe themselves back to sleep which was incredibly helpful. It's a good carrying size, so we could take it with us on trips." Another reviewer was inspired to pen an open letter from their infant's point of view, writing, "Dear Fisher Price, I would like to take a moment to thank you for this delightful sea-friend I received. It accompanies me everywhere and I am apt to fall asleep with it at my side in my infant carrier. The music often softly plays to help soothe me despite my attempts to not fall asleep, and the glowing belly is quite interesting! No longer am I fearful at night while mommy drives, as my sea friend keeps me company with its glowing belly and lovely lullabies."
And now for some micro-picks of every type of baby sound machine and sleep soother you might be looking for.
Best sleep sheep
This sheep-shaped sound machine is beloved by many infants, with one reviewer writing, "In a world of superfluous spending on unnecessary baby items, I have to say, this isn't one of them." Another reviewer praised the convenience of this machine, especially on trips: "I like you can choose around 20 or 40 minutes and if it turns off too soon you just touch the button again. It can attach to the side of the crib as well which is great." Others have used it well beyond infancy as well, with one reviewer sharing, "This has been an essential help to bedtime for all of my children. We take it on overnight trips and I think it helps make the kids feel something is familiar in any unfamiliar location. I bought more than one for each child's room. My oldest is 3 and we still use this every nap and night." This sound machine also comes in well-reviewed giraffe and turtle styles, but the sleep sheep has something of a cult following, inspiring one reviewer to write, "I bought this cute sheep already three times and will probably continue to do so. One of my granddaughters loved it and I must say, it was even 'used' by my son-in-law."
Best soft baby soother with auto shutoff


This owl-shaped soother with a 20-minute auto shutoff is "a godsend," according to one reviewer. Another parent reviewer finds it to be a silver bullet for getting her kid to chill out: "I normally use it only at bedtime, but today she was having a really hard time I turned it on and she instantly relaxed." Another parent claims, "This owl saved our lives," explaining. "We were really struggling with sleep training our son. Before we knew it, he was 10 months old and still not sleeping in his crib. I almost gave up until I found the Bubzi. My son loves the lights and all the lullabies. I also love the fact that the songs and lights last 30 minutes. Enough time for him to fall asleep on his own." Another praises the versatility of the Bubzi and how easy it is to clean, calling it "super soft and easy to clean off with a damp washcloth but the sound and light piece comes out for easy replacement of batteries and safety (in case my child just wants to cuddle)."
Best stuffed-animal baby soother with light show
This popular elephant-shaped soother projects stars on the ceiling and offers music and white-noise options, and several reviewers noted that the light show is surprisingly bright. One explains, "It brightens up the whole ceiling and looks beautiful." And one reviewer adds, "I'm glad I went with this stuffed animal as opposed to a fancier projector that's more expensive because this has fantastic projection." Another reviewer's daughter formed a longstanding attachment to hers: "My daughter loves this thing to death. I bought this for her 4 years ago, yes, FOUR … This thing is amazingly tough and does what it says."
Best unicorn baby soother


This unicorn-shaped soother is beloved by caregivers for its cuddliness, as well as its white noise and light projection. "I have a 2-year-old who is super attached. I needed a cuddly toy for her to hold at night, something to comfort her. She absolutely loves her unicorn," one parent writes. Another likes that their kid could cuddle without the sound getting too loud and disruptive: "I purchased this for my toddler daughter and she loves it so much. The unicorn is seriously the cutest. The highest volume isn't terrible high which is a super plus." Another reviewer calls the cry sensor, which automatically activates the lights and white noise, "genius. My 12-month-old grandson was mesmerized by the star projection on the ceiling, and when he awoke during the night crying, the sounds and the projection came on and put him right back to sleep."
Best lullaby white noise machine for babies