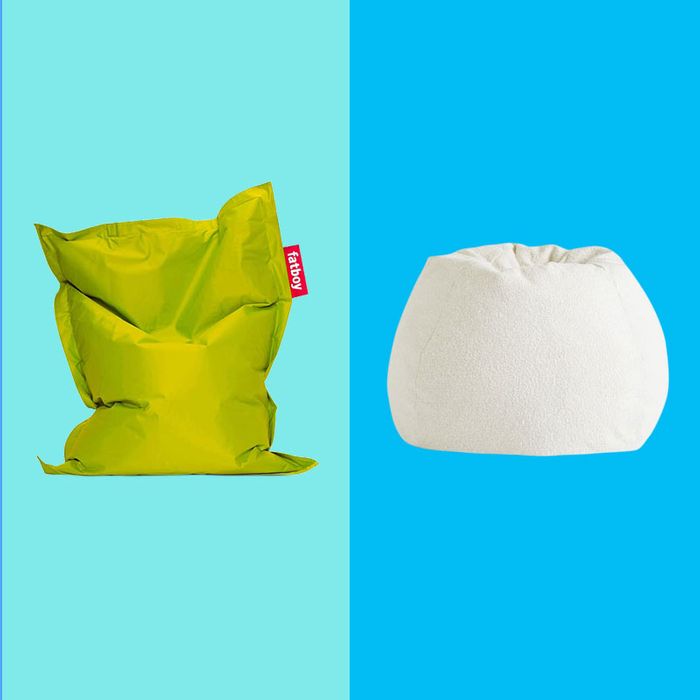 Photo-Illustration: Courtesy of retailer
Since the original 1960s Italian version rocked the design world, beanbag chairs have become a massive industry with every imaginable shape, size, color, and fabric readily available to buy online. One reason for their widespread popularity is that they literally conform to any situation and any body, regardless of shape and size. Whether you have kids, want to furnish a fun game room, or just moved into a new apartment and need new (and cheap) furniture fast, there is a beanbag chair for you.
You can still purchase the original Sacco Italian beanbag chair, something furniture designer Ben Kicic recommends if you're trying to "tell a story" and also because a lot of the knockoffs look cheap, rip easily, and are too closely associated with a college dorm room. The originals are predictably very expensive — though according to Kicic, you can get one on 1st Dibs for less than $1,000. Still, if you're just looking for something comfortable, casual, and cool to sink into for movie nights, there are tons of affordable, durable, and stylish options to choose from. We talked to ten designers, parents, and beanbag-chair enthusiasts to come up with a list of the very best ones for all different kinds of people and places.
If you already know what you are looking for, you can use the table of contents below to click and skip ahead. Otherwise, read on for all ten of our expert recommendations.
Best overall foam-filled | Best overall bead-filled | Best (less expensive) bead-filled| Best that doubles as a bed | Best for stylish teens and adults | Best recycled-bead-filled | Best outdoor | Best eco-fill | Best for little kids | Best that doubles as toy storage
Filling type: The first thing our experts told us to consider is the type of filling inside your beanbag chair. According to Paige Anderson, an interior designer at Nitido Design, one of the most common fillings is polystyrene beads, which she says are lightweight and inexpensive but not biodegradable. They can also be harmful to the environment if not disposed of properly. Some brands will use recycled polyester beads (or a mix of recycled and non-recycled beads), which are more ecofriendly than polystyrene. Anderson says that recycled polyester beads are made from postconsumer waste, such as water bottles; they are nontoxic and hypoallergenic, but not necessarily recyclable themselves. Less common types of filling include shredded foam, compressed foam, natural latex filling (which is derived from rubber trees), and even your own stuffed animals or pillows. Each type of filling will feel (and sound) a little different when you sit down, so it might be worth trying out a few beanbag chairs in person if you have specific sensory preferences. We've listed the filling type in the details section of each product below.
Cover type: The original Italian beanbag chair was made with a leather cover, but now you can find beanbag chairs with covers made from almost every conceivable material, from heavy-duty nylon to shaggy faux fur. When deciding what kind of cover material is best, you'll need to think about where you will be using the chair and whether or not you want something warm and cozy or cool and durable. Water-resistant nylon covers are great for outdoor use and are usually pretty stain- and rip-proof. But if you're looking for something that feels more like a soft and enveloping blanket, we'd suggest something more plush.
Machine washable versus spot clean: In addition to how the cover material feels, think about how you will keep it clean. Many beanbag chairs have removable covers that you can throw in the wash. Others have covers that are removable but spot- or dry-clean only, and some have covers that aren't removable at all. Ultimately, this decision will come down to who is going to be sitting on your beanbag chair and how careful they are about not spilling snacks or removing their shoes before sitting down (or jumping in).
Good for adults versus kids versus college students: Beanbag chairs specifically designed for kids are usually smaller and come with brighter, more fantastically patterned covers. But that doesn't mean a beanbag chair made for adults isn't also potentially great for an 8-year-old. Based on style, cover material, washability, and size, we've noted whom each beanbag chair is "good for" in the details of each product below.
Best overall foam-filled beanbag chair
Shredded foam | Removable cover comes in two materials and five colors | Cover is machine washable | Good for all ages
Big Joe makes both foam- and bead-filled beanbag chairs. One advantage of the brand's shredded-foam-filled Fuf is that it holds its shape better than most bead-filled chairs, cradling and supporting your body as you sink into what is effectively a giant, squishy orb. Strategist senior editor Jen Trolio tested out the large Fuf at home and described it as "supremely comfortable — I love it, my kids love it, even our cats love it." The chair comes in five sizes from small to XXL, and you can choose between a softer plush cover or a more basic polyester material. Trolio tried the plush version of the cover and says "it's nice and cozy without being too shaggy or fuzzy." The covers for all but the smallest size of Fuf are removable and machine washable.
The Fuf ships just like a mattress in a box, compressed and rolled up, so if you order one of the larger sizes, you'll want to open it in the room where it's going to live: "I can get the large size through a standard doorway, but it's not easy," Trolio notes. Thankfully, the Fuf has two discreet handles sewn into the cover, which are crucial for adjusting it, flipping it over to fluff it up, or moving it around a room. Once she opened it and put on the cover (a process that is definitely doable with one person, but easier with two), Trolio reports that the Fuf fully expanded within a few hours, though she warns that if you're sensitive to odors, it took a few days for a slight "foam wrapped in plastic" smell to fully dissipate. Compared to the Yogibo, our top choice for a bead-filled beanbag chair that she also tested, Trolio says the Fuf's main advantage is that it's silent: "Where the noise of the Yogibo's filling may bother some people, the Fuf's shredded foam filling doesn't make a sound," she says.
In our guide to the best remote-learning essentials, another Big Joe beanbag chair was recommended by Dr. Lee Scott, chair of the Educational Advisory Board with the Goddard School. He told us that, like adults, kids benefit from breaks and brief changes in scenery and recommends establishing "a cozy reading area" to give them some reprieve from the desk, table, and, most importantly, from screens. According to him, the Big Joe beanbag chair creates that cozy and special place to read or relax.
Best overall bead-filled beanbag chair
EPS beads | Removable cover comes in 12 colors | Cover is machine washable | Good for teens and all ages
Amit Bhattacharyya, head of data science at Vox Media, bought this classically round beanbag chair from Yogibo for his teenage daughter's room. She uses it as a casual lounge chair, a place to read, or a change of scenery for working on her laptop. The Pod X is great as extra seating indoors, and the brand also makes an outdoor version with a water-resistant and UV-protected cover to keep the color from fading. Both the indoor and outdoor covers are machine washable and have a handle so the chair is easy to drag around from place to place.