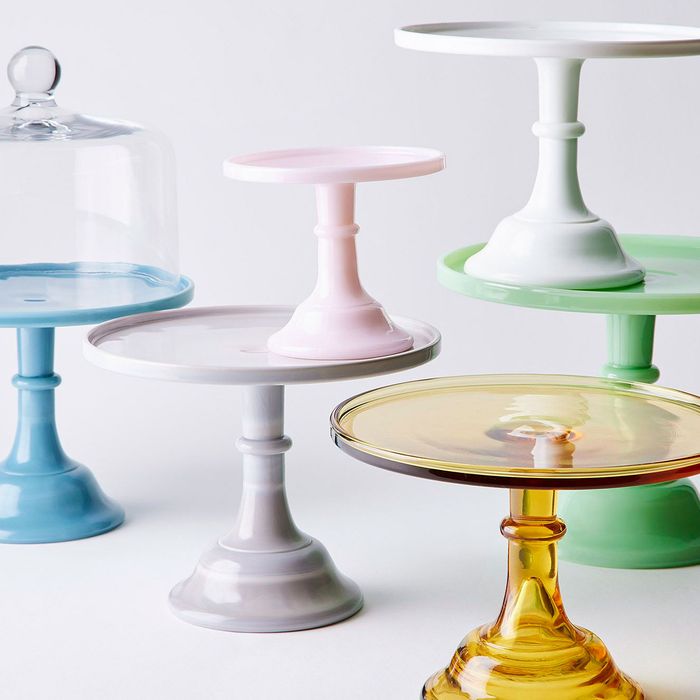 An all-over-the-place assortment of stood-behind products culled from this very website that appear in the February 13 issue of New York Magazine.
As a home cook, you may not think you need a kitchen scale, but you're wrong. After talking to chefs and a caterer, writer Margaret Eby concluded that nearly everything you might want to make — coffee, baked goods, a hamburger — will improve with the use of this simple tool (allowing for a better grounds-to-water ratio or more consistent pie crusts). And specifically with the use of the Escali Primo, the easy-to-operate choice of both everyday cooks and pros. It's what Food52 editor Emily Ziemski has been using since culinary school, and she has never needed to replace it. The scale is lightweight and compact (but handily holds heavier kitchen bowls), attractive enough to keep on display (it comes in eight colors), and reliably accurate down to the gram. Strategist dining writer Emma Wartzman likes its especially intuitive buttons and how, generally, it "does everything it needs to and nothing more."
Writer Latifah Miles talked to toy specialists and a day-care owner about the best cold-weather toys.
Myllicent Felder, founder of the nature-based outdoor day-care program Sidney Ridge Nature Playschool, says these colorful silk streamers are a hit with young children all year, but "we especially love using them in the winter, as they encourage gross motor movement and keep bodies warm."
Felder's students use these as their palette on fresh snow. They're safe for both the environment and consumption (the inevitably eaten ice).
Made completely of foam, this lightweight disc glides effortlessly across water, snow, and ice and is recommended by Toy Association content developer Jennifer Lynch.
Kids can invent games with it or use it "like a jumbo hockey puck" or "to create their own version of curling," she says.
"I bought these 20 years ago when I got my apartment in New York City. I went to Waterworks, got them monogrammed, and have had the same ones ever since. I was washing them the other day and thought, Wait, how long have I had these? They've held up beautifully. The monograms add an extra layer of personalization, and it makes you feel like you're in a fancy hotel."
"As a singer, I find they're very long-lasting and moisturizing for the throat. I use them before I go onstage or when I'm on a plane. But they're good for everybody — sometimes my mom will get a jagged cough out of nowhere, and she just pops one of these and it helps. I just have to have them. I keep them in every purse. I've even gotten Ariana Grande on them."
"I sleep with this every single night. I nee dit on tour because it helps with lower-back pain when I've been sleeping on the bus. It just makes any environment more cozy immediately. Even when I'm not touring and sleeping over at a friend's house or something, I bring it with me. It's maybe half–heating pad, half–security blanket at this point."
Whenever I travel, the item I find most thrilling to discover is toothpaste.
From gorgeous European heritage brands to the bright, fruity flavors in Japan (that are not just for kids), there are so many trends to notice and curiosities to try. Below, a few of my favorites. — Caroline Weaver
.

From Japan
"The flavor, to my surprise, was much more nuanced than I had anticipated. It leads with a gentle mint but is a little sweet and fruity and has a whisper of something earthy and floral."
.

From Italy
"This does actually taste like a Sicilian-lemon confection with a hint of herbal cough drop."
.

From India
"First-time users will be surprised to find that it has the color and texture
of clay and tastes as earthy and fragrant as an Indian spice shop smells because it contains 18 different herbs and barks. It's delicious and leaves my mouth feeling extraordinarily clean."
.

From Estonia
"Babushka Agafia has an impressive selection of regionally specific flavors like Siberian Black Birch, Red Algae of Sakhalin, and Volcanic Salt of Kamchatka. It may be worth a trip to Estonia just to find them all."
Dining writer Emma Wartzman pored over the dozens and dozens of cooking items we've surfaced through the years. Below, a few from her definitive kitchen-essentials roundup.
The windowless bathroom in my London flat is small and slightly moldy, visibly worn down by years of successive tenants. Hours of scrubbing with bleach and a toothbrush barely made a difference to the black mold, rings of limescale, and stubborn hard-water stains. I was cleaning the bathroom, sure, but it never looked clean. Then online I came across the Super Sonic Scrubber, a small electric brush with four interchangeable nylon heads. All I needed was an arsenal of cleaning products. Black-mold spray along the bottom of the shower doors and around the rim of the basin eliminated mold when paired with one of the tiny round brush heads. What would normally take about an hour of manual scrubbing was blitzed by the brush in around ten minutes. Bleach and the same bristly brush head destroyed the yellowing base around the sink's tap. Over the next week, I experimented with the scrubber's brush heads on my washing-machine tray and around my hobs, then freshened up the grout between tiles with the tapered head. –Rachael Griffiths
In his latest column, Chris Black responded to a reader who was heading to London and Stockholm and wanted to look semi-presentable for his long-haul flight. Here, three of his suggestions.
For something that feels and looks more technical but still provides warmth, go with this zip-up down jacket from Montreal's Ostrya. It isn't too puffy to sit in, and it stuffs into its own pocket for storage.
These twill pants from COS are a nice understated option. The fit is roomy without being sloppy, which will help you stay comfortable on your journey but also let you go straight into any situation when you land.
If you must wear slip-ons because you still haven't set aside time with our friends at the TSA to get PreCheck, go with the Birkenstock Boston in black leather. It's more durable and less cheugy than the popular taupe suede.
The heavier the weight bench, the more stability it can provide. Here are four options — both foldable and stationary — at various weights. — Jeremy Rellosa
Foldable, under 75 pounds.
Foldable, over 75 pounds.
Stationary, under 75 pounds.
Photo: Rep Fitness
Stationery, over 75 pounds.
The Strategist is designed to surface the most useful, expert recommendations for things to buy across the vast e-commerce landscape. Some of our latest conquests include the best acne treatments, rolling luggage, pillows for side sleepers, natural anxiety remedies, and bath towels. We update links when possible, but note that deals can expire and all prices are subject to change.