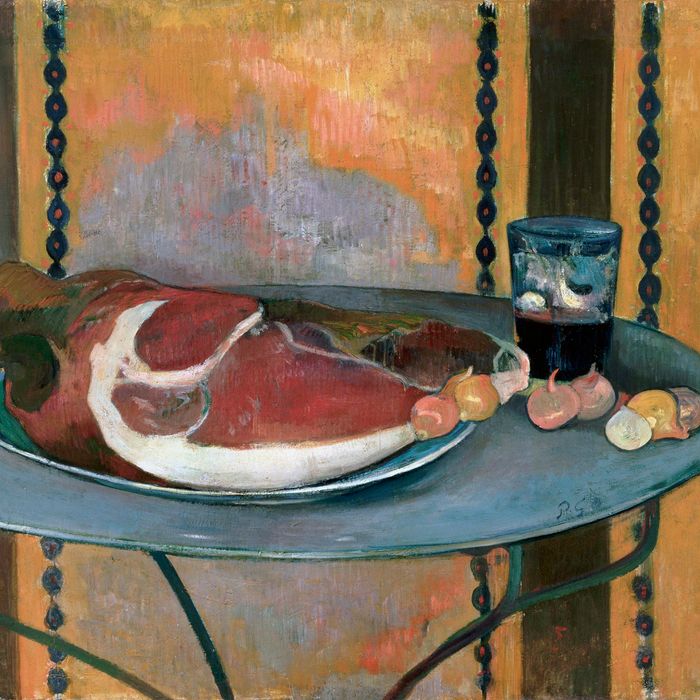 You'd use a slicer for this ham.
Photo: Fine Art/Corbis via Getty Images
Cutting through protein requires a blade with a particular set of characteristics — it doesn't have to be big, but it should be agile. To help all you carnivores, we talked to experts to find the knives to buy for when you're butchering your own chicken, serving a pork rib, and cutting a steak.
For whole poultry, like chickens and ducks
"People think that when you're breaking down a whole animal, you need to have these big, heavy knives," says chef Angie Mar, who runs the New York West Village restaurant Beatrice Inn, where the menu includes extravagant protein dishes like lavender aged beef rib and rabbit à la joinville. "I actually don't use them at all. I use a boning knife because when you're talking about whole animals, really you're looking at taking them apart at the joint. So you need a boning knife that's sharp, with a shorter blade, so you're really going to be able to get in there."
Mar especially likes this Masamoto carbon-steel knife. "The blade on it always has to be about six inches," she says. "This one is great. It's super sharp and agile."
If $250 is more than you want to shell out for a boning knife, Global also makes one that, like its chef's knife, has a hollow handle.
For a plastic-handled option, Wüsthof makes a few that are as long as the requisite six inches and cost less than the Masamoto.
For porchetta, prime rib, or leg of lamb
Before you serve a special-occasion piece of meat, you want to carve it into smooth slices. "With a slicer, you've got a longer blade, maybe 270 millimeters," — about 10.5 inches — "that's great for slicing boneless protein," Mar says. "The blades are a little bit thinner than on a chef's knife, but — especially when we're using whole roasts or steaks — I would always reach for a slicer." Outside of a restaurant, this is the knife you'll use on Thanksgiving and at big, ambitious dinner parties.
Back to Mar's affinity for Masamoto: She prefers its slicers with wooden handles.
The Masamoto is the impressive knife to get, but once again, if you're inclined to spend less, trusted brand Wüsthof makes this one that is also ten inches long and can get the job done.