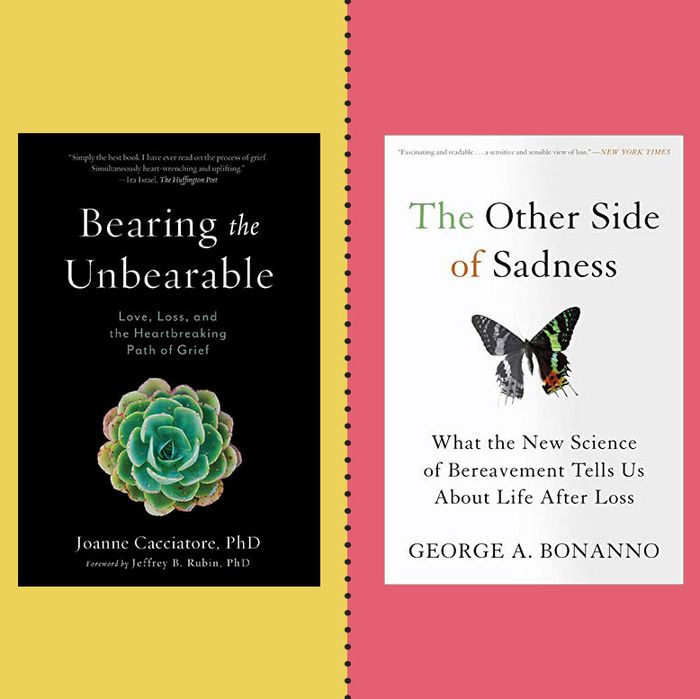 Primers on processing
Photo: Courtesy of the vendors
Welcome to Reading Lists, comprehensive book guides from the Strategist designed to make you an expert in hyperspecific or newsworthy topics (or at least a fascinating dinner-party companion), from microdosing and psychedelic therapy to French cooking. Here, a selection of books about understanding grief and the grieving process.
Processing grief can be a significant challenge to those directly experiencing loss and their loved ones. According to Dr. Lynn Horridge, "People's experience of grief is so subjective, and as a culture, we suffer from a lack of literacy around death and grieving. This leaves people feeling isolated and unsupported in their grief, at a time when they need people and support most." While no single text can offer a simple answer, we've compiled a list of books that can, at the very least, help you better understand the grieving process. "When we suffer core-level losses, the narrative arc of our life stories is torn apart," explains Dr. Miriam Benhaim, clinical director of the Center for Loss and Renewal. "There are no shortcuts in this process, but books can help to repair and rewrite those narratives as we learn about the stories and struggles of those who have gone before us in meeting these challenges and in validating our feelings and reactions."
We consulted a group of grief-focused psychologists, social workers, and counselors to find the best books about grief and grieving that cover a range of experiences and relationships. Our panel of experts includes social worker R. Benyamin Cirlin, executive director at the Center for Loss and Renewal; grief counselor Diane Brennan; author of Mindfulness and Grief Heather Stang; psychotherapist and author Karla Helbert; social worker Dave Roberts; Dr. Rebecca S. Morse; senior director of advocacy and training at The Dougy Center Dr. Donna L. Schuurman; grief counselor Shakira Perez-Jones; Dr. Laura Goorin; social worker Rebecca Gerstein; Dr. Alexis Tomarken; family grief counselor Jill S. Cohen; psychotherapist Ruth Kreitzman, social worker Colleen Bloom of the Center for Complicated Grief; and Dr. Gloria Horsley and Dr. Heidi Horsley of the Open to Hope Foundation and authors of Teen Grief Relief. As always, each book comes recommended by at least two experts.
Best book about dealing with grief after a death
Three of our experts recommended this text by Dr. Therese Rando, a pioneer in the field of grief counseling and the current Clinical Director of The Institute for the Study and Treatment of Loss. Her seminal guide to grief gently walks readers through essential and often overlooked aspects of the process while remaining inclusive of all types of losses.
According to Benyamin, the book is essential reading because her description of the grieving process is both "comprehensive and illuminating." Brennan adds that it covers both the "practical and emotional steps necessary to recover from a major loss" from managing funeral preparations to learning how to accept help from friends and family. And Cohen calls it is "a classic" that is "practical, inspiring, and so worthwhile to read."
Best books on grief for children
Obviously, the way a child comes to understand loss is quite different from the way an adult does. When it comes to explaining death to young children, Cirlin recommends finding books that "help to contextualize the role of change, loss, and death in our lives" by finding metaphors in nature or the world at large. Four of our experts cited The Invisible String as a go-to book "that skillfully communicates to children the reassuring meaning of attachment and its importance in all kinds of losses," says Kreitzman. Gerstein adds that she loves this book "because it can be used to discuss any type of loss" and the metaphor of the string is easily understood by children of all ages.
While it may be a parent's first instinct to shield children from the realities of death, several of our experts noted that it is more harmful in the long term not to facilitate these discussions. And a book provides a simple yet effective way to break the ice with kids. Three of our experts suggested The Fall of Freddie the Leaf, which follows the life cycle of a leaf named Freddie and his friends. "Simple and wise, this story is an allegory about the balance between life and death," says Helbert. Cirlin adds that it is filled "with great warmth" and "meant to be read and reread."
Three of our experts — Ruth Kreitzman, Jill S. Cohen, and Donna Schuurman — suggested keeping When Dinosaurs Die: A Guide to Understanding Death on hand to answer any questions kids might have. "This book provides clear and straightforward information about death in a very engaging format," says Kreitzman; and Cohen says it is "full of compassion and comfort." Schuurman adds, "This is one of the few books specifically for children that doesn't oversimplify or give pat answers about why people die. It explores the things children wonder about as they try to make sense of dying and death, as well as how to cope."
Best book about the science of grief