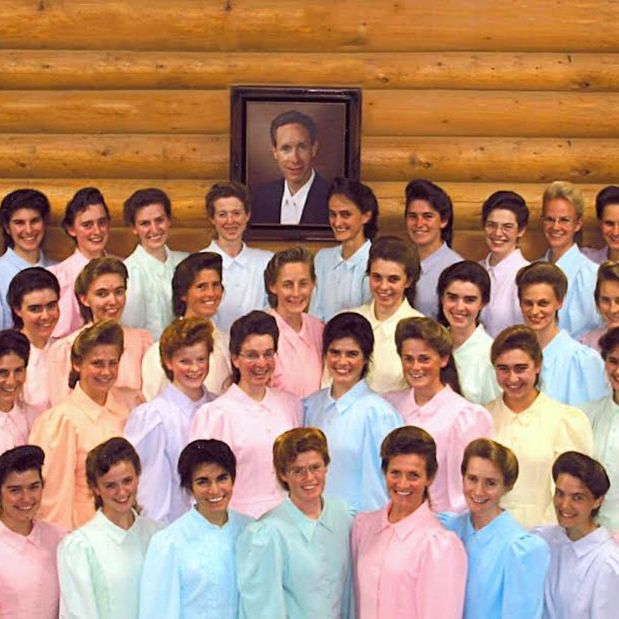 FLDS women, Courtesy of Prophet's Prey.
Welcome to Reading Lists, comprehensive book guides from the Strategist designed to make you an expert (or at least a fascinating dinner-party companion) in hyperspecific or newsworthy topics. This week: a selection of books (and notable articles and podcast episodes) about cults.
We're a little cult-obsessed at the moment. Smallville actor Allison Mack was recently all over the news, arrested on sex-trafficking charges for her association with the Albany, New York, cult NXIVM. That came on the heels of Wild Wild Country, a Netflix docuseries about the Rajneeshpuram commune that formed in early 1980s Oregon, and Waco, a mini-series based on the Branch Davidian compound in 1993.
But really, we've always been cult-curious, and there's a wealth of literature to prove it. We reached out to professors, researchers, cult deprogrammers, and filmmakers to find out the best book to read on a variety of notorious groups. (Note: We discovered that cult is considered a pejorative term among some of the people who study what they call new religious movements. We're using those terms interchangeably.) In total, we talked to Maclain and Chapman Way, the directors of Wild Wild Country; Arthur Goldwag, the author of Cults, Conspiracies, and Secret Societies; psychologist Natalie Feinblatt; Timothy Miller, a professor of religious studies at the University of Kansas at Lawrence; Jodi Wille, director of The Source Family; Alexandra Stein, a social psychologist who specializes in the psychology of cults (and who was a member of a political cult as a young woman); Flo Conway and Jim Siegelman, authors of Snapping: America's Epidemic of Sudden Personality Change; Daniel Shaw, the author of Traumatic Narcissism: Relational Systems of Subjugation; Mitch Horowitz, author of Occult America: The Secret History of How Mysticism Shaped Our Nation; Jean Rosenfeld, a retired historian of religions; Chris White, chair of the religion department at Vassar; Marion Goldman, professor of religious studies at the University of Oregon; Rick Ross, a deprogrammer; Steven Hassan, the author of Combating Cult Mind Control and a former member of the Unification Church; and Nate Carlisle, the Salt Lake Tribune reporter on the polygamy beat.
We asked this group about essential reading material for each of those most well-known cults out there, and almost every book we're listing here was recommended by at least two from our panel. But this is a broad and unwieldy topic, and a few only got single mentions. So we researched those titles ourselves and feel comfortable including them among the best.
Seductive Poison — recommended by three of our experts — is a memoir by Deborah Layton, who escaped Jim Jones's People's Temple just months before more cult members drank Jones's cyanide punch to commit "revolutionary suicide." Layton gives a detailed history of the People's Temple, paints a three-dimensional portrait of Jones, and describes her complex escape from the Guyanese jungle, where the majority of the group lived and died. "The book is a moving, highly readable, firsthand account of one of the most tragic cults in U.S. history," says Stein, who adds that Layton's account is comprehensive, starting at the beginning, when People's Temple was still a church supported by some prominent political figures. Ross commends Layton for articulating just how Jones was able to influence and murder close to 1,000 people. "Hypnotic and harrowing," Feinblatt says.
Raven: The Untold Story of the Rev. Jim Jones and His People, by a journalist who covered Jonestown for the San Francisco Examiner, also got two votes. The writer, Tim Reiterman, accompanied Congressman Leo Ryan on a fact-finding mission to Jonestown, Guyana; the morning that more than 900 members of the People's Temple died in a mass-suicide ceremony, the congressman was murdered by People's Temple gunmen and Reiterman was wounded. "This is an indispensable account of the Reverend Jim Jones's homicidal cult, and its catastrophic demise at Jonestown," said Horowitz. "Reiterman is a prize-winning journalist," added Conway.
"This is the mother of all cult books," say Siegelman and Conway of Helter Skelter, attorney Vincent Bugliosi's account of the Manson Family. The California group gained notoriety after its members murdered actress Sharon Tate and four others, under the instruction of Charles Manson. Countless books and articles have been written about Manson and his followers, including a recent, well-reviewed biography (Jeff Guinn's Manson), but this is the best. Feinblatt agrees: "Few people have laid out the truth about Charles Manson and the Manson Family murders as clearly as Vincent Bugliosi has." Put bluntly: "Helter Skelter is still a classic," says Goldwag, who liked Guinn's Manson, but said Helter Skelter more incisively looks at the cruelty of his followers — i.e., the cult itself.
The aforementioned biography of Charles Manson, which came out in 2013. It traces Manson's life from early childhood onward and looks into his brainwashing tactics, all set against the tableau of a messy, druggy period in American and Californian history.
The Fundamentalist Church of Jesus Christ of Latter-Day Saints is an offshoot of Mormonism that practices polygamy and has always been led by a succession of men regarded as prophets. In July 2005, eight men of the church were indicted for sexual contact with minors; the current prophet, Warren Jeffs, will die in prison for child sexual assault. The FLDS world has been popularized in the public eye through HBO's Big Love, and in Jon Krakauer's Under the Banner of Heaven, but Feinblatt and Carlisle both recommend Prophet's Prey, written by a private investigator who cracked open the case that led to the conviction of Jeffs. The book includes the contents of Jeffs's personal priesthood journal, and goes deep inside the FLDS compound. "Although the FLDS and Warren Jeffs were in the news quite a bit," Feinblatt says, "few people truly understand how destructive and abusive this cult was, and Sam Brower does an excellent job at outlining their history and bringing their victims into the light." Carlisle agrees: "It's very, very well researched," he says.
As for memoirs by escaped members, Stein and Carlisle both recommend Carolyn Jessop's Escape. Jessop is a sixth-generation descendant of FLDS who grew up on the compound in Hildale, Utah, and was forced into an arranged marriage with 50-year-old Merril Jessop at age 18. "It's one of the best escaped-wife memoirs, but it's a bit outdated — it doesn't get into the Warren Jeffs years because she'd left by then," Carlisle says.
For a more current account of life on the compound, Carlisle recommends the recently released Breaking Free by Rachel Jeffs, the daughter of Warren Jeffs by his second of more than 50 wives. Rachel Jeffs was sexually assaulted, compelled into an arranged polygamous marriage, and physically separated from her children. "It's a well-written book," says Carlisle. "And very up-to-date."
Though the United States recognizes Scientology as a religion, it is (justifiably) classified as a cult in France, Chile, Israel, and Norway. In any case, to better understand what life inside the group looks like, several of our experts recommended Lawrence Wright's Going Clear, which HBO also turned into a documentary film in 2015. "This book examines Scientology's history and its long association with the entertainment industry," says Goldman. "It is grounded in meticulous research and a thorough bibliography." Shaw calls it a masterpiece, point-blank, and Conway calls Going Clear "the definitive journalistic work on this global religious and self-help enterprise — that many knowledgeable observers agree is one of the worst cults out there."
In 1993, the Branch Davidians — an offshoot of Seventh-day Adventists led by David Koresh, in Waco, Texas — were raided by the FBI. It led to a 51-day standoff and the eventual death of Koresh and 82 of his followers. Rosenfeld and Miller both recommend reading survivor David Thibodeau's autobiography, Waco: A Survivor's Story, which was recently adapted for television. "It's immensely valuable," Miller says, "because it was written by someone who was actually there. Thibodeau escaped the fire at the Davidians compound at Waco that ended the raid and, before that, saw the whole siege from the inside. With it, you get an understanding of what the Branch Davidians were all about" — which had a lot to do with preparing for the second coming of Christ — "and it becomes clear that they weren't raving maniacs held captive by a madman," but also victims of a hostile takeover from the FBI.
For a more critical analysis, Miller and Goldman recommend Armageddon: Critical Perspectives on the Branch Davidian Conflict. "A number of scholars present balanced perspectives on the Branch Davidians and violence that could have been averted," says Goldman. "This book charts the relationships between new religious movements, law enforcement, and the state."
The Unification church, sometimes referred to colloquially as the Moonies, was founded in 1954 by Sun Myung Moon, a Korean spiritual leader. Members believed that Jesus appeared to their leader when he was 16, and asked him to finish his spiritual work for him. It has faced criticism since the 1970s, when hundreds of parents of members used deprogrammers to remove their children from the church. Feinblatt recommends In the Shadow of the Moons, My Life in the Reverend Sun Myung Moon's Family by Nansook Hong, Moon's daughter-in-law. "It's rare to hear from someone so close to a cult leader," she says. "She provides an eye-opening look into a cult leader's family system, as well as an inspiring story of escaping a highly abusive relationship." Steven Hassan, a former member of the group, recommends Hong's book as well. "It's quite the expose, as she was born into the 'royal family,'" he says.
The Family International (initially called the Children of God) began in 1968 in Huntington Beach, California, and attracted attention for alleged child abuse (sexual and otherwise) and for its use of sex in missionary work. You might know it because Rose McGowan and the Phoenix siblings (River, Joaquin, Rain, and Summer) were members of the group from 1972 to 1978; River, who died of a drug overdose in 1993, told Details magazine that the group was "ruining people's lives." Stein recommends Not Without My Sister, by Juliana Buhring, which recounts the lives of three sisters — Kristina, Celeste, and Juliana — all of whom were born into the cult and who were badly abused from the age of 3. "This book tells the heartbreaking experience of three sisters who grew up in the Family International," says Stein, "where polygamy and pedophilia were enforced by the leader. All three sisters survived neglect and abuse and have shown immense bravery and resilience in telling their stories."
Two of our experts also recommended Living in the Children of God by David Van Zandt. "It's a useful introduction and overview of a group that changed names and configurations several times," says White. "This is one of the few academic books written about the Children of God," says Goldman. "Though it does not address the ways that the group redefined itself as the Family International."
The famous author of One Flew Over the Cuckoo's Nest lived communally throughout the 1960s with a group of friends and followers called the Merry Pranksters, who renounced society (which they dubbed "The Establishment") and went on bus trips where they organized parties and handed out LSD. "In Tom Wolfe's seminal The Electric Kool-Aid Acid Test, Ken Kesey and the Merry Pranksters seem to avoid the stigma of being called a cult," wrote Maclain and Chapman Way over email. "They are most often referred to as a 'group' or even the more prestigious term 'movement,' but the hippies completely separated themselves from mainstream society and were led by a charismatic figure who advocated extensive drug use as a way of achieving spirituality. One of Wolfe's crowning achievements — for newcomers it's a must-read, and for others it's worth a reread."
Father Yod — born James Edward Baker — was the owner of one of America's first health-food restaurants, on the Sunset Strip in Los Angeles. He was also the founder of a spiritual commune in the Hollywood Hills known as the Source Family, comprised of 150 members, who lived in mansions in the Hollywood Hills, had their own rock band, and practiced so-called sex magic. Father Yod had 14 wives, and died hang gliding in Hawaii in 1975. This documentary about them was made in 2012 by Jodi Wille, and is a total trip.
And some cult-centric media freebies
Hot off the presses: for the Times, Vanessa Grigoriadis has written what is by far the most in-depth examination of NXIVM, the so-called "multilevel marketing company" where women were allegedly branded and sexually abused. Its leader, Keith Raniere, was recently arrested and indicted on a variety of charges, including sex trafficking, sex-trafficking conspiracy, and conspiracy to commit forced labor. Grigoriadis interviews Raniere and several still-loyal members of the group, including the Bronfman sisters.
Separately: Glynn Washington — who grew up in an apocalyptic faith organization called the Worldwide Church of God — tells the bizarre story of the Heaven's Gate cult, and the mass suicide they committed (dressed identically, and with matching haircuts) in a mansion near San Diego in 1997. According to their videotaped farewell messages, they believed they were shedding their bodies in order to meet a UFO that would transport them to the kingdom of heaven. Vulture listed the podcast in the September 2017 "Great Podcasts to Check Out This Fall." Download for free through iTunes, or wherever you get your podcasts.
The Strategist is designed to surface the most useful, expert recommendations for things to buy across the vast e-commerce landscape. Some of our latest conquests include the best women's jeans, rolling luggage, pillows for side sleepers, ultra-flattering pants, and bath towels. We update links when possible, but note that deals can expire and all prices are subject to change.
Every editorial product is independently selected. If you buy something through our links, New York may earn an affiliate commission.