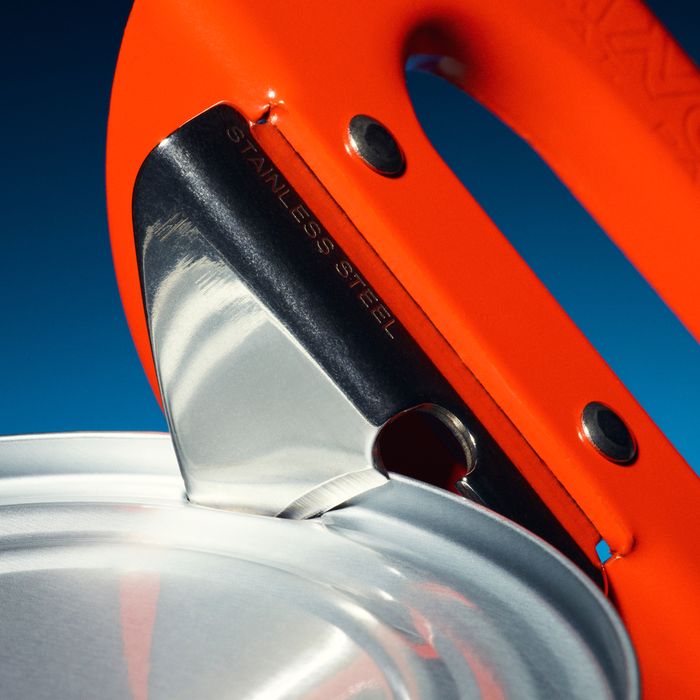 We've all struggled with bare-bones can openers, those barely-functioning metal sticks that turn opening cans into a sweaty effort and make you swear off anything but pull-tabs from then on.
A well-functioning can opener — one that's easy to turn, smoothly cuts through metal, and leaves no shards behind — puts an end to this struggle and helps you get on with whatever meal you're making. To aid your search for the right can opener for you, I asked kitchen experts, such as food writers, recipe developers, and pizza chefs, which models they rely on, as well as tried many myself. Read on to never have to dread opening a can again.
The main choice you have in can openers is whether to buy a manual or electric one. Manual can openers require you to do the work of twisting the knob to open the can, but cost less, while electric versions do the work for you, but cost more.
With a standard can opener, you're typically left with sharp edges that you need to skirt around while removing what was inside. Safety openers have gears on the top, which cut around the outside rim of the can, magically leaving you with a blunted edge that won't injure you.
Some can openers also open bottles or pull tabs, or come with magnets to help lift the lid.
Best overall
Type: Manual / Safety: Standard / Extra features: Bottle opener
This straightforward can opener was recommended by four experts for its simplicity and ease of use. "Why do so many can openers these days look nothing like a can opener?" says Dan Pelosi, a home chef and cookbook author known as Grossy Pelosi. "This one is just a good old-fashioned design, a crank that is smooth as butter, with a blade that never fails and always latches on." He also appreciates the metal notch built into the underside of the can opener that you can use to open bottle caps. Recipe developer and food stylist Rebecca Firkser appreciates the same bottle-opener function, which she uses to loosen stubborn jar lids.
OXO's oversize handles are soft and nonslip, which cookbook author Katie Parla finds helpful for not dropping it. "I don't get tomato sauce on me until after I start eating," she says. Recipe developer Ali Slagle adds that her OXO can opener is a perfect example of "something that works well, never falters, and just does its job quietly and thanklessly."
Best (less expensive) overall
Type: Manual / Safety: Standard / Extra features: Bottle opener
The majority of professional chefs I consulted hail this nifty Japanese can opener as their top choice because of its sturdiness and efficiency. "It's super-fast," says Natasha Pickowicz, who's had hers for a decade. "The edge is sharp, and it works 100 percent of the time." Josiah Bartlett of Wizard Hat Pizza has owned his for five years, and loves it so much he bought a second. Jeremy King, chef and owner of Little King, was initially met with skepticism when introducing it to kitchen staffs over the years because of its strange design — a metal rectangle with a blade attached to it. But they eventually come around to this "no-nonsense" can opener and "can't resist that sharp, sharp blade," he says.
To use it, you loop your hands into it, knuckles facing the can, and rock your wrist back and forth to puncture the metal and keep the blade moving along. It can take a few tries to get used to it, but once you do, "you'll be opening cans with more precision and faster than ever," Bartlett says. "It's also bright red, which I find helpful in easily being able to track it down if it's out of sight."
Pickowicz also points out that it's the rare can opener that works if you're left-handed, like she is. Unlike other can openers, it never feels awkward for her to hold.
Best ergonomic
Type: Manual / Safety: Standard / Extra features: Lock-in grip, bottle opener
According to Suzy Choi Lee, an occupational therapist at VA Palo Alto Medical Center, anyone with bone, muscle, or joint issues in their hands should avoid stressing them further. She suggests can openers with larger handles that are easier to grip, especially when they're made of non-skid materials like silicone.
This model from OXO has a large, cushy handle, but what makes it even more exceptional is that it locks in so you don't have to squeeze it as you turn. Plus when you're ready to remove the lid, an attached magnet lifts it up and out. "No more fishing the lid out of soup, crushed tomatoes, or stock, and risking cutting myself," says David Leite, chef and founder of Leite's Culinaria.
Best safety
Type: Manual / Safety: Smooth edges/ Extra features: Mini-pliers, ring pull opener
This Swiss-designed "smooth opener" cuts along the outside of the can and, true to its name, only leaves smooth edges. It took me a few tries to understand how it works: You hold the blade and knob over the top of the can, not to the side as you do with a standard can opener. Once the can is cut, you'll feel a slight release in tension and a light click, and then you can turn the knob in the opposite direction to let go of the lid. It took opening a few cans for me to get used to knowing when the can was fully cut since the process was so smooth. While you can safely remove the lid with your hands, I like using the built-in mini-pliers to pick it up instead. On the other side of the can opener, there's also a hook that can open pull tabs.
Best for large cans
Type: Manual / Safety: Standard / Extra features: Bottle opener
Five people I surveyed recommend this can opener for cans larger than 28 ounces. One of them has had it for nearly a decade (and inherited it from their aunt in the first place), proof of its durability and longevity.
Chris Milazzo, owner of pizza pop-up Bad Cholesterol, broke two can openers while opening tomato sauce before he found the Swing-A-Way, which cut through Costco-size metal lids with ease. "It's sturdy, got a nice handle, and is also magnetized a little so it sticks to the rim and makes it easier to turn in case the can slips or slides," he says. Auggie Russo of Tiny Pizza Kitchen is also a fan, saying, "It's smooth and requires fewer cranks to make a rotation, which saves time when you're opening a pile of cans."
Best electric handheld
Type: Electric / Safety: Smooth edge / Extra features: LED light indicator
Another way to be easy on your hands is to choose an electric can opener, like this one from Zyliss that runs on two AA batteries. You set the blade over the top of the can, press the button, and let it zoom around. Unlike some handheld electric can openers, this one stops automatically, which is key to preventing overcutting and leaving a trail of tiny metallic shavings in the can.
Best electric on a base
Type: Electric / Safety: Smooth edge / Extra features: Cordless, lock-in grip, magnetic lid-holder
When I tried it, the FlexCut electric can opener was almost too easy to use. You just lift the lid, line up your can, press down, and then let go. "You can do something else for a minute or two, and then boom! Your can has been delidded," says cook and creative Teresa Johnson. After the lid is cut, the can opener stops automatically and the magnet in the handle removes the lid, so you don't have to touch anything. The blade is also removable, which makes it easy to clean.
This can opener sits on a base, but it doesn't take up much counter space (the retractable cord helps keep it compact). You can also detach the rechargeable top portion to turn it into a manual electric can opener, which is useful for larger cans.
• Josiah Bartlett, chef and owner of Wizard Hat Pizza
• David Leite, chef and founder of Leite's Culinaria
• Rebecca Firkser, food writer and recipe developer
• Teresa Johnson, home cook and caterer
• Katie Parla, cookbook author
• Natasha Pickowicz, chef and cookbook author
• Jeremy King, chef and owner of Little King
• Suzy Lee, occupational therapist (OTR/L) at VA Palo Alto Medical Center
• Chris Milazzo, chef and owner of Bad Cholesterol Bakery
• Dan Pelosi, cookbook author
• Auggie Russo, chef and owner of Tiny Pizza Kitchen
• Ali Slagle, recipe developer and cookbook author
The Strategist is designed to surface the most useful, expert recommendations for things to buy across the vast e-commerce landscape. Some of our latest conquests include the best acne treatments, rolling luggage, pillows for side sleepers, natural anxiety remedies, and bath towels. We update links when possible, but note that deals can expire and all prices are subject to change.
Every editorial product is independently selected. If you buy something through our links, New York may earn an affiliate commission.