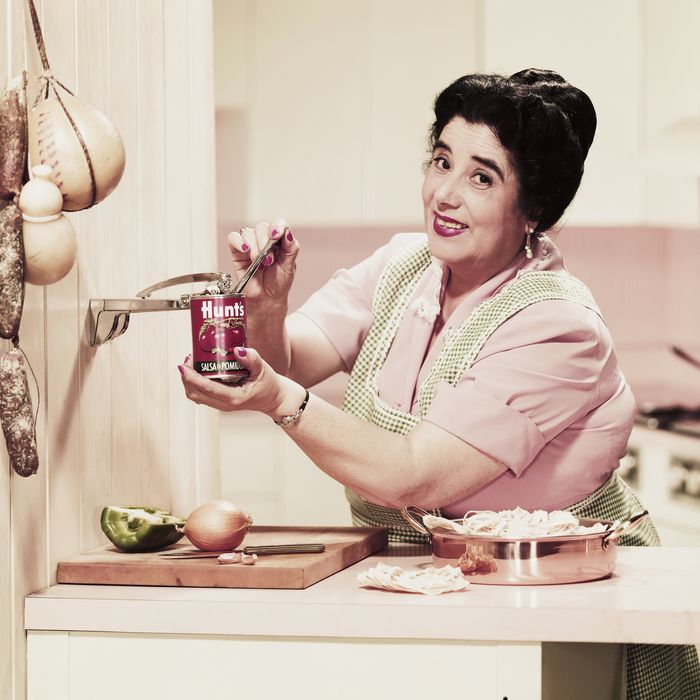 Photo: Tom Kelley Archive/Getty Images
Here at the Strategist, we like to think of ourselves as crazy (in the good way) about the stuff we buy, but as much as we'd like to, we can't try everything. Which is why we have People's Choice, in which we find the best-reviewed products and single out the most convincing ones. (You can learn more about our rating system and how we pick each item here.)
And while we've written about lots of kitchen gadgets — including the best milk frothers and the best knife sharpeners — here we've rounded up the best butcher-block islands and kitchen carts, as praised by the most enthusiastic reviewers on Amazon.
Best-rated can opener
Over 80 percent of reviewers give this can opener a five-star rating with many noting how easy it is to use. For one user that means no more fighting "with my old can opener to actually 'hold' the can properly so it could cut the lid." They continue, "With this can opener, you lift the handle, place the can underneath, and then lower the handle. It grabs the can so easily, it made me realize how much of a hassle my old opener really was." Another says it leaves "NO sharp edges and you can snugly fit the top back on the can for refrigerator storage if you don't use the entire can of food." Best of all many users note this can opener does all that while barely making a sound. "This quietly decapitates any can like a freakin' ninja," one user writes. "You'll be thinking 'Man… this ain't doin' nothin'!' when suddenly, your can is opened up like a deer during the hunting season. You can't go wrong with this bad mo'fo."
Best-rated (less expensive) can opener
Reviewers love keeping these military-style can openers in their "bug-out bags" as they don't require electricity or take up much space. "It doesn't matter how much canned food you have stocked up, if you can't open it up, you can't eat it," one user writes, adding they bought this as a "backup plan in case my multi-tool got lost in the bug-out process, and these fit the bill perfectly!" One user who had never used this style of opener before writes that it is pretty intuitive. "I was just about ready to grab my laptop and do a search on how to make it 'work,' when I noticed the little notch in the larger piece," they write. "I swung out the short (blade) part and hooked the notch onto my can…gave it a LITTLE push and dang if it didn't slide right into the can." In addition to emergency situations and camping trips, users have found these work for everyday use as well. One user keeps one at work for sad desk lunches "to open soup cans, chili, [and] beef stew."
And now for some micro-picks for every type of can opener you might be looking for. 
Best long-lasting can opener
One happy reviewer calls this the "Best handheld can opener — period," and it gets top marks from reviewers for being easy-to-hold, easy-to-use, and, of course, durable. Hundreds of reviewers mention they are repurchasing their Swing-A-Way, but only after many years of use. "I have had a Swing-A-Way can opener for 20 years and it works perfectly every single time," one user writes, explaining that this new one is for their second home. Another says this newer model is "every bit as good" as the one they used for over 40 years. "It is a reliably good can opener. It has a comfortable grip. The blades on the opener are are still sharp and work perfectly. I also like that It's very easy to keep this can opener clean," they write, concluding, "It's the only can opener I considered buying."
Best multi-purpose can opener
This user, who was expecting "a simple, cheaply made item that would last a few months until it goes and joins that great utensil graveyard," was "very surprised" by this can opener. "It is much heavier and sturdier than I expected and performs its can opening tasks with a definite purpose," they say, adding "It grips the can and holds it firmly, and when it's parted the seal to open it, it even has a grip built into the handle that grabs the lid at the press of a button." While many users note that a seamless experience like this takes some practice, one says, "Once you figure out how to use it, it works every time." In addition to opening traditional cans users love that this is an all-in-one tool. "You can open ring top soup cans, dog food cans, any type of can, as well as bottles and never have to stress whether it is on the can right."
Best stainless steel can opener
This can opener has prepared at least one reviewer for the end of the world. "Now with this great product and my canned food, bring on the apocalypse," they say. "It's effortless, ergonomic, doesn't use electricity and is stainless steel so it shouldn't rust," one reviewer points out. Another reviewer says they're able to rely on this can opener because, "It is very easy to 'start,' getting a good grip and 'bite' into the can lid … It has a smooth action, is easy to turn, and there is no slipping or skipping." Another reviewer notes, "The big plastic knob on the right turns smoothly and freely." But others think the grip is what makes this stainless-steel can opener so easy to manipulate: "The grips make it easier to hang onto, it [attaches] to the can with ease, and it turns smoothly and quickly … No more fighting with our can opener!"
Best American-made can opener
Dozens of reviewers use the word "smooth" to describe this can opener. "It was so smooth I had to check that it was actually cutting and wasn't just riding on the top," one reviewer writes. Another says, "It is super heavy duty so feels like it'll last forever and it was so smooth and easy to turn that I had my can open in a couple of seconds." Many also compare the process to cutting butter with a hot knife, which for one user makes this "the smoothest hand-held I have ever owned." Users also appreciate that it is made by veterans in the United States: "It feels good to support American made products that are sold by our Vets."
Safest can opener
Nearly 70 percent of reviewers who gave this can opener a five-star rating attest that it actually is "safe cut" and doesn't leave a sharp edge on the can. "It hangs onto the can just like any other can opener would, but cuts into the side instead of the top while creating a dull edge that won't easily slice into your finger," one writes. Another says, "I've opened at least a dozen cans by now and haven't been cut once." One trusts it so much that their "4-year-old niece has used it." Dozens of other reviewers note that despite being safe this can opener still makes a deep enough cut that it only takes one revolution to open a can. "No longer am I getting mad at a can of food and hangrily hacking it to death just to get to the morsels inside, this thing opens the can without a single problem, smooth all the way around," one user writes, adding that clean up is simple too as you can "easily drop [the lid] in the trash just by spinning the crank in reverse."
Best ergonomic manual can opener
While users still have to crank this manual can opener, many reviewers with arthritis say it is easy enough to use. "Very little pressure is required to puncture the cans and it turns without having to force it," one user writes. Another explains, "My hands have arthritis and it's so easy to grip and turn that it makes opening a can very simple." Dozens of reviews mention the opener's oversized handles, which one says makes it "very easy to use and hold." The features also make it good for kids, according to other reviewers. One writes, "This one is easy and glides, even my youngest children can use it with ease."
Best easy-to-clean can opener
Reviewers love that this "smooth edge" can opener is hazard-free. "I used to have a regular can opener and gee, how many times did I slash my finger with those sharp aluminum pieces," one reviewer recalls, but "after several casualties, I decided to try this smooth edge can opener to save my fingers." Now they will "never go back to the regular lethal weapon generator," as this leaves cans with smooth edges reducing the risk of cutting yourself. In addition to this being a safe option, users also love that this can opener stays clean. "It stays clean, because it cuts the can rim far from the can contents," one reviewer writes, adding, "The cut is gentle enough that there is no likelihood of spilling or splashing."Another says they decided to try this one for the sole reason that the "can contents do not touch the cutting parts on this opener."
Best manual can opener with magnet
"OMG, we are in love," writes one reviewer of this can opener, mainly because of how it locks the can in place. "It holds the blade in the right position all the way around, until you un-clip it when you're done." Others note that once locked into place you can "EASILY turn the handle and it glides through the lid like butter," as one reviewer notes. This can opener's magnet also makes clean up easy according to one reviewer who uses "the little magnet to lift the can cover into the trash [so] I don't cut myself, very nifty." This can opener is also durable, according to one reviewer whose "wife has 30 + cats & feeds a bunch of feral cats in the area" and opens "around 50 cans just for the cats a week." They write, "We burn out can openers within 6 months here. I have tried to buy quality openers not letting price stop me, we kept wearing out openers until this one and have used this one at least a couple of years."
Best electric can opener for large cans
Hundreds of reviewers have put this automatic can opener to the test and found that it works especially well on large cans. "This is the third electric can opener I have purchased from Amazon, determined to find one that could open large cans without me holding down the lever and without any jamming issues," one reviewer writes, noting, "This is the one that works." One user who was "worried that it would tip forward with a larger can" was pleasantly surprised when "It just buzzed around and opened the lid effortlessly." Despite the fact that this opener works on large cans, a selling point for reviewers is that it still has a small footprint. "It takes up very little space and can even hold large 28-ounce tomato cans," as one reviewer explains.
Best electric can opener
"This is hands down the BEST can opener I have ever used and I'm almost 40 so that statement should carry a lot of weight," one user writes. Like many other reviewers, they appreciate the ease at which this electric opener actually opens cans. "It doesn't hurt your wrist because it doesn't require you to exert any effort to open the cans," one reviewer writes, noting that it "even has a magnet that holds on to the top for you!" Hundreds of reviewers mention having to do next to nothing to get a can open. One can even "walk away while it does its thing. When I open an oversized can of sauce, I put my hand underneath just in case, but it even handles those cans well." Dozens more note how easy this is to clean with its removable blade. One user says you just "push the button and the ENTIRE thing comes off. BOOM, right in the dishwasher it goes."
The Strategist is designed to surface the most useful, expert recommendations for things to buy across the vast e-commerce landscape. Some of our latest conquests include the best acne treatments, rolling luggage, pillows for side sleepers, natural anxiety remedies, and bath towels. We update links when possible, but note that deals can expire and all prices are subject to change.
Every editorial product is independently selected. If you buy something through our links, New York may earn an affiliate commission.