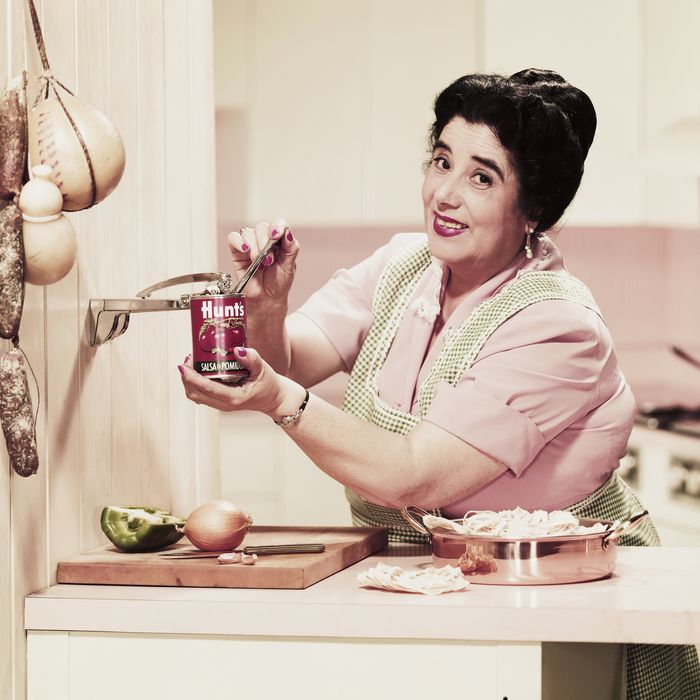 Photo: Tom Kelley Archive/Getty Images
Here at the Strategist, we like to think of ourselves as crazy (in the good way) about the stuff we buy, but as much as we'd like to, we can't try everything. Which is why we have People's Choice, in which we find the best-reviewed products and single out the most convincing ones. (You can learn more about our rating system and how we pick each item here.)
And while we've written about lots of kitchen gadgets — including the best milk frothers and the best knife sharpeners — here we've rounded up the best butcher-block islands and kitchen carts, as praised by the most enthusiastic reviewers on Amazon.
Best-rated can opener
Over 80 percent of reviewers give this can opener a five-star rating with many noting how easy it is to use. For one user that means no more fighting "with my old can opener to actually 'hold' the can properly so it could cut the lid." They continue, "With this can opener, you lift the handle, place the can underneath, and then lower the handle. It grabs the can so easily, it made me realize how much of a hassle my old opener really was." Another says it leaves "NO sharp edges and you can snugly fit the top back on the can for refrigerator storage if you don't use the entire can of food." Best of all many users note this can opener does all that while barely making a sound. "This quietly decapitates any can like a freakin' ninja," one user writes. "You'll be thinking 'Man… this ain't doin' nothin'!' when suddenly, your can is opened up like a deer during the hunting season. You can't go wrong with this bad mo'fo."
Best-rated (less expensive) can opener
Reviewers love keeping these military-style can openers in their "bug-out bags" as they don't require electricity or take up much space. "It doesn't matter how much canned food you have stocked up, if you can't open it up, you can't eat it," one user writes, adding they bought this as a "backup plan in case my multi-tool got lost in the bug-out process, and these fit the bill perfectly!" One user who had never used this style of opener before writes that it is pretty intuitive. "I was just about ready to grab my laptop and do a search on how to make it 'work,' when I noticed the little notch in the larger piece," they write. "I swung out the short (blade) part and hooked the notch onto my can…gave it a LITTLE push and dang if it didn't slide right into the can." In addition to emergency situations and camping trips, users have found these work for everyday use as well. One user keeps one at work for sad desk lunches "to open soup cans, chili, [and] beef stew."
And now for some micro-picks for every type of can opener you might be looking for. 
Best long-lasting can opener
One happy reviewer calls this the "Best handheld can opener — period," and it gets top marks from reviewers for being easy-to-hold, easy-to-use, and, of course, durable. Hundreds of reviewers mention they are repurchasing their Swing-A-Way, but only after many years of use. "I have had a Swing-A-Way can opener for 20 years and it works perfectly every single time," one user writes, explaining that this new one is for their second home. Another says this newer model is "every bit as good" as the one they used for over 40 years. "It is a reliably good can opener. It has a comfortable grip. The blades on the opener are are still sharp and work perfectly. I also like that It's very easy to keep this can opener clean," they write, concluding, "It's the only can opener I considered buying."
Best multi-purpose can opener
This user, who was expecting "a simple, cheaply made item that would last a few months until it goes and joins that great utensil graveyard," was "very surprised" by this can opener. "It is much heavier and sturdier than I expected and performs its can opening tasks with a definite purpose," they say, adding "It grips the can and holds it firmly, and when it's parted the seal to open it, it even has a grip built into the handle that grabs the lid at the press of a button." While many users note that a seamless experience like this takes some practice, one says, "Once you figure out how to use it, it works every time." In addition to opening traditional cans users love that this is an all-in-one tool. "You can open ring top soup cans, dog food cans, any type of can, as well as bottles and never have to stress whether it is on the can right."
Best stainless steel can opener
This can opener has prepared at least one reviewer for the end of the world. "Now with this great product and my canned food, bring on the apocalypse," they say. "It's effortless, ergonomic, doesn't use electricity and is stainless steel so it shouldn't rust," one reviewer points out. Another reviewer says they're able to rely on this can opener because, "It is very easy to 'start,' getting a good grip and 'bite' into the can lid … It has a smooth action, is easy to turn, and there is no slipping or skipping." Another reviewer notes, "The big plastic knob on the right turns smoothly and freely." But others think the grip is what makes this stainless-steel can opener so easy to manipulate: "The grips make it easier to hang onto, it [attaches] to the can with ease, and it turns smoothly and quickly … No more fighting with our can opener!"
Best American-made can opener
Dozens of reviewers use the word "smooth" to describe this can opener. "It was so smooth I had to check that it was actually cutting and wasn't just riding on the top," one reviewer writes. Another says, "It is super heavy duty so feels like it'll last forever and it was so smooth and easy to turn that I had my can open in a couple of seconds." Many also compare the process to cutting butter with a hot knife, which for one user makes this "the smoothest hand-held I have ever owned." Users also appreciate that it is made by veterans in the United States: "It feels good to support American made products that are sold by our Vets."
Safest can opener
Nearly 70 percent of reviewers who gave this can opener a five-star rating attest that it actually is "safe cut" and doesn't leave a sharp edge on the can. "It hangs onto the can just like any other can opener would, but cuts into the side instead of the top while creating a dull edge that won't easily slice into your finger," one writes. Another says, "I've opened at least a dozen cans by now and haven't been cut once." One trusts it so much that their "4-year-old niece has used it." Dozens of other reviewers note that despite being safe this can opener still makes a deep enough cut that it only takes one revolution to open a can. "No longer am I getting mad at a can of food and hangrily hacking it to death just to get to the morsels inside, this thing opens the can without a single problem, smooth all the way around," one user writes, adding that clean up is simple too as you can "easily drop [the lid] in the trash just by spinning the crank in reverse."
Best ergonomic manual can opener