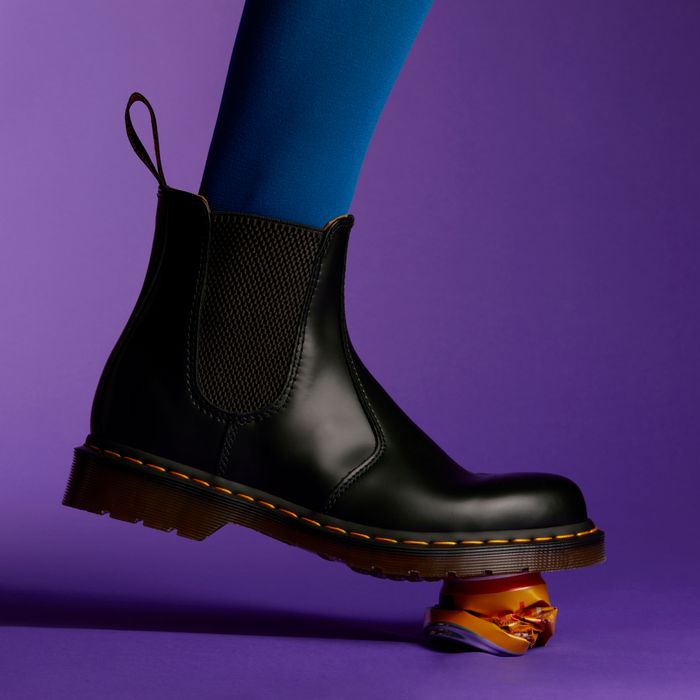 The mods might have made them cool — think back to the Beatles or the Who in all their Union Jack glory — but it's Queen Victoria's shoemaker who's credited with inventing the Chelsea boot. The queen was presented with a pair of "'elastic' sided boots" early in her reign, and the rest is history. Their aristocratic origins aside, there's a reason they've become such a classic: Chelsea boots are simultaneously utilitarian, streamlined, and sometimes even edgy. If you've been searching high and low for a new pair, we turned to stylish, shoe-obsessed women to learn about their favorites.
You know the drill — we're on the hunt for footwear that comes in a broad selection of sizes. Here's where I admit a bit of bias: As someone with slightly wider feet, I always have to go up at least a half size when buying boots. So I also gave some preferential treatment to recommendations offered in half-sizes to accommodate those with wide feet (or who just like a little more room for wool socks).
Boots see the worst of the weather — it helps to know what they're made out of so you understand how they'll hold up. Your best bet to extend the life of any pair is to waterproof them. This is especially important for leather (which make up the majority of the boots on this list) and suede, as the material makes for a shoe that's like "a sponge," as Edward Andrade of Cesar's Shoe Repair explained to Strategist writer Erin Schwartz. A few of these boots are water resistant or completely waterproof, which we've made sure to mention, too.
The classic Chelsea boot hits just a little above the ankle, dipping slightly at its elastic side panels, and sits on a low-to-almost-nonexistent heel, probably taking a cue from men's footwear. But designers have often reimagined the style — sky-high shafts and thick platform soles abound now. For every pick on this list, we've mentioned features like cap toes, pull tabs on the front and back, and anything else that makes one pair of Chelsea boots different from another.
Brands at all price points came up when we researched this guide, but, as always, we've concentrated on affordability. Each Chelsea boot below is marked as $ ($150 and under), $$ ($151 to $300), or $$$ (over $300).
Best overall Chelsea boots
Sizes: 5–11 | Material: Leather | Design: ½-inch platform, slip-resistant lug sole, Docs signature stitching | Price: $$
Docs came up more times in our reporting than any other boot-maker. The 2976s weren't the pair we heard about the most (see the Floras below), but they take the title here because (a) they fulfill the Chelsea-boot ideal we had in mind in making this list, and (b) they've made appearances all over our archives — including our guide to the best ankle boots — as further proof of their power.
London-based journalist Pandora Sykes lives in her oxblood pair, which Docs describes as a more rugged take on its classic Chelseas from the '70s. That's what also makes them a favorite of Freddie Harrel, founder of beauty company RadSwan. Harrel likes them more than the Floras for everyday — even though these are more casual, she feels they add an "extra badass edge" to whatever she's wearing. Jenni Lee, founder of luxury sock label Comme Si, describes them as easy to wear because they have the construction of a functional boot with a silhouette that "looks good even when you're treading through city slush." New York Review of Books marketing manager Abigail Dunn shares a similar sentiment, pointing out that they're a little subtler in a sea of much thicker-soled Docs (but still stand up to heavy abuse). If you do like drama, Elizabeth Tamkin, content and partnerships manager at Kule, pointed us to the Quad version of the 2976s, which have a thick 1.5-inch platform and a two-inch heel.
Best (less expensive) Chelsea boots
Sizes: 5–11 | Material: Leather | Design: High gloss, 1-inch block heel | Price: $
The Floras aren't like other Docs, with a glossier finish and without the signature stitching that the boots are known for — which is exactly why their fans love them. (They did take the title of the most mentioned pair, after all.) For New York Times senior software engineer Nozlee Samadzadeh, these hit a sweet spot that's neither too sleek nor too chunky. And the soles do double duty when it comes to practicality and style: The lower-profile heel is no-skid to prevent wintertime slippage and stands out against other (higher) Docs, Samadzadeh explains. Iva Dixit, noted coat collector and the New York Times Magazine editor, agrees that the subtler sole "makes them feel a little more adult." Dixit has had her pair for years now and says they're remarkably well-made, looking "like they've been worn, but not beaten up," with the dark sheen developing a patina over time. Hannah Baxter, deputy beauty editor of The Zoe Report, seconds this, saying that because the Floras are British-made, she thinks they're the "real deal." If you needed any more convincing, Strategist associate editor Jenna Milliner-Waddell wears hers year-round.
Best chunky Chelsea boots
Sizes: 35–42 (equivalent to U.S. 5–12) | Material: Leather | Design: Chunky, lugged soles | Price: $
Swedish label Vagabond is a hit among past and present Strategist staffers — former writer Chloe Anello (a loafer collector) counts her Alex Ws as a favorite, while Strategist deals editor Sam Daly loves these Kenovas. "Not to be a Scandiphile, but I did buy these partly because the brand is Swedish — I just feel like the Swedes know how to make very classic, non-'trendy' products," Daly says. She also waxes poetic about the boots' chameleonlike quality. "These are my going-out shoes, my 'running to the grocery store' shoes, and 'spending all day in a coffee shop' shoes," she explains. Their comfort is another plus. "All my life, I thought comfy shoes meant that they had to be ugly," but the Kenovas look great despite being something even her "podiatrist would be proud of."
Best platform Chelsea boots
Sizes: 5.5–11 with half sizes | Material: Leather | Design: Socklike ribbed inset, ¾-inch platform, 2¼-inch heel | Price: $
It can be difficult to get platforms right. "If they're too high or too bulky, you look like a tween who just hit up Steve Madden at the suburban mall," Dixit says. But the Hayles, which happen to be from that very company, are an exception, according to Strategist junior writer Brenley Goertzen. Goertzen likes the contrast between the ribbed-knit "sock" at the top of the boots' shaft and their statement-making lug sole along with their slightly flared heels. The combination makes the pair look edgier than the other classic silhouettes out there, according to Goertzen. She also reports that they didn't require breaking in — she was on her feet for hours with zero discomfort when she put them on for the first time. The Hayles, additionally, survived a nasty red-wine spill during a night out — Goertzen was able to dab the splatter away with a warm, wet cloth.
(If you're willing to splurge for a pair of platformed Chelseas, we also heard raves about Scandinavian shoemaker Eytys from Tamkin, Dixit, and Sea of Shoes blogger Jane Aldridge, who appreciates the company's punkish ethos. Their picks, the Nikitas and the Ortegas, have since been discontinued, but you can find all its current styles here.)
Best lug-sole Chelsea boots
Sizes: 6–11 with half sizes | Material: Polyurethane | Design: 6-inch shaft height, lug sole, 1¾-inch wedge heel | Price: $
Target's Belle boots from its A New Day line have the distinction of being the cheapest boots on our list, coming in at just under $40. Writer Diksha Basu bought three pairs of the boots in white for herself and her 4- and 5-year-old daughters so the whole trio could match. Her daughters pair theirs with ballerina skirts, and Basu has followed their lead, wearing hers with midi dresses. One of the best things about them is their durability. "All of our boots are holding up remarkably well so far (even with my girls scootering wildly around town and me chasing after them)," she says. They have a few scuff marks, but nothing too major — they've developed a "grungy but not grimy" look that Basu appreciates. "The only bad thing about the boots is that they constantly serve as a reminder that we won't always have this. Someday the girls will grow up and not want to match me anymore, but, I remind myself, that day is not today," she says.
Best tall Chelsea boots
Sizes: 5–11 with half sizes | Material: Water-repellent leather | Design: Almond-toe, flat sole, higher shaft with gored sides | Price: $$$
Personal stylist Erica Ball discovered the Cecyls while shopping for a client. From luxury label Vince, which is known for its basics, these boots have a distinctly clean look — their only "embellishment" is a higher-than-usual shaft for a slightly more dramatic effect. These Chelsea boots caught Ball's attention for their versatility (she's a big believer in having a "curated closet") as she can wear them just as easily with a frillier dress as with a leather jacket and raw-hem denim. Ball adds that these are made of a quality leather and are likely to last a long time, making the Cecyls worth the investment if you subscribe to a "cost-per-wear" philosophy.
Best Chelsea boots with a small heel
Sizes: 6–11 with half sizes | Material: Water-resistant leather | Design: 1½-inch heel, square-toe | Price: $$
Longtime Strategist readers will be no strangers to Blundstones, which are among our favorite all-around boots for their durability and versatility. But when you want something dressier, enter the Blundstone 63s, which have a low heel for a little more panache than some of the brand's other offerings. "They really just go with anything and work for everything," says Strategist newsletter editor Mia Leimkuhler. Emphasis on "everything" — Leimkuhler once brought only these shoes on a weekend trip to Portland, Oregon, that included going to the ballet and hiking up Multnomah Falls. Nadine Abramcyk, a co-founder of the salon Tenoverten, describes the 63s as both tough enough to "withstand heavy city walking" and feminine at the same time.
Best less expensive Chelsea boots with a small heel
Sizes: 5–11 with half sizes | Material: Water-resistant leather | Design: 1¼-inch heel, triangular side panels | Price: $$
These Nisolos are more minimal than the Blundstones, but the shoes do feature a barely there blockish heel (available in a contrasting wood tone if you're so inclined) that's menswear inspired and more understated than the platformed options featured above. Peggy Economou, a co-founder of the nursery-clothes brand Teat and Cosset, and Kate McLeod, a co-founder of her eponymous label of lotion stones, each have a pair. Economou considers them understated and elegant. McLeod echoes that, calling them a "shoe staple" because they're easy to dress up and down along with sliding right on and fitting snugly. To boot, both pointed out Nisolo's commitment to sustainable practices, operating ethical factories, and fair trade.
Best rugged Chelsea boots
Sizes: 6–11 with half sizes | Material: Waterproof leather | Design: Double pull tabs, sheepskin footbed | Price: $$
If you want something waterproof without looking like a rain boot, consider these Blundstones, which were highly raved about in our guide to the most comfortable shoes, according to pros who stand all day long. Chef Adina Halpern wears the 1477s in and out of the kitchen. These have more support than the ubiquitous-in-kitchens clogs and slides, and since they're waterproof and slip-resistant, they can handle messes — including mud and slush. Halpern herself once tested them out on a butcher-shop floor covered in beef fat and didn't stumble once.
Best Chelsea work boots
Sizes: 5–11 with half sizes | Material: Water-resistant leather | Design: Double pull tabs | Price: $$
Multiple Strategist staffers own a pair of Blundstones, and at least two of them have styles from the 500 series (which also appear in our guides to the best ankle boots and walking shoes). These are designed for rough conditions with a water-resistant finish and high-traction soles. Audio producer Amy Pedulla says Blundstones are big with the podcasting crowd — after years and years of wear while hauling heavy audio equipment, she's only on her second pair because the boots are designed to last. Dancer Eva Alt agrees that they wear really well, especially on slippery walks around the city.
Or — for true safety work shoes — Chicago-based pattern-maker Xochil Herrera Scheer introduced us to the Xena Omegas. The zippered style manages to look stylish and like it belongs on a construction site at the same time. Scheer says they're extremely wearable, as they are made of flexible leather to make them easier to walk in.
Best cowboy-style Chelsea boots
Sizes: 5.5–12 with half sizes | Material: Leather | Design: Pointed toe, pitched heel, higher shaft | Price: $$
When Strategist senior writer Liza Corsillo asked real-life cowgirls and country singers about their tried-and-true cowboy boots, Frye was one of the most mentioned brands. If you're a non-traditionalist, the Sachas are a Western take on the classic Chelsea that musician Courtney Marie Andrews calls her absolute favorite — she wears this pair almost every day. This is thanks to their comfort: "Once you wear them in, they form to your foot," she explains.
Best Chelsea boots with a zipper
Sizes: 5.5–11 with half sizes | Material: Waterproof leather | Design: 1½-inch heel, brass zipper | Price: $$
These Ariats are technically paddock boots with a zipper down the front, but the pull tab in the back and elastic side panels qualify them as Chelsea boots too. Corsillo was convinced to try out the brand after reporting on the aforementioned cowboy boots story. Now, she considers them an old faithful for the winter, especially as the waterproof leather works well in messy conditions. The zip makes them easy to take on and off, even more so than traditional Chelseas. Corsillo likes to wear them with cropped jeans as "they cover that weird ankle gap that always gets cold."
Best Chelsea rain boots
Sizes: 5–11 | Material: Waterproof rubber | Design: Double pull tabs, neoprene lining | Price: $
In our best-in-class rain-boots guide, these cheery boots from Merry Peoples earned the title of "best Chelsea." So we thought it was only fitting to include them here as well. Two gardeners gushed about them. "They're just so comfortable and easy to clean," says Amber Grossman, the creator of Black Girls Gardening. Katie Parks of Freckles and Sprouts agrees, adding that the boots "hold up well to our heavy clay soil that clumps to your boots in wet weather, and they have a nice grip, so I never slip." She gets compliments on her pair all the time.
Best (less expensive) Chelsea rain boots
Sizes: 5–11 | Material: Waterproof PVC | Design: 1½-inch heel, 1-inch platform, lugged sole | Price: $
These Jeffrey Campbells also made an appearance in our rain-boots story. They are a no-muss, no-fuss option, and the platform helps guard the top of the boot against puddles. Style blogger Heidi Grey likes that these are sleeker than thicker rain-boot styles and that, once on, they look like a normal Chelsea boot. Strategist writer Katherine Gillespie describes them as "a great option if you like a bit of height and aren't into the classic Glastonbury-style Wellington look." Plus these are the second-cheapest boots on this list.
Some more women's Chelsea boots we've written about
• Nadine Abramcyk, co-founder of salon Tenoverten
• Jane Aldridge, Sea of Shoes blogger
• Eva Alt, dancer
• Courtney Marie Andrews, musician
• Erica Ball, personal stylist
• Diksha Basu, writer and Strategist contributor
• Hannah Baxter, deputy beauty editor of The Zoe Report
• Liza Corsillo, Strategist senior writer
• Sam Daly, Strategist deals editor
• Iva Dixit, The New York Times Magazine editor
• Abigail Dunn, New York Review Books marketing manager
• Peggy Economou, co-founder of nursery clothes brand Teat and Cosset
• Brenley Goertzen, Strategist junior writer
• Heidi Grey, style blogger
• Amber Grossman, creator of Black Girls Gardening
• Adina Halpern, chef
• Freddie Harrel, founder of beauty company RadSwan
• Jenni Lee, founder of luxury sock label Comme Si
• Mia Leimkuhler, Strategist newsletter editor
• Kate McLeod, co-founder of her eponymous label of lotion stones
• Jenna Milliner-Waddell, Strategist associate editor
• Katie Parks, a.k.a. Freckles and Sprouts
• Amy Pedulla, audio producer
• Nozlee Samadzadeh, New York Times senior software engineer
• Xochil Herrera Scheer, patternmaker
• Pandora Sykes, journalist
• Elizabeth Tamkin, content and partnerships manager at Kule
The Strategist is designed to surface the most useful, expert recommendations for things to buy across the vast e-commerce landscape. Some of our latest conquests include the best acne treatments, rolling luggage, pillows for side sleepers, natural anxiety remedies, and bath towels. We update links when possible, but note that deals can expire and all prices are subject to change.
Every editorial product is independently selected. If you buy something through our links, New York may earn an affiliate commission.