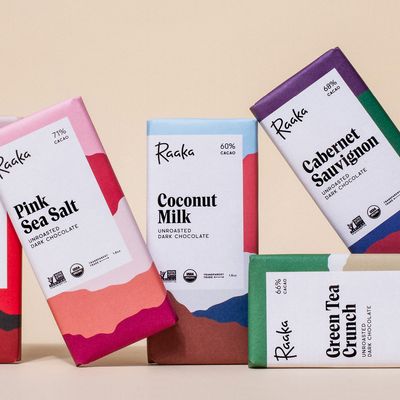 One of the two contenders for the next status chocolate bar.
Photo: Raaka Chocolate
If you received a fancy chocolate bar as a gift sometime in the last decade, there's a good chance it came from Mast Brothers. The bearded brothers Rick and Michael helped to popularize artisanal chocolate with their conversation-starting inclusions, like dark chocolate with goat's milk; high-end collaborations; and eye-catching, patterned packaging, which even prompted a slideshow dedicated to "All of the Mast Brothers Chocolate Wrappers" on Vanity Fair.
There was, of course, the 2015 controversy in which it was revealed that the brothers had overstated their bean-to-bar credentials in the early days of their business, but Mast's lasting impact on the artisanal chocolate industry has been undeniable, especially when it comes to branding. "The bean-to-bar community has always been focused on craft and using high-quality ingredients," says Megan Giller, author of Bean-to-Bar Chocolate: America's Craft Chocolate Revolution. But after Mast Brothers' success, "I think the bean-to-bar industry saw, 'Oh, we need to step up our game and actually have packaging that is as beautiful as the bars taste." Sophie Helsby, one of the owners of Lower East Side restaurant and market Dimes, agrees: "Maybe the Mast Brothers were sort of the first to set the bar high, but that packaging has become such an important part of a chocolate bar, especially as a gift."
That's one reason why it seemed like Los Angeles–based Compartés would emerge victorious as the next status chocolate in a post-Mast landscape, with their bright, graphic, near-psychedelic packaging. "We got it a couple of years ago, and we sold like crazy," says Alana Campbell, co-owner of the speciality grocer Campbell & Co. in Williamsburg. But the fervor has slowed down. "People are moving on to the next one," says Campbell.
So, what is the next status chocolate bar? If there's anything we've learned from the Mast Brothers, it must have giftable packaging, but it can't rely on looks alone. The chocolate inside needs to be just as thoughtful as the wrapping, made from cacao beans that have been sourced carefully and ethically. Bonus points if there are interesting collaborations with other brands, or tasteful (and tasty) inclusions, using ingredients that are also considerately sourced and complement the flavor of the chocolate, rather than overpower it.
We talked with chocolate buyers, specialty grocery shop managers, and people who love chocolate about their favorite bars, and came up with two front-runners for this delicious title, along with five honorable mentions that are just as excellent to give as gifts.
Two
New
Status
Chocolate
Bars
Casa Bosques Chocolates
Casa Bosques is an art and design bookstore in Mexico City, a project of the branding and architecture firm Savvy. Casa Bosques is also the name of their chocolate, with simple, clean, yet friendly packaging that echoes the ethos of the store. This specific sensibility has been quickly embraced by packaging nerds and members of the design community; you can find the bars in their distinctive, envelope-like packaging at Saturdays in Soho, Homecoming in Greenpoint, even the gift shop at the L.A. Museum of Contemporary Art. "It's almost like a little envelope," explains Helsby of Dimes. "Rather than the classic foil-wrapped [bar] with a nice piece of paper, this is kind of a little pouch." Sasha Laing of Import News jokes, "I almost wonder if they're a little bit too beautiful and that people don't know it's chocolate."
Campbell calls the chocolate beautiful, as well, with unique inclusions that are as carefully sourced as the cacao beans, much of which is single-origin from the Dominican Republic and dark, at 72 percent. "I'm always a sucker for pink peppercorn on anything," she admits, "and they do a pink peppercorn and dark chocolate. They also have a coconut and curry dark chocolate, which is fun. I don't think anyone else that we carry has anything like that currently." Laing calls their cardamom bar "amazing."
But what elevate Casa Bosques to front-runner for the title of the next status chocolate are the careful collaborations that still somehow feature their most experimental flavors and the most eye-catching packaging on their roster. Casa Bosques' collaboration with the interiors magazine Apartamento features a bar of single-origin dark chocolate with toasted buckwheat that features a full-bleed photo of a (somehow stylish) toilet seat on the sleeve. A collaboration with Dimes features some of the go-to ingredients from their kitchen, explains Helsby, including coconut and puffed quinoa. The result is a grown-up version of "the old-school crackle bar," says Campbell, in a beautiful, blue gradient package.
Raaka Chocolate
Raaka has been making chocolate bars in Brooklyn since 2010 (and were highlighted by Grub Street in 2013, as part of the city's then-burgeoning craft-chocolate scene). And even though they've amassed a bit of a cult following, there's been an explosion of interest in the brand over the last couple of years. JetBlue started carrying mini-bars from Raaka for their premium Mint passengers in December 2017, and then, in August 2018, Raaka's head chocolate maker, Nathan Hodge, published a book on The Art and Craft of Chocolate. That same year, Raaka underwent a serious and colorful rebranding, with new, decidedly millennial packaging that garnered even more attention. Now, each bar has a different colored background, inspired by the landscape of each origin, with an overlaid, simple white box featuring bold, black text. It's simple, and can easily be compared to many other millennial-focused companies' branding, but Campbell says "it will sell. It's beautiful, and it has that sort of vibe." And according to Kristina Graeber, general manager at Bklyn Larder, Raaka has been selling very well, post-rebrand; this past holiday season, it was one of the top-selling chocolate bars in the Brooklyn shop's gift baskets.
The newly sleek packaging isn't thing only thing to set Raaka apart and make it our other front-runner, though. "Raaka stands out through their use of unroasted cocoa beans," Louise de Verteuil, an assistant buyer at Food52, explains. In other words, the chocolate is raw, so it tastes a little more fruity than chocolate made from traditionally roasted cacao beans, which is the vast majority of what the industry makes. Plus, Raaka emphasizes "'single-origin' chocolate, meaning the 'terroir' of the chocolate" is distinctive, adds de Verteuil. "The combination of these two perspectives results in unusual flavor profiles and a mindful, sustainable approach to chocolate making."
Giller says, "They're doing something really different from the rest of the bean-to-bar chocolate world, because they're using unroasted beans and then focusing on inclusions." And those flavors are why the chocolate is still approachable. Campbell tells me that their pink sea salt bar is so delicious, "I could eat a little square of it every day and never get tired of it." But Raaka also experiments with more out-of-the-box inclusions (which is part of how both Mast Brothers and Compartés captured customers' imaginations) like bananas Foster or a no-longer-available seasonal lemonade and freeze-dried raspberry that plays on the bright, fruity flavors of Madagascar chocolate, recalls Giller. In addition to all of these crowd-pleasing and playful flavors, you can find Raaka chocolate bars at Whole Foods, yet another reason why this brand is poised to continue to grow and become the next big thing.
Askinosie Chocolate
I was first tipped off to Askinosie Chocolate by Jeni Britton Bauer, founder of Jeni's Splendid Ice Creams and James Beard Award–winning author of two cookbooks, who described the Missouri–based company's chocolate as "the perfect topping and complement to ice cream" in an interview. It popped up on my radar several months later, when Shake Shack founder Danny Meyer brought a tin of Askinosie's chocolate-covered malt balls to the Strategist's Celebrity White Elephant (and it was one of the most-stolen items). "One hundred percent of the chocolate he sells is 1,000 percent traceable to the farmer who grew the cocoa beans himself. That's probably not something you find on your average Whopper," Meyer said of these confections.
And like the malt balls, Askinosie's chocolate bars are held to the same high standard of transparency and traceability. So much so, in fact, that the bars feature photographs of the farmers the company works with on their labels. But what makes the brand especially giftable are their crowd-pleasing collaborations, like a rosemary and avocado dark chocolate bar made with Heath Ceramics, and a jammy red raspberry bar with American Spoon. Nick Cardoni, shop manager for the Meadow in Manhattan's West Village, also notes, "If there's a bar that's going to change your mind about white chocolate," it's Askinosie's, which uses goat's milk powder and single-origin chocolate to make this oft-maligned type of bar.
And even though Shawn Askinosie has been making this chocolate since 2005, the Springfield-based brand is arguably more popular than ever. According to Graeber, it was another best-selling bar for the holiday season, alongside the Raaka — though at this point, it's more of a solid, never-fail standby than the next status chocolate.
Dandelion Chocolate
San Francisco–based Dandelion Chocolate makes what Giller describes as "quintessentially bean-to-bar chocolate, in that they only use cocoa beans and sugar and spend a lot of time sourcing beans and talking to farmers." And though the single-origin chocolate, sourced from locations around the globe, including Liberia, Madagascar, and Tanzania, is much-lauded, and has been making chocolate in the Mission District of San Francisco since 2010, the packaging is what makes these bars truly giftable. Each is wrapped in handcrafted brown paper with intricate gold detailing. Two of the shop managers I interviewed compared it to "nice wallpaper," subtle yet beautiful. But since the chocolate-makers at Dandelion let the terroir of the cacao beans shine through in each bar, without any inclusions like nuts or dried fruit, the differences can be a little more subtle. As a result, this is very much a true chocolate lover's chocolate bar, with perhaps less mass appeal than a bar with a ton of sweet additions and inclusions — and that's why it's just an honorable mention — but for the right person, it's going to be incredible.
Marou Chocolate
There are a couple of easy comparisons you could make between Dandelion and Marou Chocolate. Both have delicate gold detailing on their packaging, though with Marou, it's overlaid on brightly colored paper. And like Dandelion, Marou also focuses on single-origin bars. But unlike Dandelion, and many other terroir-focused chocolatiers, Marou limits their source of beans to one country: Vietnam. The result is a dark-yet-spicy, bean-to-bar chocolate that's fairly hardcore, yet it still almost sold out at Campbell & Co. this holiday season. That's probably because they're "some of the prettiest bars," according to Campbell. The downside is that the distribution is still relatively limited, so they might not ever become as big as some of the other makers on this list. But their inclusion bars, like one with popped rice and another with candied chili, are certainly status-y, since they're only available at their shop in Ho Chi Minh City.
K+M Chocolate
Photo: Eric A. Zepeda/Eric A Zepeda www.ericzepeda.com
If you're looking for a chocolate bar with pedigree, you can't go wrong with K+M Chocolate. It's a line of chocolate from Thomas Keller, the Michelin-starred chef behind Per Se and French Laundry who uses these chocolates in his restaurants' desserts, and according to Sara McMonigle, category manager of packaged good and private label at Dean & DeLuca, it's "the most luxurious one that we carry." It's also the most expensive single bar, at $15 each, and yet, "they're doing really well," says McMonigle, calling it one of the New York City grocery chain's "top-selling lines."
The packaging is simple, especially compared to some of the other trendier or more gilded options on this list, in mostly black-and-white with a sans-serif logo — but the final product comes across as classic, rather than cold. The chocolate, too, is impeccably sourced and mostly single-origin, from Madagascar, Peru, and Nicaragua. And the production method is unique, using high-end, extra-virgin olive oil in the production of each bar, instead of cocoa butter, which helps with the silky texture. For gifting purposes, K+M Chocolate also makes an elegant gift box with a little grosgrain bow, for those who want to give more than one bar at a time.
Cacao Prieto
On the other end of the spectrum from these solid chocolate bars are the fruit-and-nut-loaded, crowd-pleasing Bark Bars from Cacao Prieto. They're one of Campbell's favorite gifts, especially for the holidays, and their inclusions, like pecan and sour cherry or hazelnut and rum raisin, resonate with her customers. "Someone just came in and literally bought all of the Cacao Prieto Bark Bars, every single one of them," she told me in December, just days before Christmas. "That's the appeal, if someone's like, 'I'm going to give them to my entire office.'" Helbsy, from Dimes, agrees: "They are always a go-to gift, and it's all single-origin chocolate, which is a nice extra touch."
The Strategist is designed to surface the most useful, expert recommendations for things to buy across the vast e-commerce landscape. Some of our latest conquests include the best acne treatments, rolling luggage, pillows for side sleepers, natural anxiety remedies, and bath towels. We update links when possible, but note that deals can expire and all prices are subject to change.
Every editorial product is independently selected. If you buy something through our links, New York may earn an affiliate commission.