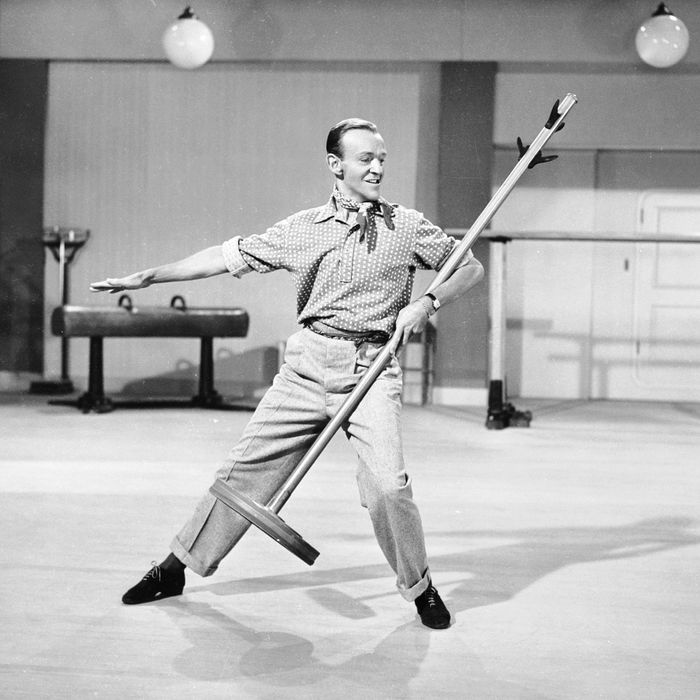 Photo: Turner Classic Movies
Here at the Strategist, we like to think of ourselves as crazy (in the good way) about the stuff we buy, but as much as we'd like to, we can't try everything. Which is why we have ​People's Choice​, in which we find the best-reviewed products and single out the most convincing ones. (You can learn more about our rating system and how we pick each item ​here​.) 
And while we've written about lots of storage solutions — including sticky bathroom shelves and storage benches — here, we've rounded up the best coat racks, as praised by the most enthusiastic reviewers on Amazon.
Best-rated coat rack
Almost 75 percent of reviewers give this coat rack five stars, and many were pleasantly surprised to find out just how many hooks they were actually getting. One reviewer broke down the math: "This coat rack has five tri-hooks. Meaning that it actually has 15 hooks (not five) in which you can hang 15 items. This is important if you have kids in school; they can hang not only their coat from one of the tri-hook's hooks but also their backpack and scarf to the two other accompanying hooks, keeping items organized as per child." But even with all those hooks, it "actually holds quite a bit of weight," writes one reviewer. Another says theirs is still in tact after a few years of use: "The hooks didn't rust or get loose, the wood didn't get damaged from everything we threw at it (bags, backpacks, hats, coats, snow shovels, etc.), and the paint color didn't change." Some reviewers point out that the only hiccup they encountered with this rack was during installation. At least one reviewer ended up using "anchors (not included) to mount it since the drill holes did not align with studs."
Best-rated (less expensive) coat rack
This coat rack helped one reviewer get rid of the dreaded catch-all chair. "I was tired of throwing everything on a chair or my dining room table but didn't want to spend a lot of money — this was exactly what I needed, it's perfect and I would definitely recommend it," they write. In addition to being used in an entryway however, reviewers have found use for this in a lot of different places. One who uses this in their bathroom says, "I really like these because of the varying levels of the knobs which, when used properly, help to separate and aerate the towels." Another even uses this in their kitchen noting, "It comes with sturdy hardware too, so I'm confident our mugs will stay in place." Another user also comments on its durability pointing out it's "Made out of steel and with 4 large mounting screws this rack can hold a LOT of weight if mounted correctly." One user hasn't "had any issues with it falling off the wall and sometimes there's been 12 jackets/coats on it."
And now for some micro-picks of every type of coat rack you might be looking for.
Best coat rack with weighted base
As one reviewer calls out, "The rack had a sturdy weighted base for added stability," and more than a third of reviewers describe this coat rack as sturdy. "We've LOADED it up with winter coats and everything else for the past 3 weeks and I haven't worried a bit that it will topple over on my toddler," one parent writes, adding, "And I love all the different hooks at different levels." They continue, "The different sizes/angles of hooks accommodate everything you could possibly need — coats, hats, scarves, purses, child's snowpants, etc., without having to 'un-layer' too much to get to what you need at the moment." As one reviewer concludes, "It is very sturdy and now need to worry about it tipping over because it has a great metal foundation.
Best wood coat rack
Even after reading the product description, one user "still wasn't expecting it to be so completely wooden, so good-looking, so stable and solid." Another loves this clothing rack because, "It's a great compact size (and you can make it shorter by leaving out one section if you need to), looks good (I chose the natural finish), no splinters thanks to the varnish, is sturdy and stable, AND it was extremely easy to assemble (without tools) with a very clear diagram and all the separate parts neatly in their own little bags." And while free-standing coat racks are prone to tipping over, lots of reviewers say that this can hold up under a lot of weight. One reviewer from northern Illinois says "We have heavy coats here so this thing is PACKED and it's going strong." Another customer reports, "I've put quite a bit of weight on it, including my bridge bag, my doggie care bag, my iPad, laptop bag, etc. Despite the weight, it stays perfectly balanced."
Best steel coat rack
"I hate coat trees that can't support the weight of multiple coats," says one reviewer, before noting, "This can hold all the weight in the world and then some." One reviewer is purchasing this for the second time, but not because the first one broke: "The first one is still going strong in the entryway — it holds so many coats, hats, umbrellas that it's better than a closet." Another says, "Each 'limb' is rated at 11 pounds, with the entire rack rated at 50 pounds," and adds, "Stay within these limits and this coat rack should last for a long time." And while it's not wall mounted, one still says, "It has a small footprint so can be placed easily in small spaces."
Best coat rack with storage
More than 20 percent of reviewers mention the umbrella storage built into this coat rack. One reviewer says it " holds all my heavy winter coats and now I have a place to put all my family's umbrellas." Plus, as another reviewer points out, "the large umbrella stand base gives it stability." "It is made of wood so it is better for dry umbrellas," one reviewer warns, but another says they don't even use the extra storage for rain gear: "We put shoes in ours — not umbrellas."
Best coat rack for kids
"This was exactly what I was looking for to hold purses, backpacks, and hats," one reviewer writes. "We live in AZ so don't have much of a coat season, but I wanted something to collect all the kids 'stuff' when they ran in the door." And a few other reviewers mention that they bought this with kids in mind. "The lower 'branches' are the right height for little ones to hang up their coats," one writes. Another says, "I needed something for my daughter's room…something to encourage her to keep clothes etc off the floor." No matter if things are stored low or high, nearly a quarter of reviewers describe this coat rack as sturdy. "It seems the more you put on it the sturdier it gets if that makes sense," one customer writes. Though another reviewer notes that it can handle a lot of weight even if it is off balance: "We had my husband's heavy coats on one side and it didn't tip over."