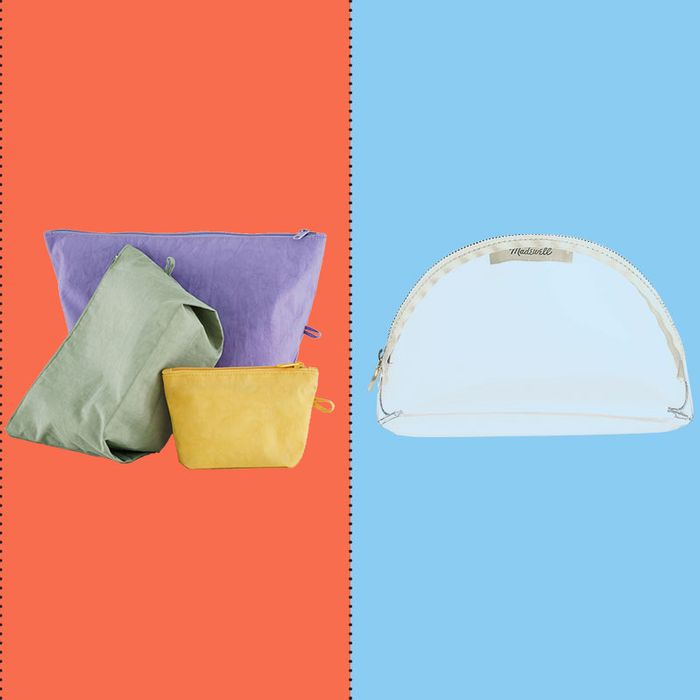 Photo: courtesy of the Retailers
If you follow our monthly Strategist Haul, you're familiar with the idiosyncrasies of our editors' and writers' shopping habits. While we think of those as the highlights, there are plenty of other, less glamorous things we buy — and love — on the regular, too. So whether you've wondered about the work bags we tote around or the underwear we're most loyal to, this is the Stuff We Buy Ourselves. In this edition, the Dopp kits and cosmetic bags that our editors pack in their carry-ons.
Liza Corsillo, writer
For dry stuff like extra contact lenses, glasses, Q-tips, and hair ties, I actually use a Klein Tools canvas zipper pouch. Because it's made to carry screws and nails it's built to withstand a lot of rough treatment. I've had mine for at least five years and it still looks great. Plus I'm not worried about it getting dirty or banged up.
For creams, lotions, shampoo, and anything else that could spill, I use a colorful Cotopaxi Dopp kit with a big loop handle on one end. It's made of some kind of rip-stop material so you can literally rinse it out in the sink should a jar or tube explode mid-trip. I like the big loop handle because I can hang it on the back of a bathroom door to keep the sink area tidy.
Karen Ioro Adelson, writer
After using a toiletry bag without any separate compartments for many years, this one is a huge upgrade. There are two main compartments — which each have little pouches or elastic loops for holding different items — an interior zip pocket, and a front exterior pocket. I keep my "boring" toiletry items like toothpaste and contact solution in one section, my skin-care products and makeup in another, and use the front pocket for little things like bobby pins. I've only had it a few months now so it's still pretty new-looking, but since it's nylon, I feel like it'll be very easy to wipe clean if it gets dirty.
Katy Schneider, associate editor