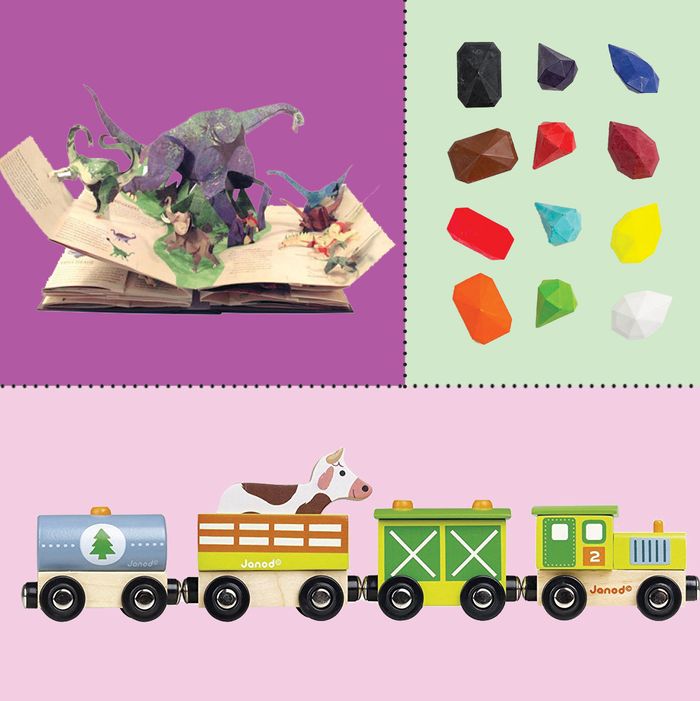 What better way to foster an appreciation for design than to give a kid a design-inspired gift? To find the best things — dinosaur pop-up books, gem-shaped crayons, French toy wooden trains — we talked to architect Ming Thompson (who last recommended first-apartment essentials for us) about the best design books, games, and toys for growing minds. They're all under 30 bucks, too.
This is a simple and beautiful toy that is as nice to play with as it is to decorate a baby's or a 1-year-old's room. It's a spin on a classic bead toy, but sized just right for a baby in a palette of fresh colors.
When you're 2, building and smashing towers of blocks can be a fun activity for hours. These lovely wood blocks feature infographics about the planets on all sides, so you can learn about the solar system while you play.
Janod designs lovely wooden toys that come in offbeat shapes and colors. Every kid loves trains, and this little set is a great addition to an existing collection or a good way for a 3-year-old to start their train set. Aesthetically, it's as far as you can get from Thomas the Tank Engine, and that's a good thing.
These gemstone-esque crayons are easy for little 4-year-old hands to hold, and are beautiful in a clear container on the shelf.