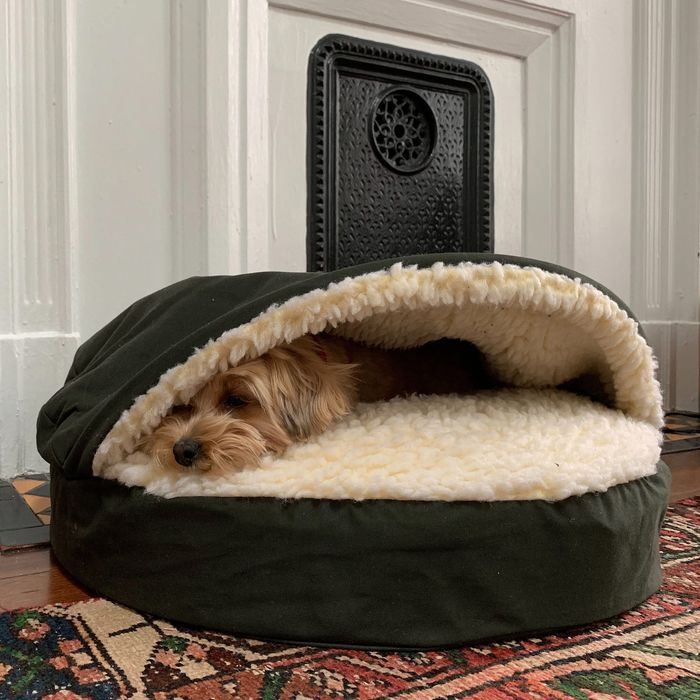 Photo: Strategist staff dog Oak snoozing in his bed.
When it comes to dog beds, there is no one size fits all — Great Danes and Chihuahuas have different needs, as do puppies and old-timers. To find the best bed for your dog, you'll need basic information like your pup's age and weight. But you'll also need more particular stuff like their sleeping style, if they run hot, whether they chew things or are nervous pee-ers, or if they love to track mud into the house. Just as when you choose a mattress for yourself, you'll want to consider what makes your pup most comfortable. Especially when you consider how much time they spend sleeping. According to Dr. Lisa Lippman, a house call veterinarian and founder of Vets in the City, that can be up as much as 80 percent of the day."
Dr. Rachel Barrack, a veterinarian and the founder of Animal Acupuncture in NYC, suggests beginning your search with your dog's size. "Measure from nose to tail," she says. To be safe, add a couple inches to that measurement. Barrack recommends opting for a bed that's slightly too big, giving your dog room to spread out. Because there are so many different styles and brands to choose from, we talked to Lippman, Barrack, and nine other dog experts — including dog trainers, veterinarians, Strategist dog owners, and one of the internet's first dog-fluencer parents — about the best of the best in dog beds.
Best Overall Dog Bed
Of all the dog beds mentioned by our experts, this is the one we heard about most. It comes recommended by Barrack; Lippman; Dr. Zay Satchu, co-founder and chief veterinary officer of Bond Vet; Logan Mikhly, co-owner of Boris and Horton, an off-leash dog café in Manhattan; and Yena Kim, the owner of a stylish Shiba Inu named Bodhi that has more than 300,000 Instagram followers (@Menswear Dog).
Mikhly loves that Casper beds are "durable and easy to clean." And Barrack, whose clients rave about their Casper dog beds, says that, "because it's engineered by Casper, it's basically a human-grade mattress." She also likes that the cover is machine washable and the zippers are hidden "so your dog won't be able to chew on them." Satchu prefers the Casper because it's nice-looking, easy to clean, and "orthopedic for older dogs to aid with their achy joints." But what really convinced her was sitting on one herself.
"We tried a lot of dog beds and currently use a Casper," says Kim. "It's got a memory-foam base, so Bodhi feels rested with full soft support." Even though she and Bodhi currently prefer Casper, Kim recognizes that not all dogs have the same needs and advises focusing on what's unique about your dog before purchasing a new bed. "You'll know you've made the right choice when you hand your dog a treat and he takes it to his bed to enjoy it."
Best memory-foam dog bed for big dogs
Two of our experts — Erin Askeland, a certified dog behaviorist and training manager at Camp Bow Wow, and Devin Stagg of Pupford, a company specializing in dog training and healthy dog food — recommend Big Barker bolster dog beds for their durable and supportive foam, which is designed for extra-large dogs and older big dogs with joint pain. Askeland recommends these heavy-duty bolster beds (which Big Barker guarantees will hold their shape for ten years) "for dogs who like to sprawl and rest their head." Stagg, whose two Labs sleep on Big Barker beds, is a fan of their machine-washable covers: "Even if your dog is potty-trained, stains and spills can ruin the integrity of a dog bed, so make sure you buy a bed with a cover you can remove and clean," he says.
Best inexpensive memory-foam dog bed
Askeland has four dogs who sleep on several different beds, including this three-sided memory-foam bolster bed with a water-resistant cover. According to her, it's "an upscale bed with a sturdy, removable cover and very thick, dense foam that doesn't immediately flatten." The PetFusion Ultimate bed also comes recommended by Dr. Jamie Richardson, Chief of Staff at Small Door Veterinary, who bought the bed for her elderly Labrador several years ago and says that the memory foam is such good quality that it has not lost any shape. You can also purchase replacement covers if you have a dog who likes to chew or dig, she says. At around half the price and comparable in size to a Big Barker bed, the PetFusion is a good choice for folks on a budget or buying in multiples.
Best memory-foam couch-style dog bed
This bed isn't cheap, but both Lippman and Askeland recommend it and say you're better off investing in high-quality products from well-known brands you can trust. "Orvis makes sturdy products that hold up over time," Askeland says. "This might be a more expensive bed, but it will last you quite a while." Lippman "loves" Orvis: "They have a range of massive beds for large and giant dog breeds, with quality memory foam to comfortably keep the dogs' bodies from touching the floor." Richardson is also a fan and notes that they make a bunch of stylish covers and that you can get the bed customized with your dog's name.
Best less-expensive couch-style dog beds
Dr. Jeff Weber, a veterinarian in Culver City, California, says most healthy dogs are happy sleeping on the floor, so getting them a dedicated bed is already a "slam dunk." But for dogs of all sizes with joint problems, you should look for an orthopedic bed. He recommends this sofa-style bed because it's "soft on pressure points yet firm enough to offer good support for achy joints." Though it comes in only one size. This La-Z-Boy sofa will run you less than half what the small-size Orvis sofa-style dog bed costs.
Strategist associate director of e-commerce, Kiki Reginato, recently bought this sofa-style dog bed for her growing Labrador mix, Rusty. It's made with orthopedic foam for cushioning joints and has a removable cover that can be machine washed in case of accidents. "Rusty is a big fan," she says. Reginato likes that the bed has enough weight to it that her dog can't pick it up and throw it all over the house.
Best dog bed for skinny breeds


Both Mikhly and Dr. Whitney Miller, director of veterinary medicine at Petco, recommend this soft four-sided dog bed from Pendleton. Mikhly's dog and cat are both fans. Miller says it's a great option for the colder months because the recycled high-loft memory fiber keeps leaner breeds off the floor. It also provides cushioning for pressure points like elbows and hips, which, if not properly protected "can lead to pain, skin damage, and in some cases even skin wounds."
Best dog bed for older dogs
Older dogs and dogs with less meat on their bones may not find extra-thick foam beds comfortable because they don't weigh enough to sink into them. Instead, get them soft, pillowy beds, which tend to be cozier and easier on their joints. When Barrack's dog, a 4.5-pound, 11-year-old Chihuahua named Eloise (a.k.a. Lil Weezy) isn't snuggling next to her owner in a human bed, she sleeps on a Jax and Bones bed. "It's a soft, fluffy bed that's gentle on her older joints. Plus, it's available in a small size for my little pup and comes in colors that work with my home," she says. Askeland recommends the Jax and Bones bolster bed because, while it's soft, it's also sturdy, and you can remove the pillow and exterior bed cover for cleaning.
Best inexpensive bed for small dogs
Jessica Gore, a CPDT-KA (certified professional animal behaviorist) in Los Angeles, recommends a shag donut-shaped bed for dogs who sleep curled up in a ball and need some support as well as some extra warmth. "I just love, love, love the Shag Donut Cuddler from Best Friends by Sheri. It's great for warm snuggling and cuddling and provides just enough support and security for smaller body types." Gore also stresses that your dog's bed should be able to stand up to a lot of wear. "Expect your dog's bed to get used. There may be circling, digging, scratching, dragging, and lots of repeat plopping, which can cause significant wear and tear in no time." Strategist Senior Editor Casey Lewis and Junior Writer Chloe Anello both own the Best Friends by Sheri donut bed, too. Anello says she recently bought the bed for her Pekinese and that the dog is obsessed with it. Lewis has a larger pit bull boxer mix — and the larger Best Friends bed to match.
Best (and most stylish) mattress-style dog bed
"The most common misconception is that dog beds have to be ugly," says Kimberly Freeman, a dog trainer and canine-lifestyle expert in London. This mattress-style dog bed from Huts and Bay is both stylish and functional. The brand makes bed with covers in a ton of different patterns. Each one is antimicrobial, removable, and machine washable. The inner cushion is antibacterial and made from 100 percent cotton.
Best cave-style dog bed for burrowers
Both Askeland and Lippman recommend this cave-style bed from Furhaven, which comes with a snuggly built-in cover that Askeland describes as "essentially a blanket attached to the top of the bed that a dog can slide under to cuddle." Lippman's Rhodesian Ridgeback, Chloe, loves to burrow under the fleece-lined top. "It's the perfect bed for pups that love to burrow under the covers and get super cozy before they sleep," Lippman says. Richardson likes the Furhaven for toy breeds, like Chihuahuas, because "covered beds can provide the security and warmth these pets crave."
Best dome-style bed for dogs who like their alone time
Your dog's sleep style affects the type of bed you should get for them, but you should also consider their personality. For dogs who like to hide in confined spaces or enjoy a bit of alone time, a cozy padded doghouse is just the thing. Kelsi Trinidad, a New York Magazine web producer, has several dog beds for her Chihuahua mix, Lupita, but this is the one her pup likes best. "She goes in there and digs a lot and then sleeps," Trinidad says.
Best cooling cot-style dog bed
"Some large dogs, like a Bernese mountain dog, may prefer a cooler place to plop, so a giant fluffy bed may not be ideal," says Gore. "K9 Ballistics offer durable dog beds for the larger or heavier types. Their cots are also a cooler option that provide dogs with support and are easy to clean." Satchu's dogs use elevated cot-style beds when they're not sleeping in their kennels. And although Weber's dogs share his California-king bed with him most of the time, if you're not into co-sleeping, he suggests prioritizing practical things like ease of cleaning when shopping for a dog bed. He likes cot-style beds because they're practically dog-fluid proof — you can rinse them with a hose and there's no expensive foam core to worry about. If you want to add a little extra cushioning to your dog's cot, he suggests adding a soft washable blanket.
Best cooling mat-style bed
Both Richardson and Weber recommend this cooling pad for dogs who run hot. "For hot summer days or for dogs that have double coats and overheat easily, gel mats are a great option," says Richardson. She specifically likes that it provides more cushioning than hardwood floors or tile. But it can also be put on top of another bed for added support.
Best roll-up dog bed for travel or camping
This lightweight, waterproof, and packable mat is among the dog beds in rotation at Askeland's house. She loves that it "can be rolled up and carried easily" (it's also machine washable), making it a perfect travel bed for the car or camping — or a cold-weather addition to the above nylon cot from K9 Ballistics.
Best dog bed that's also a carrier