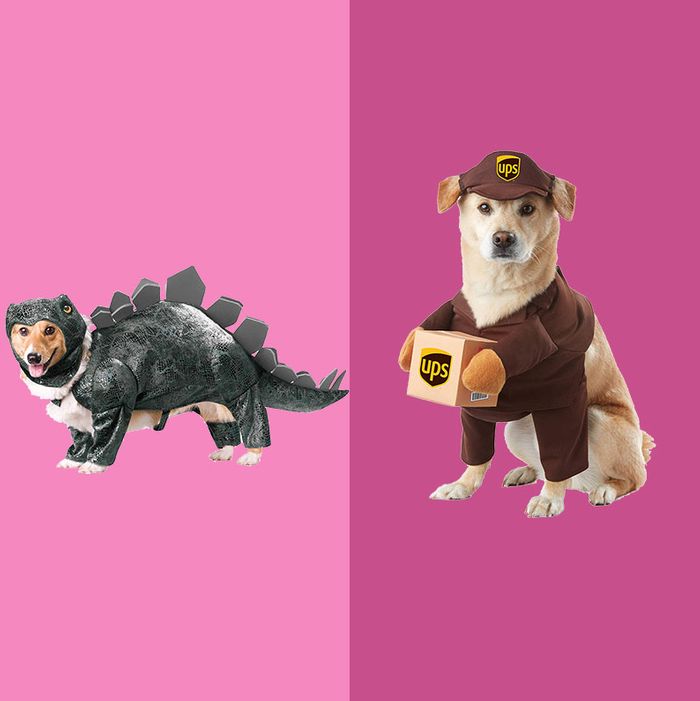 Here at the Strategist, we like to think of ourselves as crazy (in the good way) about the stuff we buy, but as much as we'd like to, we can't try everything. Which is why we have People's Choice, in which we find the best-reviewed products and single out the most convincing ones. (You can learn more about our rating system and how we pick each item here.)
And while we've written about lots of Halloween costumes before — including costumes for couples, costumes for babies, and costumes for kids — here, we've rounded up the best dog costumes, as praised by the most enthusiastic reviewers on Amazon.
Best-rated dog costume
This two-piece costume includes a lion's mane that sits on your dog's neck and a tail attachment. "I have never gotten so much attention for a costume before," writes one golden retriever owner. "People across the street came over to check my dog out. I loved the satin liner and the hidden drawstring, plus the coloring fit my dog perfectly." Another says his golden "looks great in it, and people just go nuts," plus, "since he's a total ham, he loves it too." One reviewer says this costume is "adorable and comfy" but warns, "Don't force your animal to wear it if your pet is not used to wearing costumes." Another says that "the headpiece is adjustable and not tight at all," so the dog was comfortable while wearing it. And one owner of a German shepherd–Rottweiler mix that doesn't often wear costumes "really wanted" to try this out: "He looked hilarious, but he didn't seem to mind. Regardless of what anyone else says, this was worth every penny."
Best full-body dog costume
Dog owners with a sense of humor chose this pirate costume, and more than one dressed their one-eyed dog in this three-piece set. One customer "laughed for five minutes straight" after putting her cocker spaniel into this costume but warns, "I think the sizing might run a tad small," because she doesn't consider her 40-pound dog to be large, yet that size fit best. Another agrees, saying her 15-pound dog fit in the medium size, but "it couldn't have fit better." She notes that the hat has slots for the dog's ears and Velcro under the chin, which makes it harder for dogs to take it off. "I was even able to keep it on him for a good hour or so without having to readjust it," she writes. One more says this "costume ranks up there with the best money I have ever spent," and she's excited to walk her dog around on Halloween: "I can't say she loves the costume, but she actually didn't try biting it. She wore the costume like an obedient pirate dog should!"
And now some micro-picks for every type of dog costume you might be looking for. 
Best superhero dog costume
One reviewer was dedicated to the Wonder Woman theme for Halloween and purchased this for her Yorkie to "match" with her own. But another selling point for her was the Velcro tabs at the bottom, which allow owners to put the costume on their dogs easily. Another reviewer says it was "easier than her harness," and the tabs ensured that even when her dog "was rolling around in the dirt and playing, it stayed in place the whole time." Plus, as one reviewer who purchased this for his Cavalier King Charles spaniel explains, "It doesn't impede the pet's mobility." Many reviewers say that although the headband is a cute touch, it doesn't stay on. One shopper boasts that her Lab "won first place" in a costume contest, yet she warns, "The headpiece will last on a dog 0.4 seconds, but the main piece fits well and the puppy did not care at all." A few say this one runs small, including a reviewer who recommends you "really measure your pup" beforehand. Once she got the right size, she says, "My fur baby totally rocked it. It was comfortable for her, and of course she enjoyed the praise and attention."
Best skeleton dog costume
Dog owners like this skeleton costume for their pets because it glows in the dark, but the fact that it's low maintenance and comfortable for their dog to wear was another selling point. "I tried to take it off, but he wouldn't let me, so someone slept as a glow-in-the-dark skeleton. This one's a keeper," writes one reviewer. Many customers credit the material for making this costume comfortable, with one saying it has "some stretch so he was able to act, play, and sleep in this." Another writes, "It is fairly forgiving, being both baggy and stretchy enough to fit a good range of shapes and sizes without flopping around or dangling too low in the back or hindquarters." And on the design, this shopper adds, "It really does glow in the dark, and I have to admit that, worn on a dark dog at night, it looks both very cool and sort of creepy." Another mentions that while some costumes require you to take the costume off the dog for it to go to the bathroom, which can be a hassle, "Your pup can do his or her business without any issues while wearing this."
Best mailman dog costume
Lots of customers bought this costume because their dogs unconditionally love their UPS delivery driver. One reviewer "got this costume to get a picture" of her UPS guy and her dog dressed the same, but she ended up reusing it for Halloween after receiving tons of compliments on Facebook. Another said her dog "pretty much broke the internet in it" after wearing it on Halloween. One more was bummed her puppy won only second place at her Halloween costume party, because "she looked so cute in her outfit," but she still sent a picture to UPS so "they can see their canine ambassador." Many even say for such an intricate-looking costume, it's actually relatively simple to put on. "It's easy to put on due to Velcro strips, and the hat has an adjustable elastic band. Very soft and lightweight for your pup," writes one customer, who thinks her "corgi is somehow even cuter in this costume."
Best latte dog costume