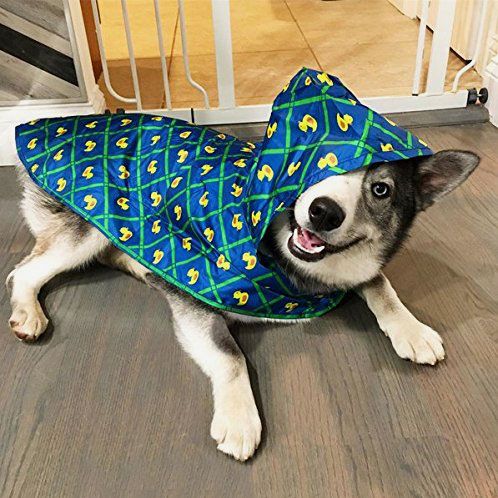 Including the Amazon coat for dogs.
Photo: Courtesy Retailer
Most dogs don't really need to wear a rain jacket or rain boots when going on walks, but there are some breeds that benefit from wearing raincoats, like short-haired dogs, who typically don't have a thick undercoat to protect them from the cold of the rain. Think Boston terriers, boxers, and French bulldogs. "They seem to appreciate it. They don't really like getting too wet," says Mat Deveau, the founder of the Greenwich Village-based dog walking company the Well Heeled Dog NYC. But even water-friendly breeds like Labs and wire-hair terriers, who are generally impervious to getting soaked through, can benefit from wearing a rain poncho or jacket when it's windy and cold, Deveau adds.
So to figure out which dog raincoats and rain boots dogs actually like to wear and will really keep your pet dry and warm in the rain, we talked with four New York City–based dog walkers about the rain jackets and boots their clients' dogs wear, as well as the ones they put on their own pups.
Best dog raincoats and rain jackets
Three of the professional dog walkers we spoke to pointed us toward this RC dog rain poncho on Amazon. "When I put it on dogs, it's just a standard raincoat," says Christopher Turi, owner of Bark Ave Dog Walkers, "but a lot of people probably are drawn to the style." It's not the most full-coverage option, he notes, explaining that even though it has a hood, with "any kind of raincoat, most dogs' underbelly is still going to get wet from them walking and kicking up any kind of rain or snow or sleet." But Stacia Anderson of RuffCity Dog Walking calls this blue and green rubber-ducky rain jacket a good option "if you have somebody who wants to make a fashion statement, which a lot of New York City dog owners do." It's basically the Amazon coat, but for dogs.
Heather Curatolo, owner of Financial District–based Paws on Pine, has a French bulldog named Tristan, and she bought him a classic yellow raincoat at Petland. "It was very inexpensive, and it's perfect, because it's got Velcro around his neck and his stomach, and it has a hole for the leash," she says. "What's great about it is, even if it's very cold and rainy, you could put it over their regular coat." Plus, "he likes to wear it, it's not too tight, it gets the job done, and it has a little hood, which is super cute."
If you are looking for a more technical, full-coverage dog raincoat, Deveau recommends the Sun Shower Dog Rain Jacket from Oregon-based Ruffwear. Made from water-resistant ripstop nylon, it has a large flap that protects your dog's underbelly from getting wet from puddles and matted with debris kicked up from the street.
Deveau also recommends Hurtta, a Finnish company, for technical dog gear (made with human-grade technical fabrics) that is actually comfortable for your dog to wear. "They're more aware of dog movements and the variables in sizing, so they give a lot of options there," he says, which makes sizing a little tricky, but if you can dial it in, it'll keep your dog bone-dry. For rain, he likes the Torrent: "It wicks away moisture as well — any heat that the dog is holding onto underneath the coat sort of wicks it away, so you're not getting a damp, smelly dog."
"We have a client with a black Lab who really loves the Kurgo North Country Coat," says Anderson. "This one actually has built-in LED lighting on it," she explains, which means that your dog will be visible to cars and other passersby even when the weather is dark and stormy. Plus, the jacket itself is is lined with fleece to keep your dog warm and has a waterproof shell, made of durable, ripstop material, to keep them dry and protect them from wind gusts.