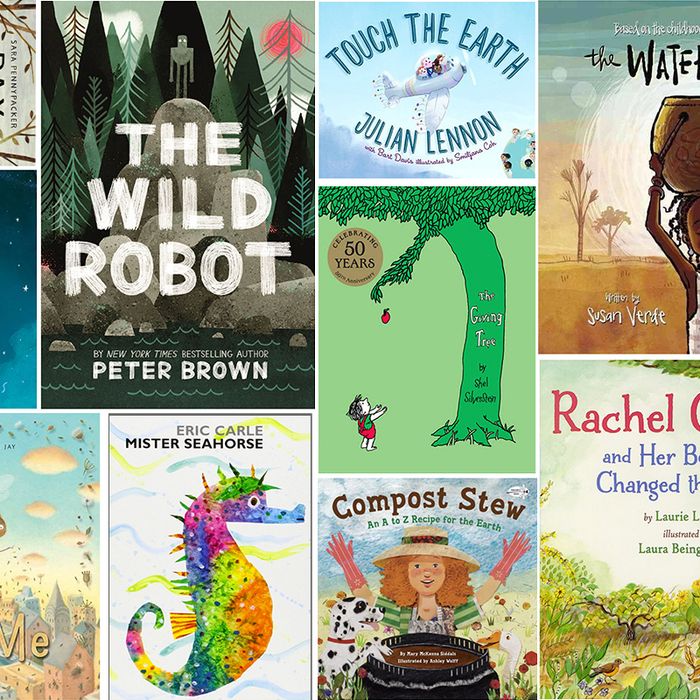 Like many adults, I think regularly about the increasingly horrible environmental legacy we are leaving today's kids, to say nothing of the kids of the future. How do I talk to my tiny niece about climate change and endangered species and why we should recycle and take care of our resources, and why we should not kill elephants (or other living creatures) for fun? And how do I do that without sending myself into a panic spiral?
Luckily, kids' books are here to help, even if our administration isn't. These 16 tomes — adding on to The Lorax and the young reader's version of An Inconvenient Truth — are targeted to children of various ages and will increase their sense of global connection and duty to the planet in myriad ways. Added bonus: They may also help adult readers feel a little bit more empowered, or, at the very least, more informed. (And, as luck would have it, unlike trees and bees, there are a lot more where these came from.)
This new picture book from the illustrator of The Day the Crayons Quit will help parents explain the incredible, multifaceted world — from Earth to space to humanity — to their little ones, as well as how we should treat one another. Oliver Jeffers created the book for his own son, so it's user-tested (and beautiful).
Shel Silverstein's classic picture book was published more than 50 years ago, and it's still stirring up controversy about what it means. Is it a thesis about parenting, or is it about how we treat nature — assuming it will always be there for us, until it's not? Either way, this book will teach a child not to take the world around them for granted.
This book about the friendship between a boy and his fox — and the devastating war that separates them — will move you to tears, but also fill you (and young readers, who it will captivate) with hope.
Teach kids about the importance of clean drinking water — and that not everyone has it — with this book inspired by the childhood of model and former Miss Africa Georgie Badiel, who grew up in Burkina Faso.
Rachel Carson published Silent Spring in 1962 to bring environmental concerns about pesticides to the attention of the American public. It inspired a social movement. This sweetly illustrated biography for kids conveys her passion, her struggles, and the power of her work.
From The Hungry Caterpillar to Slowly, Slowly, Slowly Said the Sloth, Carle's bright, energetic works demonstrate the fascinating processes of the natural world in a way that's delightful for small kids to ingest. Mister Seahorse might be my favorite, though, for its depiction of a bunch of underwater fathers who lovingly take care of their babies.