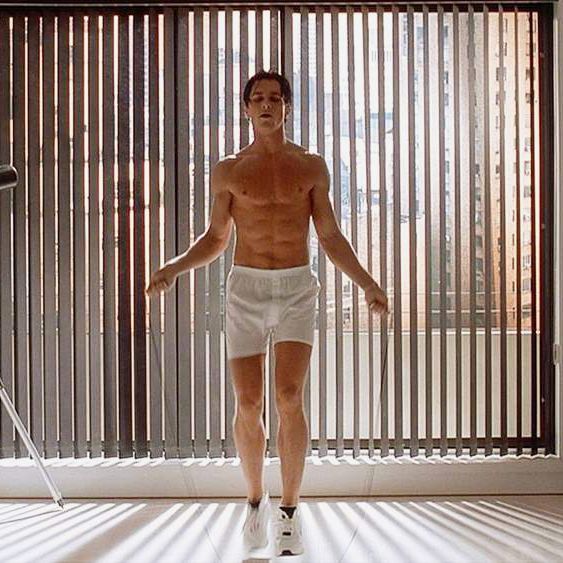 Photo: Courtesy Lionsgate Films
Even if your top drawer is fully stocked with your favorite everyday underwear, you might find that the same pair that feels great on workdays or casual weekends doesn't work as well when you're exercising. Traditional cotton underwear retains moisture, which becomes sticky and uncomfortable during a workout, and can even lead to chafing in some unfortunate areas. Your daily pair might also not be stretchy enough to handle the demands of your workout. For Underwear Week, we asked eight athletes, trainers, and menswear experts to recommend their favorite pairs of underwear for everything from running and weightlifting to high-intensity training and rock climbing.
Best for running
Not all guys choose to wear underwear while running, especially since most running shorts have built-in underwear. But if you do want that extra layer Rich Velazquez, chief operating officer and coach at Mile High Run Club, prefers this close-fitting Under Armour style. "They dry quickly post-workout, the three-inch fits comfortably under any exercise short, and have about a two-year shelf life," he says. "They also fit close enough to the skin where they don't ride up."
If your runs take you out to the trail, or even the local park, opt for a pair from outdoorsy brand ExOfficio that are designed to handle the elements. "They're light, breathable, antimicrobial, and quick-drying," says Barron Cuadro, founding editor of Effortless Gent. "If you're a hard-core wilderness guy, you can wash these in a river and they'll be dry within an hour, so they can definitely handle a sweaty workout."
Best for lifting
Under Armour styles were popular among many of the experts we asked. Ian Taylor, editor-in-chief of men's style site FashionBeans, recommends their "really stretchy" pairs for leg days at the gym when you'll be doing a lot of squats or lunges. The ArmourVent style also got a mention from Megan Collins, founder of menswear site Style Girlfriend.
Another flexible option for weightlifting comes from ecofriendly brand Nice Laundry. Each purchase comes with a prepaid mailing label, so you can swap out your old underwear and socks, which the company then recycles. "Their boxer briefs are made from this stretchy modal that is ultra, ultracomfortable, so they're great at the gym," says Isaac Hindin-Miller, DJ and author of menswear blog Isaac Likes.
Best for cycling
Whether you're riding outside or sweating indoors on a spin bike, Swerve instructor Jason Tran recommends these Adidas underwear for cycling. "They don't ride up my leg, they absorb sweat, and are super soft and comfy," he says.
Best for high-intensity training
When he's looking for exercise underwear, Ben Wegman, founding trainer and chief curriculum officer at Fhitting Room, a high-intensity-training boutique-fitness studio in New York, says, "I want to stay cool, comfortable, and feel 'supported.'" He says Rhone's boxer briefs are his "top choice, hands down," because they are secure and supportive. Unlike other brands, he likes that they don't make him "feel like I'm being suffocated by some crazy spandex fabric."