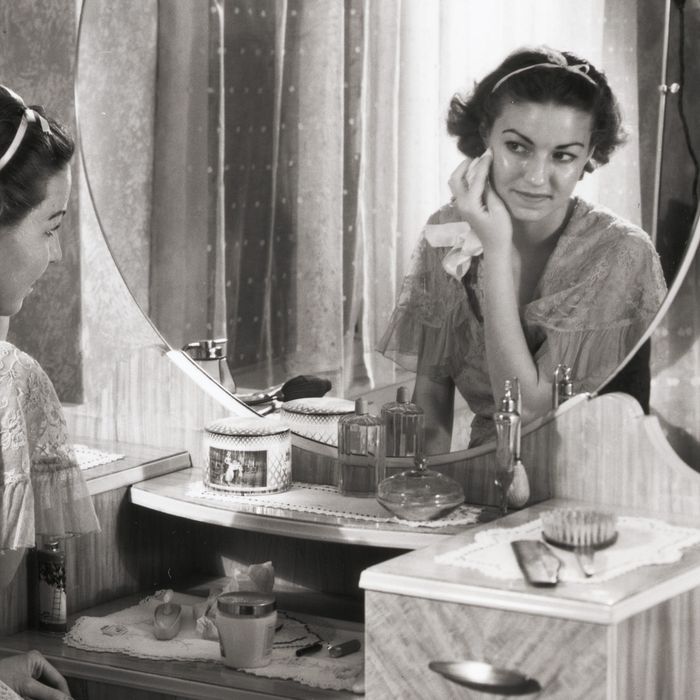 Photo: Bettmann/Bettmann Archive
Here at the Strategist, we like to think of ourselves as crazy (in the good way) about the stuff we buy, but as much as we'd like to, we can't try everything. Which is why we have People's Choice, in which we find the best-reviewed products and single out the most convincing ones. (You can learn more about our rating system and how we pick each item here.)
And while we've written about lots of skin creams — including the best eye creams for dark circles, the best brightening eye cream, and even the best eye masks — here, we've rounded up the best eye creams, as praised by the most enthusiastic reviewers at Sephora.
Best-rated eye cream
The general consensus on this eye cream from Shiseido is that it does a lot including smoothing out fine lines, moisturizing, depuffing tired eyes, and brightening the skin around eyes. Reviewers called it "super creamy and hydrating," as well as "AWESOME!" and "the most emollient effective eye cream I have ever tried." Several people said it was the third or fourth jar they have bought. One repeat customer, on their "fourth or fifth container," writes, "I have actually seen a reduction in the fine lines around my eyes, and even though it is a bit pricey, I believe it's worth it to spend the money on your skin and it'll make your makeup look better!" Another satisfied reviewer describes Shiseido Benefiance like this: "Hydrating, fills in fine lines, adds plumpness back to skin (in a good way), and generally takes care of the super thin skin underneath my eyes. It's the best I've tried." "I'm always on-the-go for work or fun, and my eyes were starting to show signs of wear and tear. Dark, puffy circles, dull and lifeless skin, fine lines," writes one woman who calls herself a young designer. She continues, "After two nights of using this cream there was an improvement in the dark circles, puffiness went down and the overall area was noticeably brighter and firmer. With continued use, my eyes have gotten better and better!"
Best-rated (less expensive) eye cream
At less than a third of the price of the Shiseido cream, Sephora's Brightening eye cream is an affordable, well-reviewed pick that also smooths out fine lines and helps with puffiness. One reviewer writes, "My eyes felt so much brighter and tighter after applying." Another raves, "Even cheaper then drugstore eye creams. So glad I found this life saver — minimized lines and brightened the eye!" Unsurprisingly the most common reviews were about the low price. "Very pleasantly surprised by this product. I figured I'd try it out because of the affordable price, I will definitely repurchase it in the future." said one happy reviewer. Another reviewer who struggles with dry skin said "I had such dry eyelids and was looking into some of the more expensive creams. This one is just as good at a fraction of the price. Highly recommend before you spend $50 plus on a cream … This one will do the trick!"
And now some micro-picks for every type of eye cream you might be looking for.
Best brightening eye cream
Reviews of this product by Ole Henriksen, which is also a Rio favorite, said it reduces the look of fatigue, helps makeup stay in place, and brightens dull and tired eyes. Many reviewers said that they have seen sustained results over a period of weeks and months and a lot of people said they love the way it smells. "This is the first eye cream I've tried that made me feel like eye creams are worth the extra money and the extra step in my routine," said one reviewer who continues, "It does a great job of brightening and hydrating and it's obvious to me when I haven't applied it. The product lasted me a good five months. Definitely a good value for how well it works and long it lasts." Another reviewer who suffers from under-eye circles says, "I have been using this since the beginning of January and I love it. I have really noticed a difference in my under eye circles. My under eyes are so much brighter and I have more confidence without wearing makeup." And a new mom who isn't getting much sleep writes, "I feel like this product wakes me up and tightens and brightens my under eyes. Love the smell, it reminds me of being on the beach — smells kind of like a tropical suntan lotion I've used, but not overpowering."
Best anti-aging eye cream
A common word used by reviewers here was "magic" and "miracle." Many of them also remark that this SK-II eye cream is well worth the high price tag. "I don't understand how it works, but it does. I usually have a fairly deep wrinkle under my right eye and it's disappeared. This product is a game-changing miracle" says one happy customer. Another reviewer who reported having tried tons of different eye creams writes, "I've always had trouble with dark circles, fine lines, and wrinkles under my eyes. This cream is rich and silky and glides across my skin. It has improved the texture and the appearance under my eyes. I think it's a wise investment." And a self described happy customer has this to say: "I have to honestly say this is magic in a jar literally, it's amazing on the skin, no oily residue, it just blends right in. My fine lines have just melted off my face and I am happy be a customer."
Best eye cream for puffiness