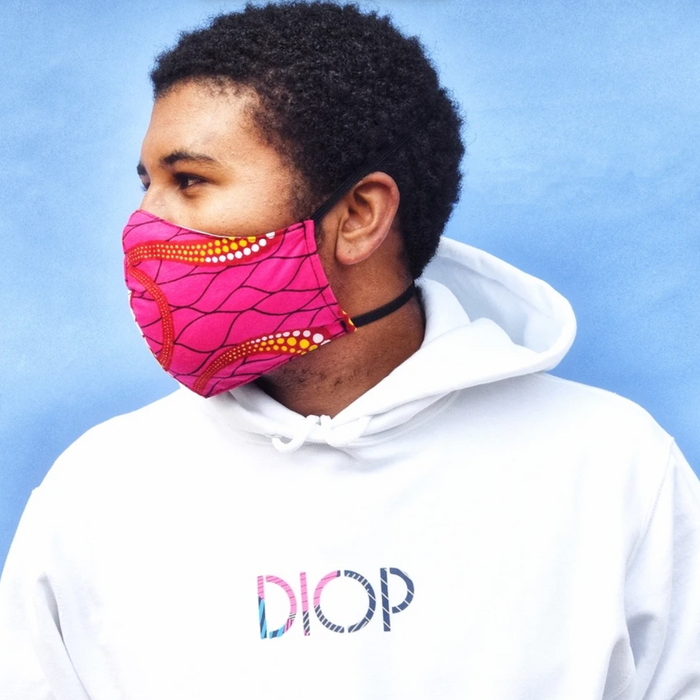 In order to help stop the spread of the coronavirus, the CDC now recommends everyone wear nonmedical face masks in public. This is especially important in settings where social distancing can be difficult, like grocery stores, pharmacies, and on subways and buses (which are still being used on a daily basis by essential workers). According to Dr. Sten Vermund, an infectious-disease epidemiologist and dean of the Yale School of Public Health who recently published a study on the subject, "many types of masks can essentially block droplet transmission. If you aerosolized the virus it might seep through a lot of masks, but when most people cough, the aerosol released is a small volume and the droplet is a large volume. So if you block the droplets, you may substantially reduce exposure."
Though nonmedical masks are most effective when worn by an infected person, new studies out of China and South Korea show that somewhere between 25 to 50 percent of infectious people are either pre-symptomatic or asymptomatic. "So if we have widespread, or near universal mask use, then those people are limiting their spread to others," Vermund says. He warns, however, that face masks are not a silver bullet, and only work when combined with other public-health measures, including washing your hands, remaining at home as much as possible, and staying at least six feet away from others when you have to go outside.
But what kind of face masks do the best job? And if you're looking to order some, where can you buy them right now? We asked Vermund and Dr. Scott Segal, chairman of anesthesiology at Wake Forest Baptist Health, for insight into those questions and a few others.
Because there is a shortage, and because they are the ones most at risk, health-care workers like doctors and nurses should be the only group of people wearing N95 masks. That leaves fabric masks and hobby masks, often used for painting or to block out dust, to the rest of us. Segal, who recently conducted a study of the efficacy of different materials used for homemade masks, says that you want thick, tightly woven cotton like the kinds used for quilting or batik. They are better at filtering small particles close to the size of a virus (0.3 to 0.5 microns). "Our general guidance is to do a quick light test," Segal says. If you can see light passing through the material, when you hold it up to a bright light or the sun, it's less likely to be a good filter.
Both Segal and Vermund note that your mask should be both comfortable and fit tightly to your face, but it obviously should not be so tight or so thick as to impede your breathing. And if you've been growing a quarantine beard, you may want to rethink it. According to Vermund, facial hair can get in the way of how well your mask fits and thus how well it works. Vermund, who recently had to trim his facial hair very short to make sure his mask was fitting tightly against his face, says, "If I put the mask over my beard and it was hugging my facial hair not my skin, then there would be big gaps that particles could move through."
So trim those beards (if you have them) and check out our list below to find the right mask for you, whether you're waiting in line at Trader Joe's, walking your dog around the block, or continuing to go into a job that has been deemed essential. (And if that last one is you, thank you!)
The best fabric masks to buy online
There are tons of tutorials online for making your own mask at home. In a pinch you can do it with a pair of hair ties and a bandana. But if you don't feel like making your own, don't worry. Many fashion brands (and others) have chosen to pivot to manufacturing face masks. Quite a few of them are donating one mask for every one they sell, so buying a few for yourself also helps someone in need. Often these masks feature a pocket for an additional filter. Dr. Laszlo Mechtler, Professor of Neurology and Neuro-Oncology at SUNY Buffalo tells us that a coffee filter, a section of a non-fiberglass HEPA vacuum bag, a swatch of flannel, or any other material that passes the light test but does not restrict your breathing would make a viable added filter. Whatever mask you select, our experts stress the importance of removing them the right way. "Try to handle it by the ties or ear loops, not the fabric front," Segal says. "Wash your hands after taking it off, and then either hang the mask up to dry, wash it, or do as we do in the hospital, put it in a paper bag (which allows drying) until the next use." And if you're buying your masks online it's a good idea to wash them before wearing for the first time.
Editors' note: Given that these masks are extremely in-demand and made by super-small teams (sometimes just one person), stock is constantly fluctuating. We'll be updating this post frequently with new places to buy, so if you don't see an option you like, check in later for more.
Sasha Koehn and Erik Allen Ford, co-founders of Buck Mason, make masks using three layers of the heavyweight cotton they usually use to make T-shirts. Initially they were planning to donate the masks to nonmedical essential workers at grocery stores and warehouses in their community. But so far the biggest request has actually come from health-care workers. "The medical community is requesting them for things like sending patients home and going to and from work," Koehn says. The brand's original goal was to sell and donate 100,000 masks. They have already sold double that number and have set a new goal of 1 million. Availability: preorders ship starting the week of May 25th.
Baggu's color-block masks feature adjustable cloth straps, nose wire to ensure a comfortable fit, and a pocket for a filter insert. For every pack of masks sold, the company is donating a pack of surgical masks to health-care workers through Masks4Medicine. Availability: Shipping starts early June.
For $25 dollars you get a pack of five reusable masks. Plus, Caraa will donate a pack of five to New York State's COVID-19 Response Fund. Availability: Preorders ship between May 3rd and June 1st.
Etsy is full of affordable handmade cotton mask options, many of which offer vibrant patterns or customizable decoration. All of the above are made using tightly woven fabric and a pleated design to help them conform to many different face shapes. Availability: Most orders ship three to five business days after purchase. (Also, sellers are working hard to keep up with demand, so if a particular mask is sold out now, you might be able to check back later and find them in stock.)
Los Angeles Apparel sells its masks in threes (and also donates a mask for every one sold), which makes it easier to do what our experts suggest and wash your mask after every use. Its thick cotton masks feature an adjustable nose bridge to ensure proper fit and come in a variety of bright colors and prints like camo or leopard. Availability: Certain colors are sold out but the one pictured and a few others are still available and ready to ship.
Sustainable clothing brand Christy Dawn is using their striped, floral, and solid dead-stock cotton to make two-ply face masks. Thirty dollars gets you a pack of five masks and allows Christy Dawn to donate another five. Availability: Ships two to three weeks from purchase.
Madewell and J.Crew have donated 75,000 single-use face masks to Montefiore Medical Center in New York. Their triple-layer masks are made from leftover fabric, so colors and patterns are changing constantly.
Food52 has partnered with Steele Canvas Basket Corp., a company that normally makes handsome canvas products, to sell the brand's non-medical face masks. Buy one and they will donate a second to medical facilities across the U.S. Availability: Now.
Clothing brand Bomme is making masks in Los Angeles out of high-quality, two-ply upcycled cotton. The face masks are designed so you can sterilize them in an autoclave (a high-heat sanitization device used by chefs and medical professionals) and machine-washable for everyday use. For every mask sold, they are donating one to essential workers in their community. Availability: Now.
Rainbows displayed in windows have become a popular message of hope and gratitude during the coronavirus pandemic. These rainbow designs, printed on fabric face masks, were drawn by a dozen children between the ages of 4 and 11. The masks are made in NYC, and 100 percent of profits from sales are being donated to NYC Health + Hospitals. Availability: Masks are expected to ship starting June 15th.
For every mask sold, Brooklyn-based designer Abacaxi is donating the cost of an N95 mask to The Mask Fund for healthcare workers. You can either preorder one of their stylish double-layer cotton masks or receive one free with the purchase of any clothing item on their site. Each mask includes an opening between the layers of fabric so you can add your own filter. Availability: Orders will ship starting May 25th.
These cute blushing-cartoon-face masks are made from two layers of cotton and include wire inserts to contour around your nose. Availability: May take three to four weeks to arrive.
This set of four masks from cult L.A. fashion brand Clare V. is made from remnant and dead-stock fabric, produced locally in L.A. and embroidered with the brand's signature patch. Your purchase helps them donate masks to frontline and essential workers. Availability: Ships mid-June.
Old Navy's super-affordable pack of five patterned face masks sells for just over ten bucks, and each one is made with three layers of cotton poplin fabric. Your purchase helps Old Navy donate 50,000 masks to the Boys & Girls Clubs of America. Availability: Expected to ship June 16.
Baron Fig is known for their well-designed pens and notebooks, but now they are also making nonmedical face masks. Each one is crafted from two layers of poly-cotton fabric and features adjustable ear loops. Availability: Now.
If you're having Last Dance withdrawal or you've got a dad or brother who refuses to wear a mask unless it's also NBA team merch, then these are for you. They are breathable and made with two layers of fabric. Plus all NBA proceeds from face coverings go to support Feeding America and Second Harvest Canada. Availability: Now.
If you're looking for something a little more festive, this glitter mask is just the thing. It's made of two layers of soft, stretchy, and comfortable fabric, and it's machine-washable. For every mask sold, the company donates one to The Midnight Mission homeless shelter in downtown Los Angeles. Availability: Ships five to ten days after your order is placed.
San Francisco fashion brand Vida is making double-layer cotton face masks with adjustable ear loops. Ten percent of profits will be donated to SF-Marin Food Bank and Food Bank NYC to support COVID-19 relief efforts. Availability: Delivery dates are estimated starting June 24th.
For something with a little more flair, Disney just launched a collection of cloth face masks featuring Baby Yoda, R2-D2, and the rest of the Star Wars gang. All profits from sales of their masks in the U.S. (up to $1 million) will be donated to Medshare helping children and families in underserved and vulnerable communities across the country. Availability: Masks are available for preorder and are expected to arrive by Aug 8th.
Nili Lotan is donating 100 percent of profits from the sale of these striped masks to NYU Langone Hospital in NYC. Your purchase of a mask also helps keep their employees working while contributing to the well-being of some of New York's most vital essential workers. Availability: Now.
Vista Prints masks are made with four layers to ensure proper filtration, breathability, and comfort. Their masks feature adjustable ear straps. For every mask you buy, they'll give 10 percent to support local small businesses impacted by the coronavirus. Availability: Preorders ship starting May 28.
Known for its beautifully crafted (and statusy) dog leashes and collars, Found My Animal has started offering a slew of masks in solid and tie-dye fabrics. This mask features elastic ear loops and an adjustable nose bridge. Availability: Now.