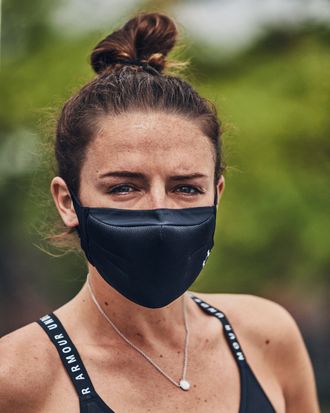 Even with large numbers of people being vaccinated, in order to help stop the spread of the coronavirus, the CDC recommends everyone wear a face mask in most public settings. There are new guidelines around outdoor mask use for vaccinated people, but you still need to wear a mask anywhere that's indoors, like the grocery store or the subway, and at large gatherings like concerts — even if they are outside. This is especially important as more contagious COVID variants continue to spread in the United States and abroad.
According to Dr. Sten Vermund, an infectious-disease epidemiologist and dean of the Yale School of Public Health who published a study on the subject, "many types of masks can essentially block droplet transmission. If you aerosolized the virus, it might seep through a lot of masks, but when most people cough, the aerosol released is a small volume and the droplet is a large volume. So if you block the droplets, you may substantially reduce exposure."
Dr. Purvi Parikh, an immunologist with NYU Langone Health who was involved in two of the COVID vaccine trials, says, "We're finding that upwards of 50 percent of cases are happening by asymptomatic spread. So even if you've been vaccinated, it is crucial to continue to wear masks because we know the vaccine prevents you from getting symptomatically sick, but we don't know for sure yet if the vaccine will prevent you from passing the virus without symptoms." Outdoors continues to be safer than indoors, but you should still wear a mask outside if you are unvaccinated or if you're hanging out with a large group of people whose vaccination status is unknown, and you should continue to social distance. "We say six feet as the general marker, but we've seen evidence that the virus can spread at ten feet or 12 feet." For times when you can't avoid spending more time in close quarters with other people, like on a plane or at a doctor's appointment, doubling up on masks is an easy way to lower your risk.
We asked Vermund and Dr. Scott Segal, chairman of anesthesiology at Wake Forest Baptist Health, for insight into choosing the best mask for you. Because there is a shortage, and because they are among the most at risk, health-care workers like doctors and nurses should be one of the few groups of people wearing N95 masks. However, there are a few U.S. manufacturers currently having trouble selling their N95s because of the regulations Facebook, Amazon, and Google put on mask advertising. In these cases, regular citizens can help support those businesses while getting high-quality N95 masks for themselves. Otherwise, that leaves fabric and disposable masks (we've rounded up the best of those, too) for the rest of us. Segal conducted a study on the efficacy of different materials used for fabric masks and says you want to look for thick, tightly woven cotton like the kinds used for quilting or batik. These are better at filtering small particles close to the size of a virus (0.3 to 0.5 microns). "Our general guidance is to do a quick light test," Segal says. If you can see light passing through the material when you hold it up to bright light or the sun, it's less likely to be a good filter. (Soon consumers will have a lot more than the number of layers, type of material, and the light test to go by when picking a mask. A division of the CDC is working with ASTM International to create a set of filtration standards for masks. Once the standards become public, companies will be able to have their masks tested at a third-party lab and, if the masks pass, carry labels saying so.)
Segal and Vermund also note that your mask should be both comfortable and fit tightly to your face, but it obviously shouldn't be so tight or so thick as to impede your breathing. To help find the right face mask for you, we tested 75 of them (so far) on the basis of fit, breathability, style, and whether they pass Segal's light test. Below are our favorites. We will continue to update this article with new information and edit the list as new masks are wear-tested.
The best fabric masks to buy online
As we continue to fight the virus and its more contagious strains, you may want to consider putting aside your lightweight masks in favor of an upgrade. A materials study conducted by four scientists out of Virginia Tech shows the importance of an additional filter layer sandwiched between two layers of tightly woven cotton. Many of the fabric masks you can buy now feature a pocket for such an additional filter. In addition to mask filters, you can buy (which we wrote about here), Dr. Laszlo Mechtler, professor of neurology and neuro-oncology at SUNY Buffalo, says a coffee filter, a section of a non-fiberglass HEPA vacuum bag, a swatch of flannel, a few tissues, or any other material that passes the light test but does not restrict your breathing would make a viable added filter.
In terms of handling, Segal says, "try to handle it by the ties or ear loops, not the fabric front. Wash your hands after taking it off, and then either hang the mask up to dry out, or wash it before the next use." And if you're buying your masks online it's a good idea to wash them before wearing for the first time. (Here are some directions on how to clean your face mask.)
[Note: With summer nearly here, we have updated this list so that the masks that are breathable and comfortable in hot weather are covered first.]
Baggu
We love Baggu's original masks because they look good, feel good, and stay put, and now the brand is offering masks with adjustable ear loops instead of ties in a bunch of cool prints and solid colors, too. The masks are machine washable and made from 100 percent–organic quilter's cotton, which is very effective at blocking respiratory droplets. They also feature an adjustable nose wire and a pocket for an extra filter insert.
What we think: For those of us who like the original Baggu masks but don't have the patience to tie and untie the straps over and over again, the launch of these new masks is a true blessing. They stay in place just as well, are just as adjustable, feel just as substantial, and are just as fitted as the tied masks but are much easier to use. They're also more flattering because of their rounded design and won't mess up your hair. And they're more comfortable, since you can't accidentally tie them too tight. While other masks, both flat and accordion style, tend to sit right against your skin, Baggu's envelope design (similar to a KF94 disposable mask) and sturdy cotton keep the mask slightly off your face, which helps it feel less hot and sweaty. And these do pass the light test. Plus, die-hard Baggu fans can now match their mask to their favorite tote or reusable shopping bag.
Under Armour
Under Armour's Sportsmask has sold out multiple times thanks to a unique structured design that keeps it off your face and mouth for added breathability and comfort. The outer layer is water-resistant, and the inner layer is treated to be anti-microbial to help keep the mask fresh even when you're working out. And to protect you from the sun it features a built-in layer of UPF. Right now if you buy two masks you'll get the second one for just $10.
What we think: Compared with other masks Strategist senior writer Karen Iorio Adelson has tried running in, the Under Armour Sportsmask is "easily the most comfortable and best fitting," she says. It's also the running mask of choice of Amir Muhammad Figueroa, co-founder of Harlem Run and senior research associate with Lyell Immunopharma. "This is hands down my favorite sports mask, and I've tried a lot," he says. Both of them love that it's slightly tented over the face so it doesn't cling to your mouth on the inhale when you're breathing heavily. It comes in five sizes, so you can really get a close fit, and it works in hot weather just as well as it does on cold, windy days. "I've run up to 12 miles with it on, and even then, it's surprisingly easy to forget I'm wearing a mask at all," she says.
Uniqlo
We patiently awaited the U.S. release of Uniqlo's breathable face masks after they sold out in a matter of hours when they launched in Tokyo back in May. Made from the company's signature Airism material, which is lightweight, antimicrobial, and self-deodorizing, these masks have three layers for increased protection. The first inner layer wicks away moisture; the second has a washable, built-in filter; and the third uses a UV-blocking mesh. They come in three colors (white, black, and gray,) and three sizes (small, medium, and large.)
What we think: Though it has three layers, including a built-in filter, the Airism mask is as breathable as we hoped. However, they don't have a nose strip or adjustable ear loops, which makes them move a bit when you talk. Cho bought a size medium and says it's a little loose. "I wore it on a run and the thing was sliding off my face," she says. Still, she likes it enough to go out and buy some toggles to make the ear loops adjustable.
Enro
Enro masks have three layers: a water-repellent outer layer, a soft inner layer made from 100 percent cotton, and a filter layer sandwiched between the two. They have adjustable ear loops and a bendable nose strip and they come in six sizes, from kids XXS to adult XXL.
What we think: This mask is extremely lightweight and breathable. But unlike other very light masks, it doesn't feel flimsy or too light to wear on the subway. I wore it all day while walking around Manhattan on a 60-degree day and it didn't feel hot or annoying at all. It fits really well and covers all of my face from the bridge of my nose to underneath my chin, without any gaps.
NxTSTOP
These dual layer adjustable face masks feature a wire insert above the nose for a tighter fit.
What we think: These use adjustable ear loops, a bendable wire nose strip, stretchy fabric, and an added lower section that hugs your chin to create a tight but comfortable fit on many different face shapes. They're well made, pass the light test, and seem like they will last a long time, plus the navy fabric and black piping is a nice change from all the cutesy patterns we have seen out in the world. The fabric isn't heavy but they are only average in terms of breathability. NxTSTOP also carries a more breathable version of its mask, made for working out. It has the same fit and number of layers, but the fabric is designed to cool you as you run, hike, or deadlift 200 pounds.
Vistaprint
Vistaprint's masks are made to ensure proper filtration, breathability, and comfort. Their masks feature adjustable ear straps. For every mask you buy, they'll give 10 percent to support local small businesses impacted by the coronavirus.
What we think: Of the dozens of masks we tested for this story, Vistaprint's are among our favorites. Adjustable ear loops, a bendable wire nose strip, stretchy fabric, and an added lower section that hugs your chin make this mask fit several different face shapes securely and comfortably. It doesn't feel constricting or heavy and it looks cute enough and is really well made. The fabric is synthetic but moisture-wicking, so it feels a little hotter than a lightweight 100-percent cotton mask but it didn't make us sweat — even after wearing it on a hot day. These masks pass the light test on their own, but Vistaprint also sells replaceable filters in packs of 10, which easily slide into the mask's inner pocket.
Hedley & Bennett
One of the first brands to start making fabric masks, Hedley & Bennett added these two-ply cotton face masks to their collection of very stylish, well-crafted aprons and chef's gear. With each purchase, they will donate a mask to essential workers in need.
What we think: Now in fourth round of design, Hedley & Bennett's masks have a metal nose strip and a longer body so, according to former Strategist Writer Nikita Richardson, they won't ride up as much when you're talking. They also feature easily adjustable ear loops and an inner pocket for adding a filter. The masks come in 8 different colors, all of which pass the light test.
Vida
San Francisco fashion brand Vida is making double-layer cotton face masks with adjustable ear loops. Ten percent of profits will be donated to SF-Marin Food Bank and Food Bank NYC to support COVID-19 relief efforts.
What we think: Even with the filter in we found these masks breathable. The adjustable ear straps mean there's no fumbling to tie the mask straps behind your head or mess up your hair. Plus there's a metal nose piece, which ensures a snug fit — and according to Camilla Cho, our senior VP of e-commerce, helps keep her glasses from fogging up.
Proud2Support
Like most surgical masks, this fabric mask has a middle filter layer made of liquid-repellent non-woven polypropylene, making it much harder for droplets to escape or enter. It has easy-to-adjust ear straps that work by simply pulling down on the little loops. And the company donates 10 percent of every purchase to development projects for disadvantaged children and families all over the world.
What we think: Like many people, Strategist writer Louis Cheslaw bought a lot of different masks, but this is the only one he has bought twice. "I'd describe it as a mid-weight mask. The material is heavy enough to keep you warm on the coldest day but light enough that you aren't sweating on warmer days, or sucking in a mouthful of fabric every time you breathe," he says. It's everything we've learned a mask should be: filter-inclusive, adjustable at the ears, and in Cheslaw's opinion "good with any outfit." He also appreciates that the mask doesn't develop a smell (you know what he's talking about), and it doesn't hurt that the company is mission-based either.