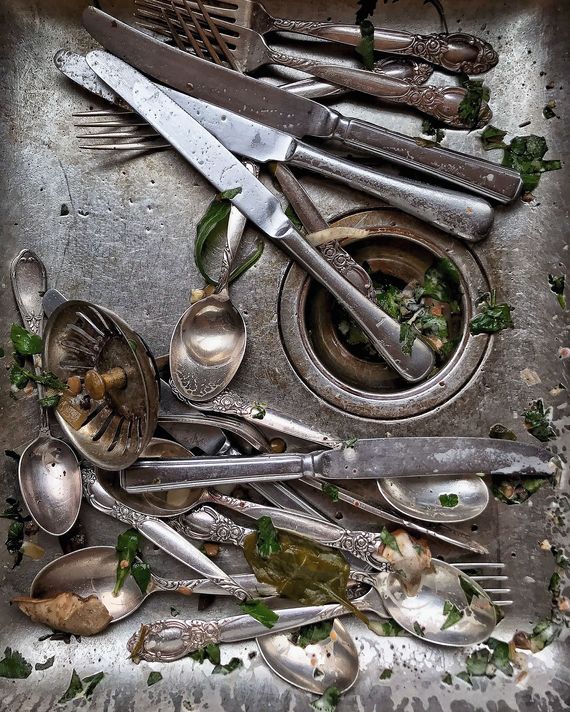 Flatware is not especially easy to shop for online — or in general, for that matter. There is just a lot to consider: weight, style, materials, dishwashability … and much of it looks so similar. So we decided to piece together a guide that would both help a novice know where to start and surface unusual sets for those who want something beyond the basics for a wedding registry or cutlery-drawer refresh. Most modern flatware is made of stainless steel, making a lot of it more affordable than the silverware of yore. Dung Ngo, the editor-in-chief of August, a design-and-travel journal and small press, says that stainless steel actually "democratized cutlery for everyone." Ngo, a flatware collector who runs an Instagram account dedicated to utensils, explains the change from silver to steel followed the advent of the Bauhaus and other early 20th-century design movements that celebrated everyday substances like plywood, plastic, and stainless steel. If you're not going with actual silver, we found, it's best to try pieces made with 18/10 stainless steel — "the safest option if you want heft and something that will stand up to daily abuse," according to Kelsey Keith, the editorial director for Herman Miller. The 53 sets below include something for most everyone, from traditional silverware, to traditional-looking (silver-colored) flatware made of stainless steel, to some rainbow-colored utensils beloved by writer Chloe Malle, to the official flatware of the 1972 Munich Olympics, which Ngo calls "the Rolls-Royce of cutlery." Beneath all the sets, there are also standout singles — from soup spoons to knives with circular heads — for those who like to mix and match.
I.

The Best Sets Across the Board
Utensils that were recommended repeatedly.
The Interior-Designer Favorite
The Could-Go-Anywhere Set
The Café Kitsuné President's Favorite
And a Less-Expensive Dupe
A Moody Black Set
The Best Value
An Apple Design Researcher's Set
The Best Basic Bistro Set
II.

The Best Flatware With a Design Pedigree
Collectible cutlery from various architects, designers, and furniture-makers.
Arne Jacobsen's Danish-Modern Flatware
Ettore Sottsass's Cinched Flatware
Antonio Citterio's (Slightly) More Rubenesque Flatware
Alessi's Achille Castiglioni-Designed Flatware
Henning Koppel's 'New York' Flatware for Georg Jensen
John Pawson's Flatware With Five-Pronged Forks
Jens Quistgaard's Mixed-Material Flatware
Carl Hugo Pott's Olympics-Worthy Flatware
Gio Ponti's Slightly Off-Kilter Flatware
Peter Raacke's Red, Ringed Flatware
'Brutalist' Flatware by Maarten Baas
Silverware comes in two forms: all sterling silver or silver-plated. The latter are more affordable and more durable. The former are easier to clean and have a high resale value.
The Silver-Plate Set Favored by Marie Antoinette
An Affordable Vintage Silver-Plate Set
Silverware Designed for Aaron Burr's Wife
Some Heirloom-Quality Silverware
A Collector's First Silverware Set
An 85-Piece Sterling-Silver Set
IV.

The Best Silver Look-alike
Traditional-looking silver (colored) sets made of stainless steel.
A Set That Mixes Shapes and Finishes
A Fortessa Jaxson Dupe
A Seaside-Inspired Set
Newly-Made Flatware With a Vintage Soul
A Slim, Streamlined Set
A Set With Slightly Angled Handles
A Set With Slightly Hammered Handles
Hammered Flatware From a Heritage Brand
The Most-Registered-For Sets on The Knot
The Most-Registered-For Sets on Zola
V.

The Best Gold and Black Flatware
A Modern Set in High-Shine Black
A Classic Set in Matte Black
Even Simpler Matte-Black Flatware
A Truly Affordable Gold Set
Shiny Gold Flatware From Oneida
A Set in a Subtler Shade of Gold
An Italian-made Gold Set
Rainbow-colored cutlery and a Polo Bar–inspired bistro set.
A Modern Bistro Set
The Sleekest Bistro-Inspired Set
A French-Made Set With a Tiny Bee on Each Piece
And a Less-Expensive Laguiole Look-alike
A Set the Same Color As the Walls at the Polo Bar
An Instagrammable Gold-and-Red Set
A Multicolored Set With 'Manic, Merry Energy'
Some Single Utensils to Supplement Your Set
Plus some particularly nice-looking plasticware.
A Knife With a Circular Head
A Soup Spoon
Antique Tea Spoons From Tiffany & Co.
A Tiny Fork for Eating Tinned Fish