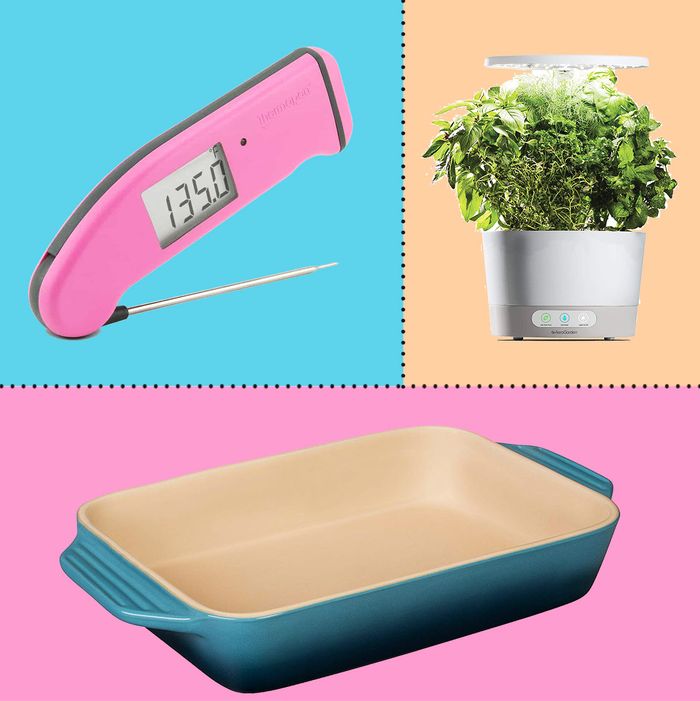 Photo: Courtesy Retailers
Finding the right gift for a mom who likes to cook can be tricky. You want to give something that's unique and looks beautiful on her kitchen counter, of course. But it should also be practical, something she'll use often — though not something she already owns. To help you find the best Mother's Day gift for a mom who likes to cook (or eat, or drink, as the case may be), we've tried to come up with kitchen gift ideas for every type of foodie mom, from the health-obsessed to the dessert-loving.
For the mom with a sizable cookbook collection
This simple but stylish cookbook stand will let her keep the pages of her cookbooks as smudge-free as possible in the kitchen.
For the mom whose bake-sale treats are stuff of legends
A set of stacking stoneware measuring cups that's easy to store in a kitchen drawer and looks sweet.
For the mom who loves breakfast
This English-inspired egg stand made of stainless steel will make any breakfast feel fancy.
For the mom who loves dessert
A powder-pink glass cake stand is the perfect platform for showing off baked goods.
For the mom who always asks for the salt
This smoked sea salt comes from Iceland, and not only is it just the right amount of salty and flavorful, it's produced with 100 percent geothermal energy on a small peninsula outside of Reykjavik.
For the mom who loves cheese
This marble cheeseboard has a handsome, equestrian-inspired leather handle that matches the trim on the knife.
For the mom who loves chocolate
Impress her with a bar of the next status chocolate from Brooklyn-based Raaka, which uses unroasted cacao in its confections.
For the mom who loves baked potatoes
These trompe l'oeil bowls are directly inspired by Lauren Santo Domingo's collection of vintage potato bowls. She's used them to serve baked potatoes with a dollop of caviar and scallions.
For the mom who wants fresh herbs year-round
A reliable indoor herb garden where mom can grow Genovese basil, curly parsley, dill, thyme, Thai basil, and mint.
For the mom learning to make her own pasta
The Atlas Marcato is basically the Ferrari of hand-cranked pasta machines, since, according to Linda Miller Nicholson, author of Pasta, Pretty Please, it's super accurate and won't accidentally tear mom's homemade pasta as she pulls it through.
For the mom learning to make sushi
There's no better gift for a wannabe sushi chef than a brand new, sharp Japanese knife.
For the mom who's working on her knife skills
"Cutting boards are one of those things that people kind of overlook," explains Eden Grinshpan Nivron, co-founder and executive chef of Dez, "and to be able to have a solid, really thick, good quality cutting board in your kitchen, to really manage your food prep, that's something everyone needs to have," including your mom.
For the mom who sticks to the classics
A brand-new, leather-bound copy of Joy of Cooking to replace (or complement) her dog-eared, stained, and tattered version of this classic cookbook.
For the mom who's famous for her homemade pizza