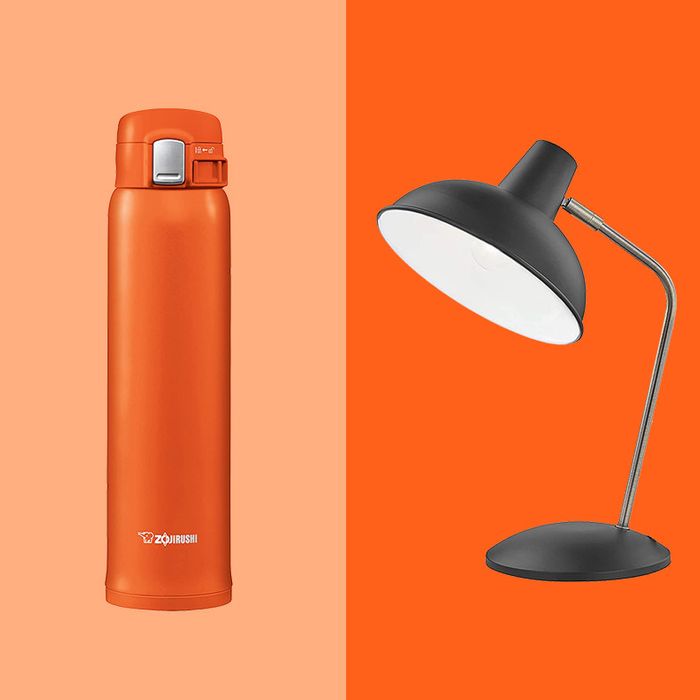 Photo-Illustration: retailers
Coming up with gift ideas for co-workers can be surprisingly difficult, especially now that so many of our interactions are happening virtually — you may even be searching for a gift for a co-worker you've only met via Zoom. But the general principle of co-worker gifting remains the same: You're looking for items that are thoughtful and fun but don't cost too much and won't accidentally offend. This is not an easy balance to strike. Which is why we did the legwork for you and hunted down the best gifts under $50 for every type of co-worker, from your work spouse, to your department's intern, to the HR representative who so patiently explained your company's retirement benefits to you.
For the co-worker who has everything (except a green thumb)
Giving a plant can be a little risky, especially if the recipient doesn't have a green thumb or lives in a setting with less-than-ideal lighting, which is why we suggest opting for a (very real-looking) artificial plant instead, like this lovely faux anthurium.
For the co-worker who loves to read
Raven Leilani's debut novel Luster is about a Black woman named Edie who becomes infatuated with a white digital archivist named Eric, who's in an open marriage. When she loses her job, she goes to live with Eric's family in New Jersey at his wife's invitation. It's one of the most-talked-about releases this year.
For the co-worker who always asks to borrow your charger
This cable has a 180-degree U-shaped plug that keeps the cable out of the way, in case they want to use their phone while it's charging.
For the co-worker who's enamored with a new wireless-charging phone
Strategist contributor (and former tech columnist) David Pogue says this wireless charger is the first he's ever liked. This fast-charging stand will hold a phone at the perfect angle for mid-charging use and get it from zero to 50 percent in less than 30 minutes.
For the co-worker who multitasks
Queer Eye's Jonathan Van Ness told us about this handy-dandy phone "easel" that will free up your multitasking colleagues' hands so they can work on spinning even more plates.
For the co-worker who constantly Slacks you about good WFH footwear
Comfy, breathable, and psychedelic. What's not to love?
For the co-worker who still hasn't found comfy WFH footwear
Designer Amardeep Singh recommended this sandals for our story on the best slides. He likes the low-key styling and simple shape, which should suit any co-worker's comfort needs. Plus, they're machine washable.
For the co-worker who could use a touch of cozy
Photo: Retailer
These Pendleton Stripe socks were recommended by Leah Adicoff, a stylist who, along with other stylish experts, helped us track down some of the coziest socks available.
For the co-worker who could use a touch of cozy and super-warm
These handmade Alpaca socks were recommended by Janelle Kaz, a biologist and wildlife activist riding her motorcycle through South America. "I bought a pair of alpaca socks at a market in Peru and I sleep in them when the nights are chilly," she says.
For the co-worker who likes their desk organized a certain way
If you've seen your co-worker painstakingly rearrange files or make sure a lamp is at just the right angle and pens are aligned in a designated corner of the desk, this might bring some satisfaction to their very precise mind. Daniel Loya, professional organizer and owner of Spaces Transformed, says the tower desk bar "offers simple organization balanced with clean lines that make it a work of art." It can hold glasses, writing utensils, and a phone.
For the co-worker who's a cat person
Give this rather Instagrammable catnip toy, a favorite of Tazz Latifi, owner of pet-supply store and grooming parlor Petropolis in lower Manhattan. She told us Colorado Kitty Pot was also one of her favorite companies to support because they make "amazing catnip toys" and they "give a lot of their money away to animal shelters and rescue."
For the co-worker who's more of a dog person
For the co-worker who needs to take quarantine one day at a time …
… or one hour at a time. These hourglasses come in a set of one five-minute and one 30-minute timer that are actually nice-looking enough for your co-worker to display on their desk.
For the co-worker that's always asking for the time
It's bold to buy a colleague a watch, even if you do think you know their style. But Swatch's minimalist watches are a combination of striking and subtle that looks good on nearly any wrist — and paired with nearly any outfit.
For the co-worker whose positive vibes are contagious
These plump little bud vases have a Heath Ceramics–esque look to them and will brighten up a home desk.
For the co-worker who needs help relaxing