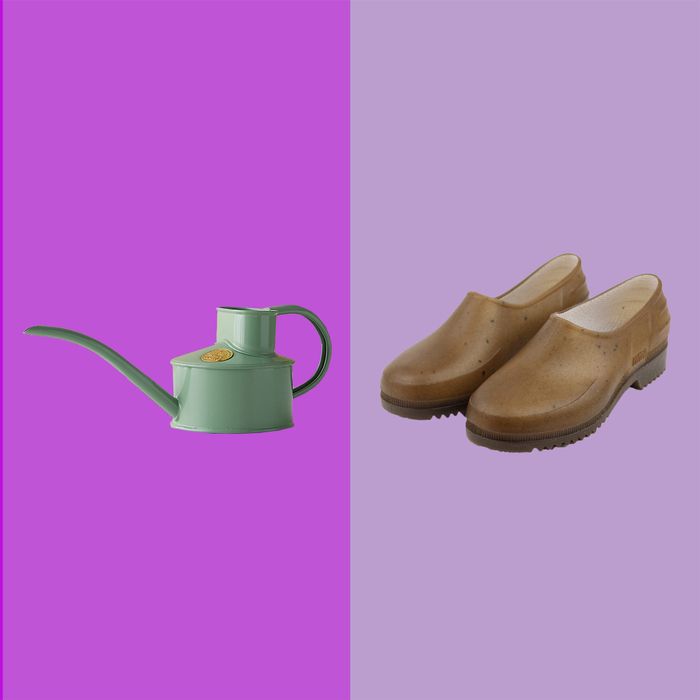 Photo-Illustration: The Strategist; Photos: Retailers
Any gardener or horticulturalist will tell you tending a garden can quickly grow from a hobby into a lifelong passion. That means the gardener in your life likely owns a lot of the tools they need. So what do you get the person who stockpiles stacks of planters and has already perfected their fertilizer blend? Below, we've rounded up 39 ideas that will enrich their oasis, most of which we have written about before. From artisanal brooms to heritage watering cans to smart, self-watering herb gardens that take the guesswork out of growing, our list includes something for pretty much everyone — whether they're the proud keeper of an English-style cottage garden or an apartment gardener hoping to level up their plant-tending skills.
For beginner gardeners who are eager to start growing something before spring (or want to test out the hobby before committing to anything high maintenance), consider this affordable Desert Rose Bonsai grow kit that Strategist contributor Daniel Moldin says is pretty much killproof. It comes with everything you need to sprout the tiny tree, and all you have to do is remember to keep its vessel's reservoir filled with water; a wick that leads from the roots of the plant takes care of the rest.
If they tend a vegetable garden, consider giving the gift of fermentation. Michael Perrine, founder of rejuvenation and detox clinic Vitality NYC, likes this kit, which has everything you need to pickle cucumbers or make kimchi.
The avid gardener in your life probably knows a thing or two about back pain. This lightweight gardening seat will help, and it also doubles as a tool bag to keep all their shears, hoes, and rakes in one place.
If they need a comfortable seat and new tools, consider this Williams Sonoma set that comes with a storage tote that nests neatly under the stool. It was recommended to us by Catherine Zeta-Jones, who uses it to tend her New York City rose garden that "no one else is allowed to touch."
This citronella-based insect repellent is highly effective and smells so good senior editor Crystal Martin uses it in "copious amounts," while contributor Aleta Burchyski's husband occasionally wears it as cologne. It comes in handy during the summer months to keep mosquitoes at bay.
If they tend a garden, chances are they have a patio or a favorite spot where they can sit and admire it. This powder-coated-steel bistro set is cute and durable and folds up with a small enough footprint for city gardens.
Or if they're more of a sports person than a bistro person, consider this chair from REI's West Elm collab. It's made from climbing ropes and comes in bright yellow or slate blue.
If your horticulturalist wants birds to visit their garden, birder Juita Martinez recommends installing an open-platform feeder like this one because it can accommodate birds of any size.
This fun peace-sign vase can hold their fresh-cut stems — and unfilled, it can double as décor. It's made by Jungalow founder and designer Justina Blakeney and is available in the off-white color shown here as well as in bronze, mint, or clay.
A wide-brimmed sun hat is essential when they're toiling away outdoors, and this one, which multiple Strategist staffers own and love, is affordable and functional. Its wide brim will protect their face from the sun, and it has an adjustable cord that makes it easy to wear around the neck. And it's not too precious to get dirty: Strategist senior editor Simone Kitchens says it's the kind of hat you can "sweat in and fold up and wash easily."
The breathable and durable Muckster II topped our ranking of garden boots with high marks from ecologist and botanist Becky Searle for being "light, flexible and very comfortable." "These are my go-to shoes whether I'm in my garden, walking my dog, or doing the school run," she says.
Sustainably made from 100 percent recyclable plastic hemp, these waterproof clogs from France are ideal for tromping around the garden. Kitchens, former Strategist writer Hilary Reid, and New York Magazine features editor Katy Schneider all own a pair. "They remind me of something my mother would have worn gardening in the '90s, and they're just really pretty and unusual and perfect," Schneider says. They come in a wide range of sizes from E.U. 35 to 46 or approximately a women's U.S. 6 to a men's U.S. 15.
We wrote about the rise of the artisanal broom a few years ago. ("People tend to ask, 'Are your brooms sculptures or tools?'" broom-maker Erin Rouse told us. "A nice broom is right at the intersection.") This gorgeous push-broom from French brush-maker Andrée Jardin is made of thermally treated, humidity-resistant ash wood, which means your gardener can use it all year long. It's available with black or coconut bristles; you can also buy it with or without a handle if you'd prefer to supply your own.
Photo: Courtesy of vendor
A smaller broom is useful for apartment gardeners who find themselves frequently dusting stray soil off plant stands and windowsills. Buddhist monk and author Shoukei Matsumoto recommends this natural-fiber brush and dustpan "to clean up any little mess."