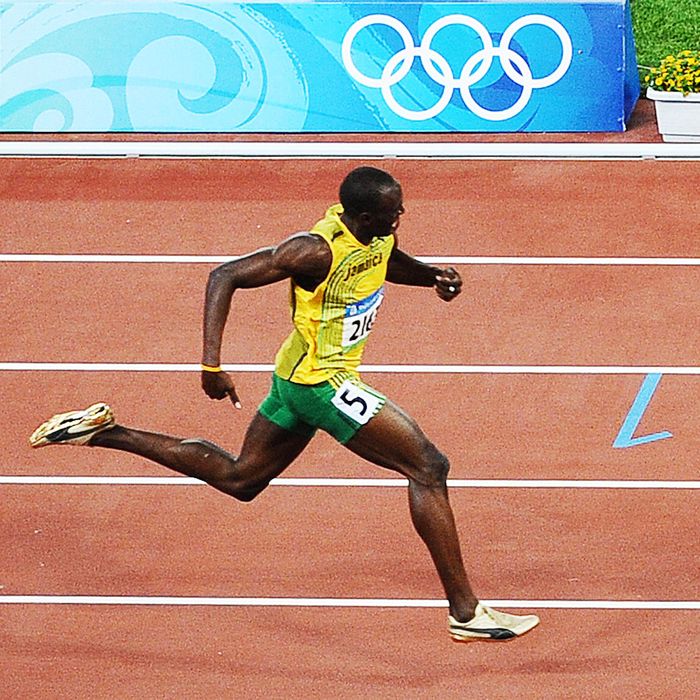 Photo: AFP/Getty/AFP via Getty Images
Runners can be picky about their gear and rightly so — my favorite Gu flavor might make you sick, and your tried-and-true sneakers could leave me with shin splints. That lands runners firmly in the hard-to-shop-for category, but it is still clearly possible to find gifts for the runners in your life that they're sure to love. Drawing on my own favorites (I've been running for a decade now and have completed five marathons and dozens of shorter races) plus the input of avid runners, coaches, and other experts, I've narrowed down the best gifts for all runners, whether they're tackling their first miles or collecting medals.
Gadget gifts for runners
When I asked a few runner friends what gifts they'd like to receive, several mentioned a new GPS watch, often singling out Garmin by name. Garmin's entry-level running watch, the Forerunner 45, lets runners track their runs and check their pace, heart rate, and distance mid-run; it also offers the ability to preprogram interval workouts and lots of other features. City Coach co-founder and head coach Jonathan Cane told us that the previous version of this watch would "certainly do the trick for a new runner, and will be adequate even for a more hard-core athlete." It's safe to say the new one will do the same.
For runners who compete in triathlons, this Garmin watch also tracks biking and swimming metrics. It boasts a 14-hour battery life, which comes in handy during longer events like Ironman races. According to Steph Willett — a triathlete and the team manager of Volée, a global community of female runners created by the apparel brand Oiselle — for a watch with so many features, this one "is light, fairly intuitive, and doesn't look like a calculator on my wrist."
Although Coros only started selling GPS watches in 2018, the Seattle-based brand has earned lots of buzz in the running community and is quickly becoming a big player in the market. The main reason? Its watches have a crazy-long battery life. This entry-level model will last 25 hours in GPS mode or 30 days for regular use, and its pricier watches go up to 60 hours and 45 days. "They've created a great product, for sure," says Jason Fitzgerald, a USA Track & Field–certified running coach and the founder of Strength Running. "It does everything: tracks sleep, steps, altitude, sunrise and sunset, calories burned, and of course all of the running metrics that runners care about."
This high-end watch is designed for ultrarunners like professional endurance runner Susie Chan, who regularly compete in races up to 50 or 100 miles long (or longer) on difficult terrain. Besides its military-grade durability, the watch includes a compass and altimeter, and keeps track of your speed on both uphill and downhill sections of your runs. Chan loves that the Grit X "has a function that reminds you when to drink and eat, monitors sleep patterns, and gives you mobility exercises to keep you strong."
If you like the idea of gifting your favorite runner a GPS watch but maybe want something they'll wear when they're not running, consider buying an Apple Watch. It has lots of the same functionality as the GPS watches above, according to Meghan Takacs, a running trainer for the fitness app Aaptiv. "The Apple Watch is a good option to help novices appreciate accountability and structure," she says. "It offers a daily steps goal to meet, along with reminders to get them in [and] the ability to sync popular apps." Plus, your recipient will likely enjoy this watch so much that they will keep it on at all times, running or not. (Experts we polled across various fitness disciplines named the Apple Watch the best overall activity tracker, whether you're running laps on the track or just taking a stroll around town.)
Sometimes listening to a good playlist or podcast can make all the difference in getting a runner out of bed on a cold day. Strategist deputy editor Maxine Builder tested out an earlier version of these truly wireless earbuds and liked all the workout-friendly features they had to offer. They're water- and sweat-resistant with simple touch controls for adjusting volume, pausing music, or taking calls on the run. The earbuds come with three sizes of what Bose calls "StayHear tips," little plastic hooks that help them stay in place when you're running.
A little bit more affordable, these open-ear headphones are especially safe for runners because they don't actually go inside the ear but rather transmit sound through the bones in your ear. Professional runner Katie Mackey told us she was initially skeptical about the technology, but was quickly won over: "After using them a few times, I was totally in love because I could hear the music just as well as with other headphones, but I can also hear all the noise around me."
Dylan Bowman, a professional ultrarunner and participant in the Wings for Life World Run for spinal-cord-injury research, knows that not all headphones are built for the demands of runners. He says he's had to buy five or six pairs of AirPods over the past few years since they can't stand up to his intense training. This year, he's hoping to receive a pair of Jaybird Vista earbuds that are actually designed for running since they're a favorite among his fellow athletes. Even if the runner in your life isn't competing in 100-mile races, they'll appreciate that these earbuds are totally waterproof and sweatproof, super-lightweight, and come with three interchangeable buds for getting a perfect fit.
Among work, other hobbies, and making time for family, busy runners squeeze their runs in either early in the morning or late at night — often when it's dark outside. To stay safe and visible to cars and other traffic, I use an older version of this clip-on light that's totally unobtrusive when attached to my waistband.
Clothing gifts for runners
Shorts are the foundations of a runner's wardrobe, with lots of dedicated athletes wearing them well into the fall and winter. An inexpensive pick for guys, writer (and runner) Steven John says, these "lightweight, quick-drying, and secure-fitting shorts are suitable for use in just about any conditions." He likes that they have a liner that's supportive but not too snug if you're wearing tights underneath to stay warm.
For a comparable women's pair, try these affordable Nike shorts. I've worn them for everything from 5Ks to marathons, and they've always been comfortable with no annoying chafing or riding up. They last forever and, with a 3.5-inch inseam, they're neither too long nor too short.
I'm a big fan of these stretchy Lululemon tights that come in a ton of colors and have deep pockets on the thigh for my phone, energy gels, and keys. And I'm not alone: Dianna Falzarano, the director of TRX programming at Flex Studios, says, "They're pretty tight so you don't have to be constantly pulling them up." And Helaine Knapp, the founder and CEO of the rowing studio CITYROW, adds that "the fit and style make me feel like I can conquer the world."
This long-sleeved shirt looks like your typical winter base layer, but it features such a cool innovation that it's shocking no one else thought of it first: the watch-window. It's a little hole on the wrist so you can view your GPS watch while still keeping your shirtsleeves pulled down to cover your hands. If you've ever spent a cold run with one hand exposed so you can check your pace, you'll realize how ingenious this is. I have a few of Oiselle's tops with watch-windows, and they make a huge difference in my cold-weather running.
For guys, this half-zip from On Running also features a watch-window (and comes in a women's version, too).