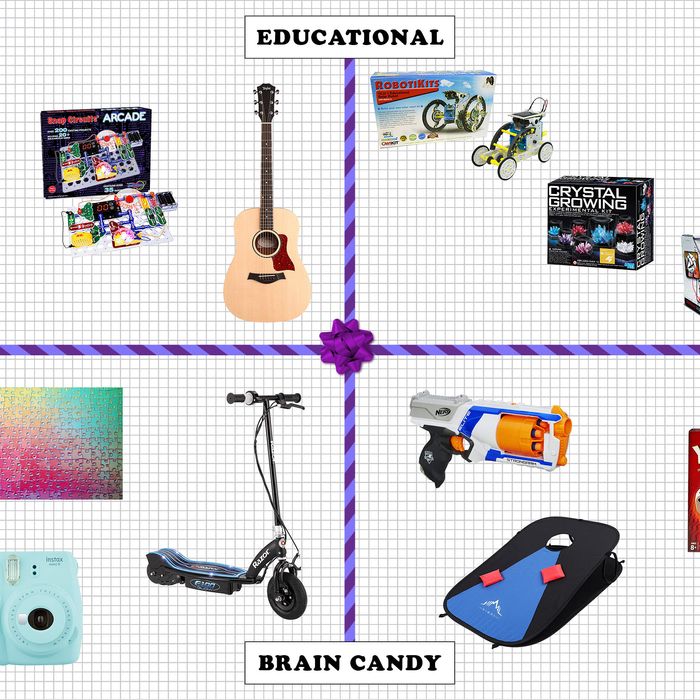 Photo: Photo-Illustration: Stevie Remsberg; Photos: Courtesy of the retailers
You know about New York Magazine's "Approval Matrix." Now, the Strategist has taken that model of what falls where on our taste hierarchies and applied it to toys. In this case, the four sides of the grid are "Educational" (say, a solar-powered build-a-robot), "Brain Candy" (a Nerf Blaster), "Reasonably Priced," and "Splurgy." Each toy in every quadrant comes highly recommended — click here to learn more about our sourcing process and the dozens of experts involved — and every age up to double digits is covered, all of which you can see by also clicking here.
Here, we culminate with 10-year-olds. "Cognitively, children at 10 can think more abstractly," says Glenda Stoller, LCSW, a psychotherapist in private practice in Manhattan. They also have "the ability to gather information and formulate well-organized thoughts." And their math skills are expanding, too, with an increased "fluency in multiplication, division, and fractions," Stoller adds. All of which is to say they can get a lot out of the following computer kits, word games, and 20 or so more suggestions that follow — which have been vetted by professionals like Stoller, celebrities like Sarah Jessica Parker (or her Instagram account, at least), and plenty of other discerning parents. You can jump directly to the section that interests you most — "Educational/Reasonably Priced," "Educational/Splurgy," "Brain Candy/Reasonably Priced," or "Brain Candy/Splurgy" — or read all the way through to get the full picture of what kids these days are into. Whether you're shopping for a birthday or a holiday or any other day, it's a list that keeps on giving.
Educational/Reasonably Priced
"This is THE GREATEST GAME," according to Strategist tech columnist and dad David Pogue, "and all ages can play. You're sitting across from your partner, a board full of word cards. You have to give your partner one-word clues that can point to multiple words on the board. Their teammates try to guess words of the right color while avoiding those that belong to the opposing team. For example, you might say 'park,' because you want your teammate to guess the cards that say 'swingset' and 'car.' Truly hilarious and satisfying." The manufacturer has it labeled for kids a bit older, but as Pogue points out, "Codenames is super-fun with younger kids because they make fantastically imaginative connections between the words!"
This is not your average build-a-robot in that this one is powered by the sun. After building any of 14 different robot designs — a scurrying beetle, a rowing boat, a chaser of zombies — kids can place their creation in direct sunlight and watch it run purely on solar power (on land or in water, for that matter). And while this process requires patience, that's just what kids at age 10 are gaining: "Their attention span is increasing and they can spend longer periods of time working on activities they enjoy," says Glenda Stoller. Plus, of course, this toy is teaching them about alternative energy sources. (Although, as one reviewer on Amazon figured out when his son used this to make a solar car: "The car can self-drive under sun or a 60W lamp.")
For a 10-year-old who's already mastered the classic Rubik's Cube — their fine motor skills are improving at this age, according to Stoller — puzzle designer Adam G. Cowan presents a new challenge. Unlike the rainbow Rubik's Cube, the steely-toned Ghost Cube does not involve aligning colors but rather twisting up all kinds of shapes, after which you are faced with the task of returning the pieces to their original cube form. The puzzle, which was introduced in 2013 (a relative ingenué compared to Erno Rubik's invention of 1974), is "hours of fun," according to Beth Beckman, a co-founder of the forthcoming site FOMOFeed Kids. "I came across it in a boutique toy store, and my son went crazy for it. He said it was a 'way cooler' version of a Rubik's Cube that was dressed as a mummy." In Amazon reviews, it has been called both "a thing of beauty" and "very spooky!"
Speaking of things of beauty: This crystal-growing kit is a hands-on way to teach kids about geology and experimentation ("10-year-olds enjoy science projects," Stoller affirms). You dissolve powdery compounds in hot water and add seeds according to the instructions, and then watch your faceted red or purple or white stone sprout under a clear dome and live on and on and on.
In this anagram game, players must race to build word grids using all of their letter tiles. The award-winning game has famous fans, including Ellen DeGeneres, Justin Bieber, and Maggie Smith, who plays Bananagrams with (and often wins against) her co-stars on the set of Downton Abbey. "It keeps your mind very sharp," actress Penelope Wilton told Vulture, also suggesting this just might be a toy parents will allow at the dinner table when kids get antsy: "Bananagrams keeps us alive," Wilton said, "especially in those scenes around the dinner table, since they take ages to film. It gets very boring."
Educational/Splurgy
"It's very immersive and perfect for kids 8-to-10 years old," says Beau Coffron, the father of three (13, 9, and 5 years old) behind the Lunchbox Dad blog. And according to Coffron, just because it's made by Nintendo doesn't mean it can't be educational: "It not only keeps your kids' brains working, because it requires them to build it themselves," with heavy-duty precut cardboard, but "it also includes a number of buildable attachments and VR games to play as a family," including ocean expeditions and alien invasions. Of course, the addictive quality of the brand still remains: "The moment our kids opened the box," Coffron adds, "we couldn't drag them away from it until the first two kits in the set were completely built. They were glued to the living-room floor."
Snap Circuits, says Rumaan Alam, a novelist and father of a 7-year-old and a 10-year-old, "is one of a whole slew of toys meant to appeal to STEM true believers. I don't know if it'll ensure your kid grows up to be an engineer, but I do know my kids spent many a cooped-up winter day building an AM radio or figuring out how to turn a little motor." Ruka Curate, founder of the Tiny Treasures Nanny Agency, recommends this arcade-themed kit, which is a more advanced Snap Circuits version for 10-year-olds. Another option, according to Lindsay Bell, founder and owner of Bell Family child-care company, is Snap Circuits Extreme, although it's a bit more expensive.
Another standout build-your-own STEAM toy flagged by Curate, this one features 25 different models to construct trucks, cars, helicopters, airplanes, cranes, and more, with working 6V motors. The tools that come with it are authentic metal, too (appropriate and appealing for tweens). And there's a legit carrying case — "sturdy and has compartments so you can keep all of your parts in one place, but still separated by type," wrote one Amazon reviewer, who also made note of how long these sets have been around (and beloved): "Erector Sets are a fun toy from my childhood … and [it] stands up to the nostalgia."
This is the guitar used by Sweden's favorite kid musician Oscar Stembridge, who went from singing a viral Guns N' Roses cover to being the youngest artist to sign with Universal Sweden at age 10. Need we say more?
Although Kano has since forayed into blockbuster-themed kits (Harry Potter, Star Wars), the pioneering STEM-toy company's original product is still a great introduction to coding — wherein you build a working computer, following the pages of the instruction booklet to connect circuit to keyboard to screen, and in the end come out with an actual functioning machine on which you can browse the internet and play games. As Kano's director of software experience Mike Greer explained to Dezeen in 2018, the kits focus on the "decomposition of a problem — how do you solve something by breaking it down into steps," as well as "understanding how you can use sequencing to carry out those steps in a certain order to solve the problem." Which is a valuable lesson far beyond STEM. "Computational science," as Greer added, "is a useful skill for understanding how to deal with most problems in life."
This is one of the best drones for beginners, according to New York's deputy photo editor Emily Denniston (it's on the holiday list for her own 10-year-old child). Although it's more expensive than a toy drone, it also has far more advanced capabilities. Tech reviewers boast about its HD camera, 500-meter range, and over 30 minutes of flight time.
Brain Candy/Reasonably Priced
David Pogue is a big fan of these "tiny super-magnetic balls that you can assemble and play with and string together and play with endlessly." While the manufacturer recommends them starting at age 14, so long as you're not worried about your kid putting them in his or her mouth, younger ages can fidget with them to their heart's content. From an Amazon reviewer who purchased the Digitdots for a summer road trip where "it was my goal to not have my kids (12 and 10) on electronics for the whole 10-hour drive," when handed the Digitdots, "they were so excited and enthralled with them and all they could create. Bonus was the fact that the magnets all stayed together and none got lost." A great stocking stuffer, too.
Editor's Note: These silver DigitDots are currently out of stock, but the multi-colored version is still available on Amazon.
These are so much cuter than your typical jewelry-making kits, which, according to Elly Yonan, a former public- and private-school teacher and now an educational consultant and private tutor, are a spot-on gift for this age: As they become more socially advanced, they begin to move away from imaginative play and toward more creative pursuits that yield results quickly. Instead of bracelets or necklaces, here you have pom-poms to fashion — and not just any pom-poms, but those shaped like all manner of zoo animals, including lions and pandas and pigs. In addition to gluing on their eyes and tails, you can use a special blush marker to even give them rosy cheeks.
"Love them or hate them, they are a hit with kids," says FOMOFeed's Beckman. That would explain the 2,590 five-star reviews on Amazon, with ecstatic comments like "tremendous range, highly accurate with third-party darts, and is easy to load and shoot." And as Beckman reminds us, of course, come summer you might also want to consider adding the Super Soaker to their arsenal.
Although corn hole is a highly popular activity for all three of her children on the beach, "my 10-year-old is especially competitive about it," says Denniston. Considering how much use she knew it would get, she found this collapsible version that conveniently zips up into an 11-by-11-inch bag and weighs less than five pounds. It's also a great gift for other people's kids — the kind of thing parents might not think to buy themselves but will be very glad to have.