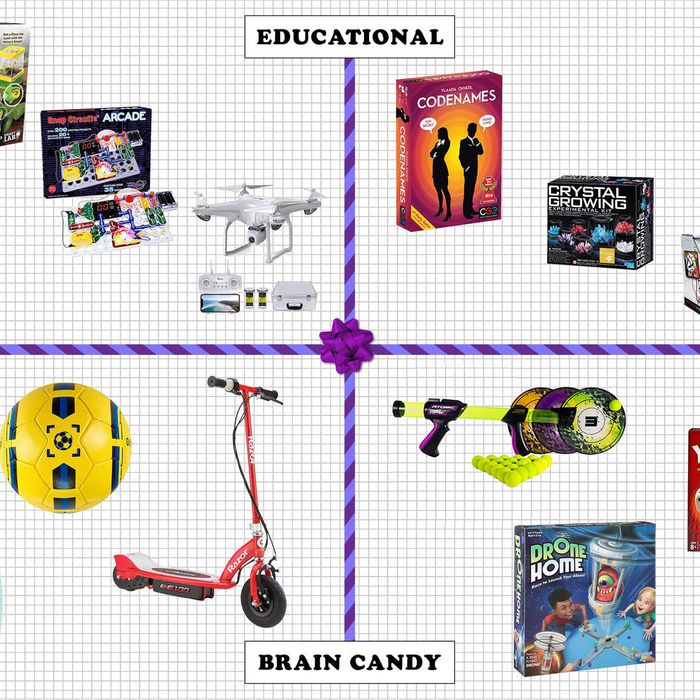 Photo-Illustration: Photo-Illustration: Stevie Remsberg; Photos: Courtesy of the retailers
You know about New York Magazine's "Approval Matrix." Now, the Strategist has taken that model of what falls where on our taste hierarchies and applied it to toys. In this case, the four sides of the grid are "Educational" (say, a solar-powered build-a-robot), "Brain Candy" (a Nerf Blaster), "Reasonably Priced," and "Splurgy." Each toy in each quadrant comes highly recommended — click here to learn more about our sourcing process and the dozens of experts involved — and every age up to double digits is covered. You can see all the ages by clicking here.
Here, we culminate with 10-year-olds. "Cognitively, children at 10 can think more abstractly," says Glenda Stoller, LCSW, a psychotherapist in private practice in Manhattan. They also have "the ability to gather information and formulate well-organized thoughts." And their math skills are expanding, too, with an increased "fluency in multiplication, division, and fractions," Stoller adds. All of which is to say they can get a lot out of the computer kits, word games, and 20 or so more suggestions that follow — which have been vetted by professionals like Stoller, celebrities like Sarah Jessica Parker (or her Instagram account at least), and plenty of other discerning parents. You can jump directly to the section that interests you most — "Educational–Reasonably Priced," "Educational-Splurgy," "Brain Candy–Reasonably Priced," or "Brain Candy–Splurgy" — or read all the way through to get the full picture of what kids these days are into. Whether you're shopping for a birthday, a holiday, or any other day, it's a list that keeps on giving.
Educational–Reasonably Priced
"This is the greatest game," according to Strategist contributor and dad David Pogue, "and all ages can play. You're sitting across from your partner, a board full of word cards. You have to give your partner one-word clues that can point to multiple words on the board. Their teammates try to guess words of the right color while avoiding those that belong to the opposing team. For example, you might say 'park' because you want your teammate to guess the cards that say 'swingset' and 'car.' Truly hilarious and satisfying." The manufacturer has it labeled for kids a bit older, but as Pogue points out, "Codenames is super-fun with younger kids because they make fantastically imaginative connections between the words!"
Chris Byrne, who's also known as the "Toy Guy," says Strike "is an exciting, fast-paced family dice game that's great for 10-year-olds because of the pace and the competition." The goal is to be the last player remaining, which in this case means the last player with dice in their possession. The game challenges players to throw their dice into what it calls the "arena" (a fancy word for board) and try to make matches to gain more dice or knock other players' dice out of bounds. If your dice are knocked out of bounds or if you roll an X (each die has one on one of its faces), you lose valuable pieces. According to Byrne, this sort of "low-stakes risk is exciting for kids as they try to figure out how far to push their luck." Byrne originally recommended the regular version of the game, but it has since sold out. Luckily, this Harry Potter version is still available. The main difference between the two is that this version involves casting well-known spells from the books and movies.
For a 10-year-old who's already mastered the classic Rubik's Cube — their fine motor skills are improving at this age, according to Stoller — puzzle designer Adam G. Cowan presents a new challenge. Unlike the rainbow Rubik's Cube, the steely-toned Ghost Cube does not involve aligning colors but rather twisting up all kinds of shapes after which you are faced with the task of returning the pieces to their original cube form. The puzzle, which was introduced in 2013 (a relative ingenué compared to Erno Rubik's invention of 1974), is "hours of fun" according to Beth Beckman, a co-founder of Little Kid Big City New York. "I came across it in a boutique toy store, and my son went crazy for it. He said it was a 'way cooler' version of a Rubik's Cube that was dressed as a mummy." In Amazon reviews, it has been called both "a thing of beauty" and "very spooky!"
Speaking of things of beauty: This crystal-growing kit is a hands-on way to teach kids about geology and experimentation ("10-year-olds enjoy science projects," Stoller affirms). You dissolve powdery compounds in hot water and add seeds according to the instructions, and then watch your faceted red or purple or white stone sprout under a clear dome and live on and on and on.
In this anagram game, players must race to build word grids using all of their letter tiles. The award-winning game has famous fans, including Ellen DeGeneres, Justin Bieber, and Maggie Smith, who plays Bananagrams with (and often wins against) her co-stars on the set of Downton Abbey. "It keeps your mind very sharp," actress Penelope Wilton told Vulture, also suggesting this just might be a toy parents will allow at the dinner table when kids get antsy: "Bananagrams keeps us alive," Wilton said, "especially in those scenes around the dinner table, since they take ages to film. It gets very boring."
Educational–Splurgy
This virtual-reality world-traveler kit exposes kids to foreign countries, different cultures, and historical monuments around the globe. With the help of a smartphone, VR goggles, and an app, the interactive augmented-reality atlas guides kids through games, activities, and videos that teach them about everything from the building of the Colosseum to digging up dinosaur bones. "It combines reading in a traditional form with virtual reality to create a total immersive experience for exploration and discovery," says Byrne.