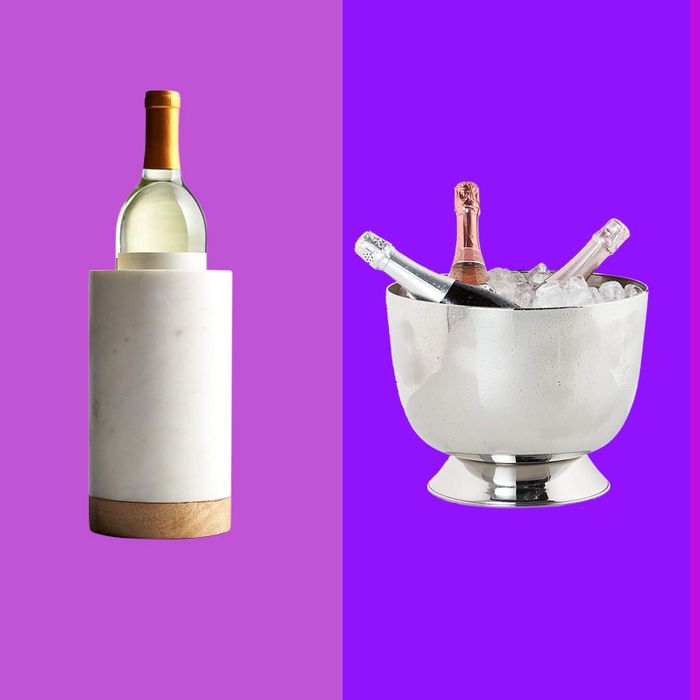 Photo-Illustration: The Strategist
Serious wine drinkers tend to be picky, with fierce opinions about the best bottles. So if you're searching for a gift for such a person, consider something that is wine adjacent. You can veer toward the practical, like a new set of deeply coveted, expert-approved wineglasses. Or maybe something beautiful, like a wine stopper that looks like a piece of art. Or maybe something unexpected, like a salty snack to pair with their favorite bottle. To track down the best gifts for the wine drinkers in your life, we asked sommeliers, winemakers, and people who simply love wine to share their go-to ideas, which you can find below. If you want to shop by category, you can jump to glassware and decanters, coolers, corkscrews, stoppers, food, books, odds and ends, and wine subscription services.
Glassware and decanters
The best glass
The super-beloved (but super-expensive) wine glasses from Zalto happen to be sold out everywhere right now. Instead, consider these from Glasvin, which have a slightly lower price tag, but certainly don't disappoint in terms of their delicate structure. "They're still handblown," explains Lily Peachin, owner of Dandelion Wine in Brooklyn, who sells them at her own shop. "They feel good, and a nice stem is crucial for someone who loves wine."
The best less-expensive glass
For the friends and family you love — but not quite enough to spend quite so much — there are these budget-friendly, yet elegant glasses from Libbey. Sommelier John Condon of French Louie in Brooklyn says Libbey's wine goblets are great because "a glass needs to be functional first and everything else next," adding, "Libbey's Vina line of wineglasses is very classically shaped and elegant, but also reassuringly sturdy."
The best Champagne glass
For the wine lover who drinks Champagne year-round (and not just on New Year's Eve), it might be worth investing in a specialized Champagne glass. "Riedel's Champagne glass is shaped more like a traditional wineglass, which lets you incorporate more air and smell," says Grub Street's diner-at-large Tammie Teclemariam. "It's better than a stereotypical flute, and it enhances the minerality of all sorts of sparkling wines from Vouvray to Vilmart."
The best wine decanter
Roman Roth, winemaker and partner at Wölffer Estate Vineyard recommends gifting a high-quality wine decanter from the centuries old brand Riedel. "It is a showstopper. Your dinner guests will be in awe. The most elegant decanter in the world," he says. There's also the Riedel O decanter, which is a touch less extravagant but equally as effective (and even easier to pour from).
The best less-expensive wine decanter