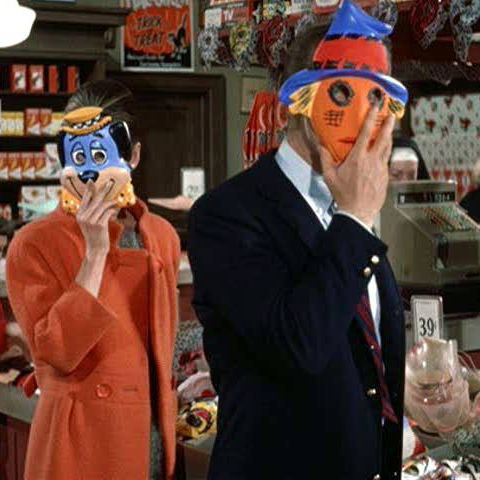 Don't steal these, though.
Photo: Paramount Pictures
Here at the Strategist, we like to think of ourselves as crazy (in the good way) about the stuff we buy, but as much as we'd like to, we can't try everything. Which is why we have People's Choice, in which we find the best-reviewed products and single out the most convincing ones. (You can learn more about our rating system and how we pick each item here.)
And while we've written about lots of Halloween-related things — including the most tasteful Halloween decorations, the best Halloween makeup, and the best temporary Halloween hair color — here, we've rounded up the best Halloween masks, as praised by the most enthusiastic reviewers on Amazon.
Best-rated Halloween mask
Over 70 percent of reviewers gave this Chewbacca mask five stars, with many satisfied shoppers including pictures of themselves wearing the mask. Lots of reviewers love that it makes growling noises. "Great!" one writes. "I think I counted about five different Chewbacca roars and growls, and they really sound authentic." Other reviewers used this mask as part of their family's Halloween costumes. "Grandma wore this for Halloween when we all dressed as Star Wars characters. Some kids were scared of her at first, but it was great fun," writes one customer. Another shopper, who checked out lots of Star Wars masks on the market, reports, "This is the best of all the Star Wars electronic masks out right now. It doesn't try to change your voice. It has Chewie's voice when you open the mouth … My wife and I loved this so much that we bought another one for ourselves and another for a friend. We haven't laughed so hard about a toy ever. This mask is definitely worth every penny."
Best-rated (less expensive) Halloween mask
This Jason hockey mask is a less-expensive — and scarier — option for Halloween. "I put my outfit together, and when my 13-year-old daughter saw me she screamed and started to cry. She had this, 'Jason is real, and I'm going to die' look on her face," writes one shopper, who calls it a "great, quality mask for the price." Many other customers note that though the price is low, the creepy factor is high, including one who says that it "worked like a charm" for scaring kids on Halloween. He continues, "The mask fit great and I didn't have a problem seeing through the eye cutouts or breathing through the mask." Even shoppers who say they have large faces and heads reported that it fit comfortably. "I'm a big dude with a big head, and this mask fit me perfectly. Can't beat the price either," says one enthusiastic reviewer, who adds, "I paired this with the realistic machete knife prop and now I'm ready to roam the woods and scare the crap out of counselors at Camp Crystal Lake."
And now some micro-picks for every type of Halloween mask you might be looking for.
Best Halloween masquerade mask
Lots of shoppers wore this mask, which many describe as "beautiful" and "gorgeous," to masquerade balls. "Perfect for the ball we attended," writes one. "They are gorgeous. We got complimented all night. They shape perfectly to the face, any way you want." A few other reviewers also comment on how well this mask molds to their faces. "Beautiful and affordable," writes one. "It's amazing how easy it was to manipulate to fit my face. Oh, I will be having tons of fun with this mask." Another calls this an "amazing mask. It's very strong yet easy to bend and mold to your face shape. The jewels give it a nice elegant look, and the eye holes are big enough to see through. It's also supercomfortable and easy to put on." And one reviewer notes that this mask could be useful even after Halloween, explaining, "I could see it being good for a prom or other dance/party with the right theme to it."
Best creepy pumpkin mask
"It really is very creepy," writes one reviewer of this pumpkin mask. "Used it Halloween night for trick or treat and scared plenty. It's quite roomy, so you have room for wearing glasses and there's no trouble breathing." Another writes, "Great quality and extremely affordable price." And this mask isn't just for people. More than a few shoppers used it as a finishing touch to their Halloween decorations: "Just what I was looking for to give my scarecrow a creepy personality," one explains. Another says, "This is exactly what I was looking for. I made a scarecrow and put this as its head and looks amazing and only get compliments from neighbors. Well-made, amazing details. Love it."
Best unicorn Halloween mask
"These masks are funny and creepy all at the same time," says one shopper. Another describes it as "creepily amazing, scary-looking yet so funny. Used as a gift, and they love it. And great quality for the price." Another says, "This mask is amazing. It's terrifying and perfect for costumes and joking around." Shoppers also said this unicorn mask makes a great gag gift. One writes, "I bought the mask for a white-elephant gift. It was a big success. It was stolen multiple times in the white-elephant exchange." Another says, "We got this for a gag-gift white-elephant present exchange, and it had the entire room laughing for a good 15minutes."
Best dog mask