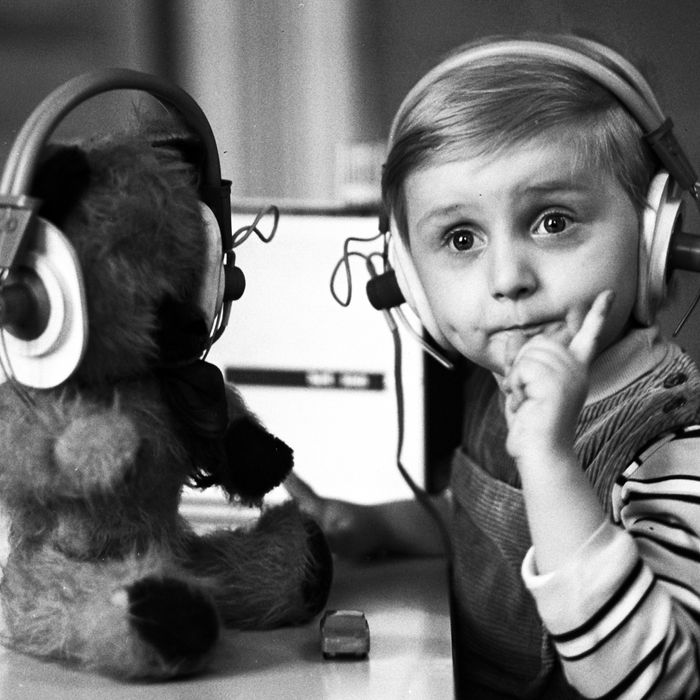 Photo: picture alliance/picture alliance via Getty Image
With the quantity of kid-friendly media increasing at roughly the same rate as parental fatigue from having to listen to all that media, it's never been more important for your kids to have their own headphones — and those headphones need to be designed specifically for them. According to Dr. Ike Iheagwara, audiologist and owner of the Center for Healthy Hearing New York, children have smaller ears and shorter ear canals, so sound has a greater impact on them. "When you add to that that kids are starting to listen to music or programming at a much younger age, they have a greater chance of damage over time," he says.
All the experts we spoke to — including pediatric otologists and neurotologists, otolaryngologists, and audiologists — agree that the most important thing to look for are headphones with what's called an output limiter. Basically, it's a switch that keeps the headphone volume below 85 decibels, the Occupational Safety and Health Administration's recommended maximum for kids. These switches aren't foolproof, however. Any smart kid could jury-rig it to exceed the limit, and lower-quality headphones may surpass 85 decibels anyway, even though they state otherwise. Plus, there are certain apps that can be used to override the maximum decibel level. So supervision is key. If you aren't sure if your kid's headphones are too loud, New York audiologist Dr. Dominick Servedio suggests this easy test: Sit next to your child while he's wearing his headphones, and talk to him. He should be able to clearly hear you. If not, it's either too loud or he's messing with you.
Over-the-ear headphones are preferred by most experts, since they're easier to use in young children and generally more comfortable. And, as Dr. Michael Rothschild, the director of pediatric otolaryngology at the Mount Sinai Hospital explains, "You can see when a child is wearing them so you can control the volume," he says. The other benefit? "Over-the-ears are more fun. You can put Frozen characters or whatever on them." If you have older kids, however, they might be more interested in earbuds, which Dr. Darius Kohan, director of otology/neurotology at Lenox Hill Hospital, says it's fine to indulge. Here are the ten best kid-friendly in-ear and over-the-ear headphones. Whatever pair you choose, our experts recommend limiting kids' listening time to four hours a day. Even if they're budding DJs.
Puro Sound Labs' BT2200 came up more than once as the best set of headphones for kids, and Kohan says it checks off a lot of boxes: Its volume limiter works whether you're going wireless or using a USB cord (and has been tested to restrict volume in both formats), it has a resilient aluminum frame, and it is noise-canceling and comfortable. These headphones are pricier than the others on this list, but that might be worth it to you for the technology and added safety features.
Kohan also likes these less-expensive volume-limiting headphones from Puro, which work either with a cord or Bluetooth connection, and have an aluminum frame and studio-sound quality. That last attribute may not seem so important in headphones for a child, but according to Joey Bernstein, associate professor of otolaryngology at the Icahn School of Medicine at Mount Sinai, "The poorer the quality of the sound, the more kids are likely to crank up the volume to unsafe levels." This one has a daisy-chain system, so two toddlers sitting in a car together could listen at the same time while watching a show on a shared iPad.
Another option Kohan suggested is this award-winning corded BuddyPhones model for kids. It comes with as assortment of stickers, and it's foldable, in case your kids are toting it on flights. The soft padded cups on the ears and a durable plastic frame make it comfortable and able to withstand any flinging and bending. Plus, a stackable audio jack means kids can share a device with up to four (Onanoff headphone wearing) friends.
Kohan likes these smaller headphones for younger children, which have a volume knob on the side that's easier for parents to adjust. At $20, you might not get the same sound quality as you would from the Puro, but, as Rothschild notes, "You don't need to spend a fortune to let your child hear Peppa Pig or Daniel Tiger in perfectly acceptable clarity." And you still get a lifetime warranty.
Here's another popular model for kids that's worth looking into. These headphones are lightweight, with crisp and clear sound. They even adjust to fit adults in a pinch. The volume-limiting adapter caps sound levels at at around 82 decibels, but be aware that there's the option to disconnect the adapter, so parents should be vigilant about making sure it's always in use. Like the JLabs above, these also come with a lifetime warranty.
These wireless LilGadgets headphones are best suited for kids 4 and up. Their cushy, perforated mesh means they won't feel too hot on your kid's head, and they've been tested for durability. They're best used in Bluetooth mode, since studies say they get a lot louder (up to 96 decibels) when using the provided wire.
This affordable option is foldable and has two ports for connecting multiple headphones. Its max volume is set slightly above the recommended 85 decibels, so you would have to monitor your kids more closely to make sure th