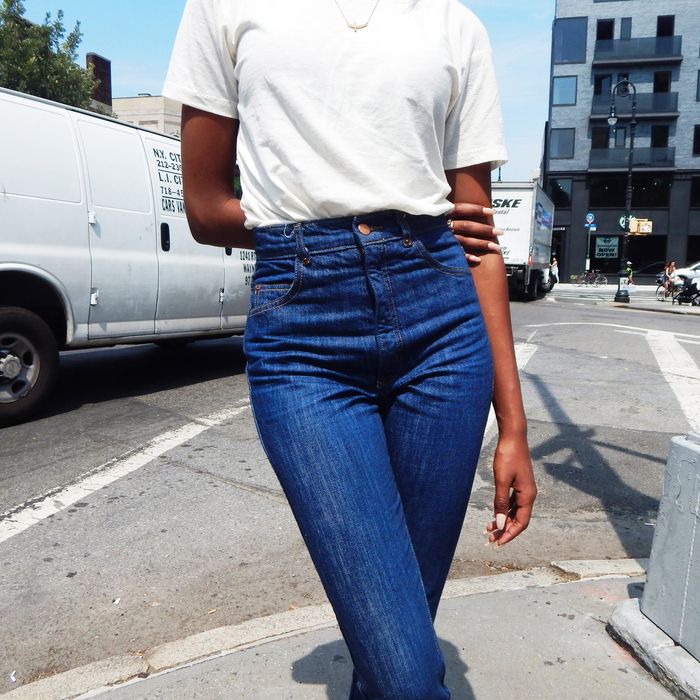 Photo: Courtesy of the retailer.
Today's teens are resurrecting Y2K fashion — baby tees, baguette bags, and, yes, low-rise jeans. If you're a die-hard high-rise lover, this might come as a shock. But don't fret — it's probably just a phase. "Just as with any trend cycle, there's always some novelty trend that appears that is extreme in nature, flattering to few, and usually a corollary that opposes the mass trend," according to trend forecaster Jessica Richards of JMR Design Consulting. She predicts that "it is not a cut that will take the place of high-rise anytime soon."
But what about the high-rise makes it so appealing? Well, it's all "about the derrière with denim, and a high-waisted jean most effectively sculpts your peach and accentuates your waist. Not only that, but because the fabric extends higher on the body, the legs appear longer," says personal stylist Jessica Cadmus. Plus you can easily tuck in a T-shirt — whether it's white or black — into a pair for an effortless ensemble. Still, as flattering as high-waisted jeans can be, they do have their own downsides: causing wedgies, digging into your waist, and putting pressure on your insides (even if they look fantastic on the outside). To find a range of high-waisted jeans — from straight-leg to skinnies — that are simultaneously flattering, easy to sit in, and that work for all different kinds of body types, we turned to stylish women, who shared their favorites.
As we conducted our search for the best pairs of high-rise jeans, there was one pair that we heard about again and again: Levi's Wedgie Straight Jeans. They're a favorite of Bird founder Jennifer Mankins, Joyce Lee, who heads the design team at Madewell, and Dianna Cohen, founder of hair-care line Crown Affair. Despite their name, the jeans don't actually give you a wedgie (at least not in the bad way) — but have the butt-flattering effect of your favorite vintage-shop find. "They're popular because they fit you like you want old 501s to fit. So a perfect straight leg, but with a bit more of a generous/modern cut. And it has a bit of stretch and natural rise that hits right at your belly button, so it's high, but not too high," says Mankins. "High-waisted jeans have become super comfortable now that there is stretch in the fabric — it's amazing how technology has enabled us to innovate with new denim fits without losing an authentic vintage look," says Lee (who is partial to Madewell jeans first, of course). For Cohen, the jeans are a daily staple, even in a time when denim may not be your go-to for pants: "It's the only pair I've worn frequently at home during quarantine— they're almost as comfy as sweatpants, but make you feel more put together if you have a meeting and want to wear actual pants (even if the other participate can't see them)," she says. "They look as great on when they're still-tight and just out of the wash as they do once they're more worn and loosen up through the week."
"It took me 34 years but I finally tracked down the perfect jean," says designer Susan Alexandra. "I'm hesitant to share this because they are oft sold out, but here goes: I present to you the Levi's Dad Jean." Alexandra calls the slightly-retro light-wash, pair a "wardrobe staple" evocative of the best vintage denim. "I had mine nipped in the waist to give them that perfect 'I got these at a flea market in Berlin' look," she says.
Rilka Noel, e-commerce planner at Kith, told us that her high-waisted jeans of choice are from Lee Riders, which can be purchased new at Walmart or vintage on Etsy. "My favorite pairs I've found were thrifted for $30. They fit perfectly because they have some stretch around the hips and booty," she says.
In our guide to the best petite jeans, content creator Jessica Turk gave these jeans her stamp of approval. While, yes, these are technically considered cropped jeans, the pair is actually full-length on Turk. And while the word flare might make you think of bell-bottoms, Turk says the style isn't overwhelming and that it works with the "tight fit throughout the thigh" for a flattering silhouette.
Strategist writer Chloe Anello says that when it comes to high-rise jeans, lately she's "really gotten into the straight-leg style." Namely, this pair from sustainable denim line DL1961. "These are really comfortable and mold to your body after a few wears," she says. "They're more tailored than wide-leg or boyfriend, so they look a bit more polished, but still have a lot of give and flexibility to them." The jeans have a vintage-inspired wash, and keeping with the vintage feel, a button fly.
If you're looking for a pair of rigid jeans that will eventually break-in and become perfectly vintage-looking, illustrator Pauline de Roussy de Sales says that Men's Wranglers Classic Cowboy straight leg jeans will "do the trick." The jeans have the same '70s deadstock denim look as Strategist senior editor Simone Kitchen's beloved slim-cut Wranglers.
Those looking for a high-rise jean with a skinnier leg might consider this pair, which designer Mary Young says felt like "a match made in heaven" when she put them on. Of the fit, Young, who is on the petite side, says: "The high rise sits perfectly without any gapping at the back and comes in different inseams which is a huge blessing for me, who stands my tallest at 5'2." And though they're on the pricier side, Young swears they're worth the splurge: "I've been wearing them nonstop for three years and they do not show it," she says.
Strategist writer Jenna Milliner-Waddell says these "Mile High" Levi's are "super stretchy to the point where you can size down and have enough compression to suck everything in." Plus, they're good quality: "I have owned many pairs of high-waisted jeans," she says, "but none that have lasted as long as these without stretching out."
Photo: retailer
Another pair that might work well for petite women is these from AGOLDE. They come recommended by candy artist Robyn Blair Davidson, who says that she loves them because "they're tight in all the right places and the high waist isn't too too high, which is often a problem since I'm only 5'1". They suck me in in all the right places, plus, they make my butt look good!" Blair also says they're particularly easy to dress up or down.
Photo: retailer
"I've been wearing high-waisted pants since high school and they're tricky things to shop for," says writer Diana McCorry. "Every brand seems to fit differently and some are truly heinous, so once I find a decent fit, I tend to buy in bulk. My current favorites are Levi's 720s. There's enough stretch to avoid that nasty tummy compression, but enough shape to create a great silhouette when you stand up. They're also totally affordable. I have them in three colors." McCorry often feels she has to bargain between comfort in the rear and looseness at the waist. "I'd rather wear a belt than feel like I'm in the trash compactor from Star Wars all day," she says. "The 720s are a little loose in the waist, but not quite enough to necessitate a belt, which is nice."
This pair is a recent find for Richer Poorer's creative director Jenny Alaimo, who says these jeans "fit like a glove," as they're "perfectly high-waisted" and "hold their shape all day without any bagging." Alaimo is petite, just under five feet tall, and while these are designed to be cropped, they're exactly full-length on her, with no hemming necessary. She also gives an honorable mention to her vintage Levi's 501s "because they are perfectly worn in and go with everything." Her advice? "If you can find a good pair, buy them!" Alaimo pointed out two pairs you can buy online at the moment: an original style and a skinny version.
[Editor's note: These jeans are sold out in the blue pictured, but they're in stock in off-white for $245.]
Photo: retailer
According to Lorna Burford, founder of the Jeans Blog, it's worth investing in a premium pair of jeans with light, stretchy fabrics and a vintage wash. "I saw these the other day on Vanessa Hudgens and they're made of 7FAM's b(air) denim, which is made to feel like air on your skin, so I know they're going to be comfortable."
Araks Yeramyan, founder of namesake lingerie line Araks, told us about this pair of black high-waisted jeans from Goldsign, whose legs. have a curved cut. "The fit and feel of these jeans is what I love," she says. "They're relaxed, but tapered at both the waist and the ankle, which gives them a feminine silhouette." Yeramyan says the cotton is a "good weight," meaning that the jeans hold their flattering shape even after many wears.