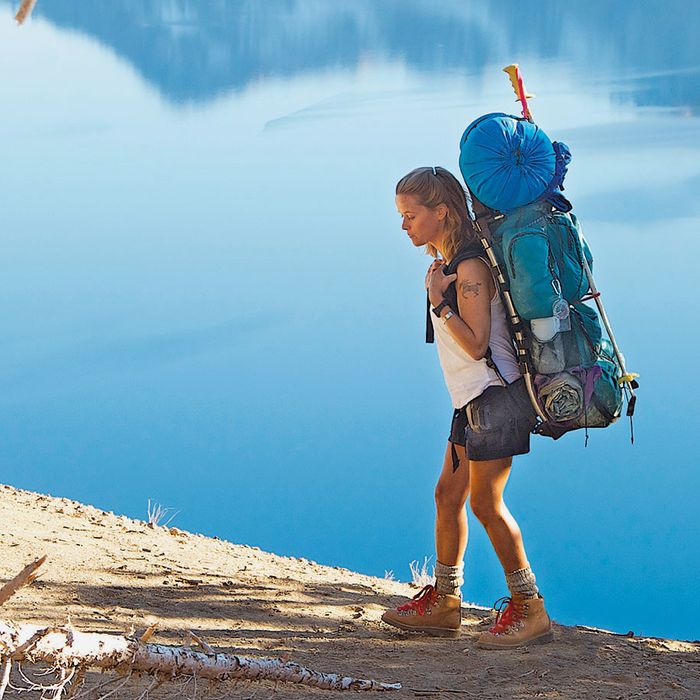 Photo: Anne Marie Fox/Courtesy of Fox Searchlight
We've written about shoes before — including the best workout shoes for women, travel shoes, and walking shoes, here, we've rounded up the best hiking boots (and a couple of hiking shoes) for women that you can find on Amazon, as praised by the site's most enthusiastic reviewers.
Related Articles: Best Hiking Boots for Men | Best Walking Shoes
Best-rated women's hiking boots
With more than 1,200 five-star reviews, these Columbia boots are lauded for their durability. "These boots held up against all different types of climates and weather and water on my road trip and they still look great," a reviewer attests. "Wore them for five days straight in dust, on rock, in soil, in small creeks," another adds, "they performed amazingly with good traction the whole time." One reviewer also helpfully notes that "they were 100 percent waterproof through small rivers, streams and waterfalls."
In addition to handling tough and variable conditions, these boots are described as quite comfortable. "Extremely lightweight and required almost no breaking in," as a reviewer puts it. "They felt lightweight and flexible. No blisters, no discomfort. I would buy them again tomorrow if anything happened," another adds. A reviewer who says she's on her feet walking ten miles a day for work notes, "I must say the experience wearing them is priceless … They are soft and comfortable, high enough so my shin does not hurt. No blisters and they look awesome."
Best-rated (less expensive) women's hiking boots
"For the price, these boots are the best thing going," writes one reviewer, and plenty of others are impressed with the quality. One wearer who went on a ten-day backpacking trip, and though her friends had name-brand boots, she took a chance on these and writes, "While my friends were complaining about their feet hurting, I was up skipping around joyfully from my lack of pain." And while she broke hers in before her hike, one reviewer who wore them straight from the box for a 12-mile hike says, "These did not even give me a blister." And though they are comfy and durable, reviewers do warn they are not waterproof, but one says they are at least water resistant, writing, "Slogging through mud and wet debris for hours and hours, my feet were surprisingly dry and comfortable." As for the fit, reviewers say these run true to size and fit, even with a heavy sock. "If you are looking to buy these boots, buy your size, don't go up even a half size like I did," one reviewer urges.
Best all-weather hiking boots
"I worked in the worst of conditions with mud, muck, rain, mountainous terrain, and for 70 to 80 hours a week for 13 weeks while deployed as a housing inspector for a contractor working with FEMA," a reviewer attests. "I had these boots on every day except for the few hours of sleep I got each day. And they were so comfortable. Even in 90-degree, very humid conditions in Houston, my feet did not sweat but stayed comfortable. I got many comments from other workers who admired their look and practicality." Dozens of other reviewers attest to these all-weather capabilities, or, as one puts it, "good in the cold weather but I would also wear these for summer hikes." "They got me through two months' worth of ecological fieldwork, trekking off trail through dense forest in the PNW," adds another reviewer who's also used them on "50-mile backpacking trips in the southwest, day hikes back east, you name it." Simply put: "These boots perform and will not let you down."
Best all-terrain women's hiking boots
"So far in one week I've been in mud, puddles, lawns, and forests, wet grass and out to dinner," vouches one reviewer. "I have NO complaints and wish I'd spent the money on these, $450 and three boots ago." One very qualified reviewer professes, "For months out of the year I live in these shoes 16 hours per day, seven days a week without fail. I have dragged several pairs of these across the country, trampled them through salt/fresh water, have scraped them to heck on Maine coast rocks day after day, and basically put each and every pair through the wringer. Not only do I hike with these, but I kneel, crawl, gouge them on rocks, walk on slippery seaweed-covered rocks in the ocean carrying 50 pounds of baggage, and sit on the couch with them. They are perfect."
Best women's hiking boot with traction
The tread of these Adidas hiking boots impressed one reviewer, who writes, "They made me feel secure while hiking steep, slippery, rocky paths. The grip is incredible." Another has "Gone hiking a few times in them and they hold up well to the rocks and thorns of desert mountainous terrain." And while these are less heavy-duty than some of the other boots on this list — one reviewer even describes these as sneakers with a hiking tread — they hold up to intense treks. "I hiked all over Machu Picchu in them," one writes, describing them as "Lightweight and comfortable and had good traction." Another who wore these on a nine-mile hike "through rough rocky terrain and elevation changes" says, "They did fantastic, no hot spots or blisters. They didn't tire my feet out or smash my toes." And while the overall consensus is these shoes are comfortable, they also say they run big and recommended going down at least a half a size, like one who writes, "I'm normally size nine and had to return for 8.5 but probably could've even done an eight."