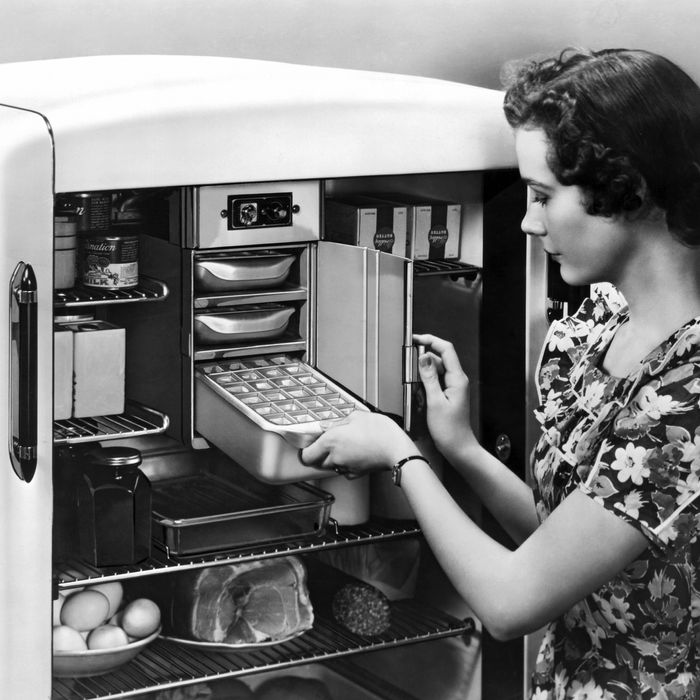 Photo: Underwood Archives/Getty Images
Here at the Strategist, we like to think of ourselves as crazy (in the good way) about the stuff we buy, but as much as we'd like to, we can't try everything. Which is why we have People's Choice, in which we find the best-reviewed products and single out the most convincing ones. (You can learn more about our rating system and how we pick each item here.)
And while we've written about lots ice-making contraptions before — including tools that make the best ice, one editor's favorite ice tray, the best ice machines, and dog-shaped ice trays — here we've rounded up the best ice-cube trays, as praised by the most enthusiastic reviewers on Amazon.
Best-rated ice-cube tray
For people who want to elevate their drinks by straying from the typical square ice cube, Amazon reviewers have given this spherical ice-cube tray more than 3,000 five-star reviews. "If you like whiskey on the rocks then you should get it," writes one. "You would be surprised how many guests comment on the spheres when I bust them out. These spherical ice cube makers overall are a lot of fun. They're pretty cheap and I really wish I purchased them a few years ago." Another reviewer also notes how fun the mold is, but ultimately just loves how easy it is. He explains, "these round ice cube molds are very easy to use and clean. The large round cubes pop right out of the mold after a quick rinse under warm water." Others feel the ice lasts longer and take less time to freeze. "These bad boys turn out perfectly round spheres of ice that chill a glass of the brown stuff nicely, while dissolving slow enough to last through a second pour (don't you judge me, internet)," one writes. "They go in the freezer, and in a few hours you're ready to enjoy."
Best-rated (less expensive) ice-cube tray
Reviewers are amazed by how long these ice-cube trays last. One who has had his for over 5 years says, "Now, they're not sexy, they're not cutting edge design, they're actually pretty boring. And boring is perfect when you want to do something as mind-numbingly simple as make ice. They stack nicely and they last a long time. We've had two for five years and recently added two to the rotation and it's not possible to tell by looking which are newer." This customer has had his for over a year and a half and still loves them: "Ice cubes should be easy. Like really easy," he writes. "Every time I've used these trays, when I turn them over, at least one or two cubes just fall out before I even twist. The rest all pop out with a light twist. Every last one. Not two or three or seven of them stuck in there while you bash the tray on the sink. Every last one." They even pleased the pickiest of customers. "I'm a bit of a princess when it comes to ice, but I don't like having to push the cubes out, like you have to with silicone," writes one. "I got this one, and a half twist and out the ice cubes pop incredibly easily, and it's the full cube. Who writes a review about ice cube trays? Well, someone who's surprised to be so happy about them."
And now for some micro-picks for every type of ice-cube tray you might be looking for.
Best quick-releasing ice-cube tray
Many reviewers turned to this product after their fridge or ice machine died unexpectedly, like this woman who writes, "When the icemaker on my 22-year old fridge recently died, I was concerned that the entire appliance was on the threshold of failure. But no, everything else is still working as it should. So rather than spend $800 to replace the icemaker, I instead invested a few dollars on these excellent ice trays. The cubes release so easily, with just one quick twist, and no plastic smell, no residue, no BPA concerns, and no off-taste whatsoever from other foods." One woman who has had these for months says "to this day they are not brittle, they still pop ice out with an easy twist. My 5 year old can do it that's how easy the ice comes out." A few mentioned their cubes sometimes stuck together, but one reviewer advises, "this is easily remedied, just leave them sit out a couple of minutes then the cubes will twist out just fine."
Best ice-cube tray for cocktails
Many originally bought these trays just to impress their friends during parties but ended up getting more use out of them, like this reviewer, who writes, "I was looking for something to make my cocktails special. This set looked like the right combination of fair price and good quality." But they were so impressed with the quality that they now use them for non-alcoholic beverages: "The cubes are the perfect size, and the larger cubes melt slower so they don't water down your drinks as fast. I ended up buying two sets and now I use them in all my cold beverages." Another reviewer felt these ice cube trays made his drinks the star of his party. "The cubed tray was deeper than I expected. I know the listing states 2-inch cube, but I was still like wow, impressive," he explains. "When you place one of the cubes into a glass and pour some of your favorite spirits over the top, and pass it to a friend, you get a slight smug feeling of presenting a drink to the same quality as a posh wine bar." Another wasn't initially in love with the sphere ice tray but eventually came around, as he explains, "the sphere cube tray is a little frustrating to use at first, but after a couple of uses I got the hang of it."
Best ice-cube tray with lid
Many were drawn to this tray because of the lid but kept using it for how easily the ice cubes came out. "These are the best ice cube trays that I have ever used," writes one. "They fill easily enough and then are covered so that foreign things don't end up in your ice and more importantly so that they can be stacked. However, my favorite feature is the ease at which all of the cubes just release from the ice tray when you are ready to use them." Another loves how transportable the trays are, explaining that the lids , ""make it easy to transport the trays from the sink to the freezer without spilling and make it easy to stack the trays. They also make it easy to dump out exactly how many ice cubes you want." One was so pleased with these ice-cube trays, she even plans on gifting them. "I was surprised when I went to use some that had been in my freezer for weeks and they were still as good as if I had made them the night before," she says. "The bright colored lids make finding them easy. I like them so much I bought extras to give as gifts."
Best ice-cube tray for purée
Reviewers flocked to these trays for how large yet sturdy they are, making them perfect for freezing purées. "I mainly use ice cube trays when making and freezing baby purees," writes one new mom. "The food spread nicely into the tray. It's completely even across the top. The lid fit over the top with no issue, and I was able to easily pick up the tray and transfer into the freezer. It was really easy removing the pureed food from the trays. I had no issue at all." Another loves how nothing sticks to the stray after removing the cubes. "Besides making ice cubes, I have made frozen spinach puree for smoothies. The cubes are a good size and being square they don't tend to stick to the sides of the glass like the curved cubes do," she writes. "Great value and high quality item. I would order again without hesitation." Another concurs, adding she loves the quick cleanup, "I make cubes of yogurt and I also puree my spinach and make cubes from that as well. Things never stick, so clean up is so easy."
Best novelty ice-cube tray
The skull shape drew customers in for how fun, slightly spooky, and completely effective the mold was, like this reviewer explains: "I was looking for a large ice cube tray for adding ice to Sazeracs and Negronis. I didn't want basic, square cubes. I wanted something kinda fun and a little something to bring a smile to the face of the person sipping the drink. These fit the bill perfectly. This was a great, fun purchase." One used them for a birthday party and was shocked how long the ice lasted. "All my guests were enjoying these skull ice cubes with their drinks. Actually even one giant ice cube stayed very cool for one cup of ice drink," they write, adding. "It stayed well the skull shape and made my party stunning. The material is very convenient to take out each ice cube; very soft and very easy to use." Another customer is already planning for Halloween after using this tray, explaining, "The cubes turned out amazing the next morning and I was very happy with the results. I do plan on picking up some more of them personally later this year before Halloween season arrives so I can share them with my co-workers on Halloween."
Best ice-cube tray for water bottles