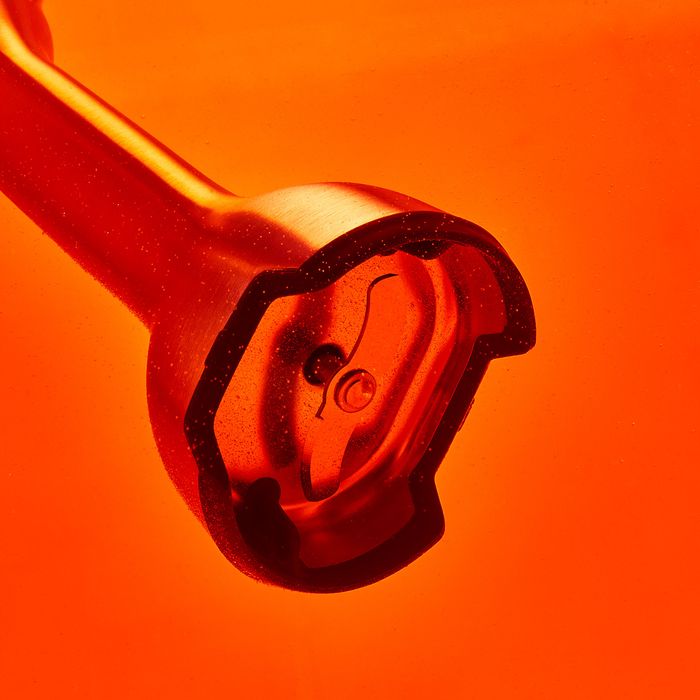 While many people find storing a blender in their kitchen to be worth it, the smaller (and overall less expensive) immersion blender can handle a lot of the same cooking tasks with less fuss. And while they may not be right for, say, big-batch smoothies or crushing nuts into butter (which takes a lot of force), they work totally great for emulsifying soups, marinades, dressings and aïolis and, yes, for making smaller smoothies. In fact, I found that it's pretty common to own both a blender and an immersion blender — but that the ease of the latter is preferable whenever it can be employed. "I use mine way more than my full-size blender and food processor," Simply Recipes associate general manager Emma Christensen told me. "It stores in a drawer and you can pull it right out. There's no transferring. It's much easier to clean." No matter which model you're drawn to — likely from one of the few brands that seem to dominate the market — Cristensen's points ring true. The immersion blender? "It's all about convenience."
What we're looking for
Some immersion blenders have set speeds, in which case I've listed the exact number you can choose from. Others have variable speed, meaning you control how quickly they're whirring with a dial or button that moves gradually from low to high.
Most immersion blenders come with more than just one stick and blade. For this, I've listed all the additional attachments (whether that's different styles of blades, whisks, or choppers à la a food processor), as well as any pitchers or cups that will give you a mini blenderlike setup.
Best overall immersion blender
Speeds: 15 speeds | Extras: Whisk, chopping bowl with blades, storage jar with lid
The majority of the experts I spoke to named the Breville Control Grip as their favorite immersion blender. With 15 speeds, it's the most high-tech of the bunch. "It is on the bigger side," says food writer and editor Alyse Whitney, "but it's really powerful." Food writer and editor Matt Rodbard has had his for more than five years. "For me, it's just really brought a lot of utility when making soups and sauces," he says. "Plus I love the way it feels in my hand." Posie Brien, a recipe developer and writer for the food site 600 Acres, has had hers for even longer — more than a decade. "I love it," she says. "It's so easy to use and clean. It's sturdy and substantial and the motor is great. I really think everyone should be using an immersion blender more often. It's good for eggs — if you blend your scrambled eggs with one, they'll be so much creamier and better. It's good for smoothies. It's good for sauces of any kind, really." And no matter what you're doing, the rubberized lip means it won't scratch the bottom of any pots, pans, or bowls.
Plus there are all the attachments. "You can use the blender function to purée pumpkin or smooth out a custard for a cream pie, then swap it out for the whisk attachment to whip up some cream to top it with," says Petra Paredez, the owner of Petee's Pie Company in Brooklyn and the author of Pie for Everyone. "It has a cup attachment that lets you use it as a regular blender, too, so it can replace multiple tools that would otherwise take up a lot of space."
Best less expensive immersion blender
Speeds: Low to high variable | Extras: Whisk, chopper, measuring cup
The Cuisinart Smart Stick, favored by two of the pros I spoke with, has a variable speed dial that takes the handheld machine from low to high. That's actually one of the features Christensen likes about it. "The controls are really, really easy," she says of the stick, which she has owned for about five years. "Clearly, it's built to last." Chef and author Virginia Willis can certainly attest to that too — she had an older-model Cuisinart immersion blender for 15 years and only recently replaced it with this one. "I find it to be such a great tool," she says. "Especially when it comes to making soups, it's so much safer and easier than pouring the liquid into a blender. Plus if you're making something like refried beans, it's easy to control going partway blended instead of fully."
Best even less expensive immersion blender
Speeds: Nine | Extras: Jar, whisk, milk frother
The Mueller Ultra-Stick was a favorite of Strategist readers from a previous version of this article — and we can understand why. It has four and a half stars and close to 40,000 ratings on Amazon, with glowing reviews about the quality you get for the price. Many people noted the strong stainless-steel body and the force of the blade (it has a turbo speed setting for when you really need to kick it up). "At 500 watts, this immersion blender is more powerful than most," says one. "The steel feels substantial, and the attachments are very easy to change." Speaking of those attachments, the Mueller is the only one on this list that comes with a milk frother, a bonus if you like to make lattes at home.
Best simple immersion blender
Speeds: Two | Extras: Whisk and blending jar
Cookbook author Julia Turshen uses her Braun immersion blender primarily for two tasks: making salad dressing directly inside a deli container (so she can store it in the fridge without dirtying two bowls) and blending soups, especially when she's looking to purée just some to thicken the body. She appreciates the simplicity of its two speeds, which work perfectly for her needs without giving her too many choices, and she doesn't "find the cord impacts my usage at all since nothing in my kitchen is terribly far from an outlet," she says. "Most kitchens can probably say the same." For two years, this straightforward model has held up great, Turshen says.
Best less expensive simple immersion blender
Speeds: Two | Extras: None
For an even simpler blender that also has two speeds but doesn't come with any attachments, this Cuisinart model is all you need. In 2017, Strategist contributor Hannah Howard said it "changed he5r life" — and all these years later, she still feels the same. When originally surveying the immersion-blender landscape, Howard saw that many came with fancy attachments and extraneous features, like bendable arms, and usually went for upward of $100. She wanted something simpler, so she settled on this extremely affordable unit. "What I love most about it is that it just has two speeds," she writes, noting that she uses the lower one for things like pesto and the higher one for smoothies and purées. "It has 200 watts of horsepower, which is plenty for a hand blender." And since it weighs about a pound and a half, it maneuvers easily into all sorts of pots, bowls, and jars (and fits in Howard's "tiny Brooklyn kitchen drawer").
Best immersion blender with multiple blade styles
Speeds: Five | Extras: Whisk, chopper, pitcher, three different bell blades
Though it has fewer speeds than the Breville, this KitchenAid model has always been flexible enough for recipe developer and cookbook author Jessie Sheehan. "It's a tool you might not think you really need, but it's actually super-helpful," she says. "I have a salad-dressing phobia — I always want other people to make it for me. But this really helps. I can make mayo or a fruit compote, or I can whip egg whites for baking with the whisk attachment. We have a Vitamix we use when we're making smoothies en masse, but it's nice to be able to make smaller portions too." One of the attachment bell blades that come with the 5-Speed is, in fact, meant to be especially efficient at crushing ice. "It's easy to use, and the cord has never been a problem because it's quite long," Sheehan says. "Plus it's not crazy expensive."
Best durable immersion blender
Speeds: Two | Extras: Whisk and blending jar
The GE Immersion Blender comes recommended by Richard Rea, executive chef at the Butcher's Daughter, who uses one at home and in his professional kitchen. In the latter, he says he probably uses it even more than the commercial model they also have on hand, pulling it out for creamy soups, cashew ricotta, hummus, and all types of salsa. "It's very strong," he says of the powerful motor and super-sharp blades. "It breaks through nuts — even some big, bulky blenders don't do that. And it's super lightweight and doesn't make much noise (a little hum, but that's it)." Rea has had the blender in his restaurant for two years (with daily use), and it's still performing beautifully.
Best immersion blender with pan guard
Speeds: Low to high variable | Extras: Blending jar with lid, pan guard
I'm a fairly recent immersion-blender fan, but so far, this KitchenAid model has performed great. Like Turshen, I've used it for bigger-batch salad dressings (it emulsifies a large amount quickly) and soup. In the latter case, I'm especially appreciative of the pan guard, which fits snugly around the appliance's sharp metal cage but still allows the blades to whir freely. When I've accidentally touched the bottom of my beloved Dutch oven, it doesn't leave a scrape. Another bonus: I own the black, but it comes in nine colors, if aesthetics are important to you.
Best cordless immersion blender
Speeds: Five | Extras: None
Gaby Dalkin, the cookbook author and blogger behind What's Gaby Cooking, has tried a lot of different immersion blenders over her 13 years as a recipe developer — and she says this is the best one she's ever used. The main reason is that it's cordless once you've finished charging it in a dock, which is especially useful for anyone who doesn't have an outlet right next to their stove (as blending soups is one of the main functions of an immersion blender). It also means there's nothing getting in the way, ever. Dalkin charges hers once a week and is able to use it several times during the subsequent days before returning it to the dock (though she says it definitely would last even longer for home cooks). And while it might be a stretch to call any immersion blender particularly stylish, this one has a stainless steel body with no visible plastic parts, giving it a sleek look — so much so that it's one of Dalkin's most-asked-about products when she does an Instagram live-cooking demonstration, she says.
Best less expensive cordless immersion blender
Speeds: Low to high variable | Extras: Blending jar with lid, pan guard
In addition to her Breville, Whitney has this cordless immersion blender. Although it also comes with a pan guard, its standout feature is that it's battery operated. "It's helpful to not have a cord when I'm blending soup in particular," she says. "You just charge it up like you would anything. And the charge lasts for a really long time — 25 uses, according to the website. I definitely don't charge it very often." Instead of a dial, this one has a variable speed button, which Whitney says is very straightforward.
Some more immersion blenders we've written about
Our experts
• Posie Brien, recipe developer and writer
• Emma Christensen, associate general manager at Simply Recipes
• Gaby Dalkin, cookbook author and blogger at What's Gaby Cooking
• Hannah Howard, Strategist contributor
• Petra Paredez, owner of Petee's Pie Company
• Richard Rea, executive chef at The Butcher's Daughter
• Matt Rodbard, food writer, editor, and author
• Jessie Sheehan, recipe developer
• Julia Turshen, cookbook author
• Alyse Whitney, food writer and editor
• Virginia Willis, chef and author
• Laura Wright, creator of The First Mess
The Strategist is designed to surface the most useful, expert recommendations for things to buy across the vast e-commerce landscape. Some of our latest conquests include the best acne treatments, rolling luggage, pillows for side sleepers, natural anxiety remedies, and bath towels. We update links when possible, but note that deals can expire and all prices are subject to change.
Every editorial product is independently selected. If you buy something through our links, New York may earn an affiliate commission.