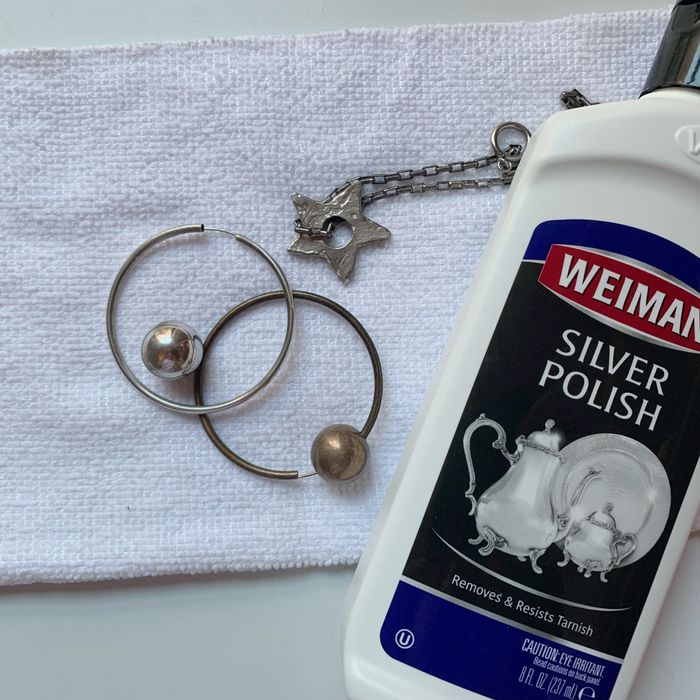 To get the most use out of your jewelry, you'll need to occasionally clean it. And although the process isn't as esoteric as it sounds, there isn't a one-size-fits-all solution: Different materials in jewelry have different needs — from porous organic gemstones like coral and pearl that need to be cleaned more delicately to scratch-prone metals like gold. The kinds of discoloration a cleaning will lift range from basic dirt and oils to the products of chemical reactions like tarnish or patina. It's important to know what you're dealing with — both the material and the type of cleaning you're trying to perform — before getting started.
Still, the experts we spoke to agree that cleaning doesn't have to be complicated, and it shouldn't be a deterrent to everyday wear. "If your jewelry is more metal-based, then soap and water — or even just your normal showering — should mostly do the trick," says Madison Snider, founder and lead designer of Fewer Finer. "The best way to keep your silver clean is to use it," says Anthony Mammon of Estate Silver Company. "Just from handling, washing, wiping, et cetera, the tarnish stays away, so the more you use it, the less you need to polish it."
Best overall | Best bargain | Best cream for silver | Best upgrade cream | Best wash | Best silver-polishing foam | Best multiuse | Best nontoxic | Best heavy-duty for silver | Best cloths | Best silver-polishing gloves | Best industrial ultrasonic
Ultrasonic machine vs. analog: You may associate cleaning jewelry with a smelly polish, rags, and plenty of elbow grease, and while the hand-cleaning method works, a higher-tech alternative is an ultrasonic machine. These devices vibrate a tank of water or a cleaning solution with high-frequency waves, which create microscopic bubbles that remove debris from the items inside. The two main benefits of an ultrasonic cleaner are its ability to penetrate nooks and crannies — helpful for intricate jewelry and chains — and that it cleans through a physical rather than chemical process (although you can add a solution to the tank for a chemistry-powered clean). "If you have a lot of diamond jewelry, I think it is a good investment," says Snider. "There is no better way to get behind stones and settings."
Medium: The polishes on this list come in several formats — creams, pastes, foams, liquid solutions, and cloths. The best tool for the job depends on the jewelry, the level of grime or discoloration you're trying to lift, and how much time you want to devote to the process. For example, a foam cleaner might work best for penetrating nooks and crannies in an intricate ring setting; cloths treated with a cleaning compound may not be ideal for a heavy-duty job but work well for a quick spot clean. Cream cleaners take more elbow grease but offer more control on where to lift tarnish: According to Jim McConnaughy, senior vice-president of antiques store S.J. Shrubsole, "Some of the tarnish around and within the decoration should be left where it is; the contrast brings out the decoration very effectively."
Application: Most products on this list can be used on several kinds of metal, gemstones, or both — with the biggest division between products designed just for metal and products that can clean gemstones as well. Even within these categories, some materials need to be treated more gently. We've noted exceptions here, and if you're unsure about a product's suitability for a specific type of stone or metal, double-check the product page or contact the manufacturer.
Best overall jewelry cleaner
Photo: Retailer
Ultrasonic | All metals and gemstones
If you find yourself with a lot of jewelry to clean, this is your best bet. Although it won't remove tarnish from silver, it does just about everything else. An ultrasonic cleaner like this one uses ultrasonic waves to gently yet thoroughly clean jewelry with professional-looking results. You simply fill it with water and clean all your jewelry at once in minutes. It's also great for glasses and coins.
Best bargain cleaner
Liquid | Metals and gemstones
Weiman makes a classic, affordable liquid cleaner that's suitable for almost all types of materials, including metals and diamonds, though you should avoid using it on coral, ivory, amber, malachite, pearls, opals, jade, and turquoise. They also make an inexpensive silver cleaner — the kind of product that comes to mind when you think of jewelry polish. I recently used it to clean a pair of über-tarnished silver earrings and a necklace, and it was quick and effective: After a few passes, I could see my face in them.
Best upgrade cream cleaner for silver
Paste | Metals
W. J. Hagerty & Sons is a brand recommended by several of our experts, and Mammon especially likes its "wipe on, wash off" cream polish. To use it, simply "wipe on with a wet sponge, rinse off, and wipe dry." It contains a tarnish preventative, which may help lengthen the time between cleanings.
Best upgrade cream cleaner
Cream | Metals
Howard and Myra Donowitz, owners of Tudor Rose Antiques in New York, recommend Maas Metal Polish, which is "better for more difficult jobs." All you have to do is "apply with any nonabrasive cloth" like cotton or microfiber, "wipe off, then rinse and dry."
Best jewelry wash
Liquid | Metals and gemstones
Shinery's all-purpose cleaner is "as easy as washing your hands," according to Snider, and "great for a quick fix before heading out." Its formula is on the gentler end of the spectrum and suitable for use on all metals and stones; it's made with skin hydrators, so it won't dry out your hands.
Best silver-polishing foam
Foam | Silver
McConnaughy recommends Goddard's Silver Polish Foam (which comes as a paste that can be worked into a lather with a sponge). He describes the foam as "milder than some other polishes" and especially good for "when something is particularly dirty."
Best multiuse polish
Wadding polish | All metals
"It's like magic," Nathan Horowicz, owner of silver shop Nathan Horowicz Antiques, says of Never-Dull, which he mentions is also used to polish boats. "You wipe it on, then you wash it off with warm soap and water," and it doesn't leave any residue, he says. Cleaning with this metal polish "brings out the luster of the metal — whether it's silver, whether it's gold, whether any precious metal — and it doesn't harm it."
Best nontoxic jewelry cleaner
Cream | Gold, silver, and platinum
For those looking for a more natural alternative, Sparkle Bright's cream jewelry polish is formulated with plant-based ingredients that are biodegradable, environmentally friendly, and nontoxic.
Best silver cleaner for heavy-duty jobs
Liquid | Silver
Jewelry designer Erica Weiner once used this Jax on a silver ring she wore into a hot spring at Esalen that blackened from the sulfur. "For jewelry when it's really oxidized, there's no match for Jax. It's a harsh but very effective, cleaner," she says. "The good thing about it is that jewelry, unlike clothing, can easily be washed clean of chemical residue. Dip your blackened silver in a teaspoon of Jax, then wash it in warm water and Dr. Bronner's, and you're good."
Best polishing cloths
Cloth with polishing compound | Metals
You can use any nonabrasive cloth to clean jewelry; Snider recommends anything in "the jewelry-cloth category — the difference between that and a regular washcloth or T-shirt is that their small and compressed fibers make them better for cleaning off smudges, oil, and signs of some wear." For a cloth that polishes, Faris Du Graf, founder of jewelry line FARIS, and Quiet Storms owner Reshma Patel recommend Sunshine cloths. "I've renewed pieces that have turned to dark gray back to shiny with these cloths," says Du Graf. "I have a version that I give to most of my online customers and almost always have one in my purse." Although the polish in the cloths eventually gets used up, Du Graf washes and reuses them as a standard jewelry cloth to apply cream polish.
Best silver-polishing gloves
Gloves | Silver
Steve Nelson, co-owner of Nelson & Nelson Antiques, recommends Hagerty gloves "if silver is just yellow not black." The terry-cloth gloves are treated with a polish and contain a tarnish-preventing compound, and they're machine-washable.
Best industrial ultrasonic cleaner
Ultrasonic machine | Metals and gemstones; not suitable for softer stones like pearls and opals
"This is what we use in the office and my personal favorite," says Snider of the GemOro ultrasonic cleaner. "Ideally, I put my engagement ring in here once a week to rid it of residue from lotion, sunscreen, and natural oils from the skin. The rest of my jewelry I like to drop in about once a month." Although it is a splurge, if you clean a large volume of jewelry, glasses, waterproof watches, and other items made from precious metals, it may be worth it. Plus it's fairly compact — a little smaller than our favorite air fryer.
Some other Strategist-approved jewelry-care essentials
• Howard Donowitz, co-owner of Tudor Rose Antiques
• Myra Donowitz, co-owner of Tudor Rose Antiques
• Faris Du Graf, founder of FARIS
• Nathan Horowicz, owner of Nathan Horowicz Antiques
• Anthony Mammon, president of Estate Silver Company
• Jim McConnaughy, senior vice-president of S.J. Shrubsole
• Steve Nelson, co-owner of Nelson & Nelson Antiques
• Reshma Patel, owner of Quiet Storms
• Madison Snider, founder and lead designer of Fewer Finer
• Erica Weiner, jewelry designer
The Strategist is designed to surface the most useful, expert recommendations for things to buy across the vast e-commerce landscape. Some of our latest conquests include the best women's jeans, rolling luggage, pillows for side sleepers, ultra-flattering pants, and bath towels. We update links when possible, but note that deals can expire and all prices are subject to change.
Every editorial product is independently selected. If you buy something through our links, New York may earn an affiliate commission.