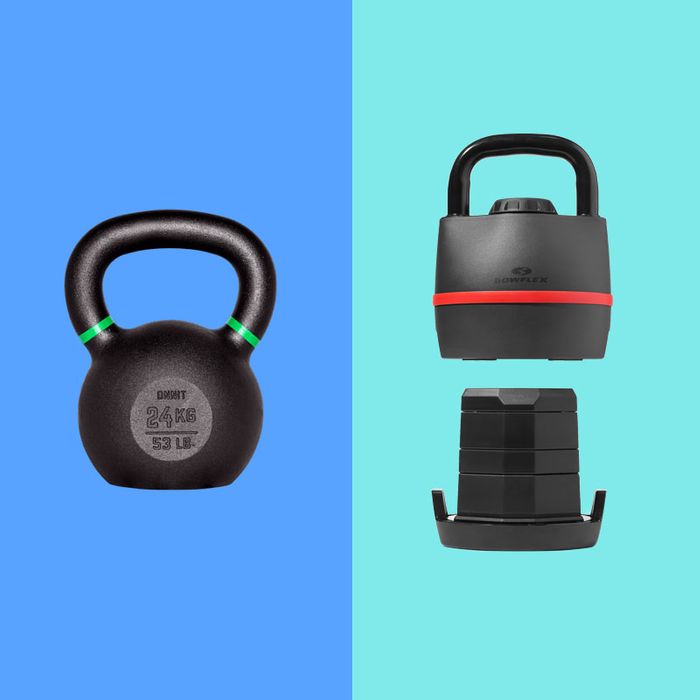 Photo-Illustration: Courtesy Retailer
Whether you're building a home gym, getting into weight lifting, or just want some weights to follow along with virtual HIIT classes, kettlebells are a simple and effective tool for getting the job done. While they may seem like some of the most straightforward pieces of gym equipment, kettlebells have a few key features that can set apart the solid, long-term investments from the cheap ones. To help you find the best kettlebells, we spoke to physical therapists, strength and conditioning coaches, Olympic weight-lifting coaches, and home-gym-equipment experts to get their recommendations for every type of user and workout.
Best overall | Best less expensive overall | Best durable | Best adjustable | Best budget pick
Coating type: When we asked certified Olympic weight-lifting coach Paolo Galang what he looks for in a good kettlebell, he said how durable the kettlebell is, and that starts with the coating. "The coating has to provide grip, with or without chalk, regardless of the use — whether you're slinging them around all crazy during a workout or not." Kettlebells are meant to be picked up, lifted, and swung more than any other free weight. That's why the exterior coating has to offer grip but be comfortable enough against the skin throughout multiple sessions.
Most of the kettlebells our experts recommended are made of iron or steel and are powder-coated. This provides a smooth finish while offering grip and serving as a barrier against rust, which is important if you plan to use them outdoors. "I don't want them to get rusty after tons of use and cleaning," Galang says. Some kettlebells come in a softer enamel, vinyl, or epoxy coating (most often on the round part, though some are coated throughout), which feels soft or rubbery and will generally dampen the noise when the kettlebells are set down on hard surfaces. Much like the grip on a barbell or dumbbell, the coating type comes down to personal preference.
Weight range: Like dumbbells, kettlebells are offered in a range of different weights, which is helpful to know whether you're looking to build a home gym or just to have the right increments of weight for your workouts.
Features: Some kettlebells are adjustable, meaning they can accommodate different weight ranges with a single casing, base, or handle. (This is the same principle behind adjustable dumbbells.) Most of the kettlebells we recommend have a color-coding system that corresponds with their weight.
Best overall kettlebell
Powder-coated iron | 9 to 203 lbs. | Color-coded
Rogue Fitness kettlebells are some of the most popular sets on the market, and they continue to be a favorite because of their feel and construction. They are recommended by both Galang and Dr. Clinton Lee, a certified strength and conditioning specialist and former StrongFirst Level I kettlebell instructor. "Many consider Rogue Fitness to be the best brand of fitness equipment in the country," Lee says. Galang agrees: "Rogue is an American-made, top fitness-equipment brand. You usually can't go wrong with their products." (Rogue makes our best overall weight bench.) Galang calls these kettlebells the best kettlebells for the money because of their durable powder coating. It helps that they look sleek in any gym setting, he says.
Beloved by fitness experts and veteran weight lifters, these are a great intro set for home workouts. My Rogue Fitness kettlebells were the first (and only) set I bought in 2019. I've stored them inside my apartment and outside on the back patio, and they have yet to show any sign of rust or wear.
Best (less expensive) overall kettlebell
Photo: Get RXd
Powder-coated cast iron | 9 to 106 lbs. | Color-coded 
Although Lee recommends the Rogue Fitness kettlebells, he prefers Get RXd kettlebells for his own workouts. "I've been using Get RXd kettlebells for the past five years and have pairs ranging from 9 pounds through 70 pounds. Excellent quality, feels great in my hands and on my wrists," he says. "As a former certified kettlebell instructor, having high-quality, durable kettlebells was (and is still) important to me. Get RXd certainly fit the bill." Lee says that the Get RXd set is comparable to Rogue's but at a slightly more affordable price per kettlebell and as a set overall. (A 9-, 13-, and 18-pound set of Rogue kettlebells will cost $130, while the same three Get RXd kettlebells cost $96.) If you're looking for a wide range of high-quality kettlebells, stocking up on Get RXd models is your best bet.
Best durable kettlebells
Powder-coated iron | 13 to 70 lbs. | Color-coded
Galang prefers this kettlebell set from fitness brand Onnit, which also makes workout supplements and other gym products. Like the Rogue and Get RXd sets, Onnit kettlebells are made from powder-coated iron and come in the same color-coded increments. But for Galang, what sets these apart is their durability: "The powder coating is chip-resistant and takes chalk usage really well but supports grip without chalk," Galang says. "I have weight-lifting friends who own Onnit KBs, and they swear by them — they're still looking in top shape after being thrown around with sweaty hands for years."
Best adjustable kettlebell
Rubber-coated steel | 8 to 40 lbs. | Selection dial, six weights in one system
When we asked freelance writer and home-gym-equipment expert Hayden Carpenter for his recommendations for adjustable dumbbells, he pointed us to the Bowflex SelectTech 1090 dumbbells but mentioned that the product he uses the most is the Bowflex SelectTech 840 adjustable kettlebell. "I use it all the time for hangboarding," he says. (Hangboarding is a type of training exercise for rock climbing.) The SelectTech has a selection dial that allows you to pick your desired weight while the kettlebell is in the casing; once the weight is selected, you can lift it from its base. It effectively replaces six kettlebells with one system. These features make it our top recommendation for users who use one kettlebell at a time — and who want to save on space and money.
Best budget kettlebell
Enamel-coated cast iron | 10 to 40 lbs. | No color coding
This simple, no-frills kettlebell doesn't have a powder-coated finish or color coding — and it doesn't come recommended by any experts we've spoken with. But at half the price of some of the top picks on this list, the value is hard to beat. That's undoubtedly why this set is one of the most sold kettlebells on the Strategist and has more than 17,000 reviews on Amazon. "They should call this baby 'The Black Beauty' because this is a very good quality, no-frills, never complains kettlebell that knows how to get the job done," one enthusiastic reviewer writes. Another reviewer, who is admittedly "not an advanced kettle bell snob," calls this the "most fundamental piece of equipment at a fair price" and adds that it's "simply a weight with a flat bottom, a smooth handle, and it's at a reasonable price."