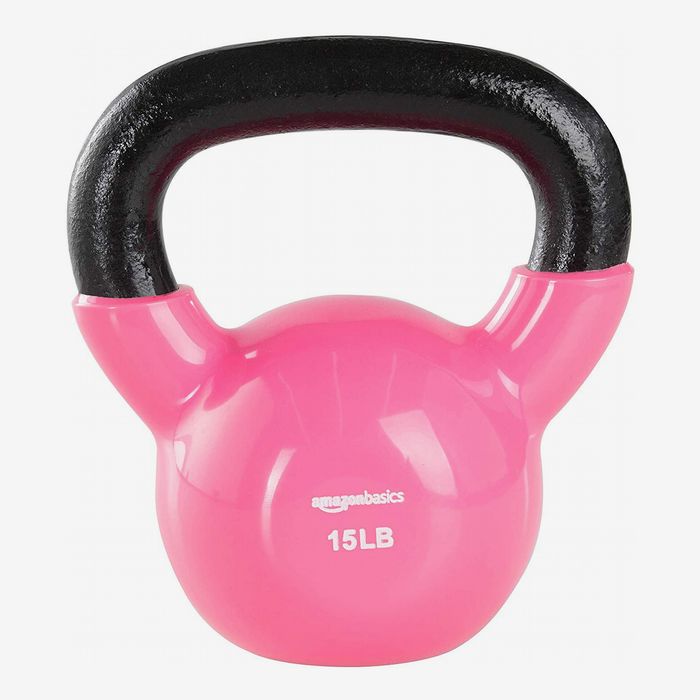 Here at the Strategist, we like to think of ourselves as crazy (in the good way) about the stuff we buy, but as much as we'd like to, we can't try everything. Which is why we have People's Choice, in which we find the best-reviewed products and single out the most convincing ones. (You can learn more about our rating system and how we pick each item here.)
And while we've written about lots of workout equipment — including the best weightlifting belts, the best weighted vests, and yogi-approved yoga mats  — here, we've rounded up the best kettlebells, as praised by the most enthusiastic reviewers on Amazon. To even the playing field a bit, we focused on 15-pound kettlebells, but most of these kettlebells are available in other weights as well.
Best-rated (least expensive) kettlebell
"Sure, it's just a piece of cast iron with a thick coat of paint on it, but I'd say it keeps up just fine with more expensive kettlebells," one reviewer writes. More than 70 percent of reviewers give this kettlebell five stars, with many agreeing that the handle is decently sized. That same reviewer describes the shape as "comfortable and conducive to passing off from hand to hand, and the grip is large enough that even my big hands aren't cramped." Another says, "Grips are just right for my big hands." Many also praise the handle for being smooth. One customer writes, "Now have 6 of these kettlebells in various sizes … The handles are a bit thick for me but not enough to be a problem. The finish is SO great and has kept calluses to a minimum and my hands aren't torn up." Another reviewer writes, "The handle is smooth and will not give you blisters." As far as one user is concerned, you should just go ahead and buy them already: "The price is great, much better then the local stores — so if you are out [shopping] around — stop wasting time because I've already done it and this is the best price you will find."
And now for some micro-picks for every kettlebell you might be looking for.
Best vinyl-coated cement kettlebell
"The vinyl coating surprised me — I didn't think it would feel that sleek/great," one reviewer writes. "I'm used to iron kettlebells — but with this, it feels better to hold, better to grip, and all around feels good to work out with." And many reviewers agree that the vinyl coating adds an extra layer of comfort to these kettlebells. "Very comfortable to work out with," one writes, while another says, "Nice grip and coating." Some reviewers, who still give this five stars, warn that while the vinyl is comfortable, it does make the grip a little slippery. "Since they are vinyl coated you will likely want to use grip tape on the handle," one writes, while another suggests, "Gloves or hand wraps recommended when using it — as others have mentioned, it is harder to keep a good grasp when your hands get sweaty." But the vinyl coating also increases the durability of this kettlebell. As one reviewer attests, "I work out on hard floors and it's taken a beating and there's no scratches or dents whatsoever!"
Best two-hand grip kettlebell
Nearly 85 percent of reviewers give this kettlebell five stars and many note that it's easily gripped with two hands. "Handle is wide enough for two hands, and the diameter of the handle — how large it is in the hand — is a good size for even my small hands to comfortably grip," one writes. "The handle is also smooth, with no rough seams to chafe." Another says, "The handle is wide enough for both of my hands, and I can hold it without gloves." And though only the base is covered in vinyl, not the handle, that's an asset for some reviewers, like one who says, "I'm better able to grip the uncoated metal when my hands get sweaty." Another reviewer explains, "The coating on the base of the kettlebell keeps my hardwood floors scratch free when picking it up and setting it back down."
Best vinyl-coated kettlebell
Reviewers of this particular kettlebell love that the vinyl extends all the way to the handles. "The metal of most kettlebells can sometimes make your hands hurt so this vinyl-covered one is perfect," one reviewer explains. Another writes, "Don't like touching the metal ones, so I prefer a coated kettlebell." One reviewer says, "I like it as much as the one at my gym." Not only do reviewers like the vinyl for comfort, but at least one thinks it makes it durable: "The vinyl on the bell has held up nicely, no fading or puncture marks after a couple months."
Best color-coded vinyl kettlebell
The vinyl coating has a lot of fans among reviewers of this kettlebell. One reviewer who owns the AmazonBasics uncoated kettlebells says, "I've used it a couple times now and it is actually [nicer] than the basic bells that Amazon offers — the coating does actually make a difference and it makes the grip easier." Another user appreciates the coating because "it doesn't scratch or rust up next to my other bells." And many reviewers appreciate the rainbow of colors available, which are both stylish and functional. As one concludes, "I love how the different sizes are different colors."
Best compact cast-iron kettlebell
Fifteen pounds might be a solid amount of weight, but reviewers like the fact that this kettlebell holds all of that in a compact space. "It is small with a large handle that is easy to grip," one writes. For scale, the reviewer adds, "It is just slightly smaller than my 10-pound kettlebell, and next to my 20-pound kettlebell, it looks like a toy." Another says, "Love having a weight around that's not bulky or obtrusive in my house." One even likes it because it's "small enough to not hit my head." A clearly experienced reviewer even says this is better for a specific workout: "The overall size is smaller than if it were cement, so it's definitely better for doing between-the-leg and around-the-back moves." Dozens of other reviewers praise this for it's nonslip grip, like one who writes, "The grip is perfect, there's no slip, and it's just the perfect size for doing exercises, not worried if I might hit myself in the face or if I squat too low and hit the ground."
Best smooth cast-iron kettlebell
"Kinda hard to screw up kettlebells to be honest, but some of them do have crummy rubber grips that wear off and tear," one reviewer writes, but "not here. Straight kettlebell." Like this user, dozens of reviewers comment on the lack of rubber grip and praise this kettlebell's smooth finish. "I like the smooth finish on this kb," one writes. "It allows me to chalk up and not slip while not tearing up my hands." Another appreciates that the "handle was smooth and the entire thing is sturdy," while another writes, "Great kettlebell, weighting is even on both sides and the finish is smooth." One reviewer says, "I bought one and it turned out to be really good/sturdy great grip and power coating to keep it in great condition so I purchased 3 more for my home gym." Plus, according to one reviewer, the coating lasts as a protective barrier: "No nips, chips, burrs, indentations, chipped paint, or scratches!"