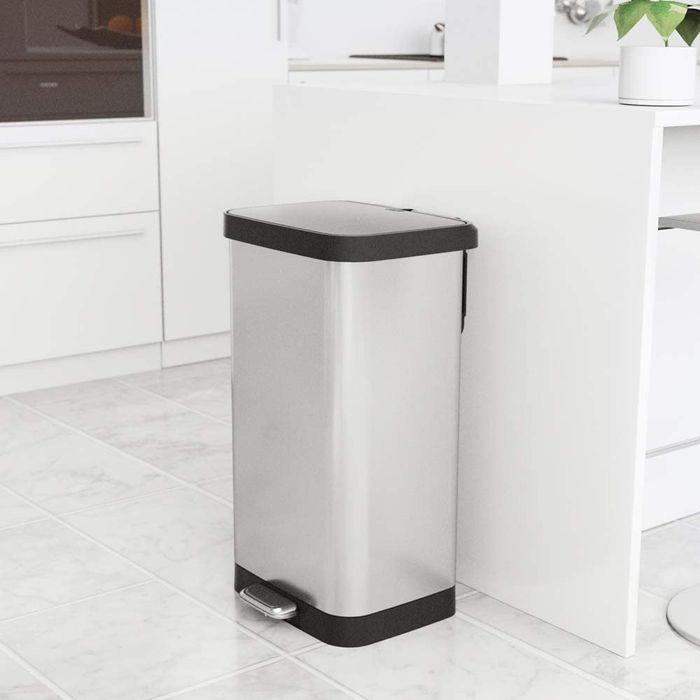 We've written about lots of trash cans before — including the overall best trash cans, stylish trash cans, and kitchen trash cans, according to chefs — here, we've rounded up the best kitchen trash cans, as praised by the most enthusiastic reviewers on Amazon.
Related Articles: Trash Can Deodorizer | Best Compost Bins
Best-rated kitchen trash can
Many pet owners buy this kitchen trash can specifically for its locking lid feature, which they say effectively keeps their dogs and cats from making a mess. "I have a Siberian Husky and an Australian Shepherd who are major DUMPSTER DIVERS," writes one reviewer who says this trash can handles whatever the dogs throw at it. "I came home yesterday to it being across the room with teeth marks in it and everything but still closed! My dogs ripped up the outside of the bag and couldn't get inside it no matter how hard they tried." Another satisfied customer shares that despite their initial skepticism that this trash can, "would stand up to [my dog's] appetite for destruction … The locking lids actually keep his fat little face out of there! I can't tell you how wonderful it is to know that I won't be coming home to garbage strewn about my home anymore."
Best-rated (less expensive) kitchen trash can
Reviewers know this isn't a fancy trash can, and they are perfectly fine with that. In fact, according to one reviewer, "Having nothing special is exactly what you want in a kitchen garbage can." What it does have is plenty of space for trash and an easy-to-open lid. "The top just balances in a little groove and swings freely, making it very easy to put things in," one says. Another calls it the perfect size: "No more sinking bag in a too-big trashcan." And while other reviewers agree it is a good size for a kitchen, one says it's still small enough to be "a perfect fit to use under the sink (without the lid) instead of those tiny trash bins." Lots of reviewers also call out the brand-name quality, including one who reports, "I had this same garbage can for 25 years, and I am just replacing it now."
Best round swing-lid kitchen trash can
One reviewer describes this trash can as "super stylish and super clean." Also: "super convenient." While many reviewers say they originally chose this can for its looks, they ended up being more pleased with its functionality. "The flap cleans nice and easy. Large capacity, round shaped, obviously it's bigger than my old 13 gallon. Who knew 3 more gallons would be so darn helpful?" Another appreciates that "the silver piece allows you to pull the bag tight underneath it from inside so the ugly bag is invisible." Plus, she notes, "the shape allows even the most stuffed bag to slide right out." Another reviewer likes the effectiveness of the swinging lid: "These are perfect for my busy kitchen," they say. "The swinging lid makes it virtually hands free while I've got my hands full and the middle piece keeps the garbage liner from slipping down and making a mess."
Best kitchen trash can with foot pedal
This sleek eight-gallon trash can is simple, and that's exactly what reviewers wanted: a non-fussy trash can with a foot pedal. According to one customer, "It's a perfect size, it's attractive, it keeps smells inside, and the lid closes slowly, and shuts with a whisper-quiet sound that is absolutely beautiful." Although her family thinks she's "crazy to love it so much," she says she is "50 years old, and only felt like a grownup the day this garbage can arrived." Another reviewer confirms that "this can is easy on the eyes as far as trash cans go and works great." Many reviewers think that the price is steep for a garbage can, but as one puts it, "In my mind, spending $50 on a trash can is like walking through the doorway into adulthood."
Best rectangular kitchen trash can with foot pedal
"I paid $175 for my Simple Human trash can, and this one is just as nice," writes one purchaser of this stainless-steel trash can. And though many note that this trash can might not have the cache of a Simple Human, they were happy to find the same design at a more budget-friendly price, and report being very satisfied with the quality. "I love the look and functionality of our Simple Human trash can, but couldn't justify spending $140 [on another]," shares one reviewer. They add that this trash can "gives me the look, the capacity and the functionality I wanted," and at a significantly lower price.