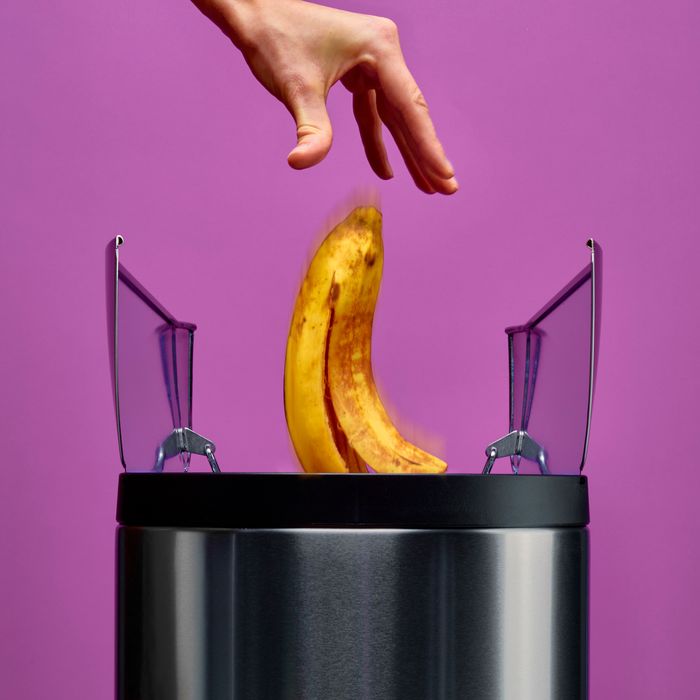 At best, a kitchen trash can is inconspicuous, relegated to a corner far away from countertop attractions like a shiny sparkling-water-maker or an extravagant espresso machine — although a particularly ingenious one might elicit some "ah"s. At worst, it's the kitchen accent you can't stop staring at, especially if it's big and bulky and reeks of last night's leftovers. But these days, "trash cans are not as ugly as they used to be," explains interior designer Jessica McCarthy, adding that there's been an effort to make them "somewhat attractive," as most of us have to leave them out in our kitchens. To find the best kitchen trash cans, we asked interior designers, recipe developers, professional organizers, and a few Strategist staffers for their favorites. Plus, we made sure to search through our archives for notable nice-looking ones. You can scroll down for the criteria we considered when putting together this list or skip ahead to the picks by clicking through the table of contents.
The capacity of a trash can is twofold: how much it can hold (the gallons or liters listed) and how much space it takes to do so (the overall dimensions). The standard gallon size is around 13, and you'll see that number on most trash-bag boxes. But you might need more than that if you cook a lot, while less is probably a better bet if you rely on takeout.
Even though most of us leave our trash cans out in the open, dimensions do affect the look of your kitchen. "If it's too big, its bulkiness will detract from the rest of your space, while adding unnecessary clutter," says professional organizer Caroline Solomon. In contrast, a small one could be out of proportion when placed next to a two-door fridge, while a tall trash can can't easily sit underneath the sink if you prefer to tuck it away. Accordingly, you'll see both the gallon size and general measurements (formatted in width by length by height) for each pick mentioned below.
In the trash-can-scape, functionality tends to triumph over form. That's why plastic is particularly popular. It's budget-friendly and easy enough to clean — and if you need a specific size, plastic trash cans generally come in odder ones (as opposed to the standard 13-gallon container), explains professional organizer Elsa Elbert of Composed Living. But while plastic trash cans do the rubbish-collecting part reasonably enough, they (usually) aren't the prettiest to look at. That's why several of our experts prefer durable stainless steel, which is just as utilitarian but offers an aesthetic and olfactory advantage — the material makes it more difficult for odors to linger, Elbert says. Solomon is another stainless-steel advocate, adding that "should any icky garbage spills appear, it's incredibly easy to wipe down." (Some even come with a smudgeproof finish.) On the design front, it's sleeker and more sophisticated compared to its plastic counterparts, adds Allison Dunn, founder of Neat Rules. Or you could opt for a plastic-coated metal trash can if you're in need of a pop of color, Solomon recommends, as these are rust-resistant and just need a swipe of soapy water to clean.
One-compartment trash cans are common. But a multi-compartment trash can might make more sense if you are short on floor space, Elbert mentions. Solomon agrees that a compartment for trash and another for recycling helps manage waste in one place. (Keep in mind: Your local municipality might have specific recycling regulations, including an extra bin for paper or plastic, she adds.) If you're more the composting type, an additional compartment could be used for scraps (instead of buying one of those mini-bins).
This has happened to me more than once: hands full of garlic and onion skins or browned banana peels and no way to open the trash can. Here's where lids and pedals make all the difference. A lift-top requires a free hand, while a step pedal can be operated by foot. If you go the swing-top route, it's all about the timing, while a thoroughly modern motion-sensor trash can is ready whenever you are. And then there's how it closes: Does it have an open top? Or an automatic soft-close lid? When open, a butterfly lid (usually used in multi-compartment designs) only takes up a few inches versus other cans that can pop up to almost a foot, Elbert explains.
This point is pretty self-explanatory, but allow me to complain for just a second: One of the pettiest injustices is that trash cans — cans for trash — can be expensive. So, based on what our experts recommended and what I've seen on the market, I ranked each as $, $$, or $$$, for under $100, under $200, and $200 and up, respectively.
Best overall kitchen trash can
Capacity and dimensions: 10.6 gallons, 10.4 by 23.3 by 26 inches | Material: Brushed stainless steel with recycled plastic inner buckets | Compartments: Two | Closure: Butterfly lid, step pedal | Price: $$$
Simplehuman was the brand that was mentioned most, with so much praise from designers, decorators, and organizers that it would seem wrong if it didn't take the top spot. This trash can wasn't the most popular pick — only Elbert pointed to it specifically, while Dunn prefers this super-similar can — but based on careful consideration of our criteria, it's our winner.
As far as stainless-steel trash cans go, this option leans toward the more affordable side and offers a fingerprint-resistant finish. What sets it apart, though, are the dual interior bins for trash and recyclables (or compostables), which are made from recycled plastic and are designed to be removed and cleaned easily. Other multi-compartment bins from the brand are pricier— take this Solomon-approved version that Taryn Williford, lifestyle director at Apartment Therapy, says "soothes both the aesthetic and functional parts of my brain." Its dual-compartment capacity might make you second-guess if it'll fit in your kitchen, but Elbert especially likes how well it works for smaller spaces because of its slimness. It can sit next to an island, tuck away into a space between cabinets, or hide underneath the sink. On the functional front, the butterfly-style lid is a standout feature. The lid doesn't need much clearance even inside a cabinet: "When the lid is open, it only takes up a few inches, versus some cans when the whole lid pops up, it's almost a foot tall," Elbert says. The silent lid eventually shuts on its own (or alternatively, stays open for however long you need with the help of a lock).The one downside is that while the capacity is around ten gallons, that actually means each side holds about five gallons. (You could use any trash bags for this, but Simplehuman does make its own liners.)
Best (less expensive) overall kitchen trash can
Capacity and dimensions: 18.5 gallons, 21.34 by 12.99 by 26.42 inches | Material: Stainless steel | Compartments: Two | Closure: Motion-sensored opening | Price: $$
For what you do get with this motion-activated trash can, it's a true bargain. (For context: McCarthy's favored voice- and motion-activated model is $225.) Solomon thinks so, too, especially if "easy trash-tossing" is a concern (looking at you, pro home cooks). Instead of a step pedal or a lift-top lid, the bin features a motion-sensor opening. (This requires three D-cell batteries to function.) There are separate "open" and "close" buttons on top of the lid (which also soft closes as you step away) if you'd rather use it more manually. Once open, it has the same dual-compartment structure as the Simplehuman can above. Comparatively, the Nine Stars holds more — with a total capacity of 18.5 gallons, or 9.25 gallons on each side — and comes with a removable ring liner to keep trash bags in place. But what kept it from taking gold is really down to its practicality. This is a trash can that's going to take up space — and in a way that recalls school cafeterias (see the magnetic labels, which are thankfully removable if you don't like the look). Although it can sit against a wall, it doesn't have a traditional rectangular shape that can fit in almost any size kitchen, Solomon explains. That'll make it more difficult to find a proper place for it.
Best-looking kitchen trash can
Capacity and dimensions: 9 gallons, 14.96 by 23.23 by 21.26 inches | Material: Steel with plastic interior buckets | Compartments: Two | Closure: Soft touch, hinged lid | Price: $$
Dutch brand Brabantia came second to Simplehuman in mentions with the Bo Touch especially praised for its easy-on-the-eyes appearance. Alessandra Wood, vice-president of style at Modsy, says, "It doesn't even look like a trash can," appearing more like a modern plant stand. Architect Ming Thompson also recommended it in our sister site's "Curbed Catalogue" series. "Elevated on slim legs, this Belgian black-steel container looks like it could be a vintage icebox or a mysterious piece of stereo equipment," Thompson says. It includes practical features too — there's a six-gallon trash side and a three-gallon bucket for recycling. You also just need to give the top a light touch to open it up.
Best step-pedal kitchen trash can
Capacity and dimensions: 8 gallons, 12.4 by 15.1 by 25.6 inches | Material: Steel with recycled-plastic interior bucket | Compartments: One | Closure: Silent close lid, step pedal | Price: $
Here, you'll find the same hands-free access as the two Simplehuman cans above in a much more space-saving design. The press-down pedal in particular has saved Sara Losonci, founder of Shelfie, from many potential messes, like when she recently repotted her plants and the can stayed open long enough for her to dump dirt in. The round-shaped lid is also an important feature: As most Manhattan apartments don't have garbage disposals and composting can get complicated, Losonci likes how the opening is wide enough to scrape a plate of scraps into. (Note that once opened, this lid requires more clearance than, say, the butterfly lid of our best overall pick.) The lid also ensures rubbish smells are covered up well enough, too.
Best-looking step-pedal kitchen trash can
Capacity and dimensions: 8 gallons, 15 by 11.54 by 26.7 inches | Material: Steel with plastic interior bucket | Compartments: One | Closure: Soft-close lid, step pedal | Price: $
This trash can received three votes from our experts and earned the Strategist seal of approval because I tried it out for myself. It's tall and slim, so the can creates "a design moment for trash" as "it's not trying to hide that it's a trash can" but still looks sleek, Wood says. Interior designer Liz Lipkin agrees, saying she'd "go so far as to call this one 'cute.'" Thompson described how she likes to use different colors (pine, cinnamon, watermelon) for trash and recycling, making the otherwise "mundane function" a little more spirited.
Since I previously tested the company's dish rack, I asked the company to send me the Newicon after hearing all these glowing reviews. I placed it in a lone kitchen corner. Unlike my old, short trash can, this one is high enough (at just over two feet) that I don't have to bend down to scrape off my plate and narrow enough to fit without the lid banging on the wall (that happened with my old trash can). All it takes to open is a tap of the pedal and the lid gently closes on its own with no loud bang. In the months since I received it, the can has been covered in egg whites, salad dressing, and rogue spaghetti. But you wouldn't know since it's still as perfect as the day it arrived. I need only to wipe it down with a washcloth after the worst accidents. (I requested it in pine green, which is slightly on the matte side, for reference.) The can also comes with a removable inner bucket, which is easy to take out before trash-collecting day. At just under $100, you really can't beat it.
Best slim kitchen trash can
Capacity and dimensions: 13 gallons, 16.8 by 13 by 26.4 inches | Material: Steel with plastic interior liner | Compartments: One | Closure: Step pedal, lid locks in place | Price: $$
For the title of "best slim," I considered the shape of the trash can above all — those with shallower, more rectangular shapes tend to be easier to scoot into a small space no matter their capacity. Kohler, which was founded more than a century ago in 1873, is known for its plumbing products. But Strategist kitchen-and-dining writer Emma Wartzman turned us on to the company's trash can. She bought it as a replacement for a "truly unremarkable and even a bit dinky" $40 wastebasket picked out by her boyfriend. Although the Kohler costs $100 more, Wartzman believes it was worth every penny. Capacity-wise, the can is nearly twice as large as the one she had before — especially useful for someone who frequently hosts and cooks, as she does — but its "rectangular shape means it can be up against the side of an island or counter and still look pretty sleek," she says. Wartzman also points out what she describes as its "liftable edge," which includes a raised liner and locking rim that "clicks back into place and locks down" so you don't see an overhanging trash bag. Wartzman warns that "you have to get the bag tight enough down the sides," but once you figure this out, "it's quite easy — and well worth the extra effort."
Best (less expensive) slim kitchen trash can
Capacity and dimensions: 11.8 gallons, 10.19 by 19.88 by 26.5 inches | Material: Stainless steel | Compartments: One | Closure: Step pedal, lid locks in place | Price: $
And as an alternative for under $60, consider this similar slim, pedal-operated model from Brightroom, recommended by Strategist associate editor Jenna Milliner-Waddell. There was really only one spot she could put the trash can in her studio apartment's kitchen — against a cabinet — and it's flat enough on all sides that she can put it flush against the wall, she says. And even after "two years of stomping" on the pedal, it hasn't failed her yet. It helps that it's reminiscent of sleek Simplehumans with a similar glossy, fingerprint-resistant finish. "If you want a large, relatively inexpensive stainless-steel trash can, this one won't give you anything you complain about," Milliner-Waddell says.
Best open-top kitchen trash can
Capacity and dimensions: 5.3 or 8 gallons, 7.5 by 16.1 by 14.6 inches or 7.5 by 16.1 by 21.3 inches | Material: Polypropylene (plastic) with steel hanger | Compartments: One | Closure: Open-top (lid sold separately) | Price: $
This trash can from Japanese housewares store Muji is the cheapest one on our list. It's probably the most minimally designed with only a silver interior hanger to hold bags in place. But that's the appeal: There's "nothing statement-y about them," says Strategist senior editor Simone Kitchens, adding that the shape sort of just disappears. She bought the bin initially for her retro-style, white-tiled kitchen in Los Angeles as it blended in better than stainless steel. Three years later, she keeps two of the cans in her kitchen to sort through garbage and recyclables. They're super-easy to wipe down either with a wet paper towel or a hose outside. And if you prefer it closed, the lid is sold separately.
Best lift-top kitchen trash can
Capacity and dimensions: 4 or 11 gallons, 12.63 by 13.38 inches or 20.13 by 16.13 inches | Material: Steel with powder coating | Compartments: One | Closure: Completely detachable lid | Price: $
The Ikea Knodd is the second-cheapest trash can on our list. The price tag is even better when you consider that it does the job just as well as other lift-tops we heard about, including a McCarthy-approved Brabantia bin and a Simplehuman option that's seven times as expensive. (The latter recommendation comes from Alexa Battista, a public-relations specialist who has worked for Wayfair.) Caroline Lange, a freelance recipe tester and food stylist, actually prefers smaller, under-five-gallon trash cans for day-to-day kitchen tasks. And for her, trash cans with removable lids are better than step-open ones for one simple reason: When kept lid-less during cooking, "I don't have to fuss with opening and closing every time I have to toss something in the trash," Lange says. The Knodd is a favorite because it's lightweight enough to move around, especially when taking out the trash or cleaning something that's spilled inside. (There are handles on each side of the can, too.) When lidded, the Knodd looks more like a storage bin than a traditional trash can, a big bonus in our books. And if you like the look but are set on a step pedal, Thompson suggests this similar (but pricier) House Doctor garbage bin that she describes as "Oscar the Grouch but make it design-y."
Best touch-top kitchen trash can
Capacity and dimensions: 16 gallons, 15.8 by 15.8 by 28 inches| Material: Stainless steel | Compartments: One | Closure: Touch-top lid | Price: $$
This Brabantia trash can's versatility makes it a favorite of Jessie Sheehan, author of Snackable Bakes. The front of the lid flips open with just one touch — or, if your hands are in a sticky situation, a tap of the elbow will do. You can even remove the top completely if you suspect there are going to be lots of scraps involved in your dinner-party prep. The angled top also "makes it easy not to spill on the sides of the can or the top itself," Sheehan explains, which in turn helps prevent smells. Sheehan says the bin's odor containment is so effective her pets don't loiter around the can anymore in hopes of catching morsels.
Best sliding kitchen trash can
Capacity and dimensions: 9.2 gallons, 9.8 by 17.7 by 19.1 inches | Material: Steel frame, plastic bins | Compartments: Two | Closure: Pullout | Price: $
If you believe a trash can is best when out of sight (and have the cabinet space to conceal one), consider this Simplehuman bin. Three experts — Elbert, Solomon, and Lisa Zaslow of Gotham Organizers — raved about it. Elbert even installed it in her last apartment, where it required "just four small screws to mount the frame in place, and then you pop the bins in." Solomon adds that the two-part pullout "holds much more trash than you might think." The black bin is a little bigger width-wise, which probably makes it better for waste rather than recyclables. Zaslow also praises the size of this bin, as it's "large enough so that you don't have to empty it every day and small enough to fit in most apartment trash chutes." (It also comes in a one-compartment version, if that's your preference.)
Best (less expensive) sliding kitchen trash can
Capacity and dimensions: 8 gallons, 10.38 by 15.74 by 19.5 inches | Material: Steel frame with plastic bucket | Compartments: One | Closure: Soft-close lid, Step pedal | Price: $
Those with even less cabinet space can turn to chef and Simply Julia author Julia Turshen's pick from the Container Store — the trash can holds around a gallon less than the Simplehuman above and has one compartment as opposed to two. It slides in and out easily "rather than needing to be picked up, pulled out, and put back into its hiding place," Turshen says. Plus it offers some self-reflection as "it's small, which means it fills quickly, which also means it forces you to consider how much waste you're producing."
Some more kitchen trash cans we've written about
• Alexa Battista, public-relations specialist
• Allison Dunn, founder of Neat Rules
• Elsa Elbert, founder of Composed Living
• Simone Kitchens, Strategist senior editor
• Caroline Lange, a freelance recipe tester and food stylist
• Liz Lipkin, interior designer
• Sara Losonci, founder of Shelfie
• Jessica McCarthy, interior designer
• Jenna Milliner-Waddell, Strategist associate editor
• Jessie Sheehan, author of Snackable Bakes
• Caroline Solomon, professional organizer
• Ming Thompson, architect
• Julia Turshen, chef and author of Simply Julia
• Emma Wartzman, Strategist kitchen-and-dining writer
• Taryn Williford, lifestyle director at Apartment Therapy
• Alessandra Wood, vice-president of style at Modsy
• Lisa Zaslow, owner of Gotham Organizers
The Strategist is designed to surface the most useful, expert recommendations for things to buy across the vast e-commerce landscape. Some of our latest conquests include the best women's jeans, rolling luggage, pillows for side sleepers, ultra-flattering pants, and bath towels. We update links when possible, but note that deals can expire and all prices are subject to change.
Every editorial product is independently selected. If you buy something through our links, New York may earn an affiliate commission.