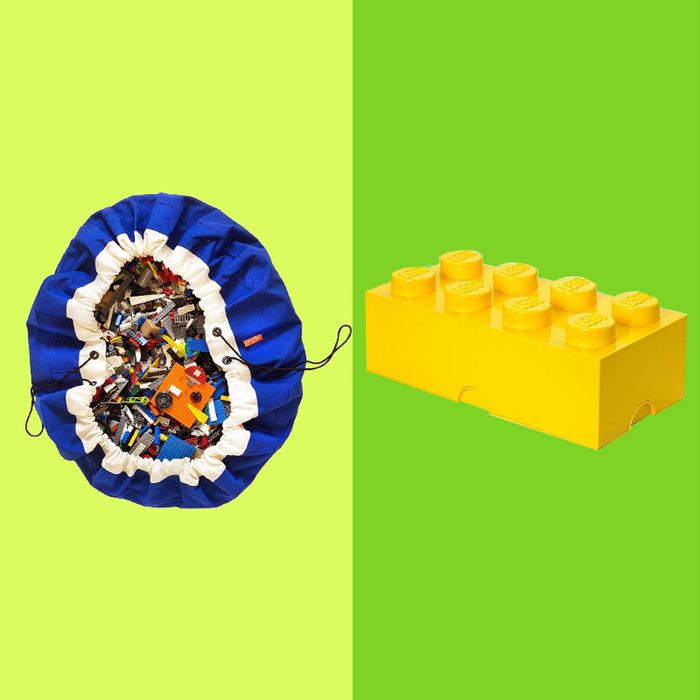 Photo-Illustration: The Strategist; Photos: Retailers
Both my 5- and 7-year-old are deep into a phase of LEGO obsession. The 7-year-old loves LEGO sets, enamored with meticulously following the instruction booklets required to assemble a 1,114-piece Friendship Tree House or the Madrigal family's house from Encanto, then proudly displaying her creations in a place she can show them off. My 5-year-old is averse to following instructions but is curious about the technical names of every LEGO brick, of which there are thousands, and partial to "extremely rare pieces." He keeps an inventory of his favorite bricks, and we've printed out and laminated this free 22-page "Part List" I found online, which serves as his LEGO bible.
The quickly compounding number of bricks and my kids' very different approaches to playing require a storage solution flexible enough to house in-progress sets, completed structures, prized bricks, and all the rest. We use a combination of box sizes from Ikea's Bygglek collection, which the company created in collaboration with LEGO. Each child gets a large box for storing builds in progress and a smaller box for LEGOs the other sibling can't pilfer. Then, we have several communal boxes, in which the rest of the bricks go, though those are very quickly filling up. All the different-size boxes are stackable, and the lids also act as large plates to build on. And though this approach is working for now, I started to wonder how other parents of LEGO fiends approach this storage challenge and at what point I needed to consider a more sophisticated system.
When you talk to parents of LEGO aficionados, storage is indeed a very hot topic. Limiting the number of sharp bricks underfoot is often motivation enough to keep them organized. "LEGOs become weapons of medieval-level torture when left on the floor. If you've ever stepped on one, you know," says Lexi Mainland, a writer and editor and mom of two based in the Hudson Valley and Brooklyn. There are also different philosophical views on organizational systems. Do you organize by color? By set? Piece type? Shove them all in one giant bag?
"We have always had them organized by color because that's how my brain works," says Randi Brookman Harris, an L.A.-based prop stylist and mom to an 11-year-old LEGO lover. "If you have a million LEGOs and they are all mixed together, dividing by color may not be the best use of your time. But if you're just starting out, I promise this will be a better use of energy and space for cleaning up and having your kid be able to find the pieces they are looking for." For those who have fewer LEGOs or who find the idea of sorting and organizing akin to swimming against the current, shoving the pieces all in one storage bin or giant bag is a perfectly valid approach.
Mainland has an additional pro tip for the LEGO overwhelmed: "If you have too many LEGOs to store, you can recycle them with your household plastic or donate them via LEGO Replay. Not that I've been secretly getting rid of half our LEGOs or anything …" But before you recycle, consider employing one of these many expert systems and tips to rein in your home's LEGO universe.
Storage by color or type
Mainland recommends Hay crates because they are "lightweight, recycled, stackable, nestable, and collapsible. We sort our pieces by color or type — Heads is a category of crate in our home — and it's handy to have an open container you don't have to dump out to use."
Architect and artist Yen Ha uses the SmartStore system and its customizable inserts to organize smaller LEGOs into the larger containers. "Also nice is the handled tray. You can put smaller, miscellaneous things in the tray and then easily lift out to access what's below," she says. "Plus I love transparent storage bins. So I can see what's inside without having to open anything."
A similarly modular and stackable system recommended for LEGOs, but also for any number of household items, is Ikea's Kuggis bins. Abby Clawson Low, a graphic designer and art director based in Dallas, says, "A few years ago, one of my sons wanted to organize the LEGO bricks by color, so I bought eight of the medium-size Kuggis bins for each color and stuck a round, colored sticker dot on the outside to indicate which color goes inside. We've had them for four years, and they still get used a lot. We use the large for finished LEGO creations and medium for LEGO sorting."
If you're storing your LEGOs under a credenza or couch — a great option for homes with more limited storage — Brookman Harris recommends using a series of lightweight fabric bins, like SortJoy's Wide Sculpted Bin, which can be brought up to a table or surface without scratching it: "I like a fabric bin because it is a common thing to shake the bin with your hands to turn over the LEGOs in search of a specific piece. Rigid bins won't churn as well if they have corners where pieces can get stuck!"
LEGO also makes a variety of playful storage options in the style of giant bricks, like this eight-stud storage drawer. "I like these because they are visually so cool-looking, and they are stackable and they add something colorful and unusual to the kids' area," says Clawson Low. "Who doesn't love an oversize object?" The storage bricks come in an array of vibrant colors and sizes, including this single-stud version and an option with drawers as well.
Single-container storage
"Call me crazy, but I don't believe in organizing LEGOs," says Tova Weinstock, a professional organizer who runs a business called Tidy Tova. Instead, she recommends the single-large-bin approach, using something like this sweater bin from the Container Store. "Since LEGO comes in very specific sets, build it — and then once it's time to dismantle, store the pieces with the rest of your LEGOs," Weinstock says. "Your children can rummage through the bin and build their own, creative pieces. That's what we did in the '90s!"
If you're more of the "sweep all the pieces into one big bag" type, Swoop Bags are an ingenious storage option for multipiece toys of all types. "These Swoop Bags are perfect for organizing dominoes, LEGOs, or other small toys. When you're ready to play, you just un-cinch the bag. When you're ready to clean up, you cinch it back up. I also love that they come in neutral colors and without cutesy patterns," says Mainland. "They're so sturdy, handsome, and easy to hang in a row on the wall or tuck away as needed," says Rion Nakaya, founder of The Kid Should See This.
Multiple experts recommended Gorilla Tubs (formerly known as Tubtrugs): flexible tubs made of durable, rubberized plastic that come in an array of colors and sizes. They're useful not just for LEGOs but also as an all-around, versatile storage bin. "I've used the same ten ten-gallon Tubtrugs for over a dozen years now," says Nakaya. "Tubtrugs work for everything: Stuffed animals, scarves, gloves, socks and shoes, costumes, LEGOs, random toys, gardening tools — whatever! Their range of colors makes it easy to be decorative, and just generally it's always been easy for everyone to put things away in buckets."
Tables and trays
When it's time to take the bricks out, having a designated LEGO-making space (if real estate allows) and dedicated trays can be helpful during building. "Our LEGO table has been a clutter lifesaver," says Nakaya. "It's an old Ikea Ramvik coffee table that we bought in 2007" — and it's now discontinued, but Crate & Barrel makes a similar one. "It has two massive drawers and space underneath that fits two LEGO baseplates. I've put decorative papers under the top, but I've also had the kids draw on butcher paper for imaginative play — city roads, maps, scenes, etc. And if we need to clean the top, we can wipe all the pieces into the drawers," she says.
KidKraft makes a toddler-size table with built-in storage and a reversible top. On one side, baseplates interchangeably accommodate standard LEGOs, Duplos, or Mega Bloks, and the other side is a versatile wood surface for drawing or any non-LEGO play.
Photo: Courtesy of the Vendor
If you're building on the dining table, or somewhere you'll have to move your pieces so the family can eat dinner together, Mainland recommends using Falcon enamelware trays, which come in various sizes and nest together and allow you to dump kit pieces out, then move trays as needed.
These puzzle-piece sorting trays also allow kids to set aside key pieces as they work through a build. "They're deep enough to stack when there are LEGO pieces in them. So you can have a LEGO under way with different elements of it sorted out, like one plastic bag dumped out per tray, and stack it away," says Mainland.
The Strategist is designed to surface the most useful, expert recommendations for things to buy across the vast e-commerce landscape. Some of our latest conquests include the best acne treatments, rolling luggage, pillows for side sleepers, natural anxiety remedies, and bath towels. We update links when possible, but note that deals can expire and all prices are subject to change.