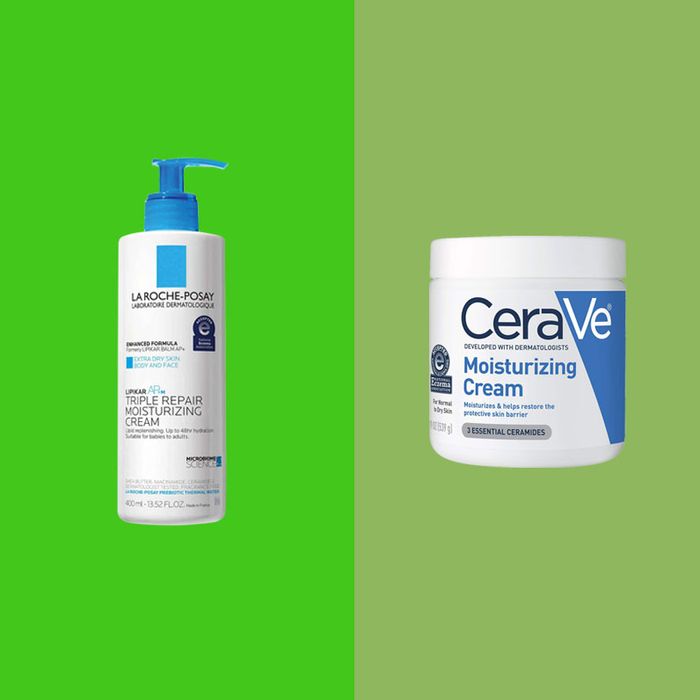 Moisturizing is key to maintaining healthy skin. Though dry skin may be more of a risk in colder temps, really, you should be moisturizing daily, and all year round. If you don't, the result can be rough, scaly patches that can be a pain to get rid of. "You want to avoid what we call 'alligator skin,'" says dermatologist Dr. Sapna Palep, the founder of Spring Street Dermatology in New York City. "Once it starts cracking like that, that's when eczema starts happening, that's when rashes start happening, then just using moisturizer isn't going to cut it, so you've got to take all the preventive measures." Below, our panel of dermatologists shares their favorite body lotions for all types of dry skin, from the sensitive to the irritated and inflamed.
Best overall | Best lightweight lotion for dry skin | Best for extremely dry skin | Best less expensive for extremely dry skin | Best for dry, sensitive skin | Best for eczema | Best for inflamed dry skin | Best less expensive for inflamed dry skin | Best for mature skin | Best exfoliating | Best for keratosis pilaris | Best with SPF | Best in-shower | Best clean | Best for the whole family
Ingredients: Generally, you'll want to find a body lotion with a humectant like glycerin or hyaluronic acid to draw moisture in and a protectant like petroleum to keep it there, according to dermatologist Dr. Jennifer MacGregor of Union Square Laser Dermatology. MacGregor and Boston-based dermatologist Dr. Ranella Hirsch say to check for ingredients like ceramides and colloidal oatmeal to restore a damaged, dehydrated skin barrier, i.e., the outermost layer.
Price: Body lotions tend to be on the more affordable side (most options are under $30), but in case you want to get the best bang for your buck, we've broken down the cost per ounce so you can decide what works best for your budget.
Best overall body lotion for dry skin
Ceramides, hyaluronic acid | 19 ounces (Approx. $1/ounce)
This lotion comes recommended by almost every dermatologist we talked to as an effective, all-around hydrating treatment for dry skin. It's a dependable staple for dermatologists, Dr. Debra Jaliman says. The formula has both ceramides and hyaluronic acid, notes dermatologist Dr. Shari Marchbein. New York–based dermatologist Dr. Melissa K. Levin, the founder of Entière Dermatology, calls hyaluronic acid "an incredibly effective humectant." The CeraVe cream's thick texture feels cool to the touch, immediately soothing irritated skin upon application, according to Levin. Hirsch appreciates the "soothing, creamy texture" of the moisturizer.
To get the best results, Marchbein suggests applying a liberal amount (which seems reasonable at $18 a bottle) within 60 seconds of getting out of the shower because that's when your pores will be slightly open, allowing your skin to easily absorb the cream's moisture.
Best lightweight lotion for dry skin
Ceramides, hyaluronic acid | 12 ounces (Approx. $1.30/ounce)
For a lightweight option when your skin doesn't need quite as much TLC (say, in the summer), Dr. Hope Mitchell, founder of Mitchell Dermatology in Perrysburg, Ohio, likes CeraVe's lightweight moisturizing lotion, which has similar ingredients, like hyaluronic acid and ceramides, but isn't quite as thick.
Best body lotion for extremely dry skin