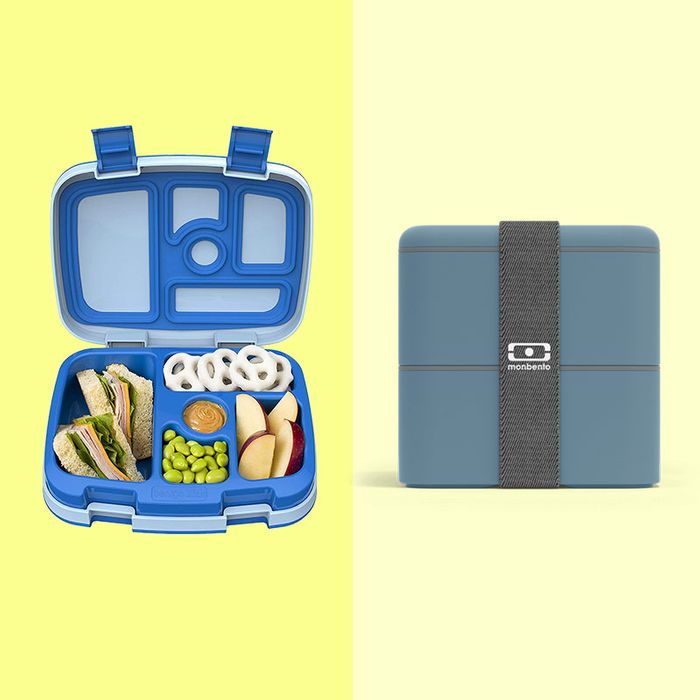 Photo-Illustration: retailers
Another school year will soon be upon us, and parents everywhere are scrambling to get it all done before the first day — including making sure that summer reading is done and school supplies are bought. After last year's Zoom classes, many kids will be back in actual classrooms again. Granted, that classroom probably looks a little different now with mandatory masks, spaced-out chairs, and maybe even a rule that says snacks can't be shared. The cafeteria might have a much smaller menu to choose from, too, so you could be packing lunches more often. It's important to note that lunch guidelines will differ from school to school — some may require that packed lunches be completely disposable, for instance — and this guidance can change as schools adjust accordingly.
But if you're in need of a lunch box that isn't the usual brown paper bag, we talked to teachers, parents, and nutritionists about the best lunch box boxes and containers for preschoolers, elementary-schoolers, and middle-schoolers. These items, they say, might make packing lunch this fall a little easier (especially if you haven't had your morning coffee). Below, they share their favorite dishwasher-friendly lunch boxes, easy-to-open containers, and sturdy thermoses that are best for kids of every age — along with some disposable options and tips for how to make school lunch more streamlined and sanitary during an even more challenging back-to-school season. And while we've broken the lunch boxes and gear down into three age groups here, most of the items here can be used by kids of any age (and adults, for that matter — the below bento boxes are pretty adorable after all).
Best overall lunch box: bento-style lunch box
More than half of the experts we spoke to recommended a bento-style lunch box. These boxes, which can come in a variety of materials, including stainless steel and plastic, allow parents and kids to separate their meal into a variety of smaller portions. For board-certified pediatric dentist Danielle Lombardi, kids should be involved in the process of putting their lunch together — that might make them more eager to eat their veggies — and bento-style boxes are "most conducive to packing a healthy lunch" since you can add options for just one meal. An offer they won't be able to refuse. That's an opinion shared by Kristin Brady, director of Cobble Hill Playschool: "I think the magic lies in the various different compartments — children love to make their own choices. Even if parents choose the contents, children get to choose the order [in which they eat the foods]. Some of our parents even report letting their children pick the contents for one compartment while they pick the others — this way, packing lunch can be something that happens with children rather than just for children." Brady also mentions that, by far, this is the most popular style of lunch box at her school. And yes, Brady even uses a bento-style lunch box herself. 
At the very top of our list has to be PlanetBox's bento-style box. PlanetBox was the brand we heard about again and again, for kids of all ages. "PlanetBoxes are stainless steel, so better for the environment, and they come in three sizes so you can pick one based on a child's size, age, or appetite," says childhood nutrition and feeding expert Jill Castle. Nutritionist and mom of three Lauren Antonucci likes PlanetBox's lunch boxes because they make a healthy lunch look more appealing. "You can make it look really fun to eat fruits and vegetables by putting different colors of fruits and vegetables in different little spots," she says. And while the price may seem a little high for a lunch box, the nutritionists and parents we spoke to found that the container was versatile and enduring enough to be used over many years. Stacie Billis and Meghan Splawn, co-hosts of the family-focused food podcast Didn't I Just Feed You, are fans, and so are their kids, one of whom has been taking this to school "ever since he was in kindergarten," Splawn says. She uses them with her own kids, as well. Both thought that the PlanetBox would likely work well for lunches eaten in these strange times: "It's especially easy to clean — no nooks and crannies and all parts can easily go into the dishwasher where they can be sanitized," they told us.
[Editor's note: This lunch box is currently sold out, but you can sign up on the product page to get an email notification when it's back in stock. You can also find it on Amazon in two different prints, but keep in mind they're currently on back order and also pricier than buying directly from PlanetBox.]
Best lunch boxes and gear for preschoolers and kindergartners
For children in preschool and kindergarten, a smaller lunch box is a better bet, and according to Nicole Silber, pediatric nutritionist with FoodieKid, Planet Box's Shuttle Lunch Box is a good option because it allows kids to see all of their food choices at once, but with only two compartments (as opposed to the more typical five) and a small dipping cup, the options remain fairly simple. "This is a great way to offer variety without overwhelming" Silber explains. On the cleaning front: "It can be easily sanitized in the dishwasher when brought home," she says.
[Editor's note: This lunch box is currently on back order, but Amazon says it should ship out within two to four weeks.]
Billis and Splawn pointed out that PlanetBox's carrying bags and sleeves are not machine washable, which might make them something of a headache these days. Instead, they suggest trying one of PlanetBox's Light Wraps, which can be thrown in the wash and will still keep the metal container flat and secure. The wraps get extra credit for their adorable prints, which will probably be the envy of the classroom.
This lunch box gets a gold star from Jessica Garza, a kindergarten teacher in Katy, Texas, who runs the blog the Primary Parade. She uses it to pack snacks for her 4-year-old preschooler. Garza praises how easy it is for kids to open and close on their own, which is especially important now with COVID "as well as with fine motor-skill development." Plus, Garza says the outside cover comes apart and cleans up easily — for more time reading bedtime stories and less time spent standing at your sink.