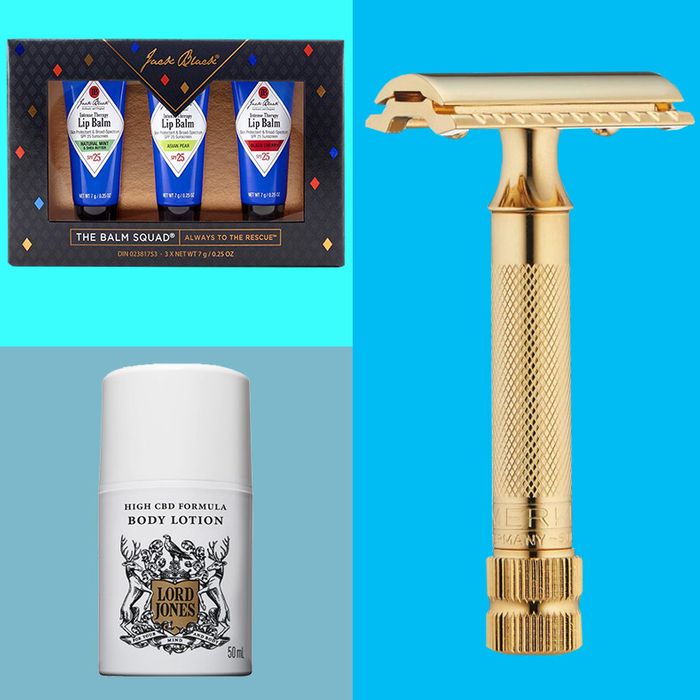 Photo: Courtesy of the vendors
In the last five years, we've seen more skin-care, shaving, and beauty products specifically designed for men and male-identifying people than ever before. Where guys were once relegated to choosing from a few different kinds of shaving cream, moisturizer, and Chapstick from whatever handful of big brands their local pharmacy carried, they now have seemingly limitless options. But more choices likely pose a unique challenge: It can be easy to feel a little bit overwhelmed about what to buy. As this time of year is always a good one to refresh the man in your life's Dopp kit, we've gone ahead and combed our entire archive of grooming content to find the best gifts to keep your favorite guy (or guys) looking clean, healthy, and handsome in the year to come.
If his Dopp kit is a decade old
If he brushes after every meal, snack, and cup of coffee
If he has sore muscles
If he's prone to razor bumps
If he's in need of a glow up
If he's a total beginner
If he doesn't quite know what he wants
If he's stressed and so is his skin
If he's always borrowing your lip balm
If he participates in Movember 365 days a year
Mustachio'd men will appreciate this duo of mustache wax and precision scissors. The wax came to us from our panel of master barbers and mustache experts and the scissors come cosigned by Notis, who included them in his list of everything he uses to keep his beard in check.
If he's moving on from Santal 33
If he hates flossing
If he hates shampooing
If he needs to calm down his hair
If he's working on his waves
If he's worried about flakey skin
If he's worried about wrinkles
If he likes to buy in bulk
If he hates putting on body lotion
If he's a Coney Island beard-competition hopeful