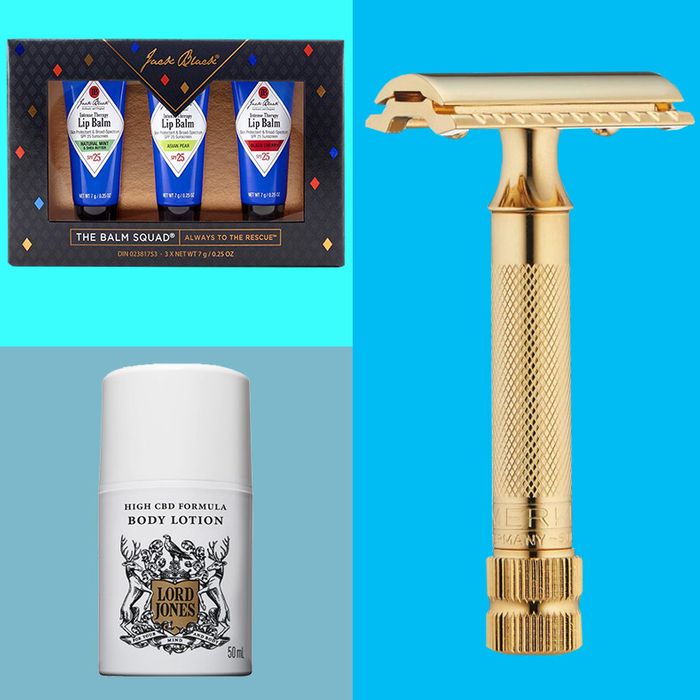 Photo: Courtesy of the vendors
In the last five years, we've seen more skin-care, shaving, and beauty products specifically designed for men and male-identifying people than ever before. Where guys were once relegated to choosing from a few different kinds of shaving cream, moisturizer, and Chapstick from whatever handful of big brands their local pharmacy carried, they now have seemingly limitless options. But more choices likely pose a unique challenge: It can be easy to feel a little bit overwhelmed about what to buy. As this time of year is always a good one to refresh the man in your life's Dopp kit, we've gone ahead and combed our entire archive of grooming content to find the best gifts to keep your favorite guy (or guys) looking clean, healthy, and handsome in the year to come.
If his Dopp kit is a decade old
Away's Dopp kit is a non-fussy, functional upgrade to his old toiletry bag that came recommended to us by grooming entrepreneur Bryant Knight because of its sleek design and attention to detail. Two side pockets keep things like toothbrushes or condoms away from razors, the side strap makes it easy to carry and hang up, plus the whole thing is water-resistant and easy to clean.
If he brushes after every meal, snack, and cup of coffee
Photo: Reid, Hilary
Quip's electric toothbrush starter kit is a perfect not-too-expensive gift for the man who keeps toothpaste in his desk drawer.
If he has sore muscles
Of all the CBD grooming products out there (trust us, there are a lot), Lord Jones is among the few we'd actually want to receive as a gift. This body lotion is a favorite among celebrities with sore shoulders and Strategist writer Lori Keong, who says it saved her from constant foot pain.
If he's prone to razor bumps
Grooming sets always feel a little bit special, and this one from The Art of Shaving has some serious spa vibes with the added bonus of solving a very real facial-hair problem. The exfoliating brush and pre-shave gel will help him get a closer, more comfortable shave with less irritation and bumps.
If he's in need of a glow up
Writer and stylist Alexander Julian uses this deeply moisturizing mask any time he has to go to an event or get in front of a camera. Give this to any man who loves a quick fix as much as he loves getting compliments.
If he's a total beginner
The Strategist's resident skin-care obsessive, Buzz Bissinger, tried West Skincare's entire line of products and found a lot to like. According to him, this three-piece set is an ideal starter pack for men who are easily overwhelmed by fancy skin-care products.
If he doesn't quite know what he wants
This is not your average gift card. Based on a 21 question quiz, Hawthorne customizes sets of up to six grooming products which will run you between $34 and $150, depending on how many products you get. Writer David Notis tested and loved Hawthorne's customizable grooming kit and was especially impressed by the colognes they chose for him.
If he's stressed and so is his skin
Whether you're throwing them into his stocking or buying a bunch to wrap up, sheet masks make great gifts. They're fun to use, virtually idiotproof, and create a spalike experience whenever you want at home or on a plane. This one combines cooling properties with charcoal to refine his pores and help him relax.
If he's always borrowing your lip balm
For several years now, Jack Black has put out this genius holiday set of three lip balms — one for the car, one for his office drawer, and one for his jacket pocket — in a variety of flavors. The shea butter in these makes them go on smooth, not waxy, and the SPF 25 protects the delicate skin of his lips from harmful UV rays, which are still a factor in the winter.
If he participates in Movember 365 days a year