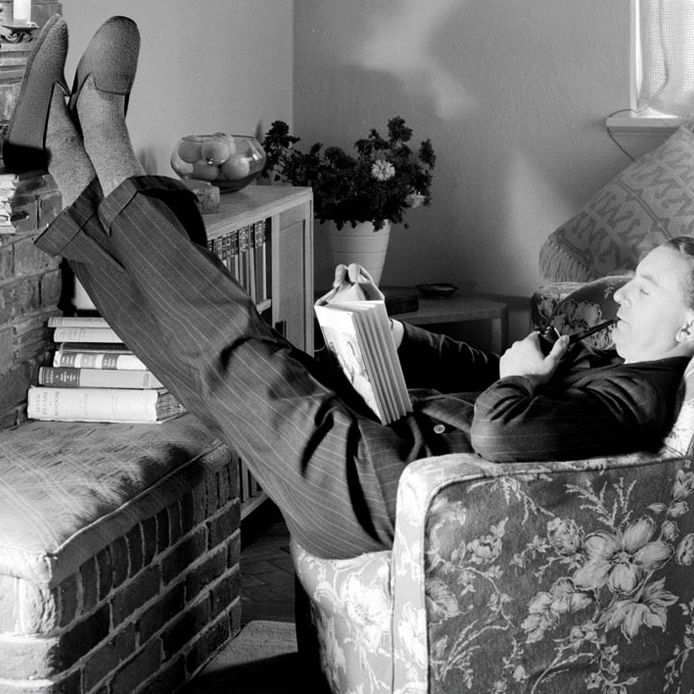 Photo: Courtesy of Getty.
Here at the Strategist, we like to think of ourselves as crazy (in the good way) about the stuff we buy, but as much as we'd like to, we can't try everything. Which is why we have People's Choice, in which we find the best-reviewed products and single out the most convincing ones. (You can learn more about our rating system and how we pick each item here.)
And while we've written about lots of clothes to wear at home before — including the best wool slippers, the best slippers for women on Amazon, the best stylish slippers, and loungewear for men and women — here, we've rounded up the best men's slippers, as praised by the most enthusiastic reviewers on Amazon.
Best-rated men's slippers
Nearly 4,000 reviewers call these RockDove slippers "comfortable," thanks to the memory-foam cushioning and cotton lining. One customer describes them as "light" and "breathable," which is a nice break from other slippers that make his feet "feel like they're in an oven" after wearing them for long periods of time. He warns that, because the sole is made from rubber, they're a bit noisy, so you can't stealthily walk around your house, but it's not really a deal-breaker for him. And another customer actually sees the rubber sole as a plus. "They have a decent grip, and I don't worry about wearing them into the basement or stepping outside the front door," says one customer who is "often tempted to buy high-end products" but was so entranced by the look of the RockDove's that he went for these. Plus, these can even be put into the washing machine if they get dirty, which he sees as a major plus, especially after wearing them outside.
Best-rated (less expensive) slippers
"I've been dreaming of slippers for years for in-the-house use but just have been getting through winters with flip-flops, thick socks, or some type of easy-to-slip-on shoe that I have," writes one customer. Apparently, it never occurred to him how easy it is to order off Amazon until recently, when he bought these. And another customer was "very tempted to spend $110 on UGG Ascot slippers that look very similar," but decided to go the cheaper route "because, after all, they are house slippers." He has no regrets, and he describes these AmazonBasics slippers as "very comfortable, with a soft suede exterior." Dozens of customers complain there is "no arch support," but, "if that becomes an issue, you can probably just add a gel insole."
Best memory-foam slippers
"I absolutely love these house slippers. They are nice and comfy and have the added benefit of moisture wicking fabric on the inside," one reviewer writes. Later in the review, they add that these "absolutely live up to the expectation and are a wonderful addition to Sunday morning relaxation clothing." Many bought these for the memory-foam lining, which one purchaser says make it "feel like you're walking on clouds, what else can you ask for?" Another writes that the memory foam feels so good "sometimes I forget I have them on."
Best memory-foam clog slippers
These clog-style slippers have a leather outer, a rubber sole, and a memory-foam lining. Reviewers love that they're comfortable enough to wear inside the house but also durable enough for quick errands outdoors. As one puts it, the "hard rubber sole [gives you] freedom to easily go from sitting on the couch to taking a small walk outside." But most importantly, they're just comfortable. One five-star reviewer writes, "I look forward to the end of my day when I can kick off my boots and slip my feet into my Tamaracs." He goes on to say that he likes them so much, he wants to wear them around town. "Should I worry about what people will think when they see I am wearing slippers? Well, who cares what a fat, bearded old man is wearing anyhow — let them think I am eccentric. At least my feet will love me because they will be comfortable."
Best fleece-lined slippers
According to one reviewer, these fleece-lined moccasin-style slippers from Minnetonka "come with a warm, fuzzy feeling that you get deep down in your soul. That happy feeling you will never lose when walking around in these mocs." It's clear from reading over the reviews just how loyal many customers are to the brand. "I love Minnetonka slippers and won't ever buy anything else," says one customer. "Minnetonka makes the best mocs," writes another. As for these particular slippers, the hardsole is a big hit because it's durable and allows the slippers to be worn outside. But most report enjoying these most for staying cozy indoors. "The fleece lining keeps your feet toasty warm. I know I'll be ordering another pair when (if) these ever wear out."
Best sheepskin loafer slippers
Available in 16 suede and leather color options, the loafer-style Ascot slipper is UGG's most popular model for men on Amazon. One reviewer who reports wearing and loving a pair for eight years attempts to describe them abstractly: "They are like an old best friend and a childhood pet rolled into one well-crafted piece of footwear." Another says that the stylish looks and genuine shearling lining on these are "well worth the splurge … They look so nice, I'm tempted to wear them in public (but won't)." One purchaser shares what they call a "pro-tip," writing: "They fit tight at first, very tight. Order your true size and in a week you'll be in love."
Best sheepskin scuff slippers