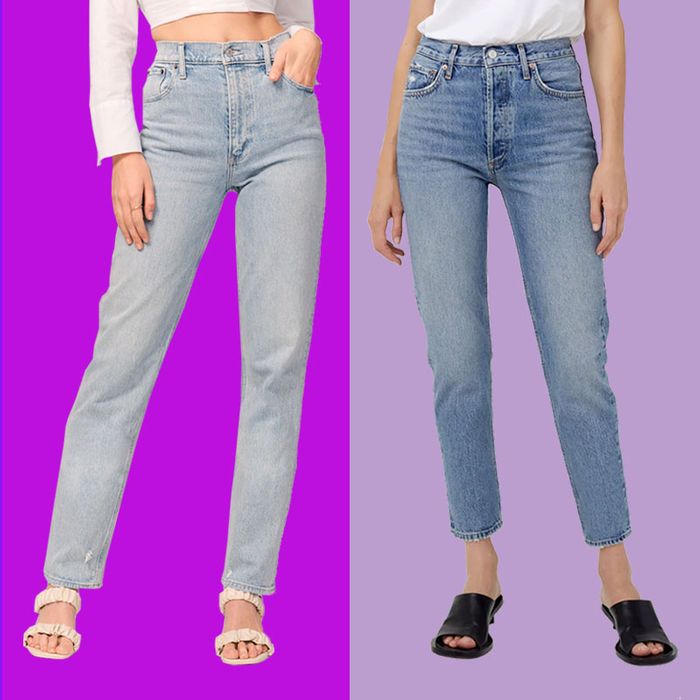 Photo-Illustration: Courtesy of the retailer.
Once a "disgrace to denim," mom jeans are now as accepted as the boyfriend or bootcut. Reputation aside, these jeans were ahead of their time — most denim brands (yes, even Mother) now have their own rendition. "The overall look is much more sculpted than the ones of the '80s," says stylist Jessica Cadmus. What has stayed the same, though, is the blueprint: high-waisted, often lighter wash, and a looser leg. There are all sorts of iterations of mom jeans at the moment, which makes finding a pair that actually harkens back to your mom much harder. (I've been on the jeans beat lately, and I can't tell you how many times I've heard folks reminisce about pairs their mothers wore — and measure new contenders against them.) To get as close to the original as possible, we asked more than a dozen denim enthusiasts about their most cherished mom jeans. Read on for their recommendations, including a pair that made one Strategist staffer have a "Sisterhood of the Traveling Pants moment."
Best overall | Best less expensive | Best extra-high | Best rigid | Best for tall women | Best for petites | Best for plus sizes
Sizing: We prioritized jeans with a wider selection of sizes, giving special consideration to brands offering different inseams for petite and tall women.
High-rise: This is a mom-jean must; it's probably even what gave mom jeans their (unfair) reputation for being unflattering. But mom jeans should be high — you want the rise to reach somewhere higher than the belly button, according to Cadmus. Most high-waisted jeans are above 10 inches (this number is, again, specific to one size, but many brands will list the rises of different sizes when you expand their dimension sections). The lowest rise you'll see on this list is only a little under 11 inches.
Leg style: A true straight leg is what makes a mom jean a mom jean. The leg is neither tight nor too relaxed, explains style coach Kim Hancher. Cadmus seconds this, saying that something more tapered is traditional. And on the subject of length: If you're going classic, a mom jean, according to Hancher, is "just shy of full length" to show off your tennis shoes, the footwear of choice back in the day.
Wash: There are two schools of thought on the proper shade for mom jeans. Historically, Cadmus tells us, the jeans will be in a light wash without any sort of treatment (so no distressing or fading). But, on the other side, the market is saturated with washes that are not "too light and definitely not dark," Hancher says. Whatever your preference, we described each of the recommendations below as either light or medium and noted when the jeans come in both colors.
Best overall mom jean
Sizes 23–34 | 11.5-inch rise | Cropped leg | Light and medium washes
To crown the very best of the best, we had no choice but to go with the pair favored by a self-professed mom-jean fanatic. Filmmaker Stella Blackmon only owns mom jeans, some even going into "borderline unflattering" territory — the Rileys are decidedly not, with a "silhouette that's slimmer than traditional mom-jean styles." These also feature a higher-than-average rise for longer-looking legs and a button fly that's "like an ode to the jeans my mom loved when I was growing up." And while the stiffer, thicker, non-stretch denim allows them to keep their shape throughout the day, Blackmon makes sure she chooses a size that lets her tuck a tee (any less and these would be difficult to sit in). Because they have also appeared all over our archives, recently taking the title of "best cropped jeans" in our giant jeans guide, making the Rileys our best overall pick was an easy call.
Agolde also happens to be the most-mentioned brand we heard about here. Stylist Piper Gore, who started her career in the denim industry, considers the Jamies among her tried-and-trues. Chelsea Portner, a project manager at BuzzFeed, prefers the Lanas — which, "as a lanky girl with hips and no butt," work really well on her frame. And Hancher likes the Pinch-Waist style for its fuller cut through the thighs.