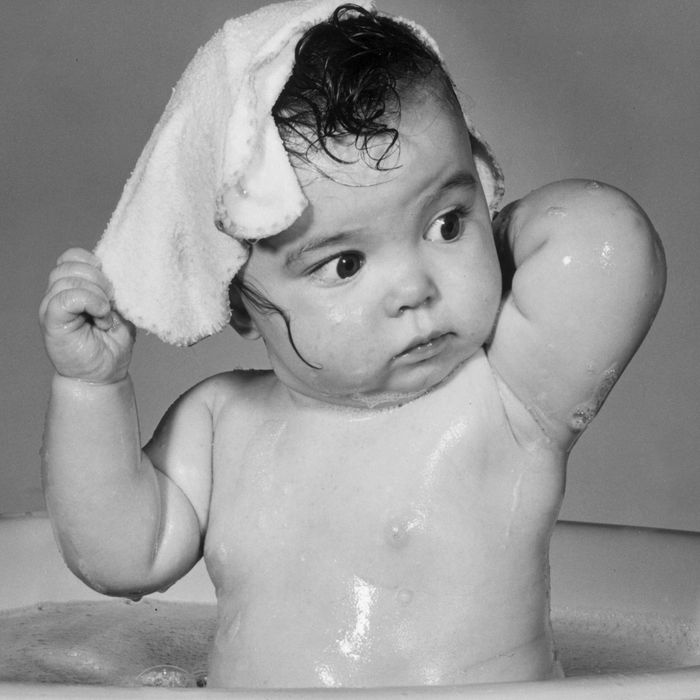 Photo: Lambert/Getty Images
Giving a tiny, squirmy newborn a bath for the first time can be nerve-racking, but having the right gear, like a dedicated baby bathtub, helps. Using the right kind of soap matters, too. While there are plenty of baby-safe soaps out there, knowing which ingredients to look for — and which to avoid — can be confusing. "Cleansers don't need to be harsh to effectively clean," says Dr. Rachel Nazarian, a dermatologist with the Schweiger Dermatology Group in Manhattan. In terms of ingredients, she says it's more important to know what to avoid rather than what to look for. "Avoid parabens, fragrance, alcohol, and formaldehyde," she advises, because they can irritate a baby's skin. When it comes to good ingredients, Nazarian says that "many of the safe options include ceramides, aloe, shea butter, coconut oil, and oat, which are all calming and soothing to delicate baby's skin." To help you navigate the (virtual) baby soap aisle, we spoke to Nazarian and five other experts — including dermatologists and editors in the parenting space — about their favorite soaps, all of which can be used as a shampoo and a body wash.
Best overall baby shampoo and body wash
Dr. Nava Greenfield of Schweiger Dermatology Group agrees that it's best to avoid soaps with ingredients that may be too harsh for a baby's skin, like formaldehyde or propylene glycol, because of their potential to cause allergic reactions or rashes. She also suggests looking for products that are free of fragrance, or have a very mild one. Her choice, as a dermatologist and a mother of four, is the two-in-one shampoo and body wash from the Honest Company, which is available in three naturally derived scents, including lavender, sweet orange vanilla, and sweet almond. "They are gentle and have a subtle scent," she says. "They also have aloe and glycerin, which makes them hydrating and nourishing while also cleansing." Jessica Hartshorn, who covers the baby market at Parents magazine, also recommends the Honest Company's baby wash, as does Nazarian. The tear-free, hypoallergenic product is made without phthalates, parabens, dyes, or formaldehyde donors, and isn't just for babies — it's a great option for the entire family, according to Nazarian.
Best certified-organic baby shampoo and body wash
While "natural" products may be the best way to go when it comes to baby soaps, Hartshorn cautions against going the DIY or essential-oils route. "The truth is, an essential oil is way too powerful for a baby's skin," she says. "In fact, babies absorb so much so fast to their skin that is so new that all-natural ingredients can be too harsh," she says. "You need something that is formulated for a baby's skin. California Baby is my favorite." Made with organic and sustainably grown plant-based ingredients in a solar-powered, FDA-registered, certified-organic facility in Los Angeles, California Baby's sulfate-free, two-in-one shampoo and body wash is gentle on the skin, and also comes recommended by Jennifer LaBracio, a gear editor at Babylist, who calls it her personal favorite. LaBracio adds that all of California Baby's products are independently tested and certified by the USDA. "They clean really well, but they're not abrasive," she says. "I've used them from the time my son was little until now — he's 5. It does a great job on both hair and body, and a little goes a long way." The product is available in different formulations, from super-sensitive (which contains no fragrance) to calming (which contains lavender and clary sage essential oils in diluted, safe-to-use doses).
Best 99.95 percent natural baby shampoo and body wash
Puracy's natural baby shampoo and body wash is a favorite among Babylist users, according to LaBracio. Formulated with naturally derived plant-based ingredients (Puracy claims that it's 99.95 percent natural), the hypoallergenic, toxin-free two-in-one is tear-free, biodegradable, vegan, gluten-free, and great for sensitive skin. It also contains sea salt, which is supposed to hydrate and balance a baby's skin. Storq founder Courtney Klein also recommended Puracy in the essential baby-gear guide she wrote for the Strategist. "Figuring out how to bathe a tiny baby can be stressful at first," Klein said, "so it helps to have a dedicated no-tears baby soap that's free of additives and chemicals." (This writer also uses it on her 11-month-old son.)
Best drugstore baby shampoo and body wash