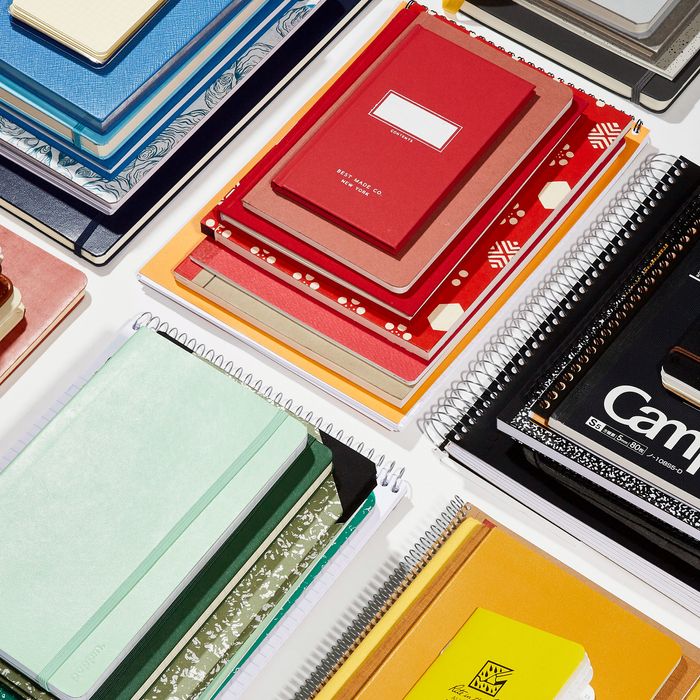 Photo: Stella Blackmon/New York Magazine
Hardcover or soft? Leather or cloth? Spiral-bound or sewn? Are the pages gridded? Are they a comfortable writing size? Do they tear out easily? Whether you use your notebook mainly for jotting, reporting, journaling, list-making — or some Beautiful Mind–esque combination of all of the above — the details really matter. And there are so many to consider. Finding the best options can be an obsessive quest — and thus one we couldn't resist.
In the same way we went about ranking 100 pens, we started by digging through our own archive of notebook coverage, consulted dozens of experts, and gathered up our personal favorites to determine the top competitors. Then we called in notebooks of all kinds, including bullet journals, composition books, waterproof reporter pads, and a few exciting additions from around the world — places like Portugal, Japan, even Bulgaria — and put them to the test. The resulting list is a ranking of the top 100 notebooks, according to Strategist editors and writers. And if you agree or disagree (or have a favorite we missed), let us know in the comments — we just might test your favorite when we update this list in the future.
Among our team members, we have those who prefer lined notebooks, others who like blank ones; we have our spiral diehards and bullet-journal enthusiasts. And while individual preferences may vary, we've aimed to standardize our judgments by evaluating each notebook on a scale of 1 (poor) through 5 (excellent) in the following categories:
Design: Is there enough room to write? Do the aesthetics and ergonomics of the open notebook encourage you to use it? Do the lines/dots/grid feel impactful in a good way or overly designed and distracting? Or are they, in fact, perfectly muted?
Page Quality: Is the paper smooth enough for writing? Is it thin or thick? Does the weight of the page make it feel luxurious or flimsy? Is the texture soft and smooth or coarse and scratchy? Is the paper recycled/recycled-feeling? Colored or unbleached or bleached bright white? Does the ink bleed through?
Overall Feel: Does the notebook feel substantial or flimsy? Is it a good weight and size? How portable is it? Does it pack easily into certain bags? Will it hold up against wear and tear? Are there too many/too few pages? Or is it just right?
The Cover: What design elements stand out? Is it hardcover or softcover? Is it nice to look at or jarring? Is it minimal, classic, and clean or just boring? Design-y in a cool way? Or is it overdone or even a little immature-looking? Does it come off as expensive or cheap?
Once we had our notebooks in hand, we divvied them up among our 13 writers and editors to be rated according to our criteria. We asked our team members to use their favorite pen for each notebook to have a control factor. And since personal tastes vary — some of us prefer lined paper, others dotted or blank — we each stuck to judging the type of notebook we tend to use anyway.
Each tester used a single notebook for at least one full day for all writing needs (brainstorming, note-taking, journaling, list-making). And to get a real feel for the experience of actually living with the thing — carrying it around and stowing it in a bag — we all brought our test notebooks to meetings and on our commutes. Here, top 100 notebooks, ranked in order. Click here to jump to the top 80, top 60, top 40, or top 20.
1. Public Supply Soft Cover Notebook
2. Muji Paper Bind Notebook A6
3. Appointed Dot Grid Workbook
4. Zhi Jin Classic Thick Cloth Linen Notebook
5. Livework Moment Leather Blank Journal
6. Milligram Blank Linen Notebook
7. Kokuyo Campus Notebook A5
8. Rollbahn Pocket Memo Notebook
9. Midori MD Notebook Light
10. Moleskine Volant Journal
11. Leuchtturm1917 Medium A5 Dotted Hardcover Notebook
12. Piccadilly Dot Grid Essential Notebook
13. Leuchtturn1917 Bullet Journal
14. Comp Notebook
15. Stalogy 016 Vintage Notebook
16. Monocle Wallet Notebook
17. Kiriko Grid Notebook
18. Life Noble Notebook
19. Moleskine Classic Pocket Notebook
20. Kate Spade Take Note Monogram Notebook
21. Leda Art Supply Large Softbound Sketchbook
22. ban.do Rough Draft Large Spiral Notebook
23. Iron Curtain Press The Standard Notebook, Mint
24. Hiromi Paper Washi Notebook
25. Shinola Large Hard Linen Journal
26. Mossery Hardcover Threadbound Notebook
27. Rhodia N° 18 Wirebound Pad
28. Baron Fig Vanguard Softcover Notebook
29. Emilio Braga Cloud Print Lined Notebook
30. Rhodia Meeting Book
31. Rite in the Rain All-Weather Top-Spiral Notebook, 3" x 5"
32. Maruman A5 Spiral Notebook
33. Mark's Storage.it Notebook
34. Smythson Soho Notebook
35. Orihon Japanese Accordion Notebooks
36. Baron Fig Confidant Hardcover Notebook
37. Postalco Notebook A6
38. Black N' Red Notebook
39. Moleskine Cashier Soft Cover Journal
40. Apica Premium C.D. Notebook
41. Blueline A9 Notebook
42. Muji Double-ring Dot Grid Notebook A5
43. Moleskine Classic Notebook Hard Cover, XL
44. Life Margin B5 Blank Notebook
45. Blackwing Slate Notebook
46. Archer & Olive A5 Dot Grid Notebook
47. Stalogy Editor's Series 365 Days Notebook
48. Vintage Argentinian Notepad
49. Muji Double-ring Blank Notebook A5
50. Moleskine Classic Hard Cover Large Reporter Notebook
51. Princeton Architectural Press Grids & Guides: A Notebook for Visual Thinkers