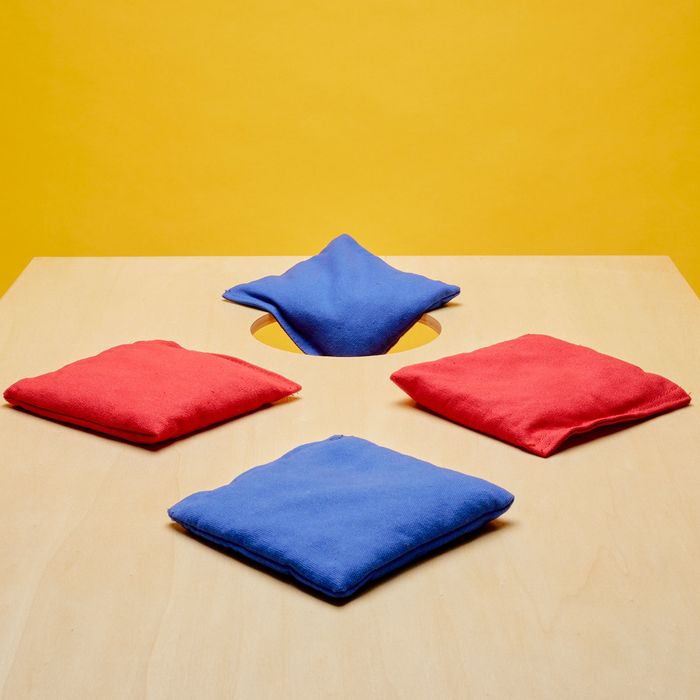 Summer weather will soon be on its way, and picnic season wouldn't be complete without a paddle racquet or two. Whether you're playing with family or friends, are sporty or a certified klutz, outdoor games are a way for "kids to play with other kids, and for neighbors to gather," says Tom Rosenberg, president of the American Camp Association. "They bring people together, whether they're 10 or 30 or 70." To find the best lawn, beach, and yard games for all kinds of players — wannabe pickleball pros, casual cornholers, and even shy kids who'd probably rather be inside — I consulted event planners, camp counselors, and toy-store owners for their top picks.
Because the typical size of your group will influence what kind of outdoor game suits you best, I've taken note of games that are more suitable for larger families and groups of friends as opposed to one-on-one players. Some of the games here are more flexible, with rules that can shift to accommodate larger teams or casual bystanders who swap in and out.
Classic lawn games like croquet really are best suited to actual lawns, but these days many outdoor games will work on a variety of surfaces, from concrete to sand to packed snow. The best overall game comes in two versions: one that can be set up semi-permanently in your yard, and another that's more portable. For lawn games, I looked for solid workmanship and classic aesthetics. For beach games, I also put an emphasis on durability and lightweight materials for maximum portability.
I've also noted the relative difficulty of our outdoor games, most of which are fairly intuitive to learn, with a few (literal) curveballs. You'll find recommendations for classic cornhole as well as two more grown-up versions of the game — while everything on our list should be appropriate for kids, we've noted which games are quicker and easier to pick up than others.
Best overall outdoor game
Number of players: 2 players or teams | Difficulty: Easy | Terrain: Lawn
A simple yet addictive lawn game that anybody can play and enjoy, cornhole is the stuff of happy childhood memories. I love this game because it's as competitive or casual as you want it to be. Plus, the learning curve is practically horizontal. Played one-on-one or in teams of two, the game requires players or teams to take alternating turns throwing their four bean bags at their opponent's boards. Each round ends once all bags have been thrown; every bag that makes it onto a board earns one point, while any bags that are thrown (or pushed) into the hole earn three points. The first to 21 points wins. Event-planner Justine Broughal says it's "an intergenerational game that provides low-stress backyard entertainment," while event-planner Lauren Schaefer simply calls cornhole her "favorite outdoor game" because "it provides a healthy dose of competition and takes no time to set up." And if you're playing with adults only, event-planner Jordan A. Maney says you can even "add in a drinking element to keep the game interesting."
Best portable outdoor game
Number of players: 2 players or teams | Difficulty: Easy | Terrain: Lawn and beach
If you're walking or taking public transport to the park, here's a lightweight collapsible fabric cornhole set made by the same reputable brand. Setup takes about a minute, and both boards fit into the same convenient carry case, which weighs just ten pounds. The fabric-and-plastic boards are much more durable for use on the beach.
Best paddle racquet game
Number of players: 2 players | Difficulty: Medium | Terrain: Beach and lawn
A time-tested beach game that's basically like playing tennis on the sand, Pro Kadima is a classic for a reason. It's "super easy to put in your beach bag and just go," says Stacey Fauci, owner of Runnin' Wild Toys in Carroll Gardens. "We sell out every summer." This lightweight game doesn't require a net, making it perfect for train trips to the beach, and it can include as many players as you have racquets for. Gameplay can be as simple as hitting the ball back and forth, making it instructional for kids developing hand-eye coordination. A scoring system can be added where players or teams get a point for each hit, restarting the game whenever the ball hits the ground. Kate Salop, co-owner of Tisbury Toy Box in Martha's Vineyard, also recommends Pro Kadima: "It's a game that we always have tucked into our beach bag," she says. "Our family enjoys spirited — and mostly friendly! — competitions. We began playing when the kids were young, and they continue to enjoy it as teenagers." Just try not to send it sailing at neighboring beachgoers.
Best bouncing paddle-racquet game
Number of players: 1-2 players | Difficulty: Easy | Terrain: Concrete, sand, snow
Although Kadima is beloved, it's not for everyone. If you didn't grow up perfecting your tennis serve, it can be hard to get a rally going — and even if you do have a killer backhand, the people you're picnicking with might not. The solution, as our contributing writer Ivy Pochoda explains, is Street Racket. It's a paddle sport played with an oversize yellow ball that is allowed to bounce, reducing the need for constant volleying. The rectangular playing field (which can be drawn with the game's included chalk sticks or simply marked out in sand or snow) is divided into three squares. "Players stand in the two outer squares and compete over the middle square, which essentially functions as a net," says Pochoda. "You score a point when your opponent either misses your square or is unable to return your shot from within their square, kind of like tennis." The game, which can expand endlessly as you add more players and racquets and can also be played solo against a wall, is surprisingly fast-paced and fun; Pochoda is a squash pro and found it suitably challenging. If you tire of the usual rules, it even includes an app with more than 100 variations and exercises to complete.
Best beginner pickleball racquets
Photo: Retailer/POW Photography
Number of players: 2 players | Difficulty: Medium | Terrain: Hard surfaces
Pickleball can definitely be played outdoors, and it's easy enough to jury-rig a net if there isn't a court handy. "If you're playing on a driveway or non-pickleball court, just use caution tape strung between two chairs," advises Ajay Pant, vice-president of racquet sports at Life Time. You should also shop for outdoor balls that "are configured with appropriate holes to accommodate the wind." Rosenberg likes this high-quality set of racquets and outdoor balls from woman-owned pickleball brand Big Dill, which he says is popular at summer camps ("where pickleball is definitely coming back in a big way") and suitable for younger players.
Best pro pickleball racquets
Number of players: 2 players | Difficulty: Difficult | Terrain: Hard surfaces
For advanced pickleballers, Pant likes these pickleball paddles from JOOLA, a brand that also happens to make some of our favorite table-tennis tables. They come with the credibility of a co-sign from Ben Johns, who, he explains, is the current male No. 1 pickleball player in the world. The paddles have "a carbon friction surface for power and spin," which means you'll be dinking with ease.
Best outdoor game for families
Number of players: 4 players, 2 teams | Difficulty: Easy | Terrain: Beach and lawn
When picnicking in Central Park two weeks ago, I lost count of the number of Spikeball games happening on the green. Then, on a Memorial Day long-weekend trip to Montreal, I spotted it being played again by numerous groups in Park La Fontaine. Indeed, Salop says Spikeball has "quickly turned into a summertime staple," growing in popularity over the past several years, and Rosenberg confirms that "it's still very relevant" among summer campers. Susan Fox, the founder of Park Slope Parents, also told me it's a popular family game she enjoys playing with her kids. Spikeball is like volleyball — but instead of hitting the ball over a net, you bounce the ball off of one. To play, you need four players divided into two teams of two, with the objective being to bounce the ball off the net in a way that prevents the other team from being able to bounce it back. Susan Hay, owner of Long Beach Island-based toy store The Haymarket, adds that "a team is allowed up to three touches to return the ball," and a round, or rally, continues until a team can't return it. She's a fan, and Amazon reviewers are also near-unanimous in their praise, with one calling Spikeball "the greatest lawn game ever invented," and another writing about playing it with both 5-year-olds and 65-year-olds.
Best outdoor game for large groups
Number of players: 4 to 18 players, 2 teams | Difficulty: Easy | Terrain: Lawn
Journalist Lucy Dean Stockton and book editor Milo Walls recently co-hosted the event "Field Day" in Prospect Park, during which adults played nostalgic elementary-school games including capture the flag, Frisbee, and catch. The biggest hit by far was tug-of-war, which Stockton says provoked an especially emotional response among attendees: "There's something exhilarating and mildly unnerving about watching your friends unleash a full physicality, their feet sliding on the ground, gritting their teeth, veins bulging, competing in a test of raw strength." Walls adds that while this is a perfect outdoor game for large groups of people, there's something to the "high-stakes intimacy" of tugging one-on-one with "no one to share your victory, and no one to blame for your loss." However many players, they add, "it's an equalizing game, because in the end, everyone just falls down." Stockton sourced her tug-of-war rope from "a nearby all-girls middle school," but this 33-foot one is made from the same authentic jute. It comes with a carry bag, and each end is reinforced to prevent fraying.
Best more advanced throwing game
Number of players: 2-4 players or teams | Difficulty: Medium | Terrain: Lawn
If you can't get enough throwing games, Rosenberg also recommends Ladderball, which is points-based and can be played in larger groups. The set comes with two plastic pipe ladders, he explains, as well as "a piece of rope that has a ball on each side — you throw that so it can catch onto those pipes from a distance." Hitting the top of the ladder scores the player (or their team) three points, whereas the middle bar is worth two points, and the bottom bar is worth a single point. The first player to reach 21 points wins. He says the game is popular among summer campers, and would suit families, too.
Best social outdoor game
Number of players: 1-8 players | Difficulty: Easy | Terrain: Lawn and concrete
If you're tired of playing giant Jenga, you're tired of life. The outdoor version of the classic game-night staple is even more fun than the real thing, requiring exactly zero athletic skill but plenty of bluff. Liam Macleod, the director and head camper at Camp No Counselors, notes that it's as fun for a few as it is for many: "Giant Jenga is inclusive of everyone — you can play with two or 20 people." Ellen Hockley Harrison, the founder of Greater Good Events, says it is "super-popular," and Steve Hozan of Arcade Specialities adds that the "classic game of block-stacking, balancing, and tumbling, is simple and nostalgic." Broughal agrees, calling it "low-key fun." As with the indoors version, an easy way to customize the game, according to Maney, is to write questions on each block that encourage conversation. This makes it a great icebreaker for groups of new friends.
Best outdoor game for indoor people
Number of players: 2 players | Difficulty: Easy | Terrain: Lawn and concrete
As with giant Jenga, giant Connect 4 is another way to take the living room outside. This classy-looking oversize wooden version of the beloved game will last forever and is surprisingly easy to transport with the included nylon carry case. It is a favorite of both Harrison and Steve Hozan of Arcade Specialities, who say it would make a great choice for anyone spending their outdoor time with little ones. "Everyone knows how to play this classic: Insert red or black chips with the end goal of connecting four of your chips in a series before your opponent," explains Hozan.
Best (more advanced) outdoor game for indoor people
Number of players: 2-10 players | Difficulty: Medium | Terrain: Lawn and concrete
Another "giant" game that Rosenberg recommends is this oversize dominoes set, which is almost guaranteed to be a hit amongst older players. "It can be intergenerational fun," he says. "Grandma and Grandpa can play with their grandchildren." And unlike the normal-size plastic dominoes we're all familiar with, the big wooden blocks are both attractive and durable, stacking neatly into a portable (and easy-to-store) carry bag.
Best old-school outdoor game
Number of players: 6 players | Difficulty: Medium | Terrain: Lawn
Whether your cultural reference point is Bridgerton, Heathers, or family vacations on Martha's Vineyard, there's something delightfully kitsch about playing croquet. People have enjoyed this quintessential lawn game for centuries — and still do. "Dating back to the 1800s, it's not as common anymore, but figuring out how to play the game is half the fun," says Schaefer. The main objective is to hit your balls through a course of hoops that you design, scoring points along the way as you hit the balls through them in the right order. Schaefer's favorite croquet set comes from (where else?) L.L.Bean, but is currently sold out. This similarly preppy set from Elakai is made from sustainably sourced wood that's lacquered for weather protection.
Best new-school outdoor game
Number of players: 2-26 players | Difficulty: Medium | Terrain: Lawn
Here's a less-preppy wooden lawn game with Scandinavian charm. Strategist editor Maxine Builder discovered the Finnish take on pétanque, Mölkky, while traveling in Europe. She describes it as "a cross between bowling, billiards, and blackjack, with a mix of strategy, skill, and luck." I've taken this game camping before, and it's a nice one for standing around with a few drinks in the afternoon. To play, you first arrange the numbered pins on the ground in a diamond shape. Then, from about ten feet away, you take the "throwing skittle" and toss it underhand, toward the diamond. If you knock down a single numbered pin, you get points equal to the number displayed on it; if you knock down several pins at once, you get one point for each you knock down. In other words, "to earn five points, either you knock down five pins in one toss, or you take out the one pin with the number five etched on top," says Builder. To win, a player must score 50 points — if you accidentally take down too many pins, your score goes back down to 25 and gameplay resumes. As with billiards, you start the next player's turn "by standing the numbered pins upright exactly where they landed," making each round more challenging than the last. Though it may sound complicated, each game goes by pretty quickly, and first-timers will have no trouble picking up the rules.
Best outdoor party game
Number of players: 2 players or teams | Difficulty: Medium | Terrain: Lawn
The name kind of says it all: Four players split up into two teams of two, and teammates work together to throw and direct a Frisbee toward their opponent's can to earn points. Think of Kan Jam as a sportier version of cornhole; a direct hit to the can earns two points, an assisted hit to the can earns one point, and a slam dunk into the top of the can earns three points, as well as plenty of bragging rights. The first team to 21 points wins — except when any person throwing the Frisbee manages to get it straight into a slot cut into the front of their opponent's can, which automatically makes that team the winner. "You and your partner could be losing to another team in points, but all it takes is one well-placed disc throw for an instant win," explains Macleod. The game also comes in a glow-in-the-dark version.
Best (less expensive) outdoor party game
Number of players: 4 players, 2 teams | Difficulty: Medium | Terrain: Beach, lawn
For more higher-intensity outdoor parties and gatherings, Bottle Bash offers the simple yet addictive joys of hurling a Frisbee at a pole, in order to knock a large plastic bottle off the top of it. Drew Griswold, the director of adult summer camp Camp Halcyon, says that this game has given his staff and campers "countless hours of hilarious memories," requiring "coordination, skill, a little danger, and a lot of teamwork." Best played with at least two teams of two, it involves players taking turns throwing the Frisbee at their opponent's pole to earn points, while the defending team works to catch the Frisbee and the bottle before they fall and hit the ground. If you fail to catch one or the other, the opposing team is awarded points. The other catch: You can only use one hand for the entirety of the game. Traditionally, the first team that scores either 15 (for shorter games) or 21 points (for longer games) while holding at least a two-point lead wins. The game can be played on a 20-, 30-, or 40-foot court depending on the players' skill level. And never fear: The game's bottles, though weighted similarly to standard beer bottles, are empty and made of plastic.
Some more Strategist-approved outdoor essentials
• Justine Broughal, event planner, Together Events
• Stacey Fauci, owner, Runnin' Wild Toys
• Susan Fox, founder, Park Slope Parents
• Drew Griswold, director, Camp Halcyon
• Ellen Hockley Harrison, founder, Greater Good Events
• Susan Hay, owner, the Haymarket
​​• Steve Hozan, founder, Arcade Specialities
• Liam Macleod, director and head camper, Camp No Counselors
• Jordan A. Maney, event planner, Love All the Days
• Ajay Pant, vice-president, racquet sports, Life Time
• Ivy Pochoda, Strategist contributing writer
• Tom Rosenberg, president, American Camp Association
• Lauren Schaefer, event planner, The Get Together Events
• Lucy Dean Stockton, journalist
• Kate Salop, co-owner, Tisbury Toy Box
• Milo Walls, book editor
The Strategist is designed to surface the most useful, expert recommendations for things to buy across the vast e-commerce landscape. Some of our latest conquests include the best women's jeans, rolling luggage, pillows for side sleepers, ultra-flattering pants, and bath towels. We update links when possible, but note that deals can expire and all prices are subject to change.
Every editorial product is independently selected. If you buy something through our links, New York may earn an affiliate commission.