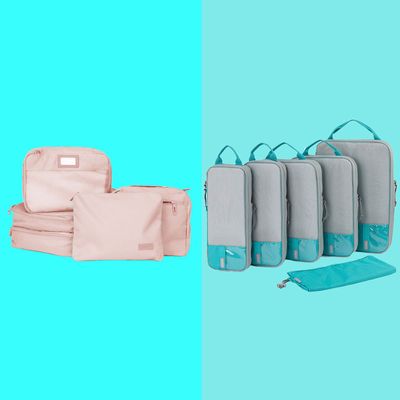 Photo-Illustration: The Strategist; Photos: Retailers
In a world without packing cubes, we'd probably all be constantly piling items from one end of a suitcase to the other, searching for that one T-shirt or pair of socks. They make travel less chaotic (at least as far as your luggage is concerned). With packing cubes, "all of a sudden everything has its place before you've even packed it," says editor and self-proclaimed overpacker Foster Kamer. "By the second or third time you use them, you'll already know exactly what fits where and how much of it you can take with you — down to the very last sock." And they're not just great for organization: Packing cubes can help you fit more inside your luggage. "Cubes kind of work like mini-compression sacks," says Aly Simmons, an operations partner at REI. Once your cubes are filled, "things just fit around each other in the bag perfectly." To help you find the right packing cubes for your trip (and packing style), we pulled in recommendations from experts, frequent fliers, and Strategist staff.
Most packing cubes come in sets that range in size. A variety of sizes makes it easier for you to set up a system — you'll know to look for socks or underwear in your set's smallest cube, for example. We've listed the dimensions of each packing cube, below, to help you figure out how much you'll squeeze inside.
Compression vs. non-compression
As Simmons says, all packing cubes work as mini-compression packs — but some cubes are actually designed with specific compression capabilities. Compression cubes have an extra zipper that slims the cube down in size when you close it. Many travel experts prefer compression cubes for that reason: They let you fit more in a smaller bag, ideal if you're trying to avoid checking a bag on a flight.
If you're planning to hike or camp somewhere wet, or just want to avoid the gooey mess of a toiletry leak, you'll want to look for a packing cube made with waterproof material. We've highlighted those, below — but note that some packing cubes are only water resistant, meaning they won't keep your clothes entirely dry, but will repel small amounts of moisture.
Best packing cubes overall
Sizes: Extra-small (7.5 x 4.5 x 2.5"); Small (10 x 7 x 3"); Medium (14 x 10 x 3") | Non-compression | Not waterproof
We've heard great things about the packing cubes from Eagle Creek since they were first recommended to us in 2018. Kamer calls them "The Russian nesting doll of luggage," which is essentially "an empty, square bag with a zipper" — simple but effective. These cubes do double duty. An Eagle Creek "not only compartmentalizes your luggage but helps you cram whatever's inside it into an incredibly small, predetermined place too," Kamer says. The set comes with three sizes of cubes — extra-small, small, and medium — with the medium the right size for shirts and shorts, and the smaller ones ideal for underwear and socks, according to Kamer.
The cubes have also been a longtime favorite of Christina Guan, a travel blogger for Happy to Wander, who has tested six different kinds of packing cubes. "Eagle Creek's Pack-It Cubes have by far been the best, looking like new even after years of traveling. While you'll no doubt find cheaper options out there, they usually succumb to wear and tear." Jamie Lauren Keiles, a writer who often travels for work at short notice, also says that the cubes are invaluable even if you don't tend to overpack. "If you've lived out of a suitcase, then you'll recognize this struggle: It's raining out and you have a jacket, but it's buried at the bottom of your bag under your clothes," she says. Packing light only works if you can get your items in and out when you need them, Keiles adds. And the Eagle Creek cubes have worked for her for ten years.
Best less-expensive packing cubes
Sizes: Small (11 x 6.75 x 4"); Medium (13.75 x 9.75 x 4"); Large (13.75 x 12.75 x 4"); Extra-large (17.5 x 12.75 x 4"); Laundry bag (20.5 x 15.75") | Non-compression | Water-resistant
Meanwhile Briona Lamback, founder of Buoyant, a community for Black travelers, has used these packing cubes for six years. They come in a set of five, with one small cube (for small garments like underwear), a medium, a large (T-shirts and light materials), an extra-large (fur bulkier items), and a laundry bag. Lamback says she mixes and matches the sizes that she packs, based on the duration of her trip. "They've helped me pack more efficiently by maximizing my space," she says. "In general, I just feel more organized while traveling because the packing cubes force me to be intentional about what I'm bringing on a trip." The bags aren't entirely waterproof but have a water-resistant coating, which the brand says makes them resistant to stains and easier to wipe clean.
Best mesh packing cubes
Sizes: Small wide (10 x 4 x 8"); Medium slim (10 x 4 x 4.3"); Medium wide (13 x 4 x 10"); Large slim (13 x 4 x 7") | Non-compression | Water-resistant
As a travel writer, Sarah Greaves-Gabbadon (known as JetSetSarah) nearly always keeps a suitcase packed. These Away cubes slip fuss-free into one side of her carry-on and take in her essentials: "Three pairs of shoes, another packing cube with stuff like glasses, exercise bands, and a Nike raincoat, and then my toiletries bag," she says. Like the view window on Paravel's cubes, the mesh panel on these help you see the cubes' contents without needing to open them up. "And I love the sunshine-yellow color, which makes me happy every time I open my case," adds Greaves-Gabbadon. Her exact color is sold out, but you can pick them up in a pleasing sky blue.
Best less-expensive mesh packing cubes
Sizes: Small (11 x 6.75 x 4"); Medium (13.75 x 9.75 x 4"); Large (13.75 x 12.75 x 4"); Extra-large (17.5 x 12.75 x 4"); Laundry bag (20.5 x 14.5"); Shoe bag (17 x 10.2 x 4.3") | Non-compression | Not waterproof
Strategist associate editor Jenna Milliner-Waddell wasn't convinced by packing cubes, even after her whole family got them as Christmas gifts from her mom. Then she moved to a tiny apartment in New York with only enough storage space for a carry-on — she couldn't pack five pairs of shoes for a three-day trip and count on a checked bag to hold them all. She finally used the gifted cubes that had sat unused and was shocked at the difference they made in her luggage. She says they've curbed her need to overpack (but still let her cram in a few maybe-not-quite-necessary outfits). Cookbook author and frequent-flier Corky Pollan also likes the set and appreciates the choice of sizes included. "I pack too much; I can never organize myself, and with these, it's so easy to organize and set one size for underwear and bras, and another for tops and blouses, and the other for pants," she says.
Best packing cubes for families
Sizes: Envelope (13 x 10 x 1.5"); Small (12 x 8.8 x 3"); Medium (15 x 11 x 3"); Large (17 x 12 x 3") | Non-compression | Water-resistant, with one waterproof pouch
Summer Hull, director of travel content at The Points Guy, doesn't just use packing cubes to keep her family's luggage organized: She uses them to protect everyone from bedbugs. "I heat the cubes in the dryer before bringing them back into our closets to eliminate any bedbugs that may have tried to ride along," she says. The Calpak cubes have changed the way her family prepares for trips. "Ever since getting the cubes in 2019, I don't bring our luggage inside," she says. "Instead, I pack indoors in packing cubes and simply add them to our luggage that is stored in bins in the garage as the final step." They've so far survived the wear and tear of travel and several whirls around the tumble dryer. "I've been through some that can't take the (literal) heat and also that have zippers that quickly failed," she says, but her cubes have held up. The Calpak set comes in a range of sizes and features a waterproof envelope alongside four cubes.
Best less-expensive packing cubes for families
Sizes: Small (10 x 7 x 3"); Medium (14 x 10 x 3") | Compression | Not waterproof
Emily Krause, a travel writer and blogger, says she can fit an entire week's worth of clothes for kids in one of these medium-size packing cubes. "My favorite way to use packing cubes is when I'm trying to fly carry-on-only with babies and toddlers," she says. "I fit multiple people's items in one small suitcase by assigning each person a different color cube." The cubes — which are the original compression version of our best picks overall — come in a set of two and have a handy mesh window, so you can keep track of the clothes in each cube. Eagle Creek's newer Isolate compression cubes are the same size as Krause's, water resistant, and also cost $40 — the original set is harder to find now.
Best packing cubes for backpacking
Sizes: Shoe bag: (21.5 x 12 x 5"); Small (13 x 5 x 5"); Medium (13 x 9 x 5"); Large (15 x 10.5 x 6") (all bags have a width of 1.75" when compressed) | Compression | Waterproof
When travel blogger Isabelle Lieblein started backpacking across Europe, she used to just shove stuff in, zip up, and go. Quickly, her lack of organization got out of control: She'd not only waste time rummaging in search of certain things but also couldn't get all of her essentials inside her backpack. "I've finally spent the money and upgraded to compressible packing cubes — they're perfect for backpacking," she says. As she's learned more about traveling smart through her work, she's used packing cubes in that dual purpose we mentioned before: to organize and optimize space. She likes this set from Amazon, which comes with a label bag and has a great size range — meaning each piece of Lieblin's luggage has a cube where it belongs.
Best monogrammable packing cubes
Sizes: Small (8.2 x 3.75 x 6.25"); Medium (12.75 x 3.75 x 10"); Large (18 x 3.75 x 12") | Non-compression | Not waterproof
Both Brooklyn-based writer Diana Tsui and her husband took a set of packing cubes on a recent trip snowboarding around Niseko, Japan. They like this set from Paravel, which they use in a "his-and-hers" way. "Monogrammed packing cubes make it easy to separate my husband's gear from mine since we shove all of our snowboarding clothes into one suitcase," Tsui says. Combined, the cube quad has enough space for garments as large as jackets and can even store towels. They also have a small view window, so you can see what's packed inside the cube without having to unzip it.
Best waterproof packing cubes
Size: 12.6 x 6.69 x 12.6" | Compression | Waterproof
If you're a hiker, or just want a tough, weather-resistant packing cube, Austin Tucker, a writer at Pack Hacker, recommends these Peak Design ones. They're made from a rip-resistant, waterproof nylon. "These are some of the top-rated cubes we've reviewed to date," he says. "The mesh on the sides offers breathability, and the additional zipper compresses things down further for easy packing. You can grab the grippy tabs and pull them to open the cube quickly, too." It is roughly the same price for one Peak Design cube as it is for a full pack of any others on this list, making them a more expensive option, but Tucker says they're worth investing in if you travel often.
Best convertible backpack packing cube
Size: 21.5 x 13 x 9" | Compression | Waterproof rain cover
Simmons's favorite packing cube actually doubles up as a 42 L, carry-on-friendly backpack. It has compression straps to squish everything down, a large mesh zipper, and smaller mesh compartments for underwear and electronic items. "The internal storage of the pack paired with the cubes is a perfect combo," she says. "I also love it for hauling dirty gear back home. I like to use the cubes to house the soiled stuff." The pack itself isn't entirely waterproof but comes with a rain cover, and you can switch between holding it with multiple handles while you're on the move.
• Sarah Greaves-Gabbadon, travel writer
• Christina Guan, travel blogger for Happy to Wander
• Summer Hull, director of travel content at The Points Guy
• Foster Kamer, editor-in-chief of Futurism
• Lauren Keiles, contributing writer at The New York Times Magazine
• Emily Krause, travel writer and blogger
• Briona Lamback, founder of Buoyant
• Isabelle Lieblein, travel blogger
• Jenna Milliner-Waddell, Strategist associate editor
• Corky Pollan, cookbook author and frequent flier
• Aly Simmons, operations partner at REI
• Diana Tsui, writer
• Austin Tucker, a writer at Pack Hacker
The Strategist is designed to surface the most useful, expert recommendations for things to buy across the vast e-commerce landscape. Some of our latest conquests include the best acne treatments, rolling luggage, pillows for side sleepers, natural anxiety remedies, and bath towels. We update links when possible, but note that deals can expire and all prices are subject to change.